Door Surgeon Automatic Door Opener & Closer Fix Adjust
Repair Cochrane
Door Surgeon Cochrane's mobile automatic door opener & closer fix adjust repair and replacement serviceman can visit your project and make repairs or replace your current hardware or renovate your door to facilitate a new automatic door opener or a new automatic door closer. Door Surgeon's door opener and closer servicemen have installed new door operators on storefronts, apartment entries, condo entrances, warehouses and businesses. Door Surgeon Automatic Door Opener & Closer Fix Adjust Repair Cochrane
Not all door closers and door closer/opener operators are the same. Door Surgeon Cochrane carries quality door closers and automatic door openers that will operate consistently, safely and with a minimal amount of maintenance. The door closer and automatic opener team at Door Surgeon can review your current operator and match a product that will then retrofit easily or remove your current door closer or door opener and replace it with a stronger, more reliable unit.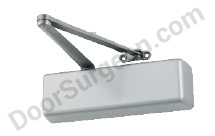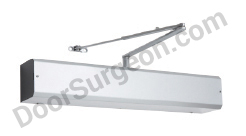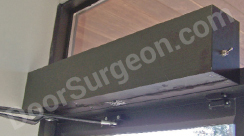 New Automatic & Handicapped Door Opener & Closer Parts supplied or supplied and installed in Cochrane
Door Surgeon can supply the parts required or new units to replace your automatic closer or automatic door opener. Visit one of Door Surgeon's parts and service centres to talk to our parts staff and determine the correct resolution to your automatic door closer or automatic door opener needs.
---
Cochrane Entrematic Closed Gearbox Low Energy Automatic Handicap Operator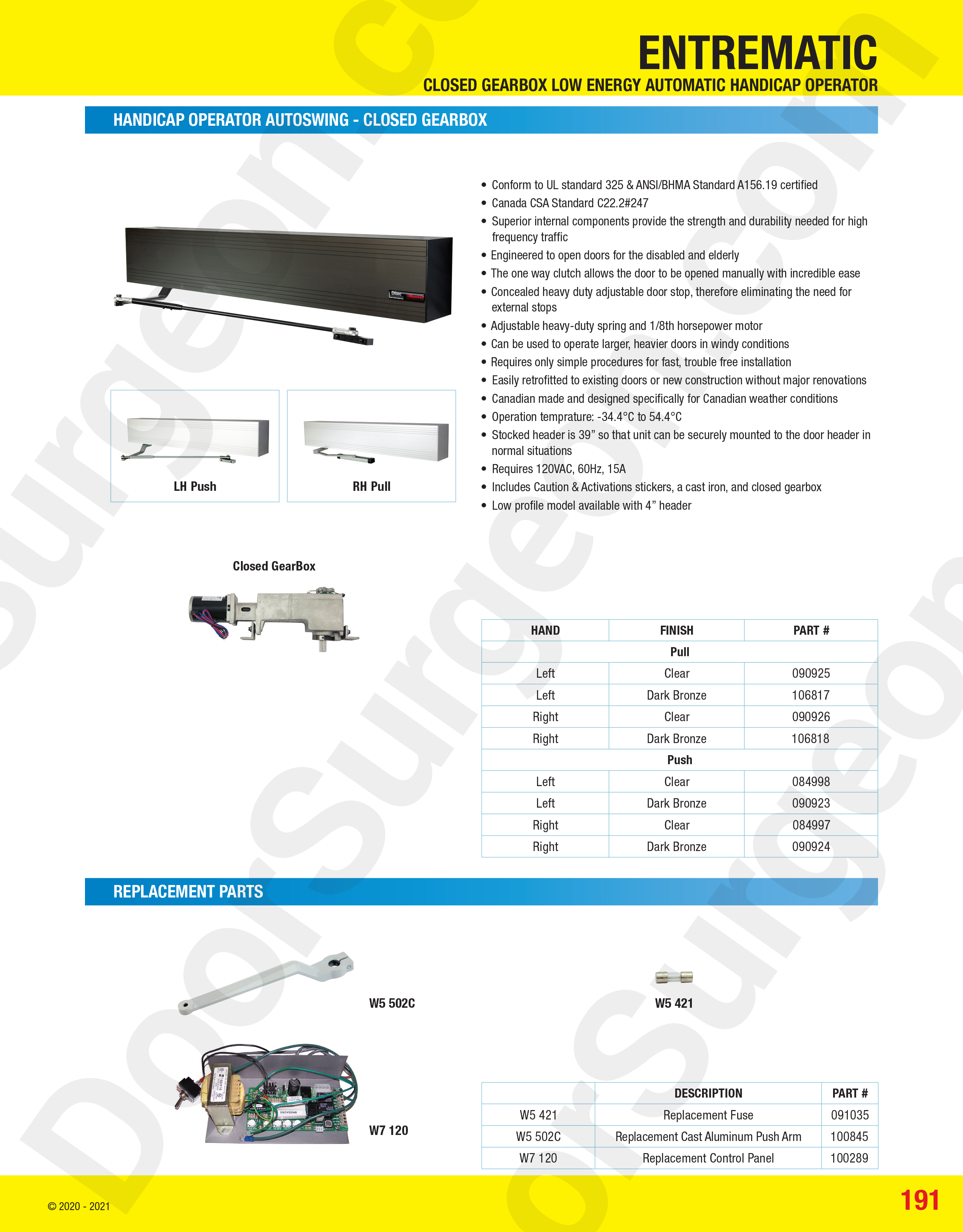 Automatic door Handicap operator autoswing & replacement parts
ANSI standard A156.19 compliant. Conforms to UL Standard 325, fire door compatible. Canada CSA standard C22.2 #247, Canadian made and designed specifically for our weather conditions. Operation temperature: -34.4ºC to 54.4ºC, superior internal components provide the strength and durability needed for high frequency traffic. The one way clutch allows the door to be opened manually with incredible ease. Concealed heavy duty adjustable door stop, eliminating the need for external stops. Adjustable heavy-duty spring and 1/8th horsepower motor. Can be used to operate larger, heavier doors in windy conditions. Requires only simple procedures for fast, trouble free installation and is easily retrofit to existing doors or new construction without major renovations. Stocked header is 39" so that unit can be securely mounted to the door header in normal situations.
Includes caution & activation stickers, single HA-8 w/Data, 24 VDC, 3 AMP control box, 16 VAC/115 VAC operating voltage, magnetic limit switches. Adjustable 5 to 30 lbs opening/closing force. On-off-hold open operator switch. Adjustable spring tension. 6-1/2" x 4-1/2" header case. Door opening width +3", thickness .125min. 0" to 14" push reveal, 0" to 4" pull reveal. 24 VDC electric strike power. 3 AMP fuse replaceable. Total weight with 39": open gearbox - 44lbs, closed gearbox - 45lbs. Header minimum wall thickness: 0.125". This is Door Surgeon's go-to door automatic door opener that is versatile strong and readily available.
Door Surgeon's door service personnel can fix, repair or replace these automatic door openers, often installed to meet handicap access requirements or just make entry into businesses easy and comfortable. Found in storefronts, apartment entries and high-traffic door applications. Call one of our service centres for installation or visit one of our service centres for over the counter sales.
---
Falcon Automatic Operator Cochrane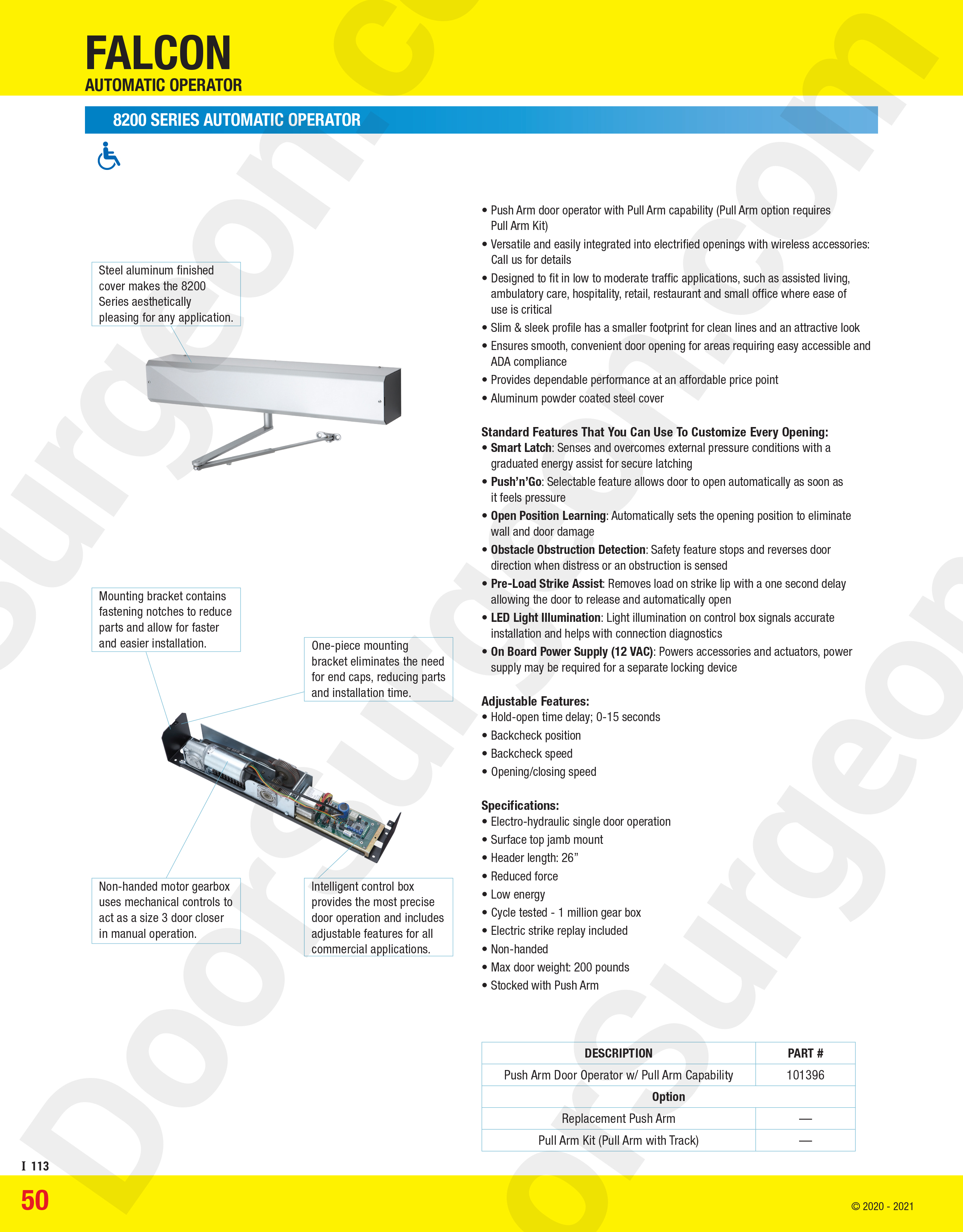 8200 automatic operator
There are a variety of automatic openers to meet your needs. Door Surgeon's mobile service providers can help with selection and appropriate sizing.
---
Cochrane LCN Auto Equalizer Pneumatic & Benchmark Low Energy Operators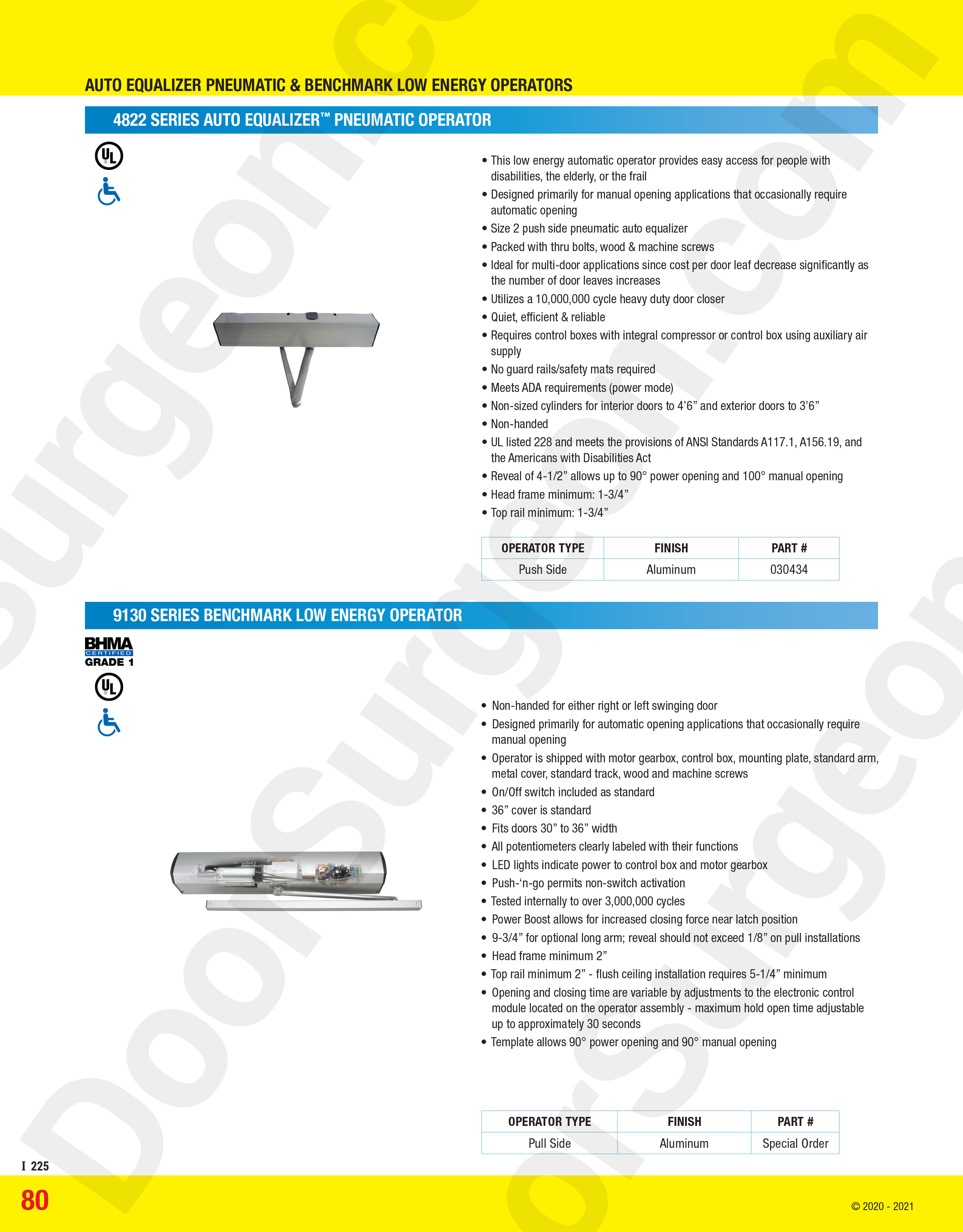 4822 series Auto Equalizer pneumatic operator
This low energy automatic operator provides easy access for people with disabilities, the elderly, or the frail. Designed primarily for manual opening applications that occasionally require automatic opening. Size 2 push side pneumatic auto equalizer. Packed with thru-bolts, wood and machine screws. Ideal for multi-door applications since cost per door leaf decrease significatntly as the number of door leaves increases. Utilizes a 10,000,000 cycle heavy duty door closer.
Quiet, efficient and reliable. Requires control boxes with integral compressor or control box using auxiliary air supply. No guard rails/safety mats required. Meets ADA requirements (power mode). Non-sized cylinders for interior doors to 4'6" and exterior doors to 3'6". Non-handed. UL Listed 228 and meets the provisions of ANSI Standards A117.1, A156.19 and the Americans with Disabilities Act. Reveal of 4-1/2" allows up to 90º power opening and 100º manual opening. Head frame minimum: 1-3/4". Top rail minimum: 1-3/4".
9130 Series Benchmark Low Energy Operator
Non-handed for either right or left swinging door. Designed primarily for automatic opening applications that occasionally require manual opening. Operator is shipped with motor gearbox, control box, mounting plate, standard arm, metal cover, standard track, wood and machine screws. On/Off switch included as standard. 36" cover is standard. Fits doors 30" to 36" width. All potentiometers clearly labeled with their functions. LED lights indicate power to control box and motor gearbox.
Push-N-Go permits non-switch activation. Tested internally to over 3,000,000 cycles. Power boost allows for increased closing force near latch position. 9-34" for optional long arm; reveal should not exceed 1/8" on pull installations. Head frame minimum 2". Top rail minimum 2" - flush ceiling installation requires 5-1/4" minimum. Opening and closing time are variable by adjustments to the electronic control module located on the operator assembly - maximum hold open time adjustable up to approximately 30 seconds. Template allows 90º power opening and 90º manual opening.
---
LCN 1260 Series Adjustable & 1460 Series Commercial Closers Cochrane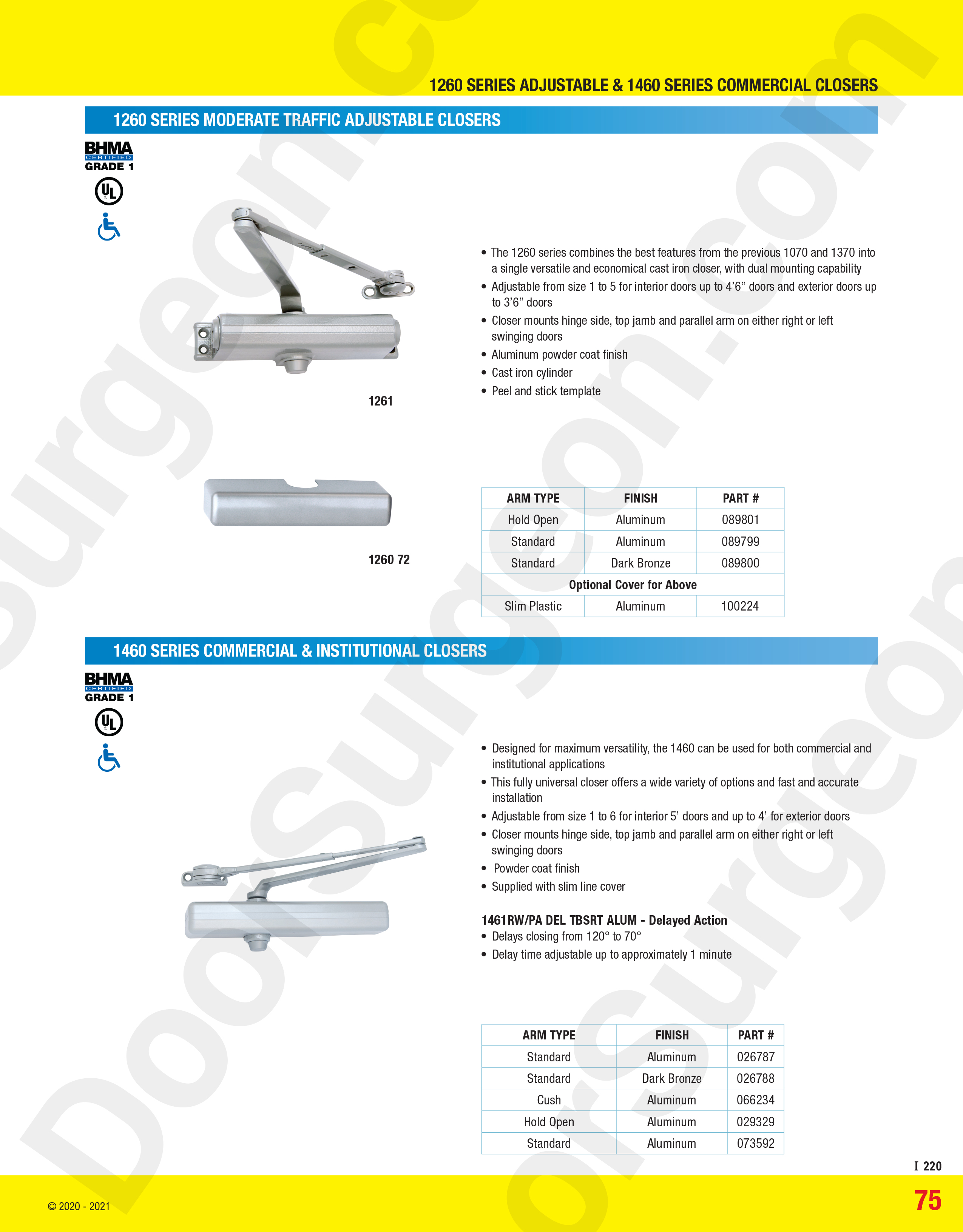 1260 Series moderate traffic adjustable closers & 1460 series commercial & institutional closers in Edmonton
1260 series door closer is the closer that our Door Surgeon service trucks stock here in Edmonton. Adjustable from 1 - 5 power, works on interior doors up to 4'-6" and exterior doors up to 3'-6". Closer mounts hinge side, top-jam and parallel arm on either right or left swing doors. Aluminium powder coat finish. This unit is a favourite to fix or replace current closers. Available at any of our service centres or call to have one of our professional door service experts install and adjust the closer for you right on site. Excellent for apartment doors, storefront doors or warehouse door applications.
---
Cochrane LCN 3133 Series Concealed, 4010 Series Pull Side & 4020 Series Push Side Closers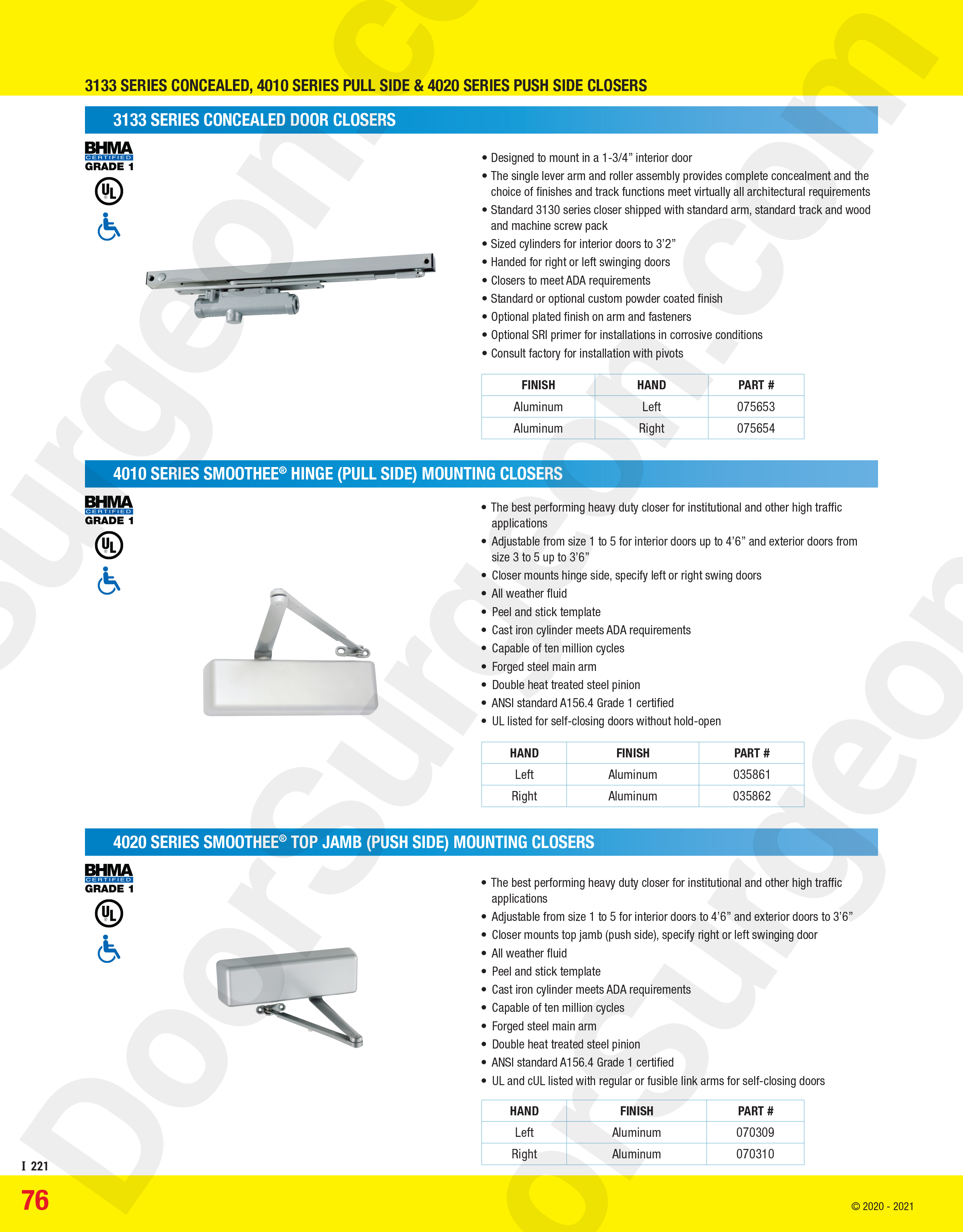 ---
LCN 4030 Series Universal & 4040 SE Series Sentronic® Closers Cochrane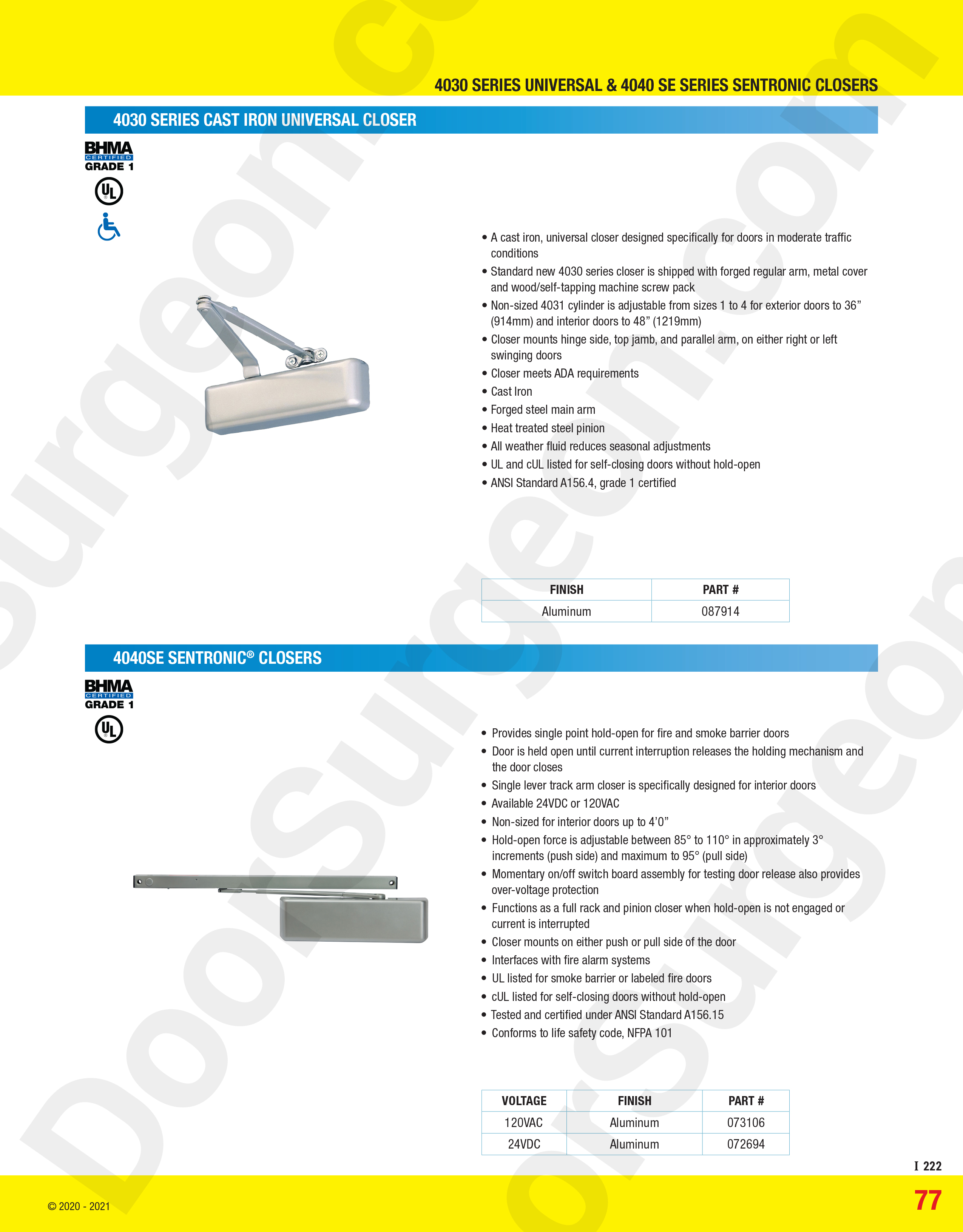 LCN 4030 Series cast iron universal closer & 4040SE Series Sentronic® closers
Door Surgeon can help you find the right closer and door operator to meet yur needs.
---
Cochrane LCN Heavy Duty 4040XP Series Door Closer & Mounting Brackets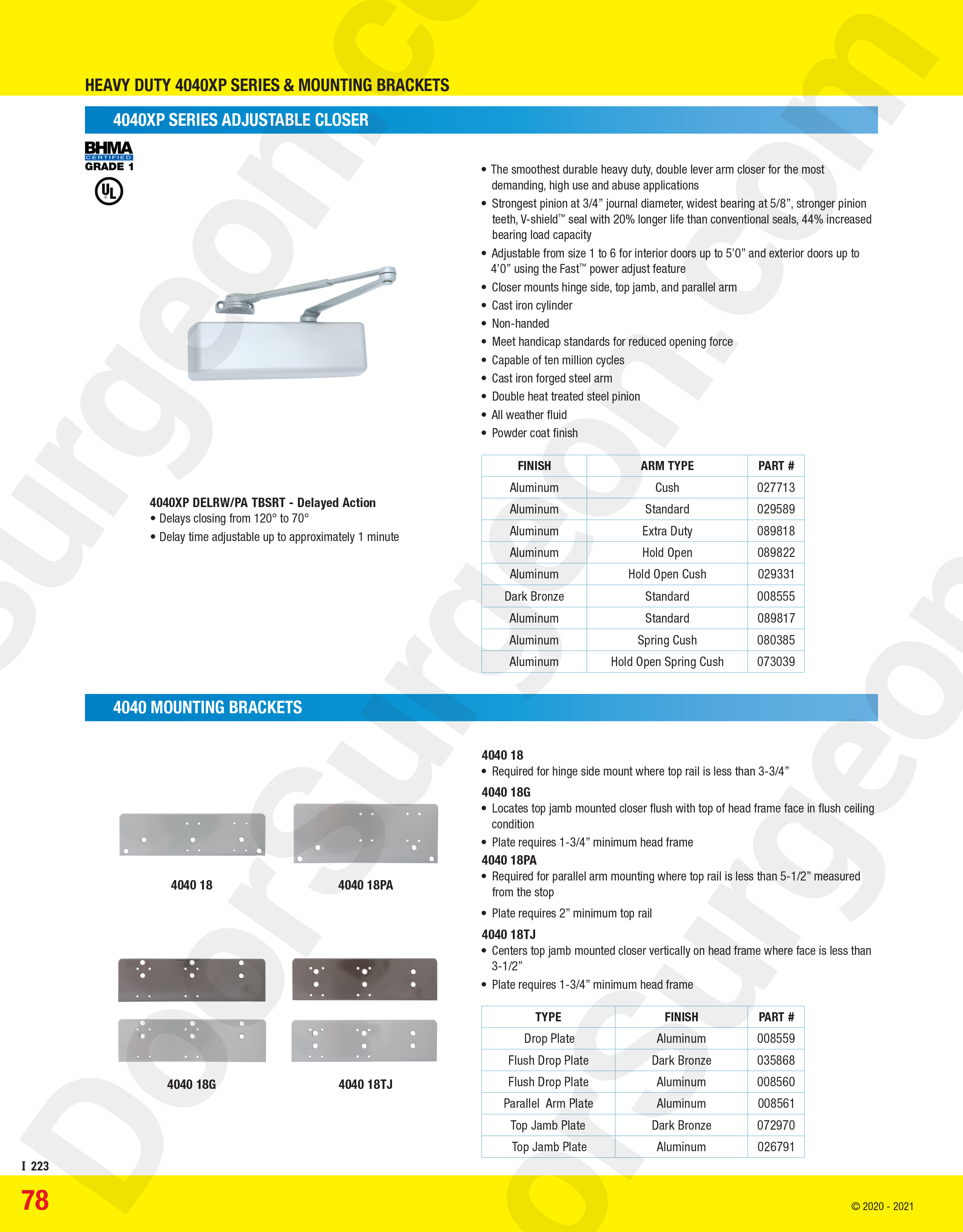 LCN 4040XP Series Adjustable Closer
The smoothest durable heavy duty, double lever arm closer for the most demanding, high use and abuse applications. Strongest pinion at 3/4" journal diameter, widest bearing at 5/8", stronger pinion teeth, V-Shield™ seal with 20% longer life than conventional seals, 44% increased bearing load capacity. Adjustable from size 1 to 6 for interior doors up to 5' and exterior doors up to 4' using the Fast™ power adjust feature. Closer mounts hinge side, top jamb, and parallel arm. Cast iron cylinder, non-handed. Meets handicap standards for reduced opening force, capable of ten million cycles. Cast iron forged steel arm, double-heat treated steel pinion. All weather fluid and powder coat finish. This door closer is a favourite with our Door Surgeon repair and locksmith service handymen as it is heavy duty, fully adjustable and will work in all exterior applications even in high use situations.
---
LCN 4040XP Arm & 4110 Push Side Closer Cochrane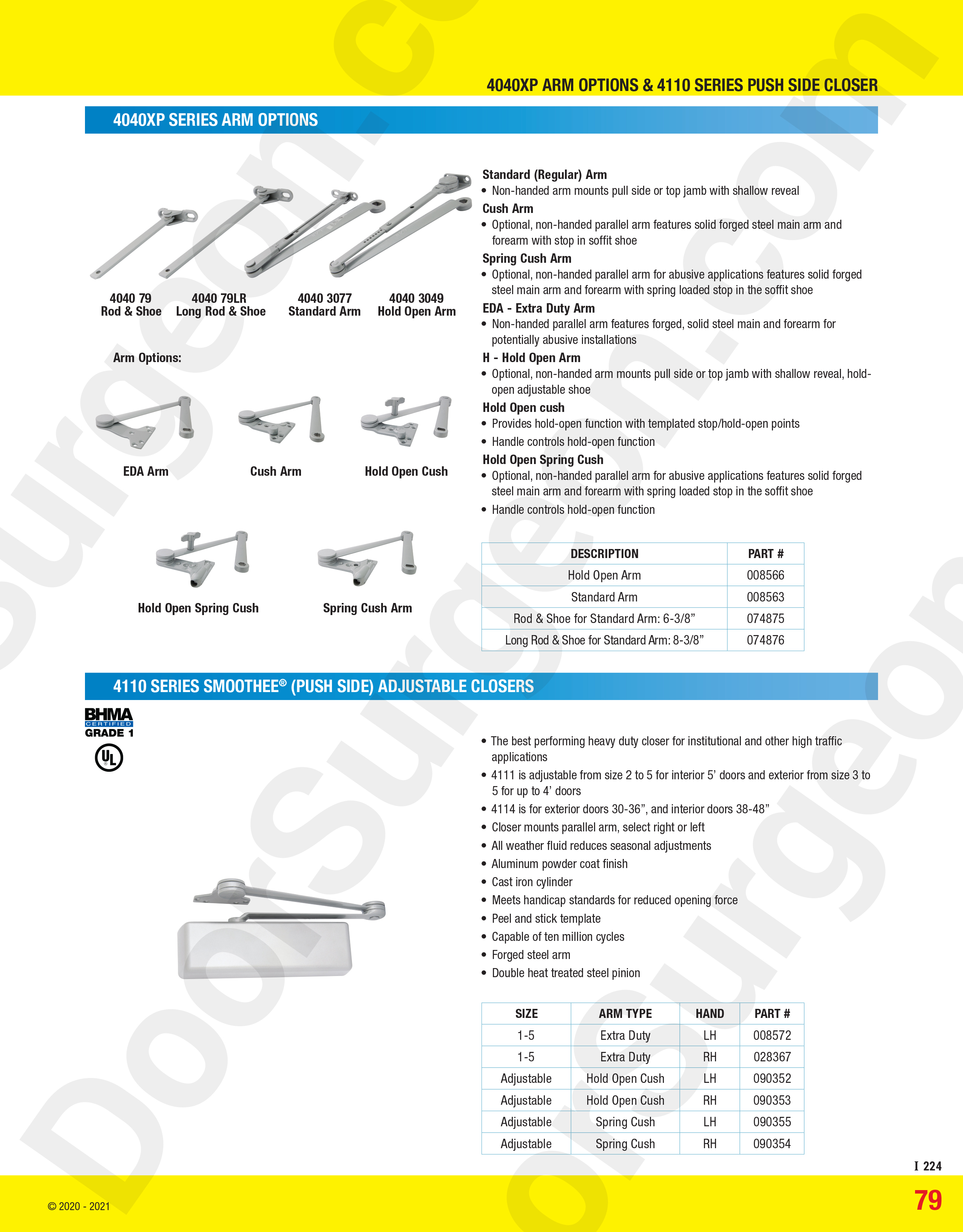 4040XP series arms & 4110 series Smoothee® (push side) adjustable closers
The 4040 XP series door closer is Door Surgeon's favorite for exterior doors that require stability from wind and frequent use. This door closer can be ordered with a variety of arms to provide hold open option, spring cush option or a change of length for wider-jam doors. Door Surgeon's service counter help can find the right part to match your need.
---
Cochrane Glynn-Johnson Door Holders & Door Stops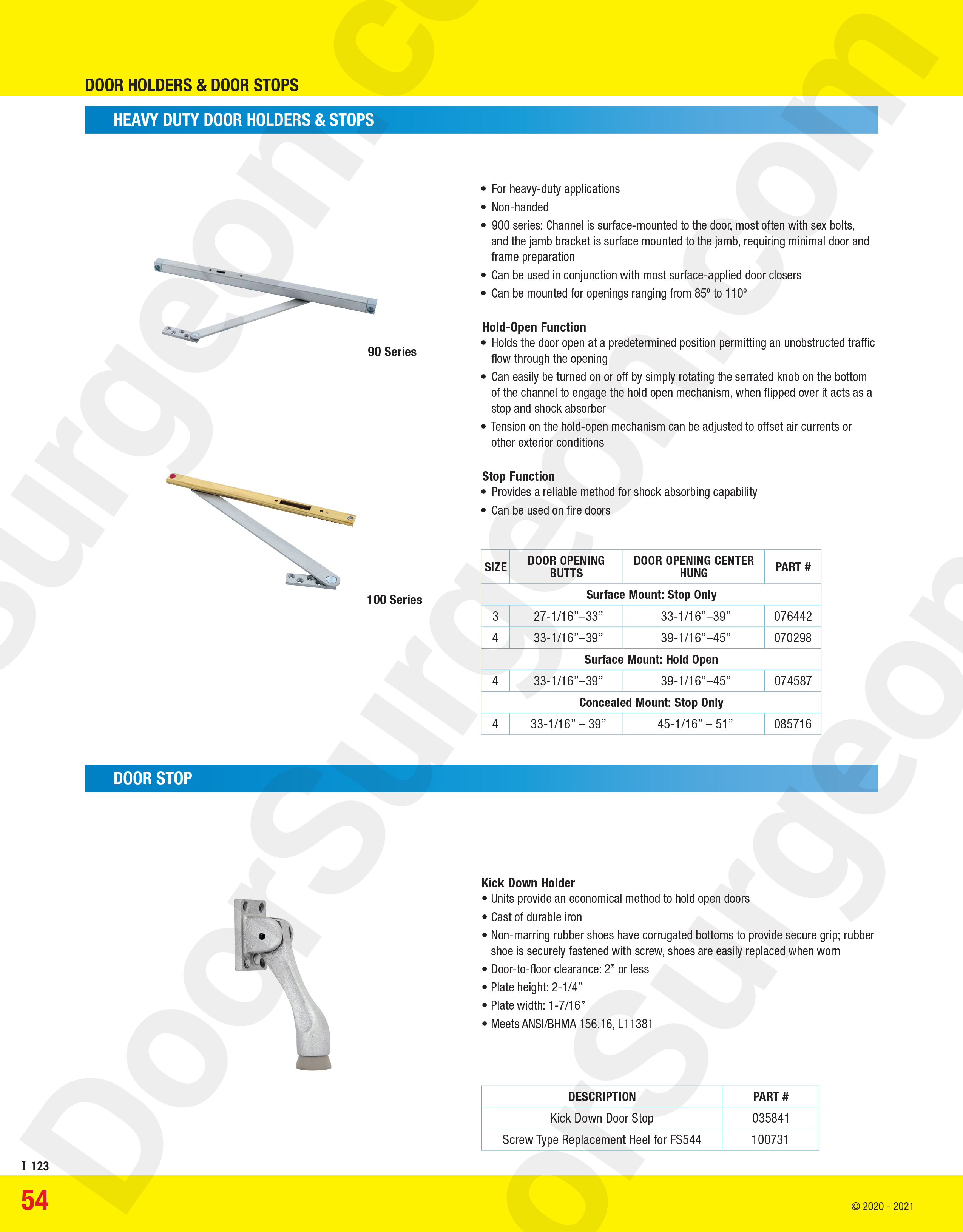 HD door holders & stops
---
Double-door Removable Mullion & Door Closers Cochrane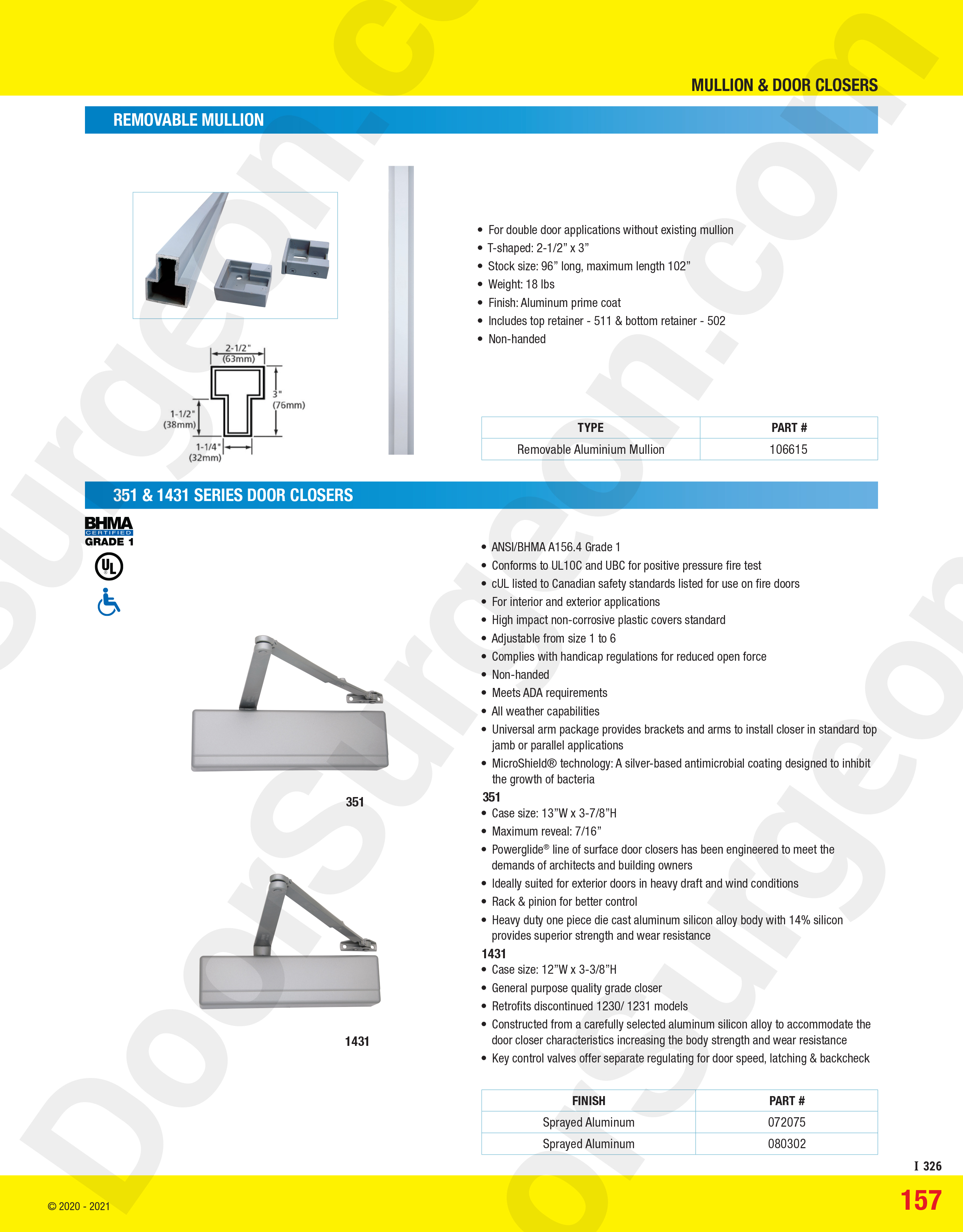 Removable mullion provides centre post for double-doors
---
Cochrane Dormakaba Door Closers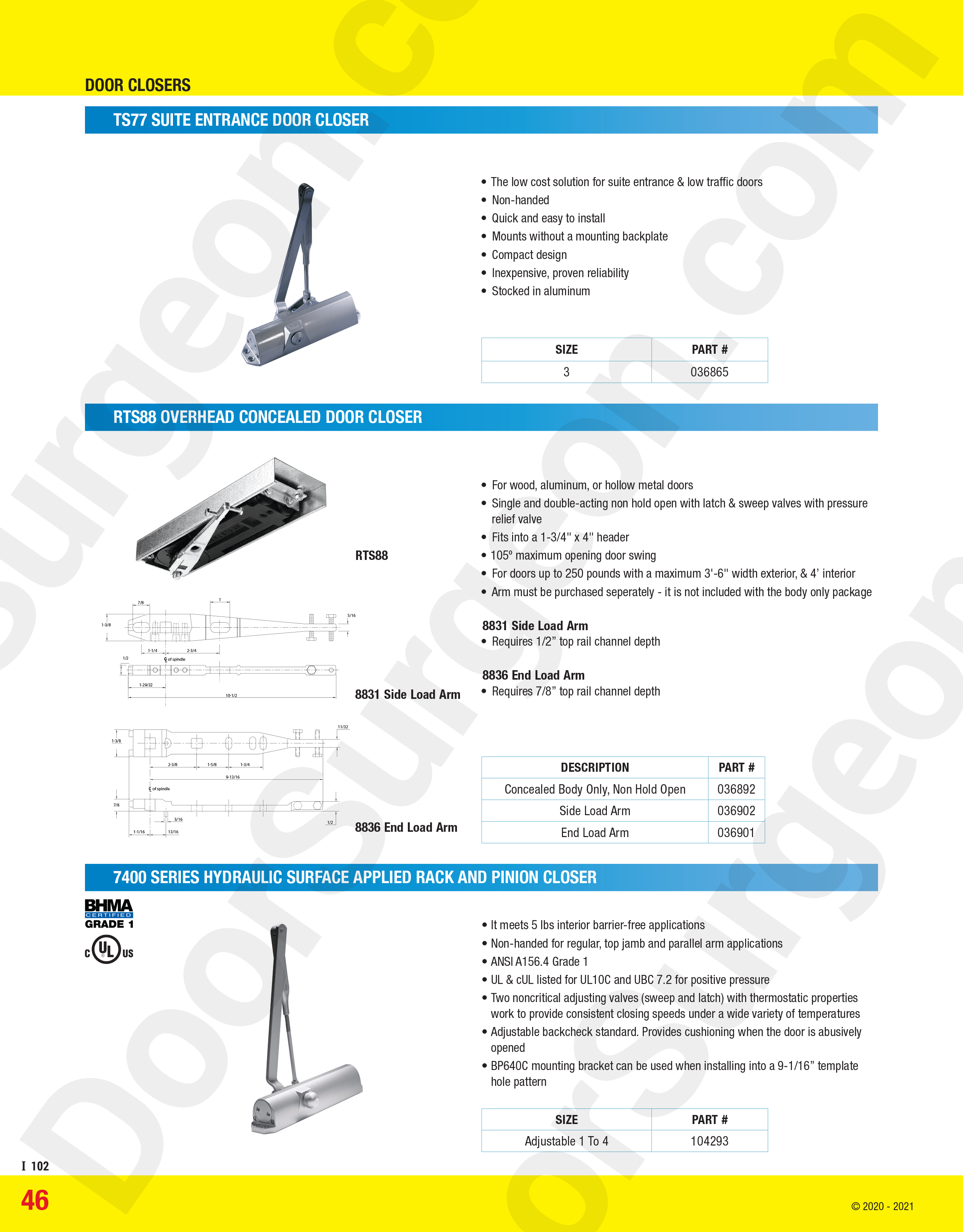 TS77 suite entrance door closer, RTS88 overhead concealed door closer & 7400 series hydraulic surface applied rack and pinion closer
The RTS88 overhead concealed door closer for wood, aluminium, or hollow metal doors. Single and double-acting non hold open with latch and sweep valves with pressure relief valve. Fits into a 1-3/4"x4" header. 105º maximum opening door swing. For doors up to 250lbs with a maximum 3'-6" width exterior, and 4' interior. Arm must be purchased separately - it is not included with the body only package. 8831 side load arm requires 1/2" top rail channel depth. 8836 end load arm requires 7/8" top rail channel depth.
Bring your automatic door opener and door closer questions or concerns to Door Surgeon Edmonton. The Door Surgeon mobile maintnence service and repair staff can help you at your business or visit one of our 2 Edmonton service centres to discuss options with our parts and service personnel.
---
---
Door Surgeon Mobile Automatic Door Opener
Closer Fix, Adjust & Repair Serving Cochrane
Mobile Automatic Door Opener/Closer Adjust, Fix, Repair
Services Cochrane
---
Door Surgeon Garage Door Sales and Service
Parts Centre Location Calgary North East
Find us in Calgary:
- Located South-side of 32 Ave.
- East of the Deerfoot Trail.
- West of Barlow Trail.
- South of Calgary International Airport.
---