Door Surgeon Handle & Deadbolt Repair Adjust & Replacement Devon
Door Surgeon mobile Handle & Deadbolt Repair Adjustments & Replacements
Door Surgeon's Devon Mobile Handle and deadbolt repair servicemen can come to your home or business to adjust, repair or replace handles and deadbolts that are worn, broken or simply need replacing. Door Surgeon's Devon mobile handle and deadbolt repair handyman will provide you with a variety of products that either match your current handle and deadbolt hardware or provide additional features such as style and colour variances or deadbolt security upgrades.
Door Surgeon's handle and deadbolt repair service vans have a stock of commonly used deadbolts and handles as well as a variety of handle and deadbolt repair and security products. Door Surgeon hardware repairmen pride themselves in the ability to complete jobs at your home or business often in just one visit. Vans are stocked with tools to tackle most common handle and deadbolt related installation challenges.
You're invited to visit Door Surgeon's handle and deadbolt service centre where you will find a wide variety of decorator handles and security deadbolts on display. Door Surgeon can supply replacement fancy grip handle sets, lever handles, basic deadbolts, high security deadbolts and push button entry systems. Door Surgeon's handle and deadbolt parts and service counter at the handle and deadbolt sales and service centres can also provide replacement parts for some of your current home hardware repair needs.
Door Surgeon's mobile handle and deadbolt repair servicemen are available by appointment Monday through Saturday, 8am - 7pm and are always available for emergency lock repairs and security reinforcements. You may call the Door Surgeon handle and deadbolt dispatch centre a day 7 days a week.
---
Products Presented in "Like" Groups For Easy Reference.
---
Door Surgeon's mobile locksmith hardware repairman can often help you match your lever handle style and colour needs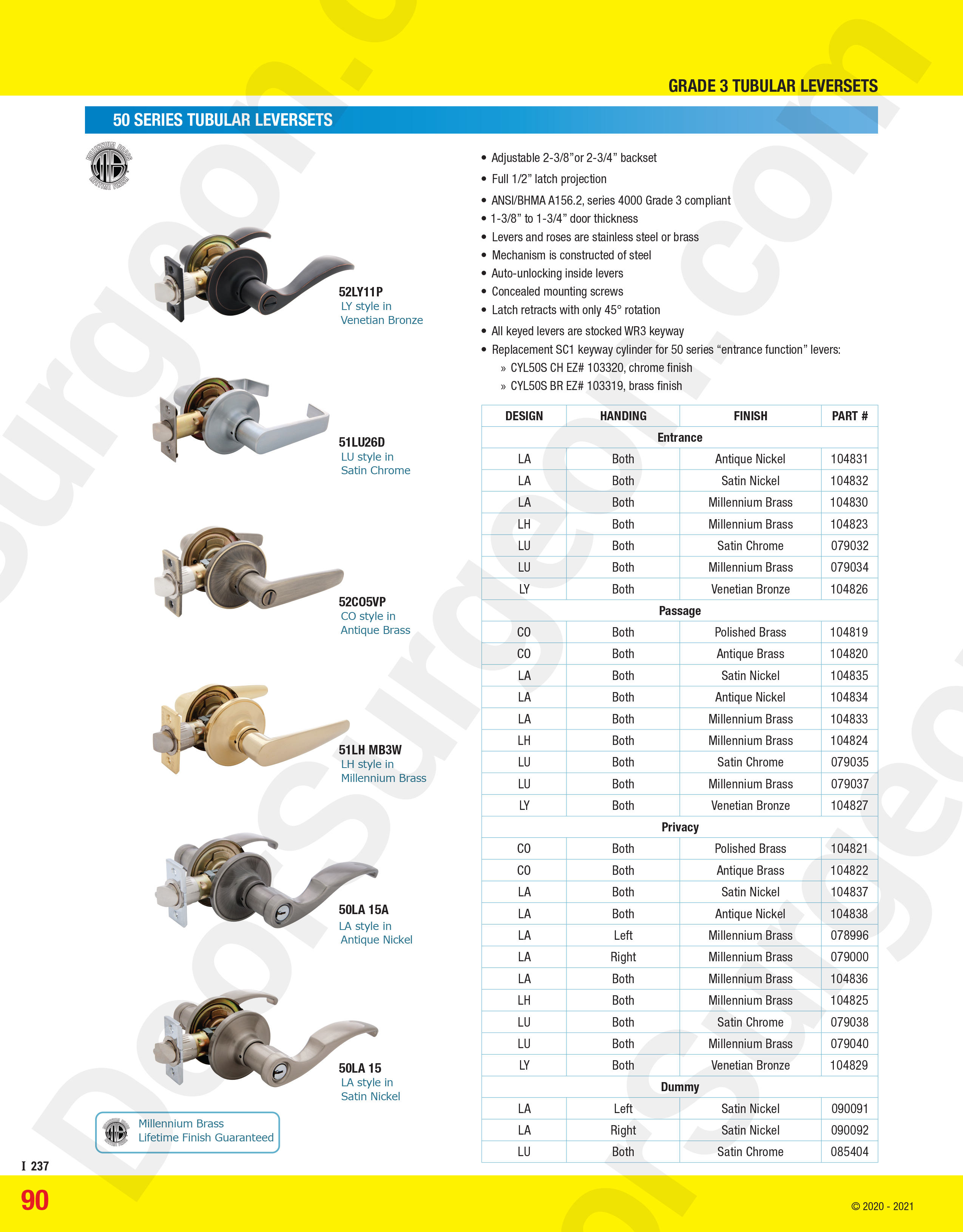 A variety of residential grade lever handle colours, styles and functions to meet your home, office or entry system needs
Door Surgeon has a large variety of handles available for you to choose from. Replacement and renovation handles to replace broken or old hardware are avaialable in entrance, passage and privacy functions. Door Surgeon's mobile handle and deadbolt replacement serviceman can rekey your new lever handle to match your old handle if you so choose. Door Surgeon's mobile handle and deadbolt repair servicemen trucks carry a variety of replacement handles and deadbolts to quickly supply and install replacement handles and deadbolt hardware.
---
Replacment Door Handles & Ball Knobs With Adjustable Latch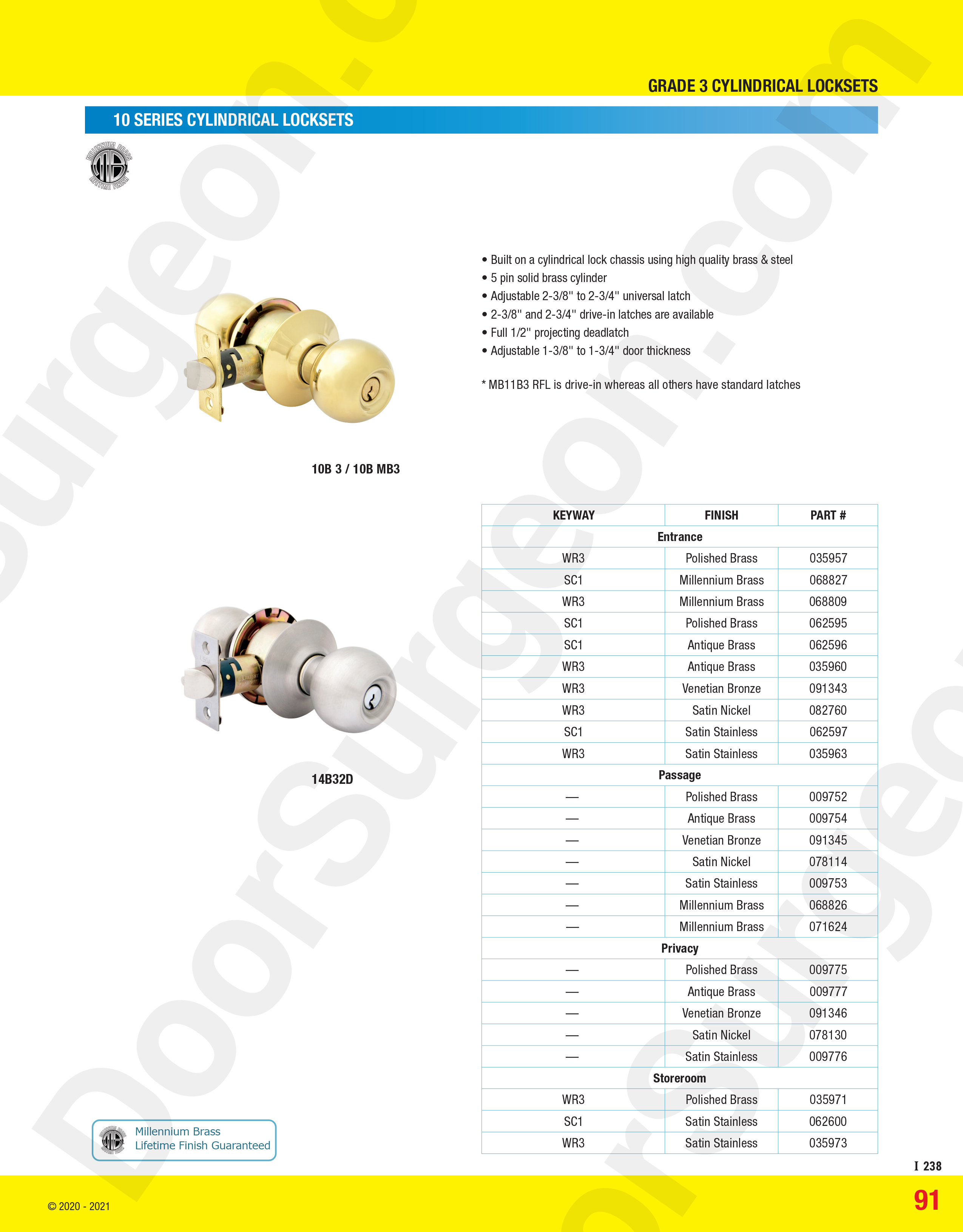 Door handles in a variety of colours, functions to meet your door handle needs.
Standard ball knob design with quality components, steel and finishes. Available in functions to meet your home needs such as: entrance handle for front or back door complete with lock. Passage door handle commonly used on bedrooms and pantries. Locking privacy door handle used for washrooms or bedrooms. Always locked storeroom handle used for storerooms or pantries provides always locked function. Door Surgeon has the right grade of handle and deadbolt that can be installed on your door to repair or replace broken entrance security hardware.
---
Replacement Handles For Older Homes & Apartments Supplied & Installed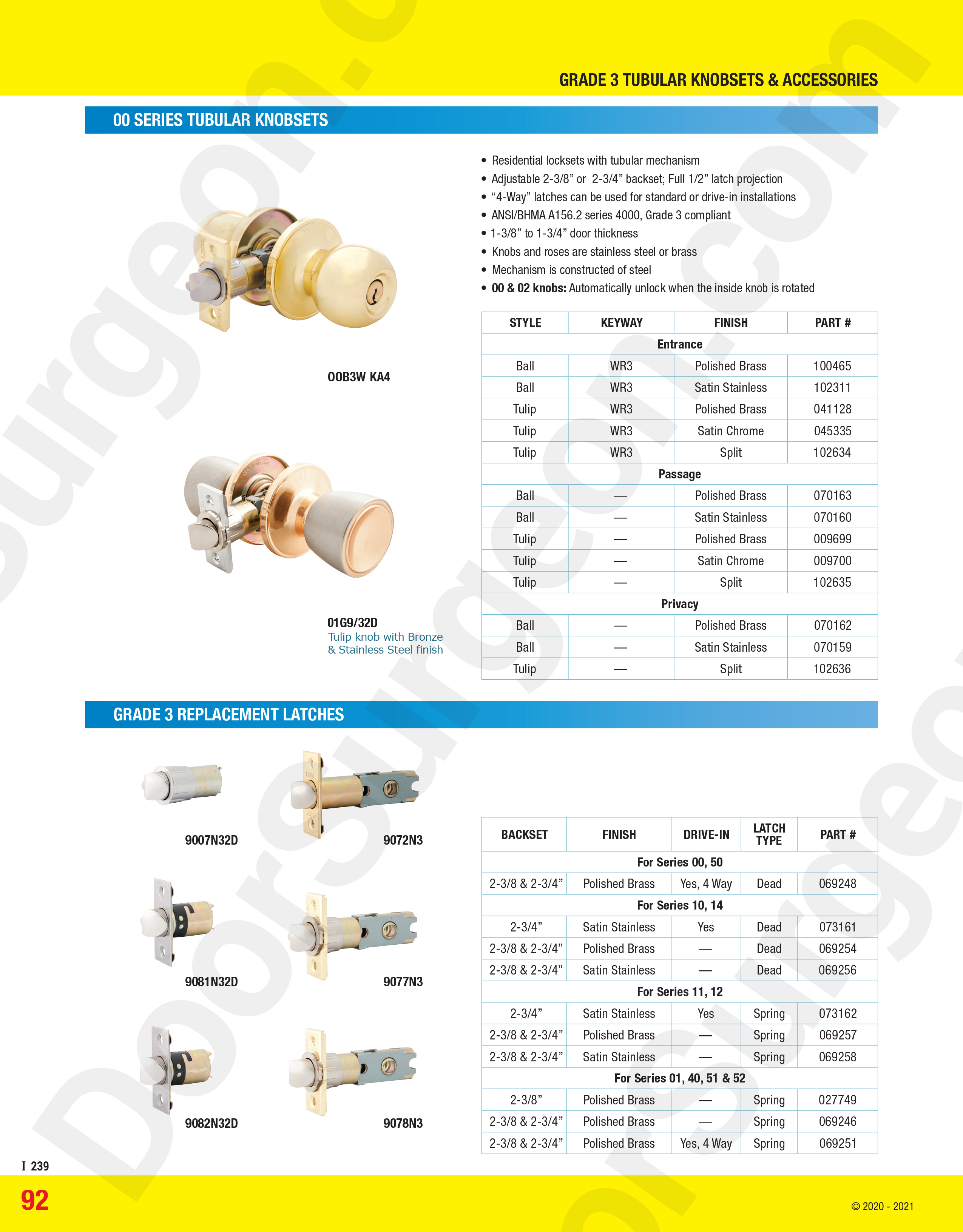 Do-it-yourselfer easy install door handles
Do it yourself or have Door Surgeon's mobile service locksmith handle installer supply and install these older common handle designs. Often these door handles were found on apartment doors and older homes.
---
Deadbolts for Residential Home or Apartment Entry Suite Doors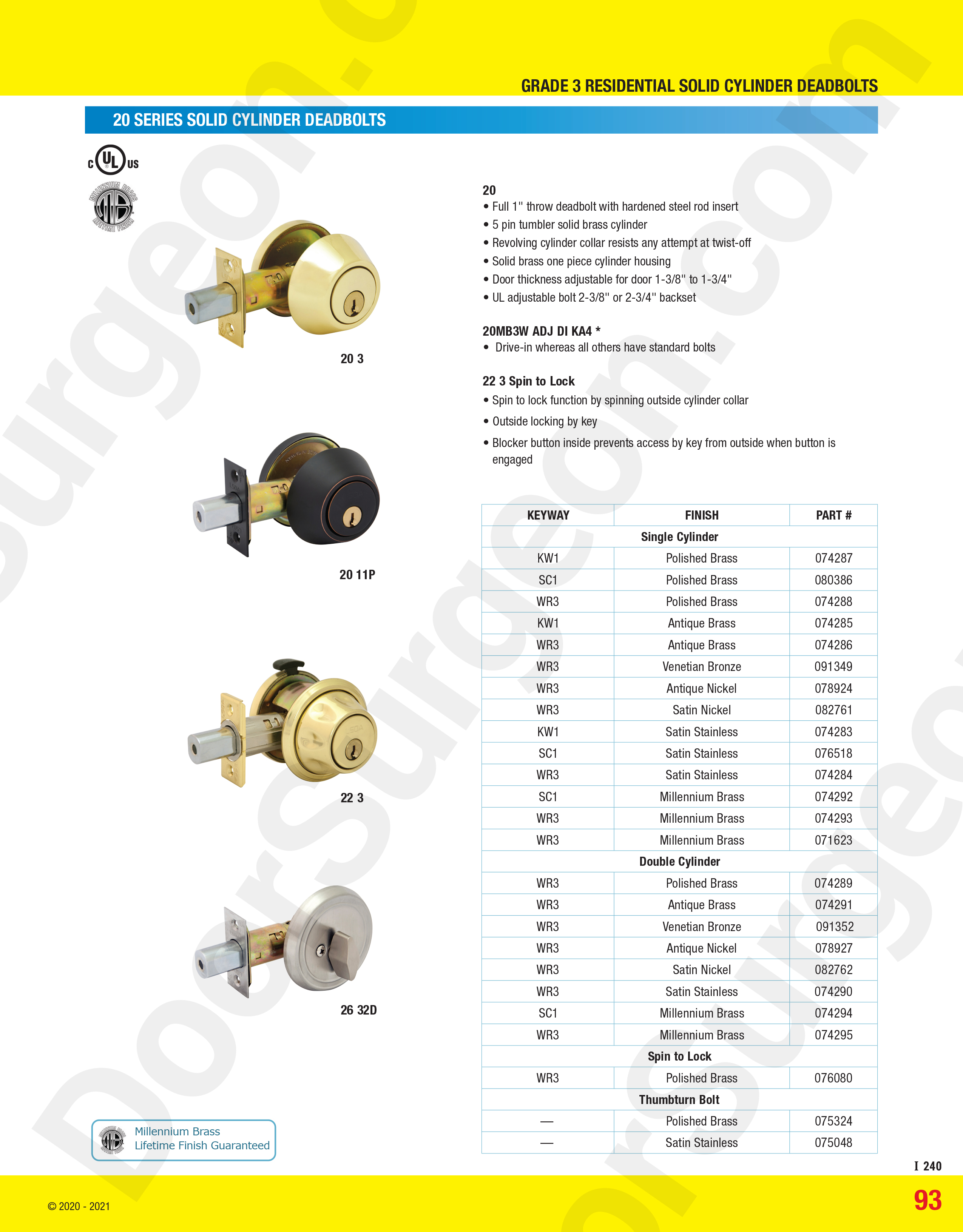 Choose from Door Surgeon's Locksmith grade deadbolts in designer colours, single-sided keyway or double-sided keyway
Do the retrofit install yourself or have the installation done by one of Door Surgeon's trained mobile locksmith door handiman. Quality deadbolts with various finishes and strong keyways. Door Surgeon handle and deadbolt repair and adjustment service person can provide new locks on a new key or rekey the new locks to a current operating key.
---
Home, Apartment or Condominium Deadbolt Security Supplied & Installed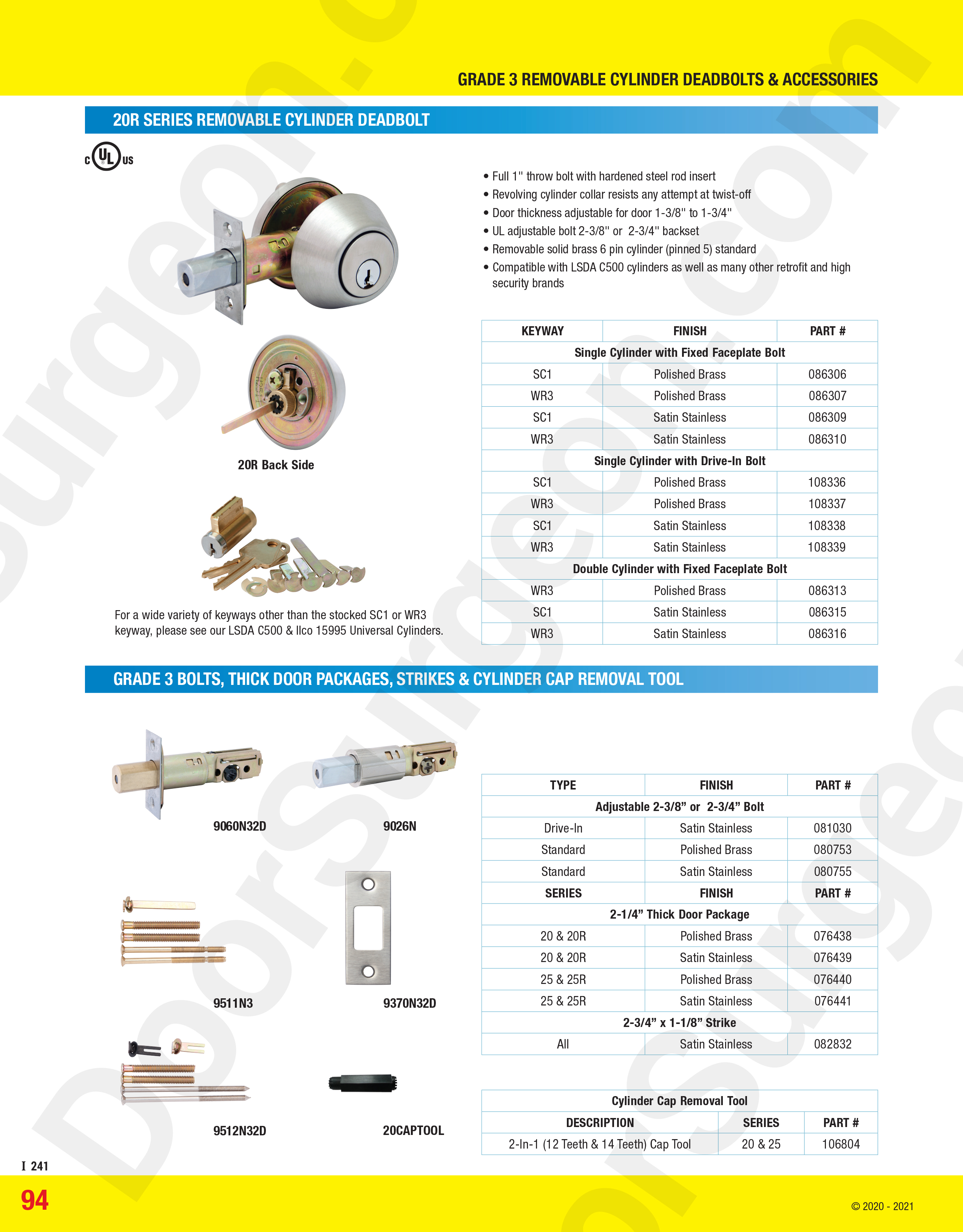 Door Surgeon can Match your current key system to this deadbolt so all your locks work on one key
Cylinders such as Schlage, Weiser, Yale, Sargent and security keyways can be used in this deadbolt. Call today to have Door Surgeon match your handle, deadbolt and keying needs. Door Surgeon's mobile service can deliver and install new handles and deadbolts right at your home.
---
Door Surgeon Designer Grip-sets With Deadbolt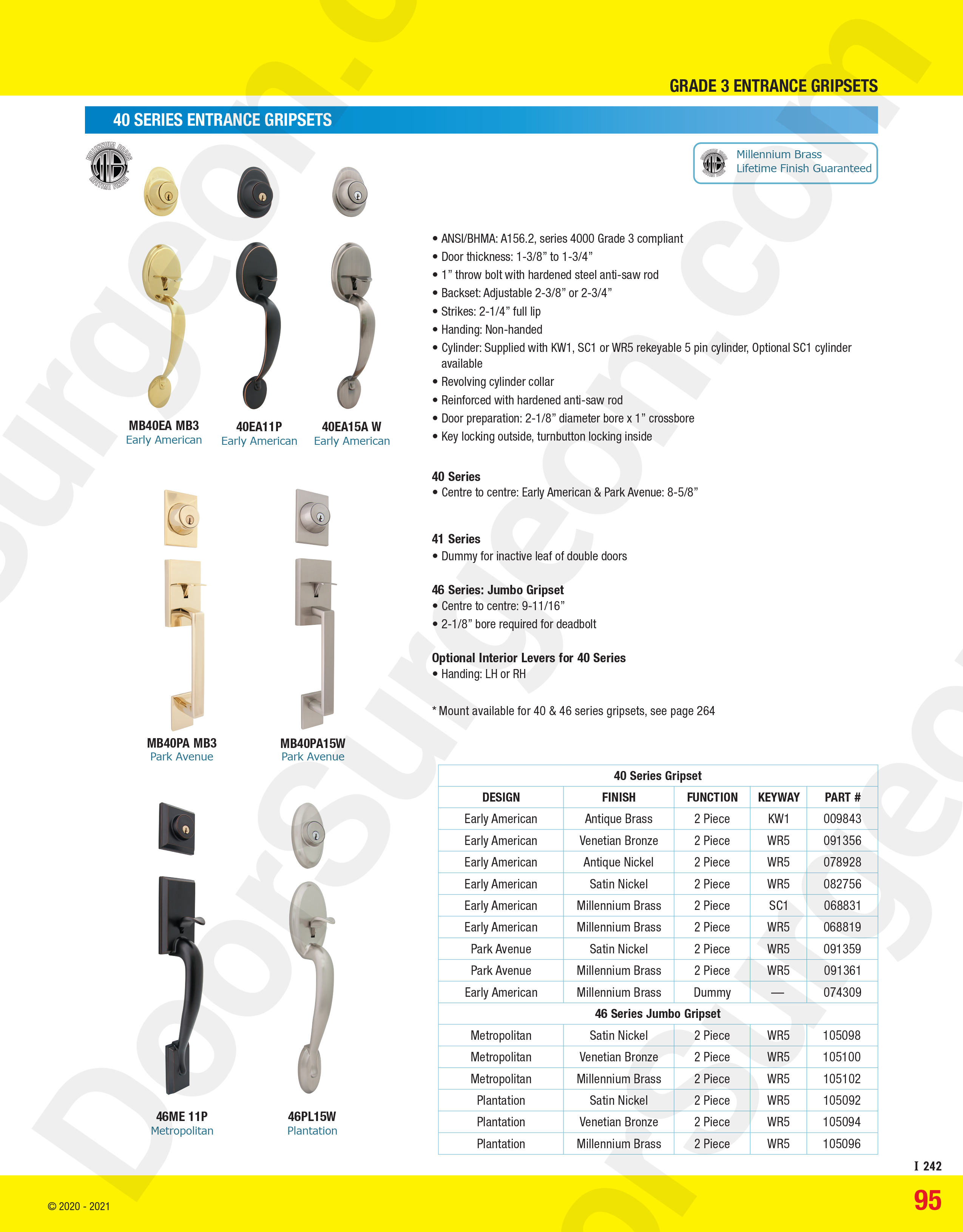 Locksmith grade renovation handles
These grip-sets come in a variety of sizes to match the current length and widths of your door handle. Strong thumb-latch, triple-spring action, quality finish to make these the right choice for door and door handle renovations. Door Surgeon's locksmith can come to your home, review your needs and return with the renovation door handle of choice.
---
Locking Cylinders & Levers for Interior of Grip-sets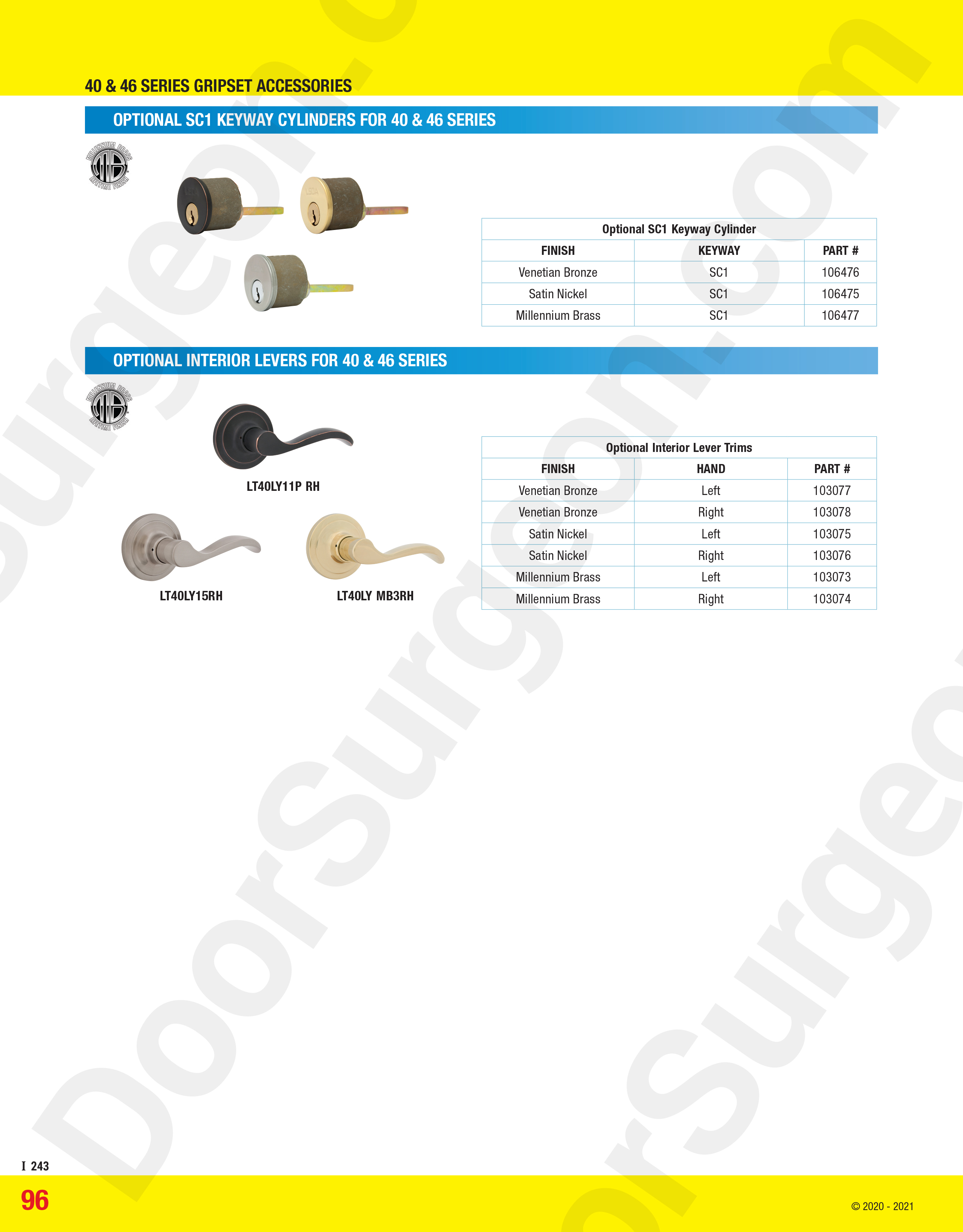 Match your key requirements with these cylinders and replace interior ball knobs with lever handles
Door Surgeon's mobile locksmith hardware expert can match Locking cylinder keyways handles and deadbolts. Lever handles can replace interior ball knobs where lever handles are a preferred.
---
Digital Push-button Entry With Key Overide & Smartcard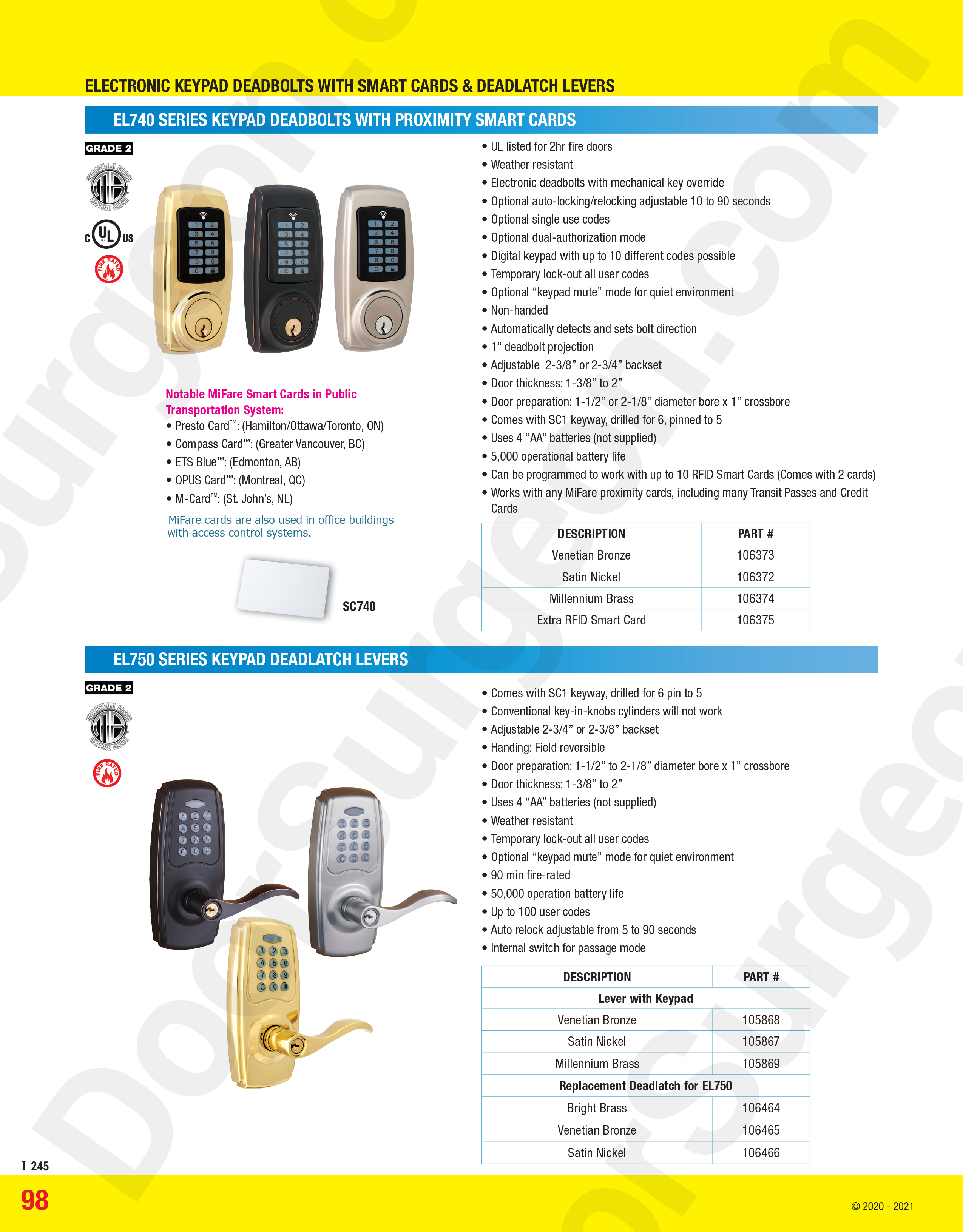 New Digital Push-button entries for homes supplied and installed
Locksmith grade push-button digital entry with key-overide and smartcard an excellent choice for home owners, office use, rental units, hotels and B&Bs. The key access makes it easy for housekeeping and maintenance staff to enter units even if the push-button code has been altered. Door Surgeon can take care of all your on-site installation needs.
---
Door Surgeon Weiser Replacement Latches and Grip-set Mechanisms
Replacement components for your handles or deadbolts
Ask Door Surgeon's sales and service counter parts staff for help finding the correct part to replace broken or worn handle latches, bolts for deadbolts or grip-set mechanisms.
---
Mortise Locks With Skeleton Key and Glass Knobs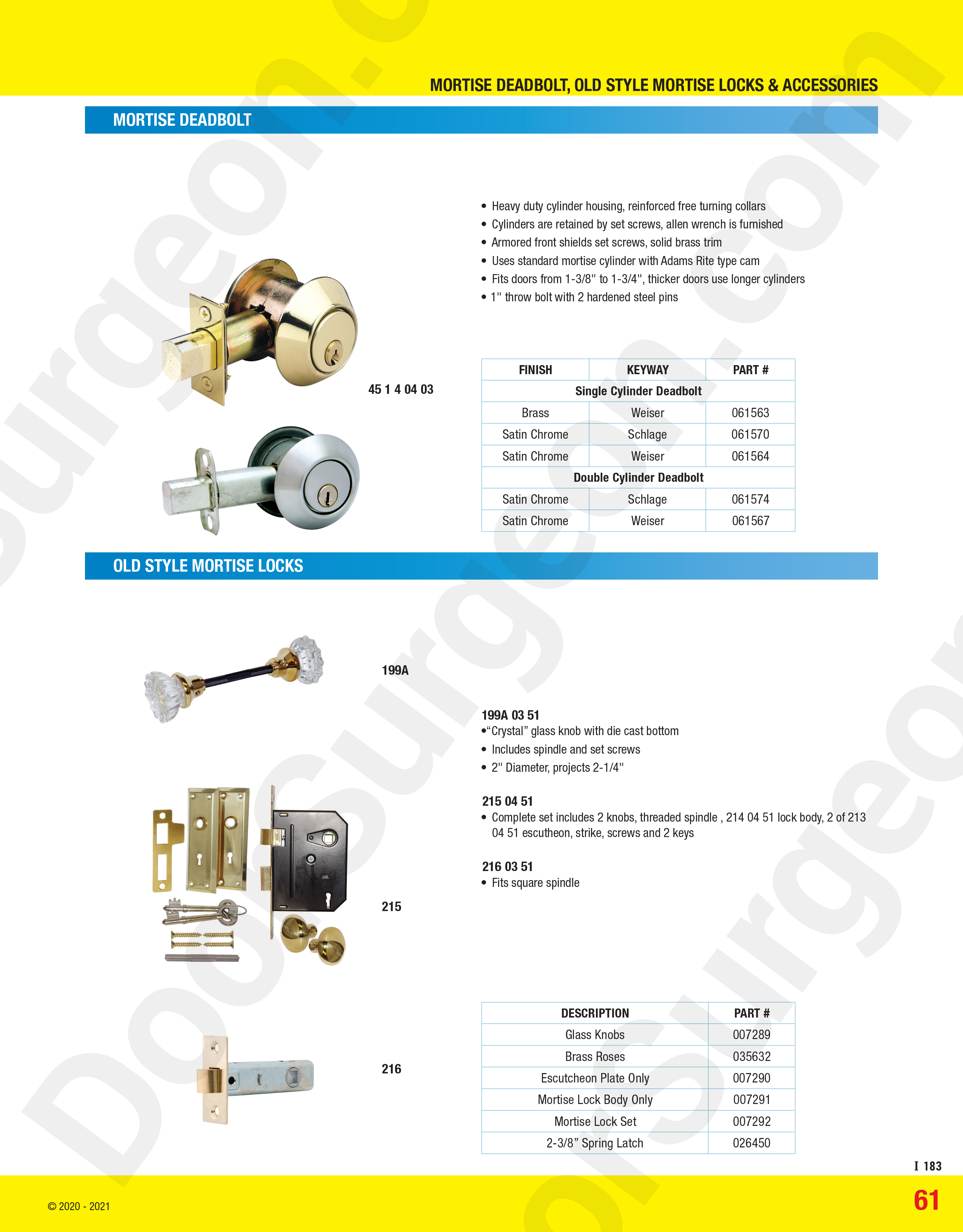 Replacement hardware for older homes complete with skeleton key, mortise lock and glass knob
Old-style locks that were popular in the 30s, 40s, 50s and 60s in old-style character homes for locking front and back doors. These old-style door handle locks are available at Door Surgeon's sales and service parts centres or call to have one of Door Surgeon's locksmith installers supply and install your new replacement locking hardware.
---
Digital Push-button entry for Home, Office, or Apartments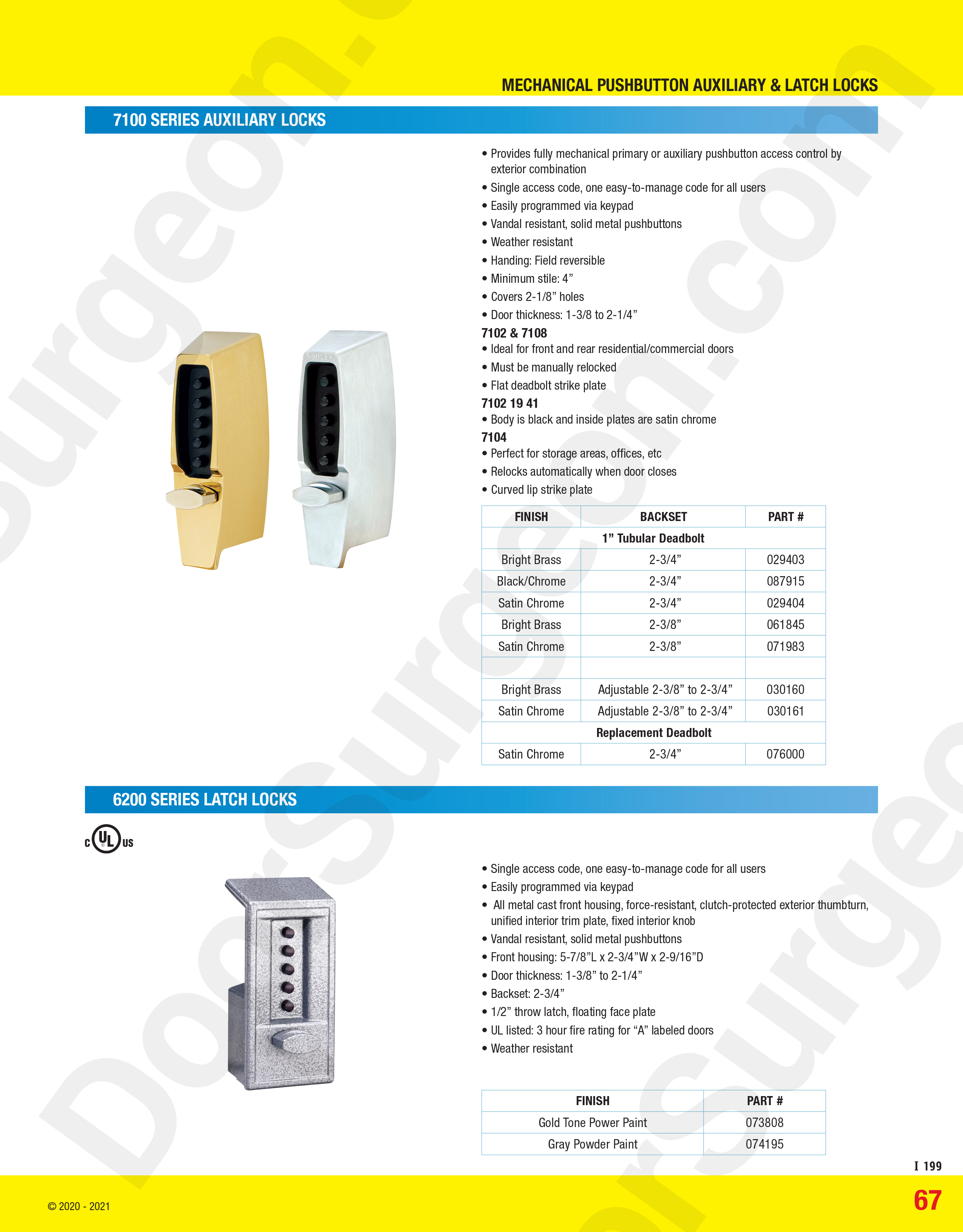 Locksmith grade Push-button digital entry available in deadbolt for security or deadlatch
Door Surgeon's locksmith choice in push-button digital entry. Hardworking, durable, all metal mechanical push-button entries have no batteries or plastic parts. These are Door Surgeon's locksmith choice in push-button digital entry. Available in brass and silver.
---
Door Peepholes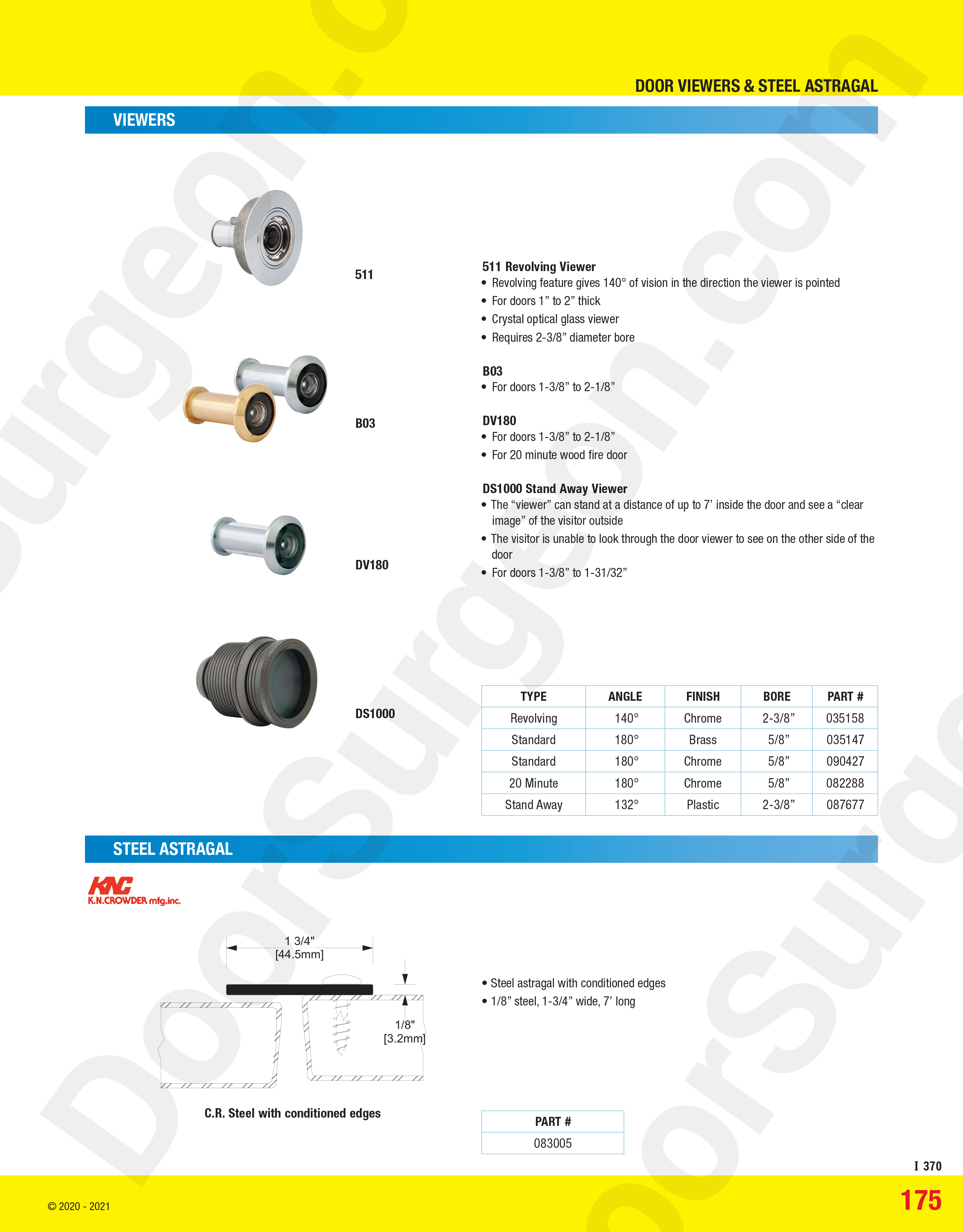 Standard or fire-rated door peephole, angle-view and stand-away door viewers
Door Surgeon's door service hardware installer can supply and install these door peepholes.
---
Replacement Door Weatherstrip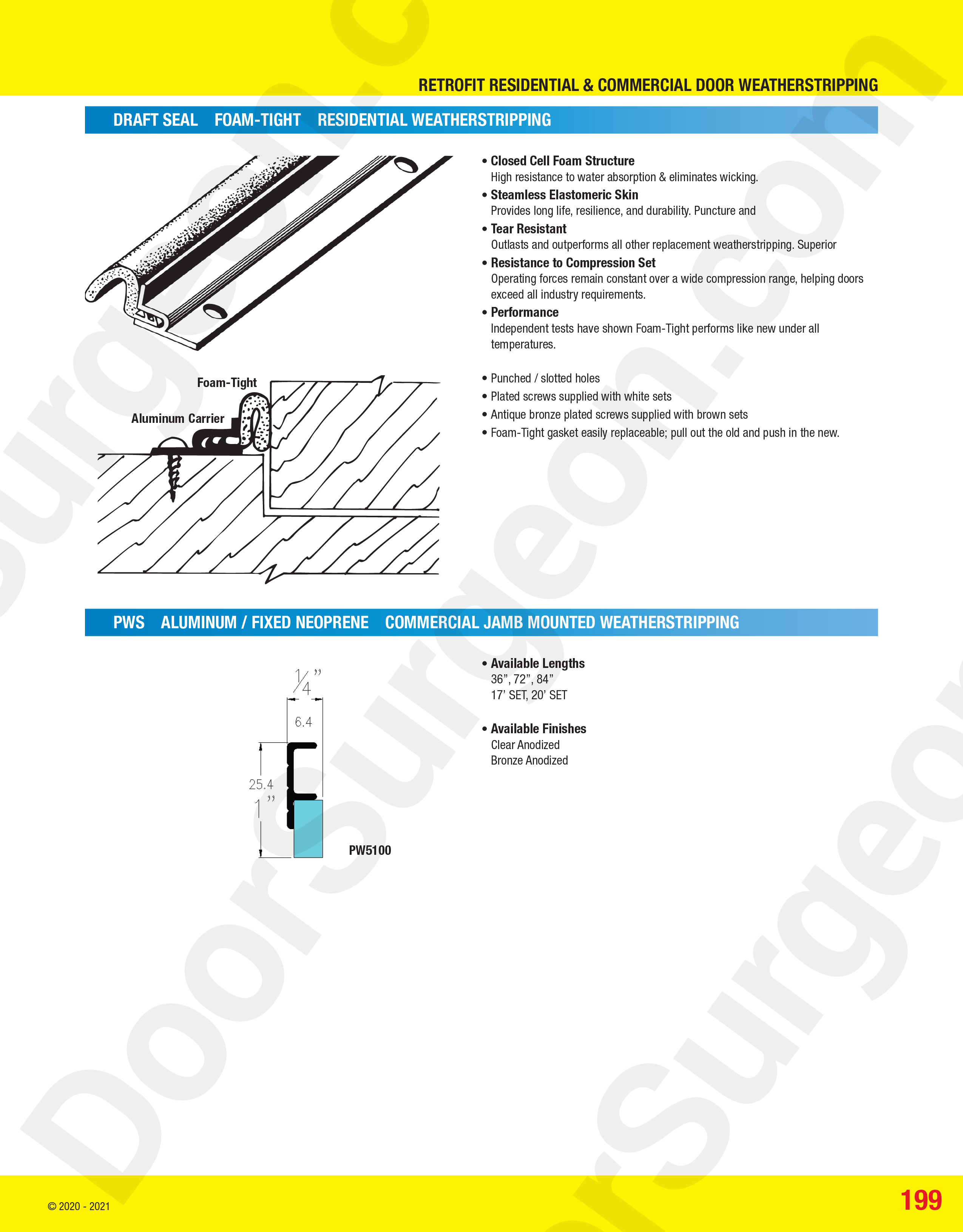 Replacement Weatherstrip for home, warehouse or business Doors
Replacement weatherstrip that seals door from cold, wind and rain. Used in homes, commercial buildings and apartments. Ask Door Surgeon's shop service help to match your needs with the correct product to solve your weather-shield needs. Door Surgeon's door weatherstip installer can come to your home or business to make the weatherstrip repair or replacement required.
---
---
Door Surgeon Handle Deadbolt Repair, Adjust or Replacement Servicing Devon
Mobile Door Parts & Repair Service Devon
---
Door Surgeon Sales & Service Centre Edmonton
---
Click the link to find a location or service provider nearest you:
---
Introduction to Locksmith Van, Locksmith Service Centre, Residential Hardware and keys - 29 min
29 minute video reviewing Locksmith trucks, replacement hardware, key cutting equipment, typical handles, deadbolts and door repair products. Quick review of the Locksmith service centre, lever handles, deadbolts and break-in repair products. Quick look at the mobile Locksmith dispatch centre. Review of locks, safes, keys, doors and door hardware.
---
Door Hardware - 6 min
6 minute Quick look at Locksmith grade ball knob handles, deadbolts, lever handles, grip sets with discussion
on function and colour.
---
Push Button Entries and house locks- 4 min
Solid quality, convenient push button entry systems for garage, office, home or business. All metal - no plastic parts, all mechanical - no batteries. You can choose from a wide variety of Locksmith grade push button entries. Some even come with key override.
---
WARRANTY
Sometimes Things Happen
No one likes it when things go wrong, no one more than us, but if it does check out our Warranty
---