Door Surgeon Loading Dock
Leveler Repair Service & Parts
Fort Saskatchewan
Door Surgeon Fort Saskatchewan's mobile loading dock leveler repair serviceman will come to your warehouse to adjust, repair and replace loading dock leveler parts. Loading dock levelers take a great deal of use and abuse, often dock levelers need replacement of hydraulic hoses, hydraulic pumps, springs, flip-out edges, safety edges and dock leveler control panels
Door Surgeon Fort Saskatchewan's mobile loading dock leveler repair servicemen can also come to your site and clean out the garbage that is collected underneath and inbetween the dock levller. It's surprising just how much can be collected underneath the dock, typically we find parts of palets, shipping containers, bolts, screws and a variety of items that have fallen out of trucks or off of forklifts. This refuse under your dock leveler can puncture hydraulic hoses and airbags as well as jam up gears and operational mechanisms creating significant saftey issues.
Your product shipping and receiving area needs to work efficently so that doors aren't open any longer than necessary and forklifts and loading equipment move smoothly and easily in and out of trucks that are pulled up to your loading dock area.
Fort Saskatchewan Mobile On-site Dock Leveler Repair and Service
---
Dock Seals & Dock Shelters Fort Saskatchewan
Warehouse loading door dock seals
Door Surgeon's mobile loading dock seal and loading dock shelter serviceman can repair, remount and replace loading door dock seals in warehouses. These loading dock seals and loading dock shelters take a great deal of wear and tear from trucks backing into the loading dock seal and tearing the unit. The dock seals are designed so as to absorb the truck impact and maintain a weather seal around the opening during loading and unloading.
---
Fort Saskatchewan Hydraulic & Mechanical Dock Levelers
Door Surgeon's Mobile Dock Leveler Service Trucks provide on-site warehouse service
Hydraulic dock leveler and mechanical loading dock leveler service
Door Surgeon's mobile loading dock leveler serviceman can come to your warehouse business location to inspect, clean and repair loading dock levelers as needed. Door Surgeon's loading dock leveler servicemen can deal with a variety of brands including: Blue Giant, Bluff, Copperloy, DLM, Ellis, Genquip, Kelley, Kelly Atlantic, Level-Rite, McGuire, Nordock, Nova, OHD, Pentalift, Pioneer, Poweramp, Rite-Hite and Serco.
We know just how important it is to have a quick turn-around time in regards to maintenance of your loading dock and door areas. Often times we can respond to your repair and adjustment needs within the same day.
---
Solar Dock Hydraulic Dock Leveler/Vertical Storing Dock Leveler Fort Saskatchewan
Loading dock Leveler adjustments, repairs and cleaning
Door Surgeon's loading dock leveler service repairmen can come to your site and work on all loading dock levelers regardless of brand or style.
---
Fort Saskatchewan Loading Dock Bumpers/Lights
Dock bumpers absorb the shock of trucks backing into door entrances and wall areas. If these loading dock bumpers are not installed properly and at the correct height then you can expect significant damage to both the building and the trucks backing into the loading bay door area. There are a number of size differences in width, height and thickness available.
Lighting and safety equipment for loading dock areas is also of significant concern. Door Surgeon's loading dock servicemen can consult and recommend additional equipment so as to remain a safe and producting loading dock area.
---
Follow these links for related pages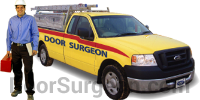 Commercial Garage
Door Service
Ft Saskatchewan
Commercial Garage
Door Openers
Ft Saskatchewan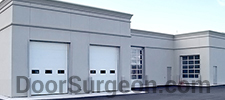 New Commercial
Garage Doors
Ft Saskatchewan
---
Door Surgeon Mobile Loading Dock
Leveler Repair & Parts Servicing Fort Saskatchewan
Mobile Loading Dock Leveler Parts and Repair Service Fort Saskatchewan
---
Door Surgeon Sales & Service Centre Edmonton
---
Click the link to find a location or service provider nearest you:
---