Door Surgeon Automatic & Handicap Door Repair Service Leduc
Door Surgeon Leduc's Automatic & Handicap Door Repair Service
Door Surgeon Leduc's mobile repair service comes to your commercial building to make adjustments and repairs to all types of automatic door openers, sliding doors and standard door openers and closers. Door Surgeon Leduc can help with the timing of the door, adjust sensors and replace rollers to obtain smooth operation and safe functionality of your automatic door. It is important that these doors open consistently and safely in order to not hurt or overpower handicapped individuals, children or adults that use the door to gain access to your building. Door Surgeon automatic & handicap door repair service is the automatic door service team to call in Leduc.
Door Surgeon Leduc's mobile automatic & handicap door opener repair service installation team can help you renovate a current entrance to accommodate a handicapped access automatic door system. We respond quickly to make repairs to your current automatic door opener system. Door Surgeon's door automatic and handicap door repair technicians have undergone extensive training that helps them assess all brands of automatic door openers, sensors and parts to make sure you get the correct professional repair service your automatic door requires.
---
Handicapped Access Doors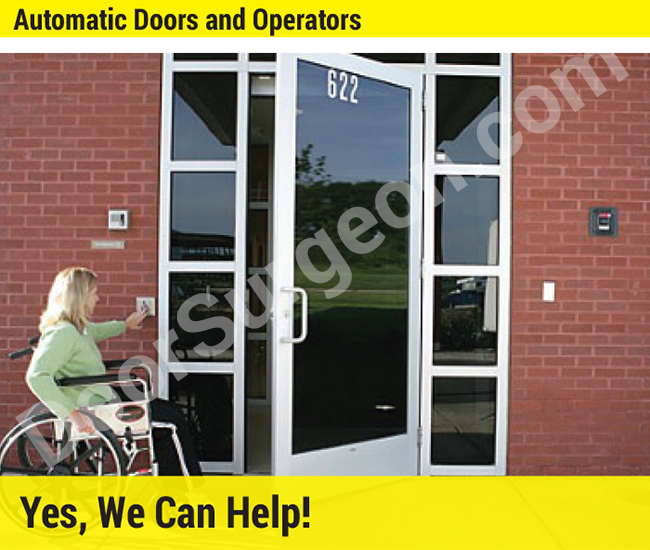 Automatic Door Openers
Handicapped access doors are legislated by the government in a number of locations such as hospital entrances, government entrances, mall entrances and a variety of other public access areas. Door Surgeon ensures that your automatic door operates safely and securely and push-button switches are operating properly. Automatic doors often need speed adjustments, force adjustments and motor repairs. Door Surgeon has a team of trained mobile automatic & handicap door repair servicemen that bring tools, inventory, repair and replacement options to each and every job site.
---
Automatic Sliding Bypass Doors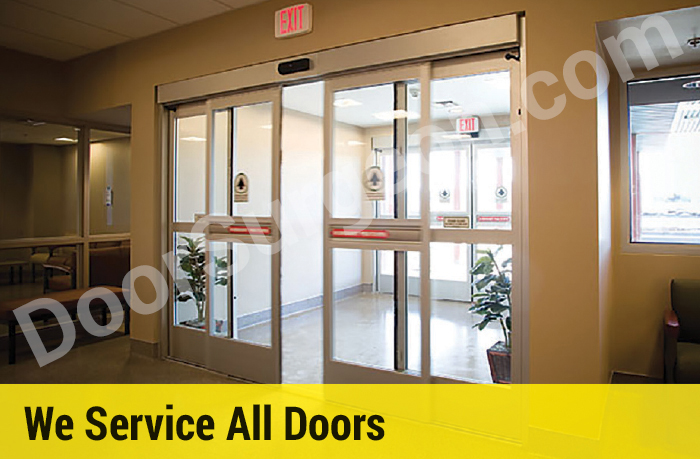 Motorized Automatic Sliding Doors
Door Surgeon's mobile automatic door handymen will come to your site to ensure that doors are operating safely and providing security. Automatic door sensors, buttons, switches, weatherstrips, rollers, motors and guides need care, attention and maintenance provided by the Door Surgeon's mobile automatic & handicap door repair service technicians. Call Door Surgeon's automatic & handicap door repair dispatch centre to arrange for your on-site automatic door scheduled maintenance or emergency automatic door repair and adjustment. Door Surgeon's mobile door service is only a phone call away. Door Surgeon's mobile servicemen are where you are.
---
Storefront Automatic Door Renovations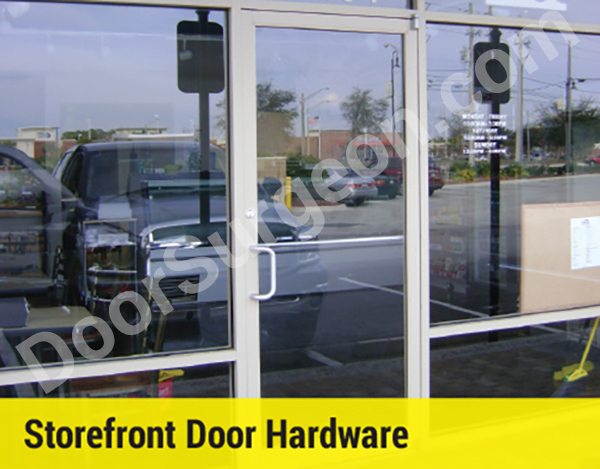 New Automatic Door Installations
While new builds have legislated government requirements for automatic door use, the access to current buildings can also be upgraded with automatic and handicap doors. We can install swing out or slide-bypass by renovating your current door area to accept the proper automatic door solution. Door Surgeon can help you with door renovations that will accept the appropriate automatic door opener, switches and sensors. A new automatic door operator that works properly will make access to your business easy for all patrons including the physically challenged.
---
Sliding Access Doors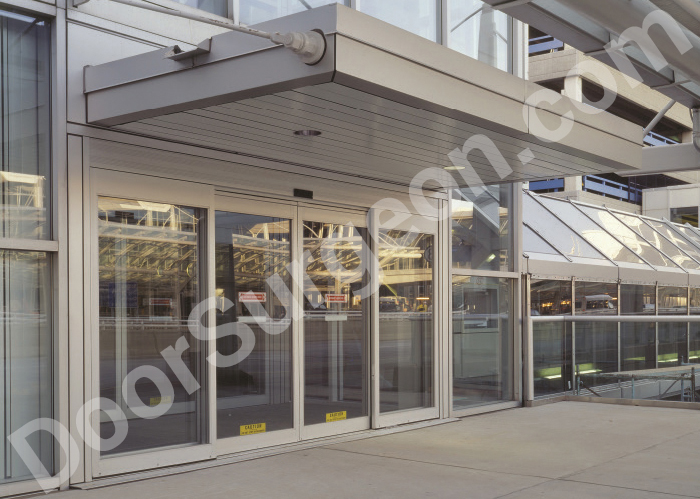 Fast service and repair of automatic sliding doors
Door Surgeon is ready to respond to your automatic sliding door needs. Door Surgeon's mobile sliding access door serviceman can adjust, repair and replace parts as needed for a wide variety of doors. Door Surgeon sliding access door mobile servicemen install, fix, adjust and repair a number of brands of automatic and handicap door openers including: - Entrematic, Hunter, Stanley. As well as Dorma, Norton, Hagar, LCN, Falcon, Sargent, Open Sesame, Detex, Dor-o-Matic. And many more top automatic and handicap door brands. Door Surgeon's mobile automatic & handicap door repair service is only a phone call away. Door Surgeon's mobile servicemen are where you are.
---
Automatic Door Components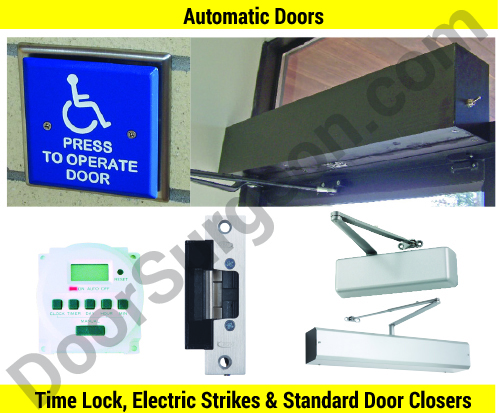 Time lock, electric strikes, automatic door openers, push-button door controls
Door Surgeon can respond to your automatic door needs. Door Surgeon's mobile service door repair personnel come to your site with tools and inventory ready to adjust, repair, replace and install the automatic door opener solution to meet your needs.
---
Leduc Entrematic Closed Gearbox Low Energy Automatic Handicap Operator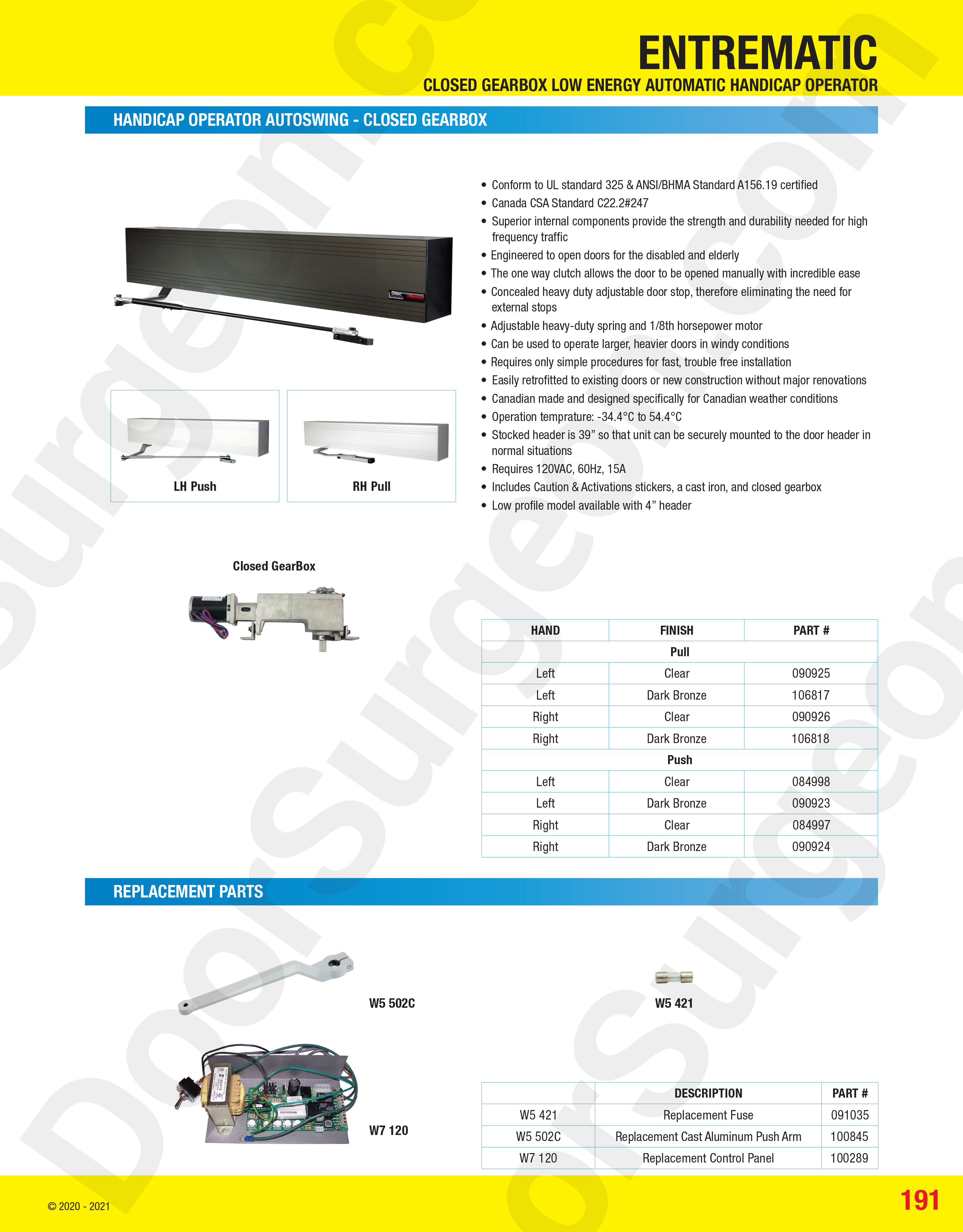 Automatic door Handicap operator autoswing & replacement parts
ANSI standard A156.19 compliant. Conforms to UL Standard 325, fire door compatible. Canada CSA standard C22.2 #247, Canadian made and designed specifically for Alberta weather conditions. Operation temperature: -34.4ºC to 54.4ºC, superior internal components provide the strength and durability needed for high frequency traffic. The one way clutch allows the door to be opened manually with incredible ease. Concealed heavy duty adjustable door stop, eliminating the need for external stops. Adjustable heavy-duty spring and 1/8th horsepower motor. Can be used to operate larger, heavier doors in windy conditions. Requires only simple procedures for fast, trouble free installation and is easily retrofit to existing doors or new construction without major renovations.
Stocked header is 39" so that unit can be securely mounted to the door header in normal situations. Includes caution & activation stickers, single HA-8 w/Data, 24 VDC, 3 AMP control box, 16 VAC/115 VAC operating voltage, magnetic limit switches. Adjustable 5 to 30 lbs opening/closing force. On-off-hold open operator switch. Adjustable spring tension. 6-1/2" x 4-1/2" header case. Door opening width +3", thickness .125min. 0" to 14" push reveal, 0" to 4" pull reveal. 24 VDC electric strike power. 3 AMP fuse replaceable. Total weight with 39": open gearbox - 44lbs, closed gearbox - 45lbs. Header minimum wall thickness: 0.125". This is Door Surgeon's go-to door automatic door opener that is versatile strong and readily available.
Door Surgeon's door service personnel can fix, repair or replace these automatic door openers, often installed to meet handicap access requirements or just make entry into businesses easy and comfortable. Found in storefronts, apartment entries and high-traffic door applications. Call one of Door Surgeon's service centres for installation or visit one of 3 service centres for over the counter sales.
---
Falcon Automatic Operator Leduc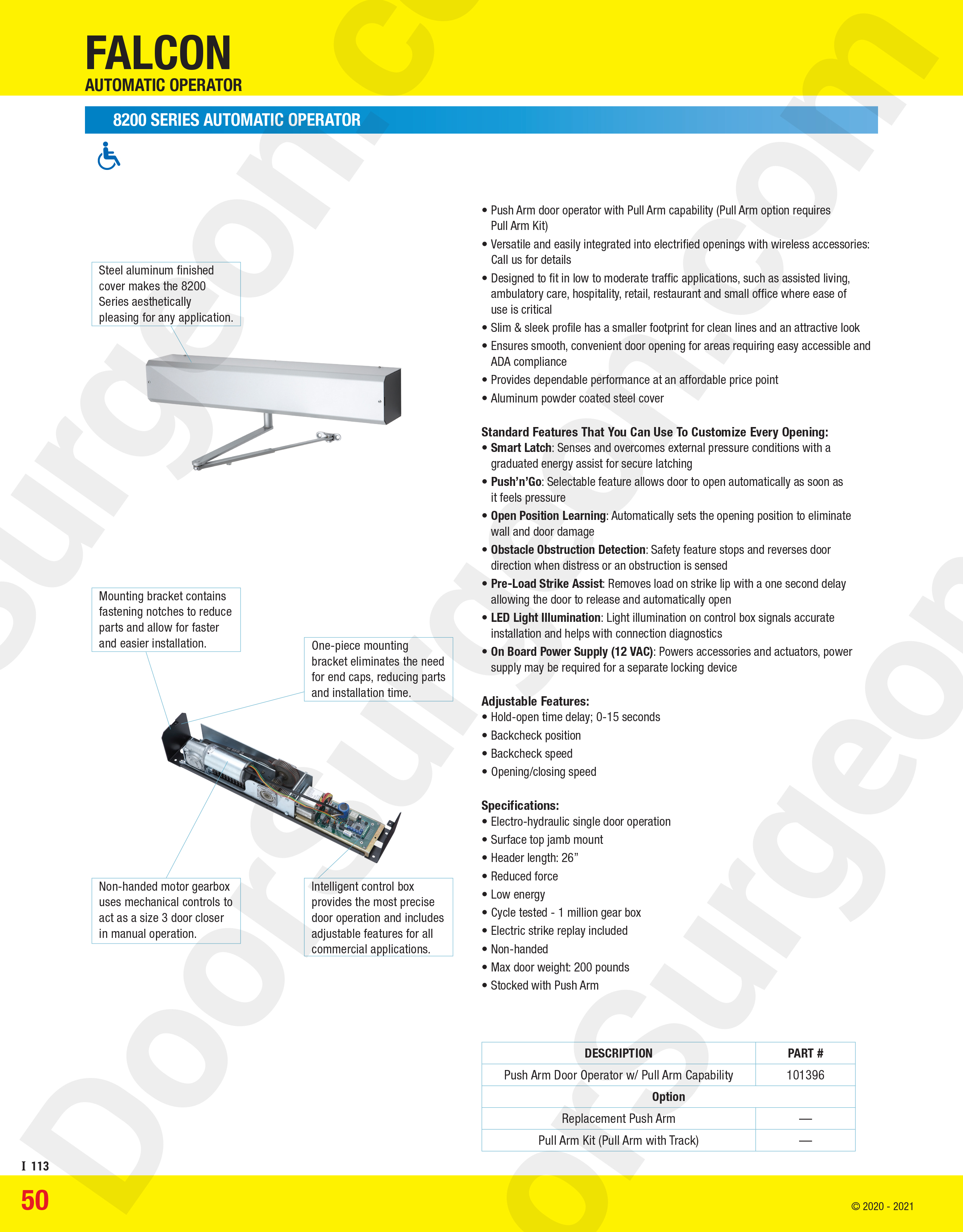 8200 automatic operator
There are a variety of automatic openers to meet your needs. Door Surgeon's mobile service providers can help with selection and appropriate sizing.
---
Leduc LCN Auto Equalizer Pneumatic & Benchmark Low Energy Operators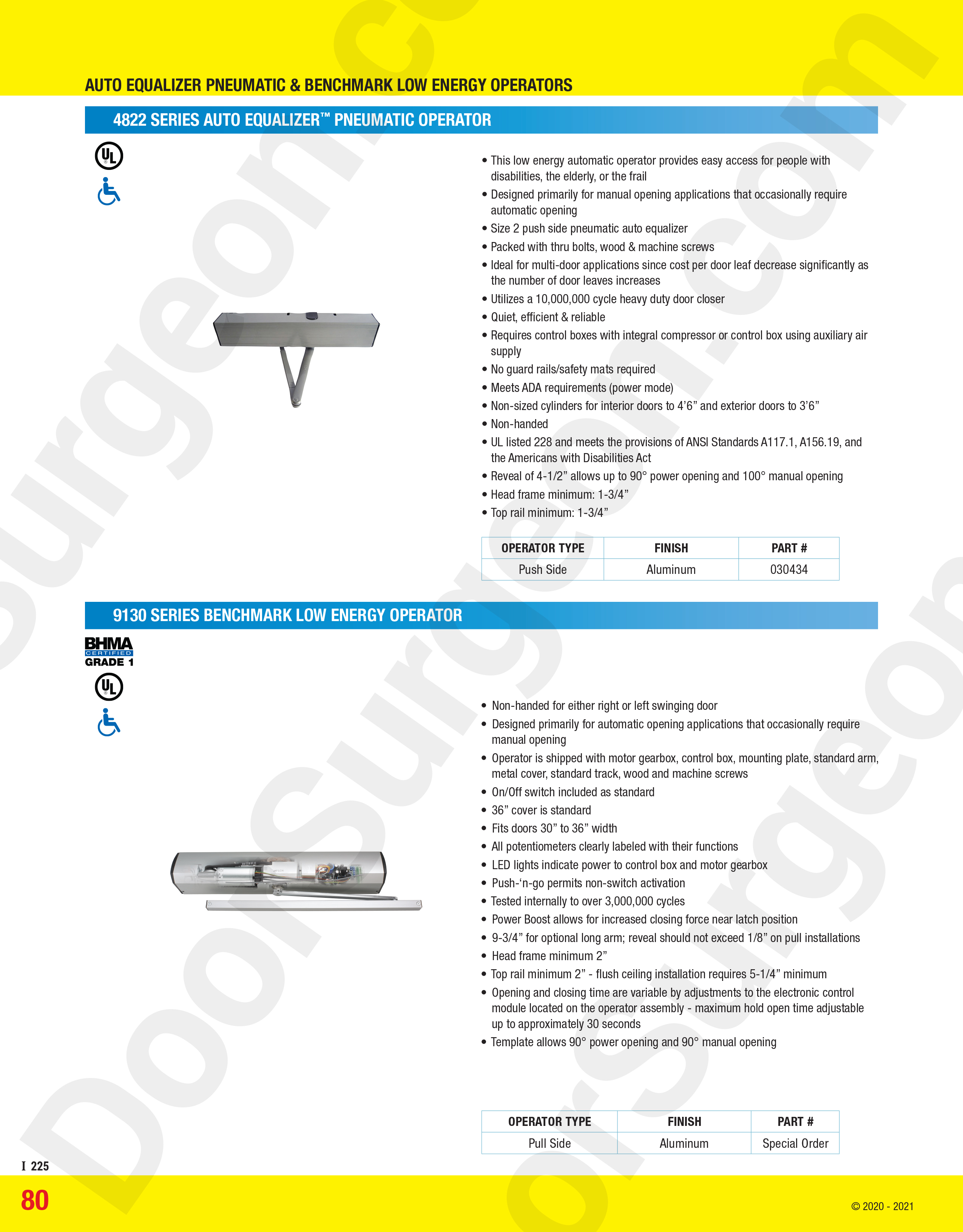 4822 series Auto Equalizer pneumatic operator
This low energy automatic operator provides easy access for people with disabilities, the elderly, or the frail. Designed primarily for manual opening applications that occasionally require automatic opening. Size 2 push side pneumatic auto equalizer. Packed with thru-bolts, wood and machine screws. Ideal for multi-door applications since cost per door leaf decrease significatntly as the number of door leaves increases. Utilizes a 10,000,000 cycle heavy duty door closer. Quiet, efficient and reliable.
Requires control boxes with integral compressor or control box using auxiliary air supply. No guard rails/safety mats required. Meets ADA requirements (power mode). Non-sized cylinders for interior doors to 4'6" and exterior doors to 3'6". Non-handed. UL Listed 228 and meets the provisions of ANSI Standards A117.1, A156.19 and the Americans with Disabilities Act. Reveal of 4-1/2" allows up to 90º power opening and 100º manual opening. Head frame minimum: 1-3/4". Top rail minimum: 1-3/4".
9130 Series Benchmark Low Energy Operator
Non-handed for either right or left swinging door. Designed primarily for automatic opening applications that occasionally require manual opening. Operator is shipped with motor gearbox, control box, mounting plate, standard arm, metal cover, standard track, wood and machine screws. On/Off switch included as standard. 36" cover is standard. Fits doors 30" to 36" width. All potentiometers clearly labeled with their functions. LED lights indicate power to control box and motor gearbox. Push-N-Go permits non-switch activation. Tested internally to over 3,000,000 cycles. Power boost allows for increased closing force near latch position. 9-34" for optional long arm; reveal should not exceed 1/8" on pull installations. Head frame minimum 2".
Top rail minimum 2" - flush ceiling installation requires 5-1/4" minimum. Opening and closing time are variable by adjustments to the electronic control module located on the operator assembly - maximum hold open time adjustable up to approximately 30 seconds. Template allows 90º power opening and 90º manual opening.
---
---
Door Surgeon Automatic Handicap Door Repair Servicing Leduc
Mobile Door Parts & Services Leduc
---
Door Surgeon Sales & Service Centre Edmonton
---
Click the link to find a location or service provider nearest you:
---
WARRANTY
Sometimes Things Happen
No one likes it when things go wrong, no one more than us, but if it does check out our Warranty
---
© Door Surgeon 2023 | No content may be used without permission.