Door Surgeon Security Key & Deadbolts Access Control Morinville
Door Surgeon mobile Morinville's Security Keys & Deadbolts for Residential & Commercial Door Security
The best in security keys and deadbolts, Mul-T-Lock stands above the crowd with it's solid construction and innovative technology. Door Surgeon Morinville's mobile security installation locksmith team can visit your site. Then determine the right non-duplicatable security key and deadbolt system to use on your home, office, or business. Or visit Door Surgeon Morinville's sales and service centre to view displays on this key management security key product.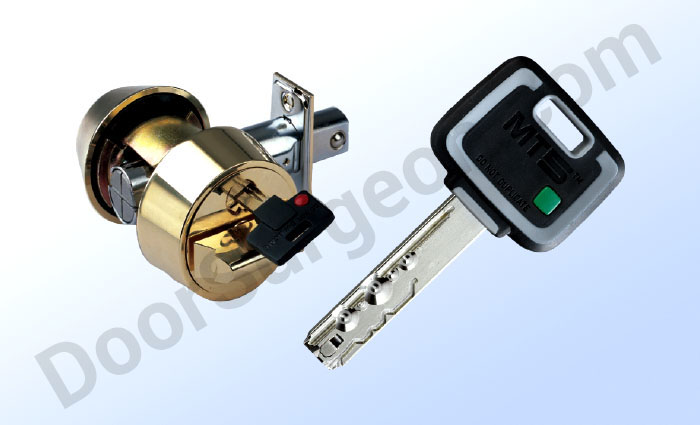 Mul-T-Lock Non-duplicatable Key Control
---
Security Deadbolt Features Locksmith grade quality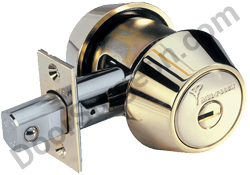 Mul-T-Lock's special hardened bolt is made of saw resistant steel.
A solid steel shroud covers the bolt extension to maximize resistance from physical attacks.
The free spin rings surrounding the lock are machined from solid brass for added protection against forced entry.
The bolt itself is fitted with an advanced steel ball bearing mechanism that locks the door to the jam.

Supplied & Installed Security Key & locking security hardware
Door Surgeon's mobile security key and deadbolt serviceman can visit your home, apartment, business or warehouse. Then supply and install this superior grade key control security hardware.
---
High Security Key Features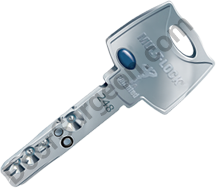 Mul-T-Lock's unique dimples cannot be copied on standard sawtooth key cutting machines.
Patented floating pin technology enhances key control.
Your key profile will be strictly managed at Door Surgeon's Security Centre and cannot be acquired at kiosks selling common keys.
Keys cannot be reproduced by staff, tenants, friends or family without your authorization.
Mul-T-Lock security key systems are also pick and drill resistant, further restricting unauthorized access.
---
Free 3-in-1 Rekey Option in Morinville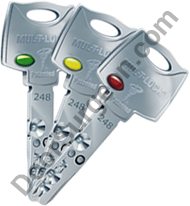 Your building is first keyed to the

green

key and you are provided with the number of keys you currently require.
A

yellow

rekey or change key can be provided at the time of installation, or at a future date. This key can be inserted into the lock and with a simple twist of this key, your locks are rekeyed to this new, secure yellow key. *At this point, all previously distributed keys are locked out and will no longer allow entry* Additional yellow keys can be ordered at any time to match your current needs.
A

red

key operates in the same manner as the yellow key, to allow an additional quick and easy rekey.
Door Surgeon's technicians can help analyze your needs to determine if this system is of benefit to you. It's all part of the service.
---
Mobile Security Key & Deadbolts Access Control
Door Surgeon's mobile security key & deadbolts access control serviceman will come to your home, office, business, facility, condominium complex, townhouse or apartment complex. Provide the right key system to meet the needs of the traffic flow you have going through your doors and the key security requirements for your complex.
In-store mobile security key & deadbolts access control sales and service
Door Surgeon has a number of sales and service centres that you can visit to view product displays. Sample the operations of handles, deadbolts and security key systems. Door Surgeon's in-store locksmith will be happy to review your individual concerns. Then help find the appropriate key control or door control products that will meet your individual location key control and door access control needs.
---
---
Door Surgeon Security Key & Deadbolts Access Control Servicing Morinville
Mobile Door Parts & Service Morinville
---
Door Surgeon Sales & Service Centre Edmonton
---
Click the link to find a location or service provider nearest you:
---
Security Key & Hardware - 3 min
Security Key System
Video Script
Mul-T-Lock and the Mul-T-Lock key system is our feature security key hardware system. It's a grade 1 product that has a very unique key, I'm hoping to get a close up, you can see it has dimples in it. This key is non-duplicatable and unavailable at any other locksmith except here where it is registered with our company and kept in a secure file. So if you want a key you have to have a security clearance letter or be part of the file to get that key made. So that protects you from duplicates being made from people that shouldn't have one, maybe you gave one to a service technician, dog walker, or someone who is looking after your home, that key cannot be duplicated by someone without the authority. Also the unit itself has a keyway that is non-pickable, non-drillable your not getting into this unit no way no how, you have to have the authority to get in. This is the actual Mul-T-Lock deadbolt system that is mated with that keyway system.
You can see it has a spin collar that is solid steel, a solid steel core, a solid pick-shield which stops a pick from getting into the door and opening up that deadbolt. Very heavy duty interior T-turn, the tube itself is hardened steel and the bolt is hardened steel, and a very unique feature here is that it has a ballbearing in the front of it that is going to interlink with your door frame and stop it from spreading apart, I don't know if you can see that but hopefully you can. There is also one inside the tube itself, let me see if I can get that to work and there you go you can see that little cutaway shows you the ballbearing inside that tube and that's going to interlink with the faceplate of the door and keep it from spreadking out.
Another great feature of this deadbolt is that on the interior it has a T-turn that can be removed, now why would you want to do that? Well, perhaps you have a window that is close to the door and somebody might break that window and reach in and turn that deadbolt easily and they'll get in and out of your house. But here we can turn the key, remove the T-turn and put it away someplace safe and get at it later. This will keep the grandkids from taking it out and removing it when you didn't know or maybe someone without a key or authorization will get at that and when it's time to put it back in you just stick it back in put in the key turn the key and then just remove that key and that T-turn is now back in place for safety sake. You can have it in while you're home but you can take it out when you go on vacation of if you have issues that you are concerned about with safety.
So grade 1 deadbolt, high security or at least security, we call it high security but don't let that scare you, these are commonly used on residences around the city we put these in all over the place as well as commercial businesses. As you can see we can match that deadbolt up with a variety of handles and styles to meet your needs.
---
Push Button Entries - 4 min
Push Button Entry Systems
Video Script
We're going to take a minute to show you a number of digital entry systems that we sell, they are top of the line, heavy duty units that are not going to break down on you. This one has a ball-knob on the inside to get out and the outside has a keypad. It's setup to press 2 and 4 at one time and the number 3 and we'll give it a turn clockwise and it's that easy. When we want to get out of the building you just turn the knob, nice and easy. I'll use that on garages, offices and bedrooms, that sort of thing. This unit here is the unit I have on my home, it's the deadbolt system, it's setup as one, two, three and four then turn clockwise to retract the bolt, that easy.
On the inside we've got deadbolt thumb-turn like you'd find on a regular deadbolt. The technician can show you easily how to adjust the code, they're not too difficult to do, like I've said I have this one on my home and these two units are virtually bulletproof. They're all metal, no plastic parts, no batteries all mechanical I've had mine for twenty years, twenty years and five kids and it's still working.
This unit here has a special feature, it has a key override on it. So what's going to happen is we can press a code, first of all I'll do that to retract the deadbolt. We can throw that bolt back out with the key or we could just press lock. The key override is really a great feature because we can put this in areas like an office or somewhere that requires maintenance, or you have a rental unit or complex and what might happen is that someone might change the code but you still have the key override. So you could have a number of these with a code and you could have a maintenance person or cleaning personnel that have a key override for the units. They come in a variety of colours, we've got what we call venetian bronze or brass or the chrome.
Now this particular unit allows for a few more options, so it's a little more fancy. Press one, two, three, four and it will retract the bolt and we can put the bolt back in with the touch of a button as well. Inside we have this unit here, this particular model can be hooked up to wifi, and so it's a particular investment, all of these units are an investment but this one, and the talk about home automation these days, is going to cost a little more but we can make it happen.
These units are built for convenience. You can walk the dog, the kids can come home late and can get in or a maintenance man show up and you can give him a code over the phone. They're great, really quite reliable, sometimes people have them for caregivers to get into your home, its a matter of giving someone a code and they press it and get in, then you can change it if you want to change that out.
---
WARRANTY
Sometimes Things Happen
No one likes it when things go wrong, no one more than us, but if it does check out our Warranty
---