Door Surgeon Home Garage Door Fix Adjust Repair Service Spruce Grove
Mobile on-site garage door repair
Spruce Grove Residential homes have a variety of garage door repair needs. Choose Door Surgeon not only for the garage door products, but also for the garage door service and garage door maintenance packages. Look no further for garage door repair than Door Surgeon's mobile emergency garage door fix, garage door adjust and garage door repair service.
Door Surgeon brings Spruce Grove garage door repair trucks right to your site for garage doors repairs, gargage door fixing, garage door adjusting big garage doors or small garage doors Door Surgeon does them all. Door Surgeon garage door servicemen will make garage door repairs and garage door adjustments even evenings and Weekends.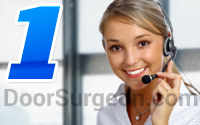 Residential or commercial
garage door repair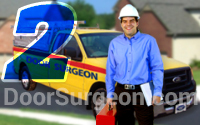 Emergency garage door repair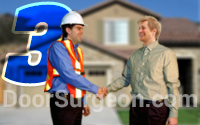 Professional garage door repair
and tested tough hardware
---
Door Surgeon Home Garage Door Fix Adjust & Garage Door Repair Services Spruce Grove
Garage door parts and service delivered by Door Surgeon's fast, professional, Spruce Grove garage door mobile repair serviceman. Door Surgeon's garage door repair service trucks are stocked with a large variety of garage door repair parts and Door Surgeon servicemen can make most garage door repairs, garage door adjustments and garage door fixes on the first visit.
Door Surgeon mobile Spruce Grove garage door repair serviceman provides garage door parts and garage door repair solutions for a number of common garage door brands including: Barcol garage doors, Steel Craft garage doors, Creative Door garage doors, Wayne Dalton garage doors, Garaga garage doors, Overhead Door garage doors, Northwest Door garage doors, Haas Door garage doors, Clopay Garage Doors, Amar Garage Doors, Equal Garage Doors, Door Masters garage doors, Sunshine Door garage doors, and Richard Wilcox garage doors.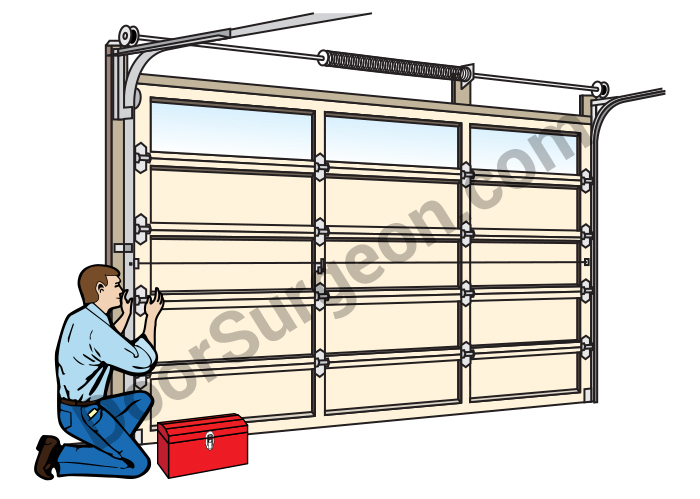 ---
Spruce Grove Mobile Garage Door Repair
Door Surgeon's Spruce Grove garage door repairman can perform on-site garage door safety reviews and thorough garage door operational reviews.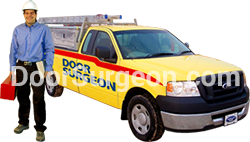 Garage door repair of springs and garage door spring replacement
Fix garage door cables and replace garage door cables
Adjust garage door rollers and replace garage door rollers
Garage door photo eyes repair and replacment
Fix and ajust garage door hinges and replace garage door hinges
Garage door lock repair and replacement
Fix and adjust garage door bottom fixtures and replace garage door bottom fixtures
Garage door opener repair
Fix garage door bearings and replace garage door bearings
Fix garage doors or make garage door adjustments
Fix and adjust garage door drums and replace garage door drums
Garage door panel repair and garage door panel replacements
Fix and replace garage door bottom weather guard
Fix garage door weatherstripping and replace garage door weatherstripping
---
Full Garage Door Service Spruce Grove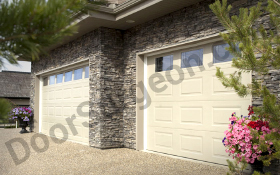 Tighten all garage door hinges and brackets
Lubricate all garage door moving parts
Adjust garage door springs
Level garage door
---
Spruce Grove Garage Door Tune-up Service Checklist: Preventative garage door maintenance will extend the life of your garage door/overhead door for many years.
Visual inspection of garage door and over 18 different parts
Check level and alignment of garage door face and tracking system
Tighten and/or fasten all garage door hardware as required
Lubricate all garage door hinges and garage door bearings
Complete garage door functional operation test
Inspection of garage door sections for cracks or garage door deformaties in structual integrity of garage door
Check level and alignment of garage door head shaft positioning in conjunction with garage door face and garage door tracking system
Inspection of both garage door lift cables for corrosion and or damages resulting from garage door operational wear
Inspection of garage door bottom brackets for corrosion or wear
Inspection of garage door rollers and garage door hinges for wear and or cracks
Inspection of garage door rollers for garage door bearing and garage door roller head wear/corrosion
Inspection of garage door shaft end bearing for wear
Inspection of garage door cable drums for flat spots, cracks, or wear
Inspection of garage door electric operator hanging materials for alignment or wear
Tighten and refasten garage door face hardware as required and replace missing or stripped garage door fasteners and lubricate garage door parts
Tighten and make minor adjustments to garage door tacking system as required for level and alignment
Tighten and make minor adjustments to garage door electric operator chain/belt and lubricate as required
Lubricate garage door electric operator travel rail and garge door carriage as required
Lubricate garage door electric operator sprocket bushing as required
---
Follow these links for related pages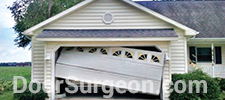 Garage Door
Service
Spruce Grove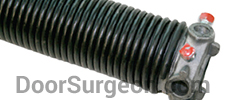 Broken Spring Replacements
Spruce Grove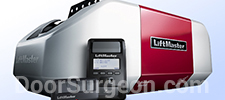 Home Garage
Door Openers
Spruce Grove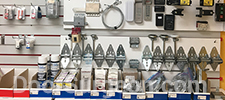 Garage Door Parts Spruce Grove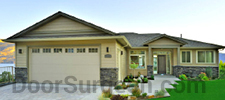 New Residential Garage Doors Spruce Grove
---
Door Surgeon Home Garage Door Fix, Adjust or Repair Servicing Spruce Grove
Mobile Garage Door Parts & Service Spruce Grove
---
Door Surgeon Sales & Service Parts Centre Edmonton
---
Click the link to find a location or service provider nearest you:
---
Door Surgeon's Garage Door Fix Adjust Repair Service Spruce Grove
Our service technicians have been trained by the operations manager, read a great deal of training material and view a number of door installation videos. While working as a helper the first few years they are introduced to residential garage door installation, residential garage door motor installations, as well as commercial garage door installations.
Working independently as residential and commercial garage door installers as well with other door install crew members. All service techs are in immediate and constant touch with the garage door operations manager. All garage door repair service technicians have a helper on large commercial jobs so as to keep all weight and safety considerations to a minimum and avoid potential accidents. Door Surgeon looks forward to the opportunity to have one of our technicians visit your jobsite and solve your home or commercial garage door challenges.
---
Steel Garage Door Construction, Insulation, Hinges, Rollers and Springs - 8 min
VIDEO SCRIPT:
STEEL GARAGE DOOR - Steel is the most prevalent used in garage door manufacturing. Steel does not breath like wood although it can rust if not protected. The paint and galvanizing systems of today have been developed to provide protection against rust. An advantage of steel is that its weight is constant and shape is consistent. Steel doors are generally lighter in weight making them easier to handle and operate. Most recently, plastic has entered the stage because of the unique properties it can offer. PVC, one of the most available and lowest cost plastics has good properties for door construction: dent resistant, impervious to water and is the same colour throughout so that scratches will not alter its colour.
PVC is a thermal plastic that softens with elevated temperatures so dark colours in direct sunlight should be avoided. You should also know that doors constructed of plastic require reinforcement to prevent sagging, fortunately these reinforcements can usually be hidden within the door so that the appearance of the door is maintained.
GARAGE DOOR APPEARANCE - The appearance of doors continues to be heavily market driven. Even though many garage doors are made from materials other than wood, many garage door owners want doors that look like wood. Steel construction offers limited variations to imitate wood appearance largely because the cost of imitating wood material requires dedicated, expensive equipment for each shape. Plastic door products excel in this area, tooling to shape and texture plastic is less expensive and therefore more variation is possible. Wood doors are available in many varieties of appearances. The panel door construction offers a range from the plain flat panel to raise panels. The raised panels can be basic or rounded for custom appearance, they can be nearly square or long and rectangular in shape.
GARAGE DOOR INSULATION - For a garage door, the ability to insulate is the ability for material to retard the flow of energy in the form of heat. Energy will always flow from a high energy source to a low energy source such as heat flowing to coal. Heat that flows through a material is measured in BTU's. BTU's is short for British Thermal Units. One BTU is the amount of heat required to raise the temperature of one pound of water one degree Fahrenheit. R-Value is a measure of a materials resistance to heat flow and is the most commonly used measure for determining the performance of an insulation product. R-values are presented in numerical form with a high number indicative of good performance and a low number indicative of poor performance.
Expanded polystyrene, commonly referred to as EPS is one common form of insulation used in doors today, unlike some foam insulation products, EPS will not lose it's R-value over time. Polyurethane is the most common form of insulation used in energy efficient doors today. This type of insulation is much heavier than polystyrene and requires stronger springs.
SECTIONAL GARAGE DOORS - Now that you've seen some of the more common materials used in the manufacturing of garage doors, let's take a look at the different sections you'll be assembling in the installation process. To most people there doesn't appear to be any difference in the sections used from the top to bottom but this isn't the case. At each lower corner of the bottom section is a bottom-bracket this plate holds the weight of the entire door. The bottom brackets purpose it so cradle the weight of the door, it also is the attachment point of the cables of the door, the bottom brackets rollers are also held in place via the bottom brackets. The next section up from the bottom section is called an intermediate section.
There will be a number of intermediate sections attached to the first intermediate, the number of intermediate section is directly related to the garage door's height. End-hinges or roller carriers are usually numbered from 1 on up, the reasoning is quite simple, most sectional doors employ a slope along the vertical track approximately 1/8" per foot. Roller carriers are designed to keep the roller shaft at an increasing distance from the door opening as the door travels vertically.
The slope of the track ensures that the door will pull away from the tight fit along the jams, hence roller carriers graduate in measure from the jam as intermediate sections are added. After the proper number of intermediates a top section is installed. The top section can be identical to the intermediates except for the hardware attached to it. This section is fixed with an adjustable top bracket or "fixture" that carries a roller, this rollers location must be adjusted to bring this section tight to the jam.
COUNTER BALANCE GARAGE DOOR SYSTEMS - The torsion spring power unit is comprised of shaft, tubular or solid depending on the load requirement and springs. This shaft is usually 6" to 8" longer than the width of the garage door. Before torsion springs are installed on the shaft they must be equipped with spring fittings. One spring end is wound onto a stationary sleeve or dead-cone, this end of the spring will not turn or wind. The other end is wound into a winding sleeve or winding-cone. This aluminum casting is identified by its 4 holes. Winding bars are inserted into these holes and the spring is then wound to its pre-determined tension. The winding sleeve is fastened to the shaft by set-screws. Cable drums must be incorporated which will transfer the shafts torque to the door.
This transfer is accomplished by the cable, these drums must also be fastened to the shaft using set-screws. In order to properly create torque in a torque spring it must be wound in the direction it was coiled. A left hand coil-spring must be wound to the left to develop torque, a right hand coil-spring must be wound to the right. On garage doors the orientation is to wind springs upward, therefore a left hand wound spring must be installed on the right hand side of the door, inside looking outside as a universal reference. A right hand spring must be installed on the left side of the door. As wire size wire size increases in diameter, it's capable of increased torque. A door needs a given amount of inch pounds at the cable drum lever or moment arm to be balanced. Lever arms or moment arms of cable drums determine the amount of torque required to balance a garage door.
The necessary total torque will determine how many times the spring must be turned, normally a torsion spring is wound a quarter of a complete turn at a time. This is accomplished by inserting a winding bar. The installer utilizes two bars one bar is inserted into the winding sleeve casting hole and spring is turned one quarter of a revolution, at this time another hole in the casting is accessible and the second bar is inserted and a quarter turn is made. This process is repeated until the number of rotations to achieve the correct balance is achieved. In the case of extension springs it is necessary to select extension springs that will stretch to a proper length while delivering proper counter-balance or pull. This type of spring is directly attached to the door via cables that travel through the sheaves. Cable drums or spring fittings as previously described are not used in these applications.
We've just given you a brief overview of the materials, sections and other major components of a residential garage door. You've seen a preview of some of the installation skills you will learn, as you proceed through the series you learn many additional details and receive instructions regarding installation procedures.
---
WARRANTY
Sometimes Things Happen
No one likes it when things go wrong, no one more than us, but if it does check out our Warranty
---