SunShine Door
Commercial / Industrial View-Through Overhead Doors
Think Green, Industrial Overhead Doors
From full view restaurant doors to water resistant car wash doors, this high quality, commercial over head door will get the job done.
Triple wall polycarbonate is virtually indestructable & energy efficient
This material offers thermal insulation, excellent impact resistance, and outstanding light transmission. Not only is it used in many garage businesses and commercial properties, it is the standard material used in greenhouses for temperature control.
SunView Door
The SunView door is a multi-sectional anodized aluminum door that can be glazed with a variety of glass choices. The SunView door is well suited for car washes, car and RV dealerships, restaurants and homes. These full view window garage doors are built to last.
Thermal Insulation
Sophisticated multi-wall construction creates an insulating air space within the internal channels, resulting in excellent energy-efficient and significant reductions in heating costs. Triple wall poly-carbonate sheet provides the highest level of thermal insulation available today in a poly-carbonate sheet material.
High Impact Resistance
Triple wall poly-carbonate shee offers extremely high impact resistance, minimizing the risk of damage or breakage resulting from fallen ice, snow, hail or dislodged roofing tiles. This sheet can also withstand constant thermal extremities, wind and building settling/movement without cracking or splitting.
Light Transmission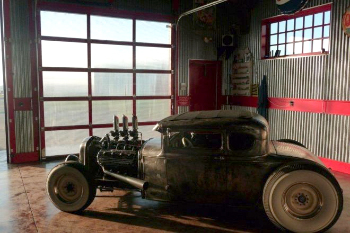 Triple wall poly-carbonate sheet is available in transparent colours which allow up to 82% light transmission.
Fire Performance
Unlike many thermoplastic materials, Triple wall plycarbonate sheets are CC-1 flame rated and passes E84 steinner tunnel - a significant performance advantage compared to other plastic materials.
Weather Resistant
Triple wall polycarbonate sheets offer outstanding, long term performance even after prolonged exposure to the sun, rain and snow - while maintaining its new appearance year after year.
Design Versatility
The lightweight yet rigid Triple wall poly-carbonate sheet reduces the need for extensive supporting structures, allowing for attractive, wide-span installations. And since it can be easily cold-formed, cut and shaped, you can consider imaginative glazing designs that ar virtually impossible using traditional materials.
Easy Handling and Installation
Triple wall poly-carbonate sheets are strong, yet extremely light, making it safe and easy to handle during installation. It can be cut to size using conventional workshop tools and fit into most existing glazing bars and frames.
Cleaning Instructions
Rinse sheet with lukewarm water. Wash sheet with a solution of mild soap or household detergent and lukewarm water, using a soft cloth or sponge to loosen any dirt or grime. Rinse with cold water and dry with a soft cloth to prevent spotting. Never use abrasive or highly alkaline clearners on Triple wall poly-carbonate sheets.