Door Surgeon & Lock Surgeon 2019 Spring Flyer
Scroll down to view pages. For full flyer go to Lock Surgeon
---
24/7 Mobile Locksmith and Door Repair Service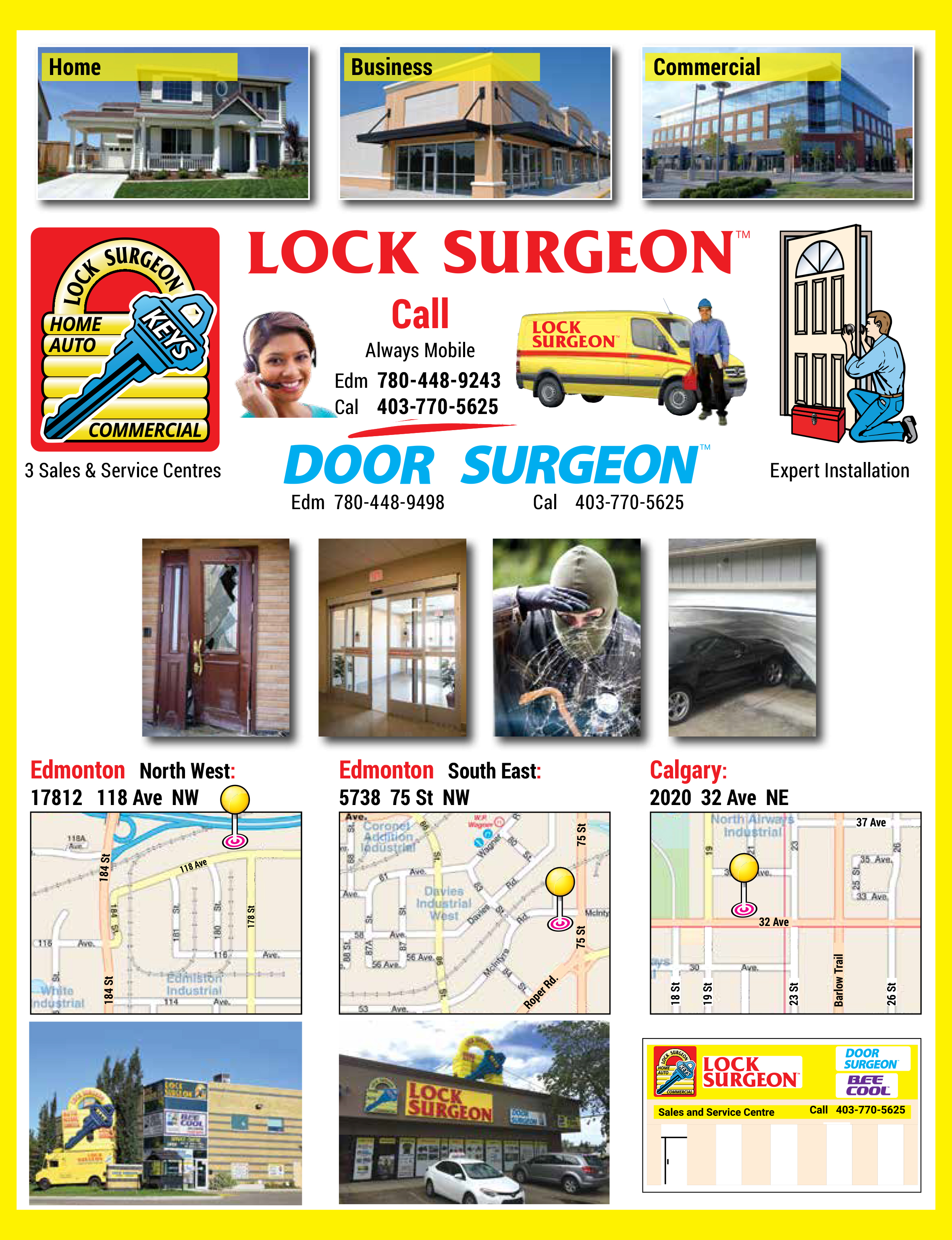 Lock Surgeon and Door Surgeon Provide On-Site Mobile Service and In-Shop Locksmith Sales and Service
Bring us your lock and hardware concerns, we are here to help. Sales and Service Centres are conveniently located and staffed with trained locksmith and security professionals. Visit our Northwest Edmonton Location at 17812-118 Ave NW or Southeast Edmonton Location at 5738-75 St NW or our Calgary location at 2020-32 Ave NE.
---
Roll Shutters for home or business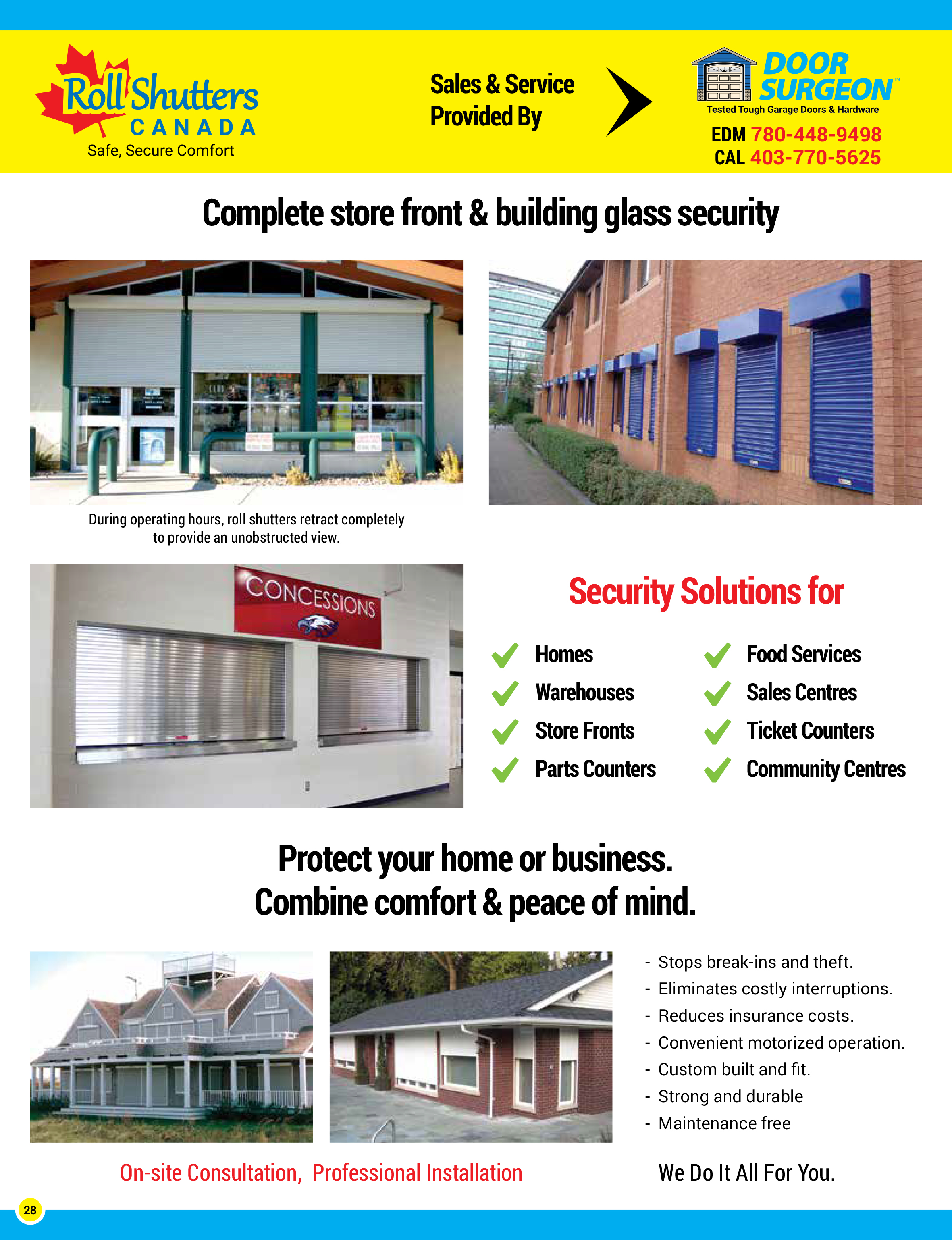 Roll Shutters for home, business or concessions.
Roll Shutters are used in a number of applications such as: Warehouse Roll Shutters, store-front Roll Sutters, concession Roll Shutters and residential Roll Shutters. The benefits to Roll Shutters are many. Roll Shutters are used to provide additional security. Roll Shutters are used to insulate window areas. Roll Shutters can reject heat. Roll Shutters are used to provide internal security for cigarette sales, concession sales and divide stores to control traffic flow. Roll Shutter products can also be used in mall applications. Our team of professonal Roll Shutter consultants and Roll Shutter installers will determine your Roll Shutter needs and organize the Roll Shutter installation that's right for you.
---
Garage Doors, Overhead Doors and Openers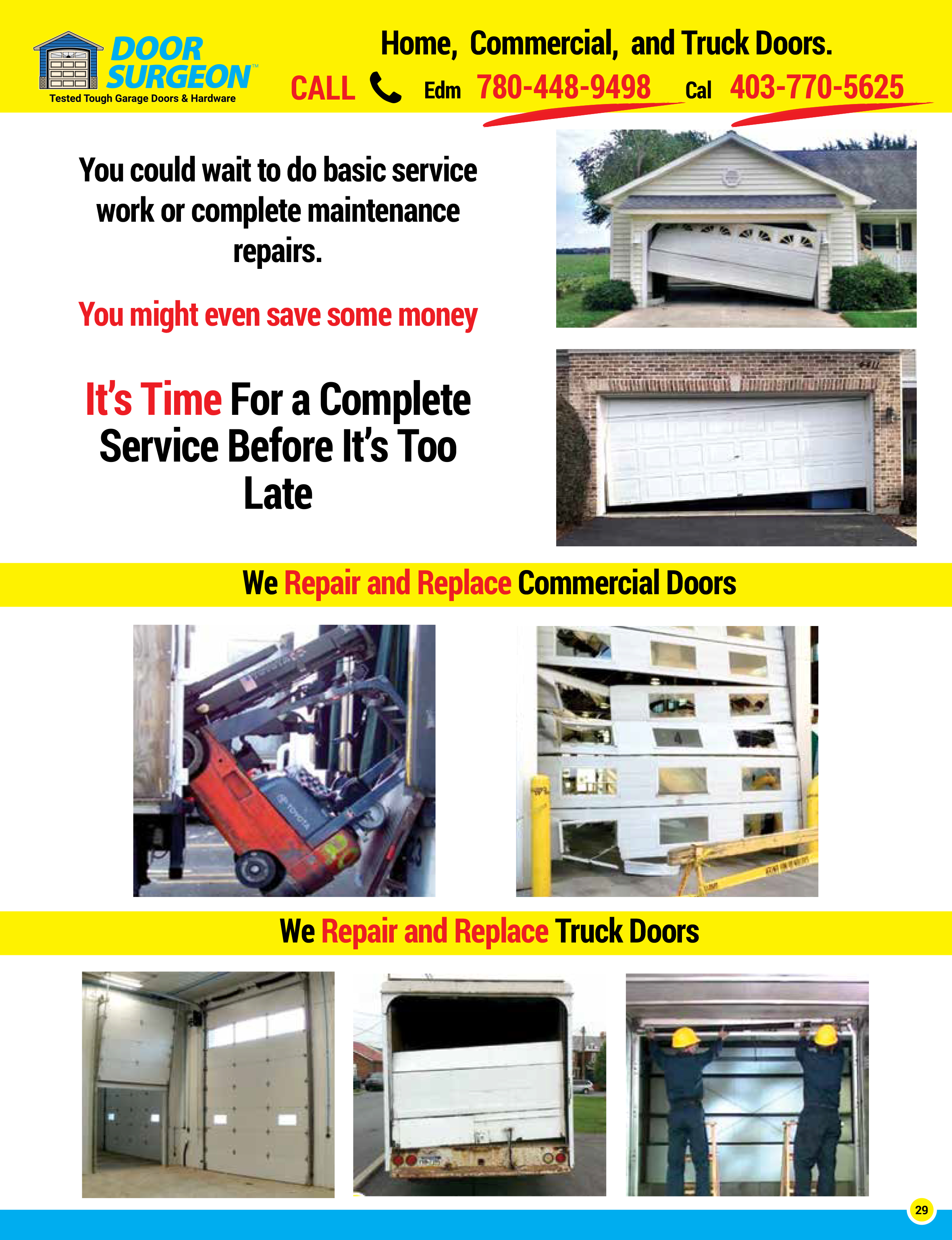 Garage Door and Garage Door opener repair and replacement
Door Surgeon's team of garage door and door opener repair experts can help you with all your garage door repair, service and replacement needs. Rolling garage doors are made for a number of applications. Garage doors are made for homes, garage doors are built for commercial buildings and garage doors are also used for delivery vehicles. Door Surgeon provides mobile on-site service to meet all your broken garage door or new garage door needs.
---
Residential Garage Doors
Garage doors for homes.
A new garage door or a properly repaired and serviced garaga door can make all the difference to your home's appearance and safety. Door Surgeon's mobile service technicians come to site with all the garage door parts required to fix or repair most garage door service issues. Preventative maintenance on a garage door is always a good idea. Call Door Surgeon to book your mobile door service or garage door replacement today.
---
Garage door style and colour options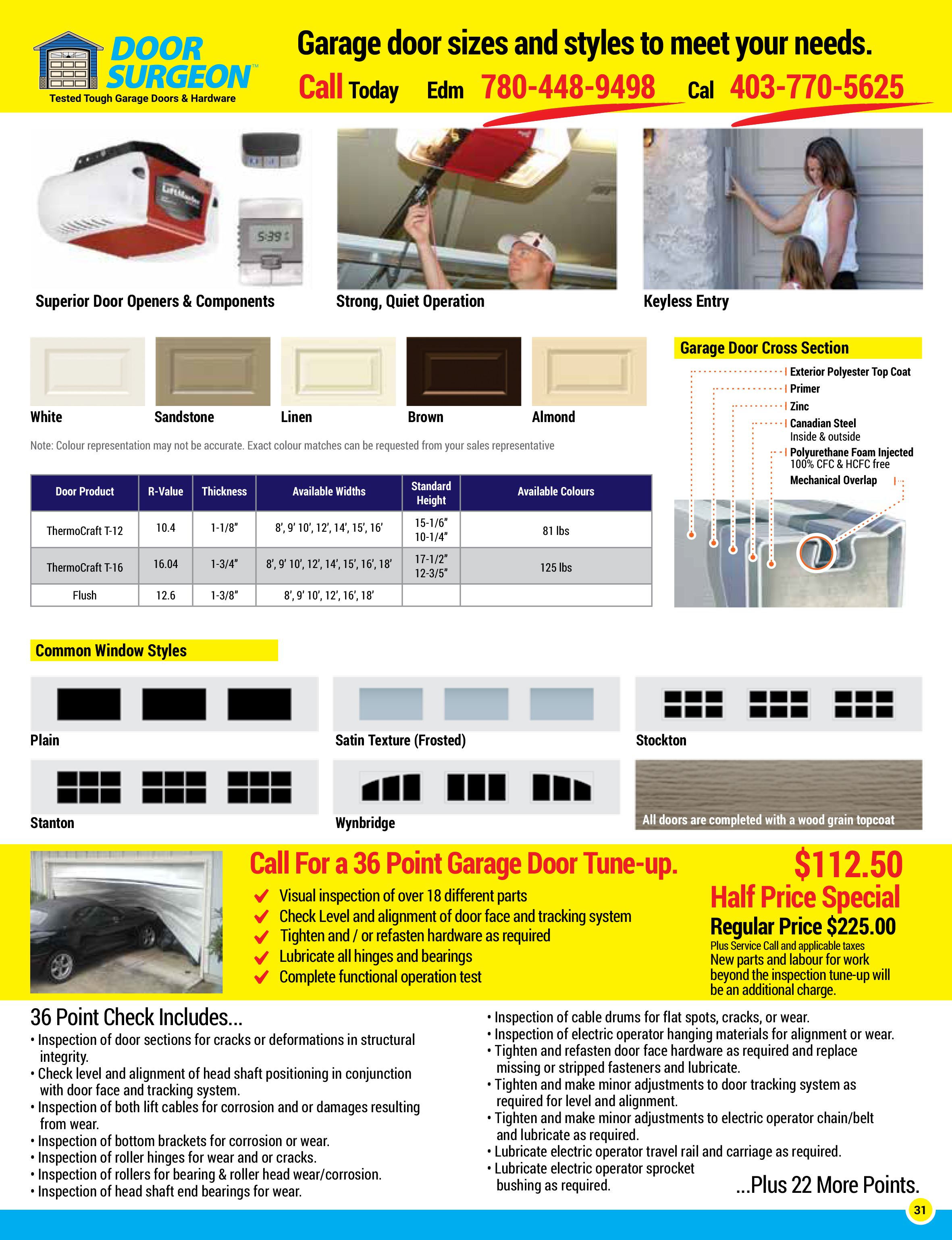 Garage doors come in a variety of colours and a number of garage door window styles are available
Choose your garage door colour, standard white or brown are always available. Garage doors do however come in a number of custom paint colours. Not all garage door openers are the same, Door Surgeon can supply and install a long-lasting garage door opener that is both safe and quiet. Ask about the garage doors that are built to withstand Canadian cold-climate and insulate your home or shop from the environment.
---
Door Surgeon for all your garage door or roll shutter service, maintenance and repair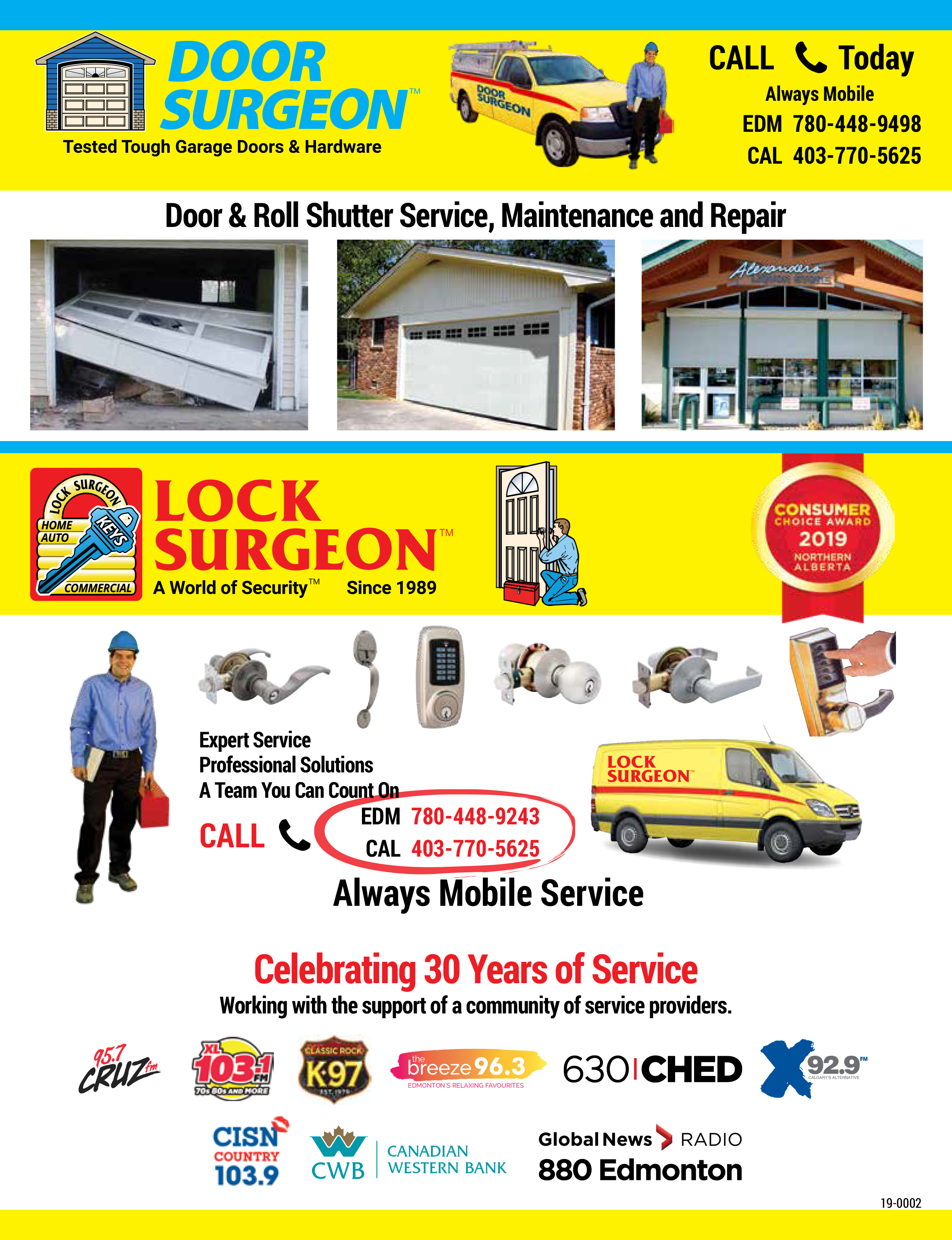 Door Surgeon and Lock Surgeon bring a team of mobile experts to your home or business
---
Commercial door repair and replacement
Commercial, storefront, office, apartment and warehouse doors
Business doors need to be operating properly and safely. Door maintenance and repair is important. Lock Surgeon and Door Surgeon provide mobile door service. We come on-site to deal with automatic handicapped doors, time locks, electric strikes, standard door closures, sliding bypass doors, fire rated commercial doors, apartment doors and general access doors.
---
Residential/Home door repair and replacement
We repair and replace doors, handles and hardware and weatherstripping
Home doors get old and need to be upgraded. At times door frames breakdown and need to be replaced. Lock Surgeon and Door Surgeon have trained door technicians that can match your current door needs to your past door dimensions. Custom doors and frames are what we do. Full glass, part glass or half-moon windows in doors are all available. Replacement weatherstripping, secondary weatherstripping for home or business doors are in stock. Our door technicians can trim your door, square your door and adjust your door to work as good as new.
---
Door and door hardware repair and replacement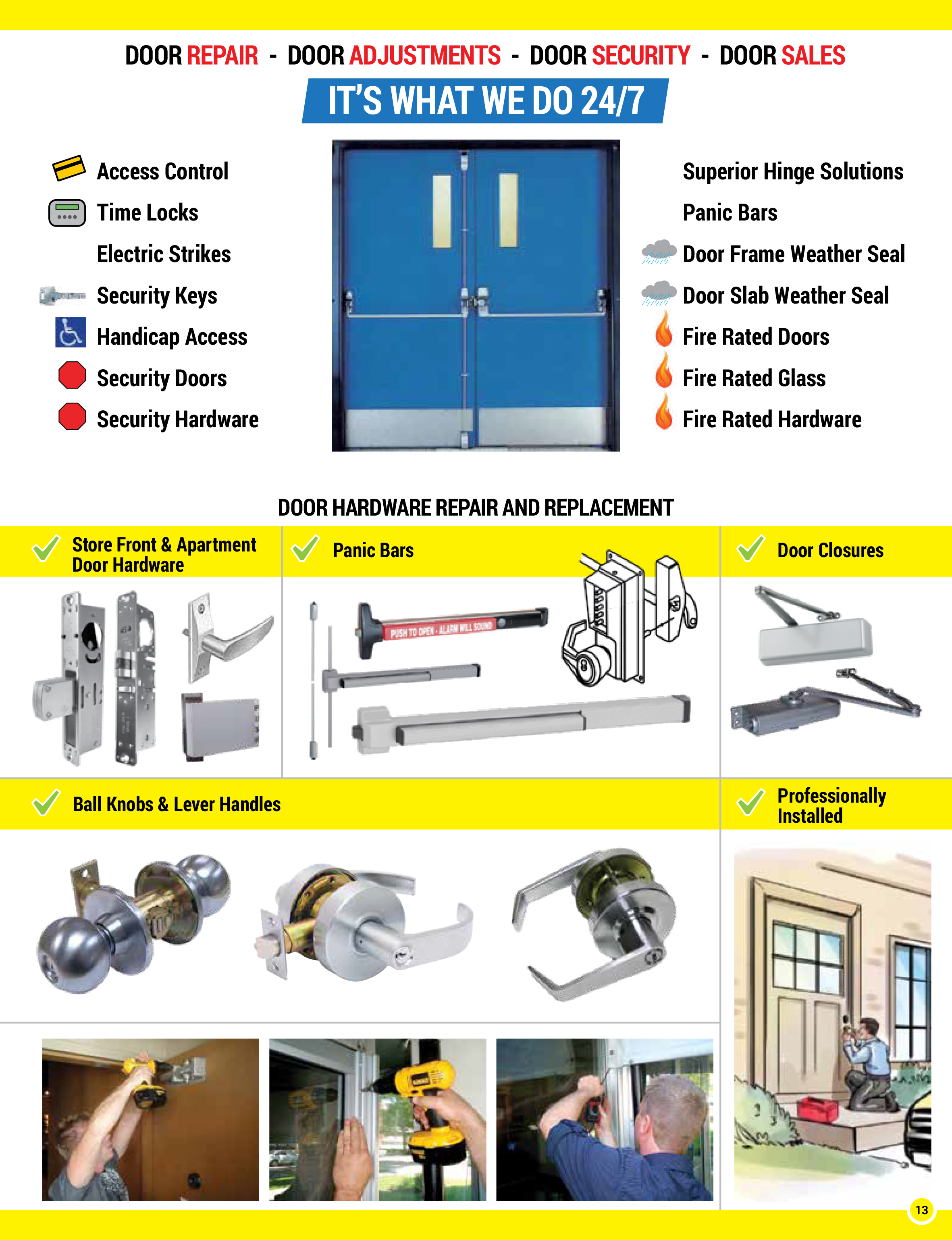 Door repair and lock repair it's what we do 24/7
We match the right hardware and access control system to your needs, whether its ball knobs, lever handles, panic bars, door closures or card access our team of mobile locksmiths and door repair technicians are here to help.
---
Expert door repair, installation and hardware solutions
Strong hinge and hardware solutions
It's all in a Locksmith's days work. Door closure adjustments, push-button entry key system recombination, master key systems, flush bolts, door hold-open legs, grip sets and superior hinge repair.
---
Keyless push-button entry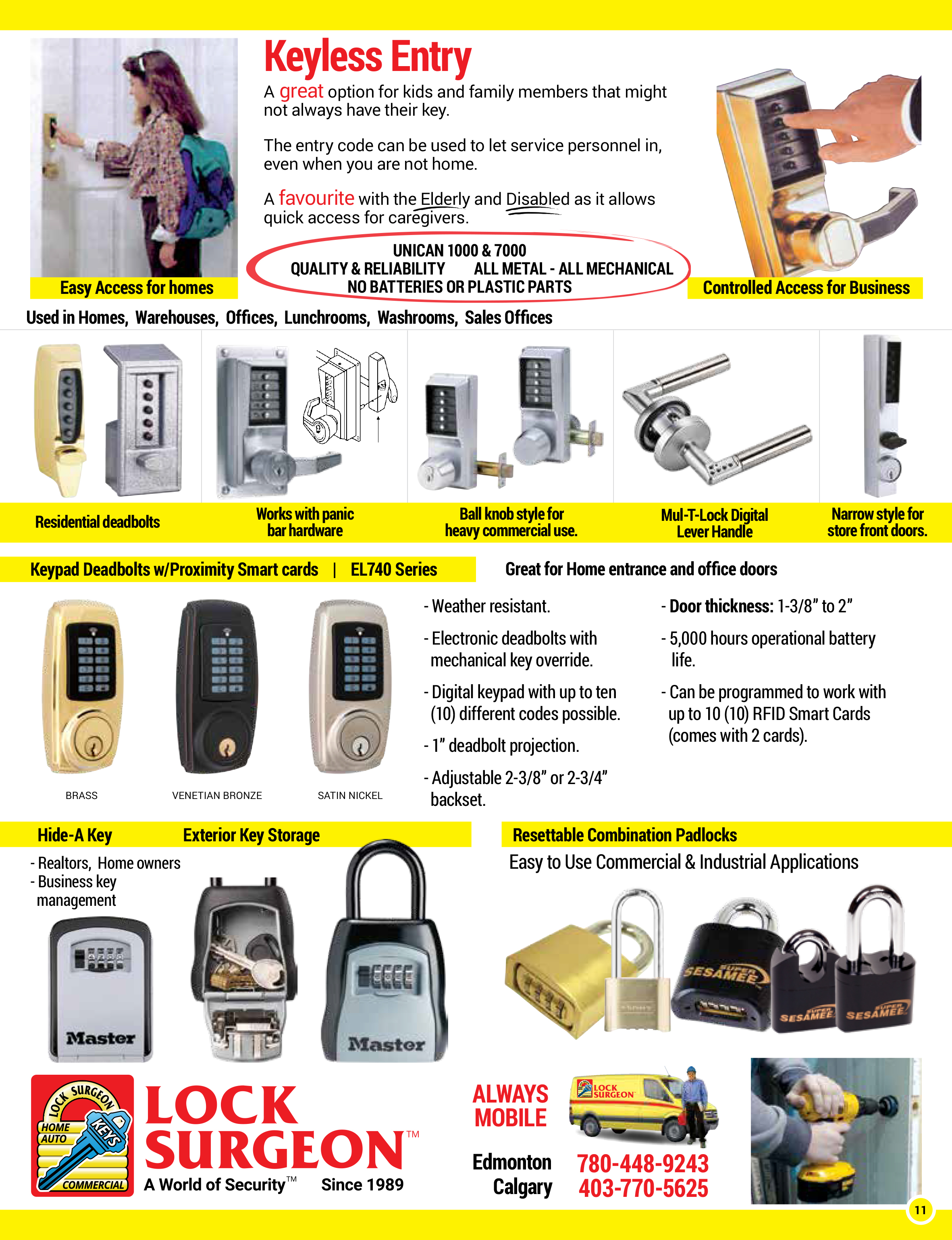 Push-button entry or combination entry
Push-button entry systems that are strong, weather resistant and reliable. You can install these push-button entries yourself or have one of our mobile Locksmith service personnel install the unit on your home or business to accomodate your keyless entry requirements.
---
Door handles and deadbolts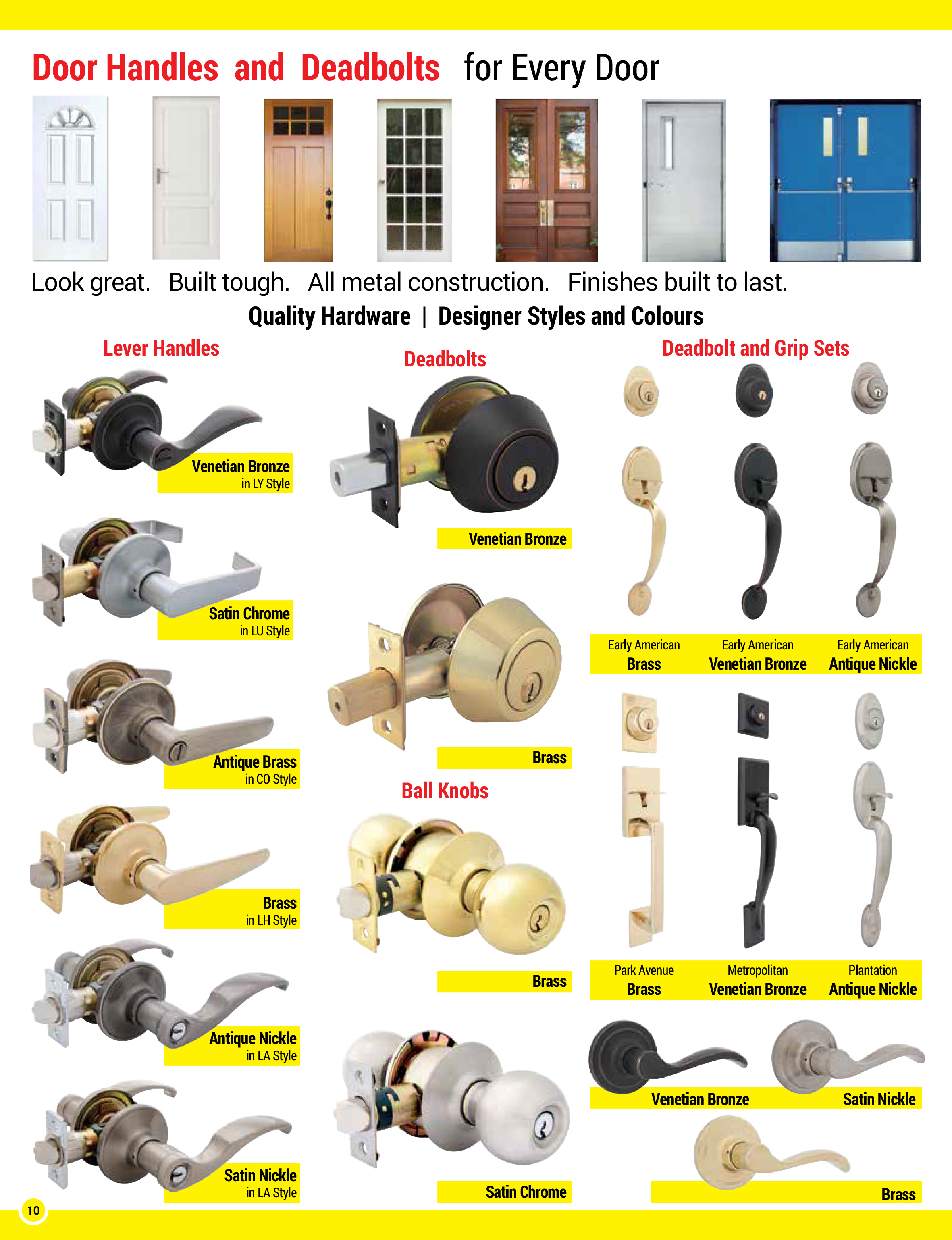 Lever handles, Ball knobs and Deadbolts, superior quality and finish
Door handles, deadbolts and grip sets that will match your unique door needs. Built better, stronger springs, superior metal, engineered to last. These Locksmith grade handles are the choice of superior service providers. Purchase from our sales and service centre or have them professinally installed by our mobile locksmith installation team. If you are looking to replace existing lock sets or match existing lock sets this hardware line can be keyed to meet your home lock needs.
---
Lock rekeys and key management
Access Control and management of key systems
Lock Surgeon can build standard or high-security key systems that match your keyed alike or master key needs.
---
Security signs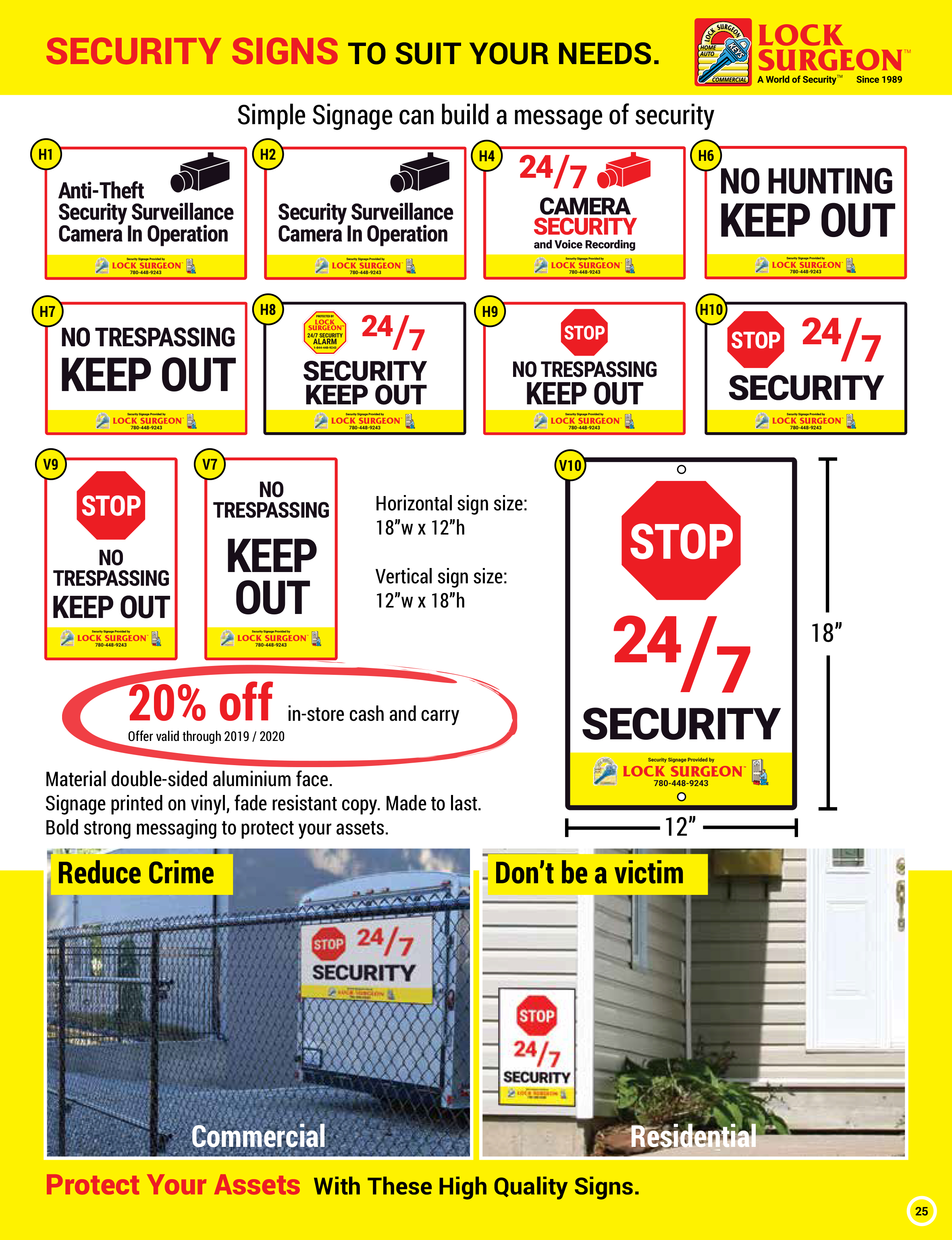 High quality security signs to protect your assets
Security signs built tough and made to last can give you a visual deterrent. Security signs help reduce crime and stop unwanted trespassing or hunting.
---
Window bars and door security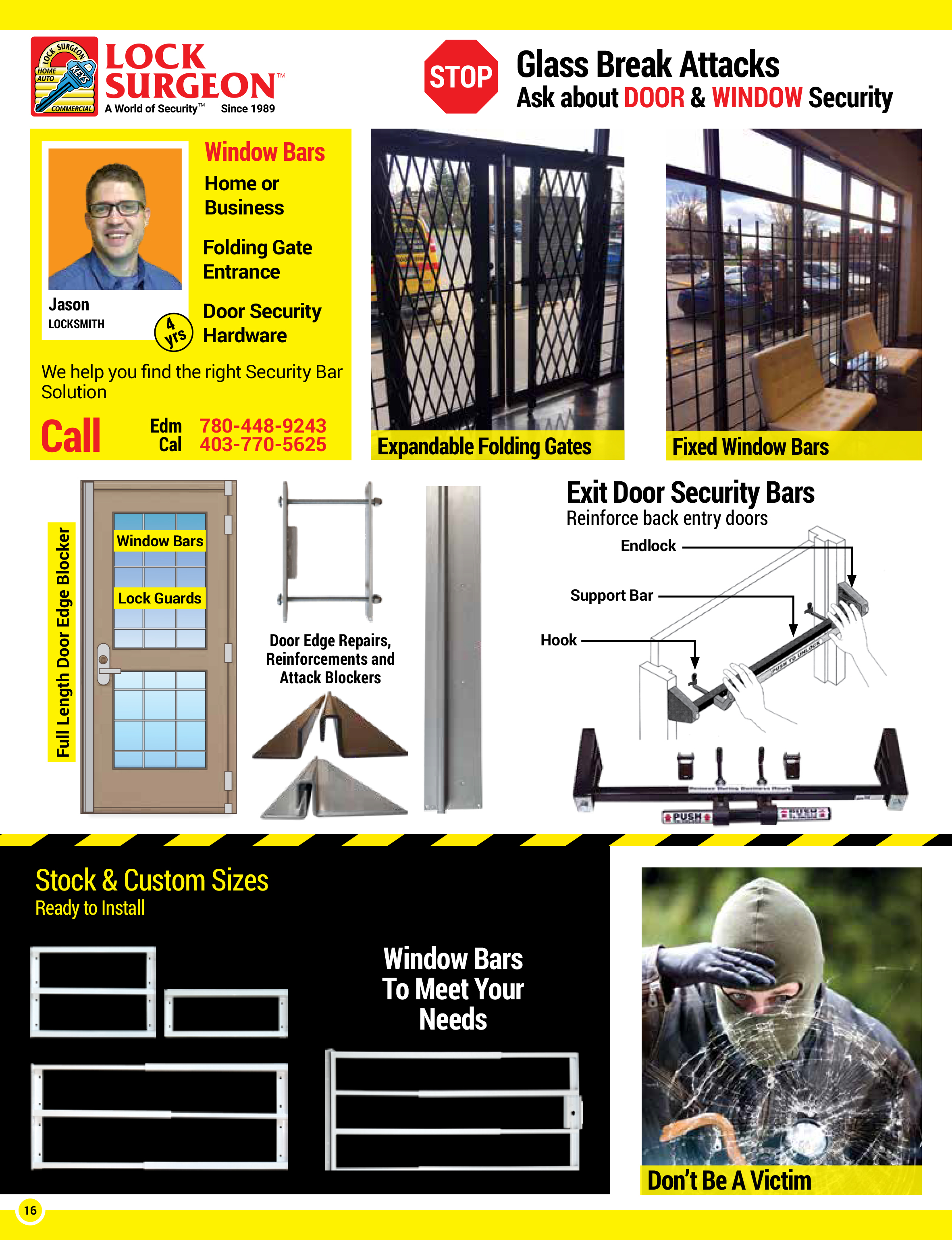 Custom or standard security bar solutions
Installed custom sized or stock sized window bars supplied and installed. Folding gates for entryways, full length blockers for door edge reinforcement, barrier bars for back door security upgrades or just residential window bars, we do them all.
---
Professional, trained, qualified locksmiths provide 24/7 mobile service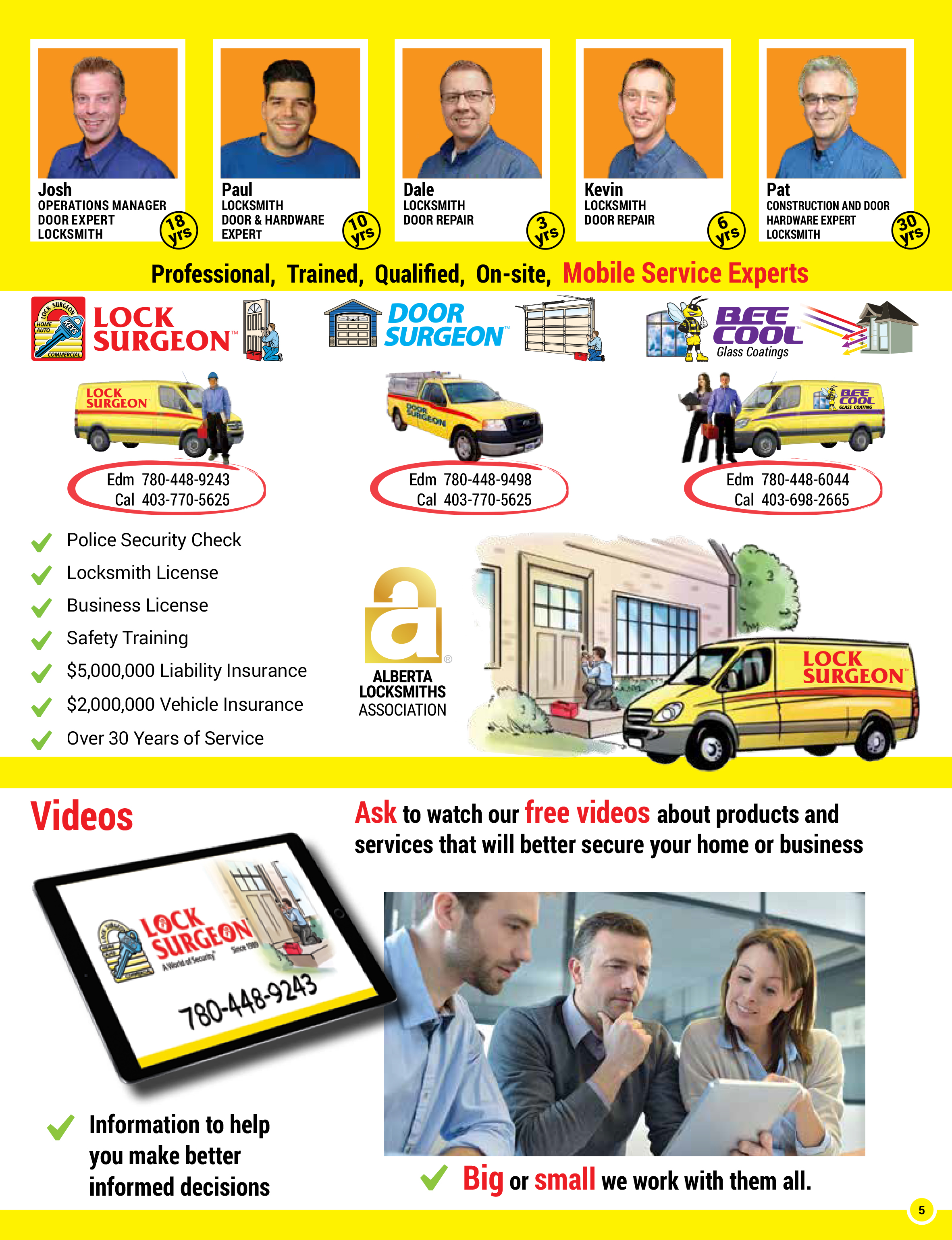 Mobile door and lock repair service throughout Edmonton and Calgary.
24/7 mobile locksmith and door repair throughout north and south Edmonton, Spruce Groove, Acheson, Stoney Plain, St Albert, Fort Saskatchewan, Sherwood Park, Leduc, Nisku, Beaumont, and throughout northern Alberta. 24/7 mobile locksmith and door repair throughout north and south Calgary, Airdrie, Chestermere, Okotoks, Cochrane and southern Alberta.
---