Door Surgeon Home Handles Deadbolts Hardware Repair Chestermere
Door Surgeon Chestermere Mobile Locksmiths stock a variety of residential home handles, deadbolts and door hardware on service vans to make fast professional repairs often on the first visit. Door Surgeon's locksmith can review a number of options with you and has access to flyer and catalogue information to help you make the right handle, deadbolt and door hardware selection to match your security or home decorator ideas. If you have a broken handle or deadbolt, Door Surgeon Chestermere locksmith can repair or adjust a number of deadbolt and handle issues as well as adjust the door or door frame strike positions. Door Surgeon prides themselves in carrying product quality that is a superior grade which will give you longevity of finish and longevity of use. Door Surgeon Home Handles Deadbolts Hardware Repair Chestermere
Door Surgeon Chestermere's typical house brand is LSDA also known as Locksmith Dealers of America. These handles and deadbolts have been in service for over 30 years. The LSDA brand was designed for locksmiths with quality in mind. It's Door Surgeon's goal to visit your home once and make all the necessary repairs with a quality handle, deadbolt or hardware product so as to not have to make return visits. While cheaper products are available they often break down and are costly in the amount of labor they consume making ongoing repairs. We look forward to having one of our mobile handle, deadbolt and hardware repair locksmiths visit you at a convenient time Monday through Saturday, 8am to 7pm. Call to make your appointment arrangements early as weekends and evenings are booked quickly. You can visit one of Door Surgeon's sales and service centres to view displays and talk to the locksmith service counter parts personnel about options that might work best for you.
Chestermere Grip sets, Lever handles, ballknobs and deadbolts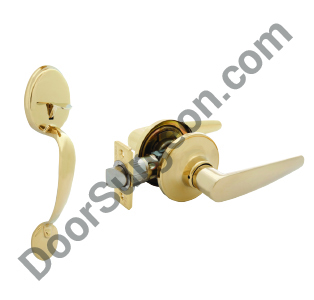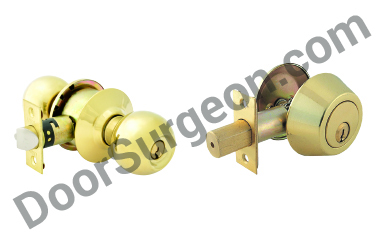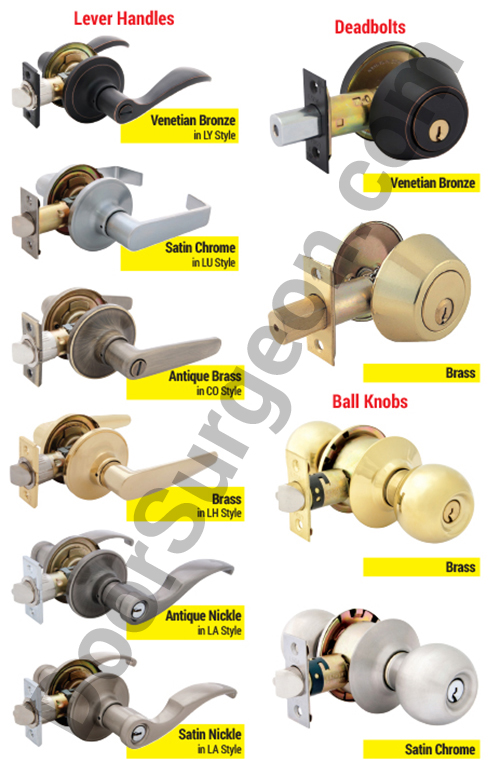 Grade 3 residential handles, deadbolts and hardware
Door Surgeon's handle, deadbolt and hardware repair servicemen will provide you with a selection of door hardware to meet your replacement or repair needs. Common ballknobs, deadbolts and lever handles are stocked on their mobile service vans so as to make fast repairs and replacements.
---
Stylish Grip-sets and Lever Handles Chestermere
Pullhandle grip-sets and deadbolts with interior lever option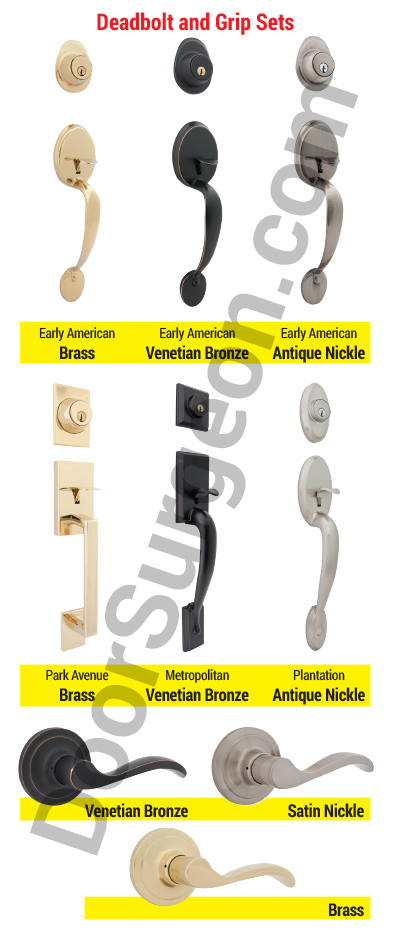 Replacement Handles in decorative design and colour
Door Surgeons 24 hour mobile service vans stock a variety of handles to meet your handle-deadbolt replacement needs. Often times our Door Surgeon Handymen can repair and adjust your current handle or deadbolt. Door Surgeon's handimen are also locksmiths so they can rekey your new lock to match your current key system.
---
Chestermere Push-button Entry
Easy Keyless access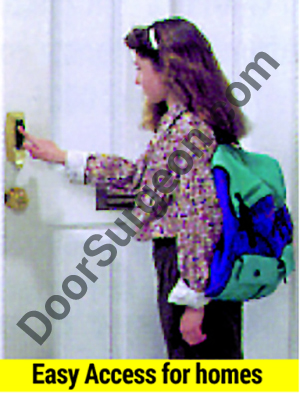 Easy Access Push-button Digital Entry
A great option for kids and family members that might not always have their keys. They entry code can be used to let service personnel in even when your not home. A favorite with the elderly and disabled as it allows quick access for cargivers. Door Surgeon can help you select the right product and get it installed quickly.
Door Surgeon has installed these push-button digital entry systems in homes, offices, lunchrooms, washrooms and sales offices.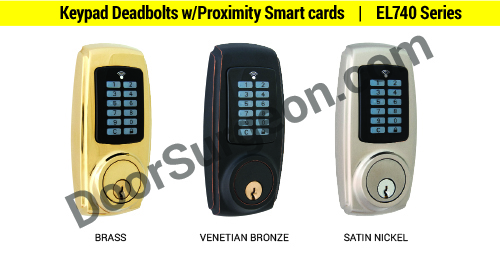 Keypad Deadbolts with Proximity Smart cards
The EL740 Series Push-button digital entry system has a key-overide that allows cleaning staff and management to use a key even if the push-button digital entry code has been changed or breaks down. The Door Surgeon's mobile team of digital entry system installers will ensure your unit is installed properly and programmed correctly.
The EL740 Series is weather-resistant, can be programmed with 10 different digital entry codes, will adjust for 2-3/8" and2-3/4" backset, can be programmed to work with up to 10 RF ID smart cards.
---
Door & Frame Reinforcement Chestermere
Door Saver, Security Strikes, Bold Buddy, Door Guardian
Door Surgeon can match the Door Saver to cover the damaged door edge or to reinforce the door against break-in attempts. Security Strikes can be installed on door frames to repair door frame or secure door frame from prying. Bolt Buddies are often installed by our Door Surgeon installation technicians to reinforce doors or repair doors and frames.
---
---
Door Surgeon Mobile Home Handle Deadbolt
Hardware Repair Serving Chestermere
Mobile Residential Handle and Deadbolt Hardware Repair
Services Chestermere
---
Door Surgeon Garage Door Sales and Service
Parts Centre Location Calgary North East
Find us in Calgary:
- Located South-side of 32 Ave.
- East of the Deerfoot Trail.
- West of Barlow Trail.
- South of Calgary International Airport.
---
Intro to Locksmith service Van, Locksmith Sales
& Service Centre, Home Hardware and keys
Door Surgeon Sales & Service Centre,
Locksmith Van, Locksmith Service Centre,
Hardware and Keys.
29 minute video reviewing Locksmith trucks, replacement hardware, key cutting equipment, typical handles, deadbolts and door repair products. Quick review of the Locksmith and Door Surgeon service centre, lever handles, deadbolts and break-in repair products. Quick look at the mobile door repair and Locksmith dispatch centre. Review of locks, safes, keys, doors and door hardware. Door Surgeon and Lock Surgeon a team of experts to meet your needs.
---
Home Door Hardware - 6 min
Door Handles, Knobs, Lever Handles,
Deadbolts and Entry Grip Sets.
What we have here are basic ball-knobs, available in a variety of colours and functions. Some come without a key so that would be a passage set for bedroom or possibly a washroom set and a set for your front door. Colours available are: brass, silver, antique brass, venetian and another type of silver that is popular today which is nickel or pewter. Some handles were quite cheap, insecure, you can see how cheap that housing is there. Door Surgeon's current brand of handles come with a more solid interior, it's called a tubular interior so its going to the handle hole area better then it has and then we have this dead-latch area so that when that presses against your latch that latch will no longer retract. Handle cannot be opened with a credit card that's something our technician can show you as well.
Deadbolts come in a variety of colours so again you have the brass the silver the venetian a brushed silver and we can get these ordered up in the colour that you need. Door Surgeon's mobile installer will have a variety of these on his truck and we have a variety here in the shop. There is a variety of qualities in the deadbolts as well, so here we've got a typical residential deadbolt and as you can see the inside is hollow it's a spin collar that is hollow, that's our minimum grade project and all the product we sell is at the top of the line grade 3 spectrum, so we have the top of the line grade three which is residential. We do like to put a good deadbolt in, this is a grade 2 bolt so that is a better bolt than you'd find on any residential grade that you would pick up at the box store.
Then we move up to a grade 2 deadbolt itself. As you can see the housing is solid so it's not going to get crushed and will fill in that door hole nicely. The bolt itself is a little bit superior bolt again so that's going to be a stronger bolt in your doorway. This Mul-T-Lock deadbolt, it's a very heavy duty deadbolt with key control, anti-drill, anti-pick with a spin collar on the outside, this is the best of the best its a grade 1 deadbolt, it has the ballbearing that interlocks with your strike and another one that interlocks with the faceplate so that your door can't be pried apart. 5/8 of an inch is left inside the hardened tube.
These are levers, and lever handles have become the new standard, in fact in some provinces and or cities these are now mandatory, creating an environment so that a handicapped person or a person with a handicap in their hands like Rheumatoid arthritis or some other issue you can open it up with your fist, your elbow or you could open it up with your forehead if you really had to. They come in different functions or in different styles and often we can match it to whatever is on your door or change it to something a little more elegant. They can be put on the interior or exterior its a very nice product line. The springs in these are extraordinarily good they are very strong. Cheaper lever handles over time will start to droop but these won't they have double springs in the handle and a spring in the dead-latch are so it's going to spring back very nice and be there for years to come.
---
Old Style Ballknob & Latches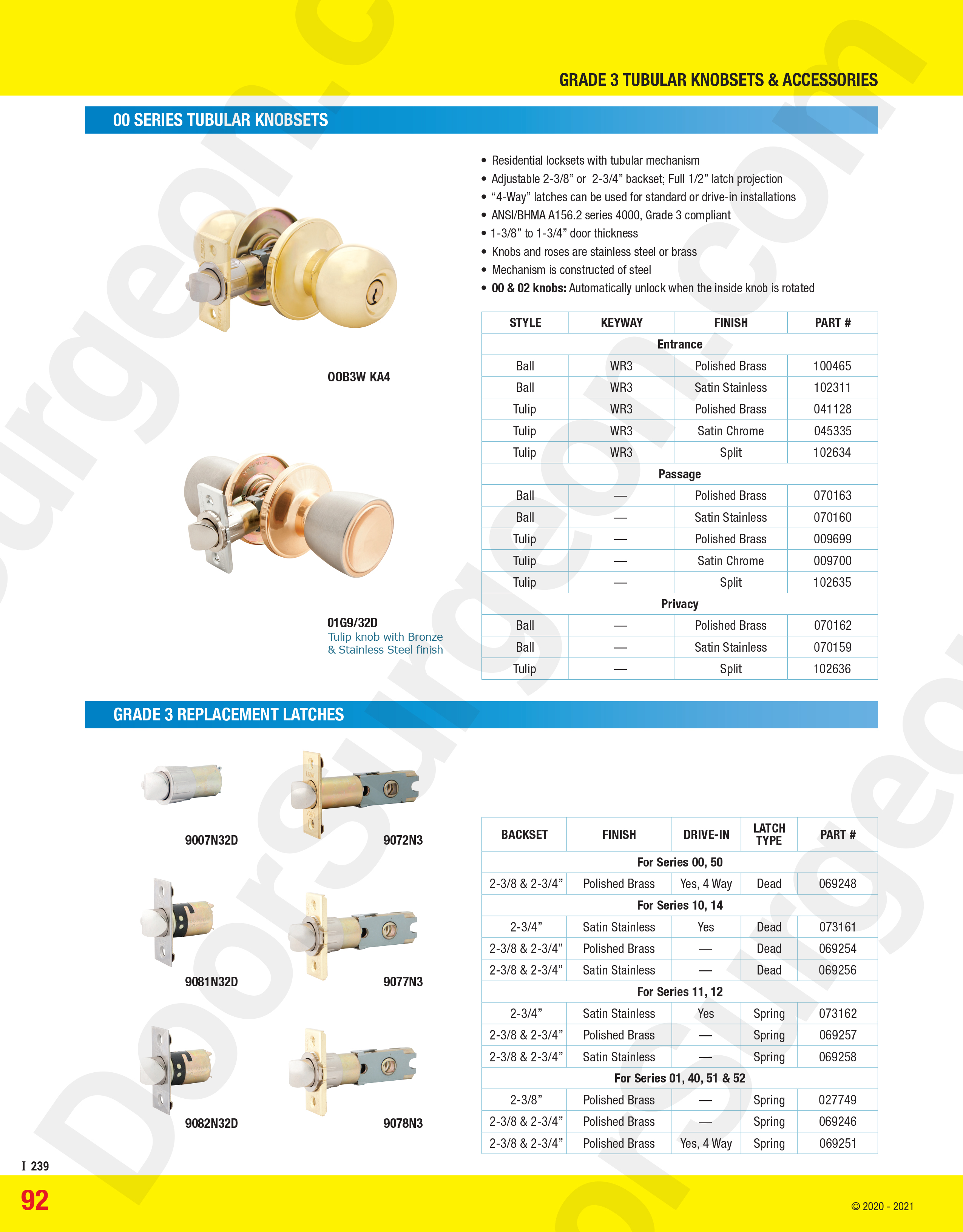 Simple and easy to use door knobs that provide entrance security, privacy or just basic passage
Do it yourself or have us do it, these handles retrofit into the older home and appartment door knob holes.
---
Designer Deadbolts and Handles by Schlage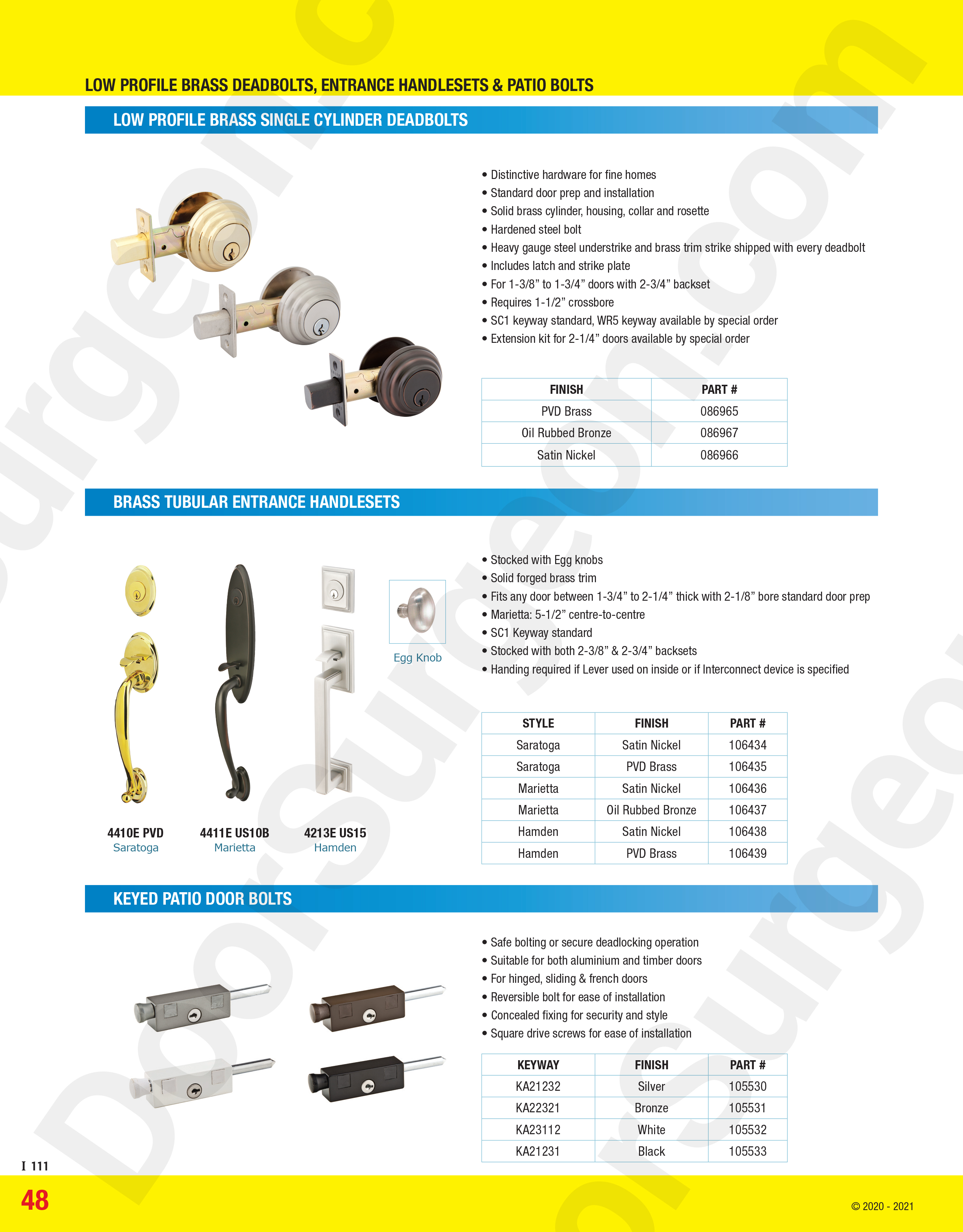 Schlage deadbolts and grip-sets. Patio door locking bolts
Need to match a style or keyway? Let our sales and service center counter shop help know what your needs are. Patio door bolts are a secondary locking device.
---
Mortise Locks With Skeleton Key and Glass Knobs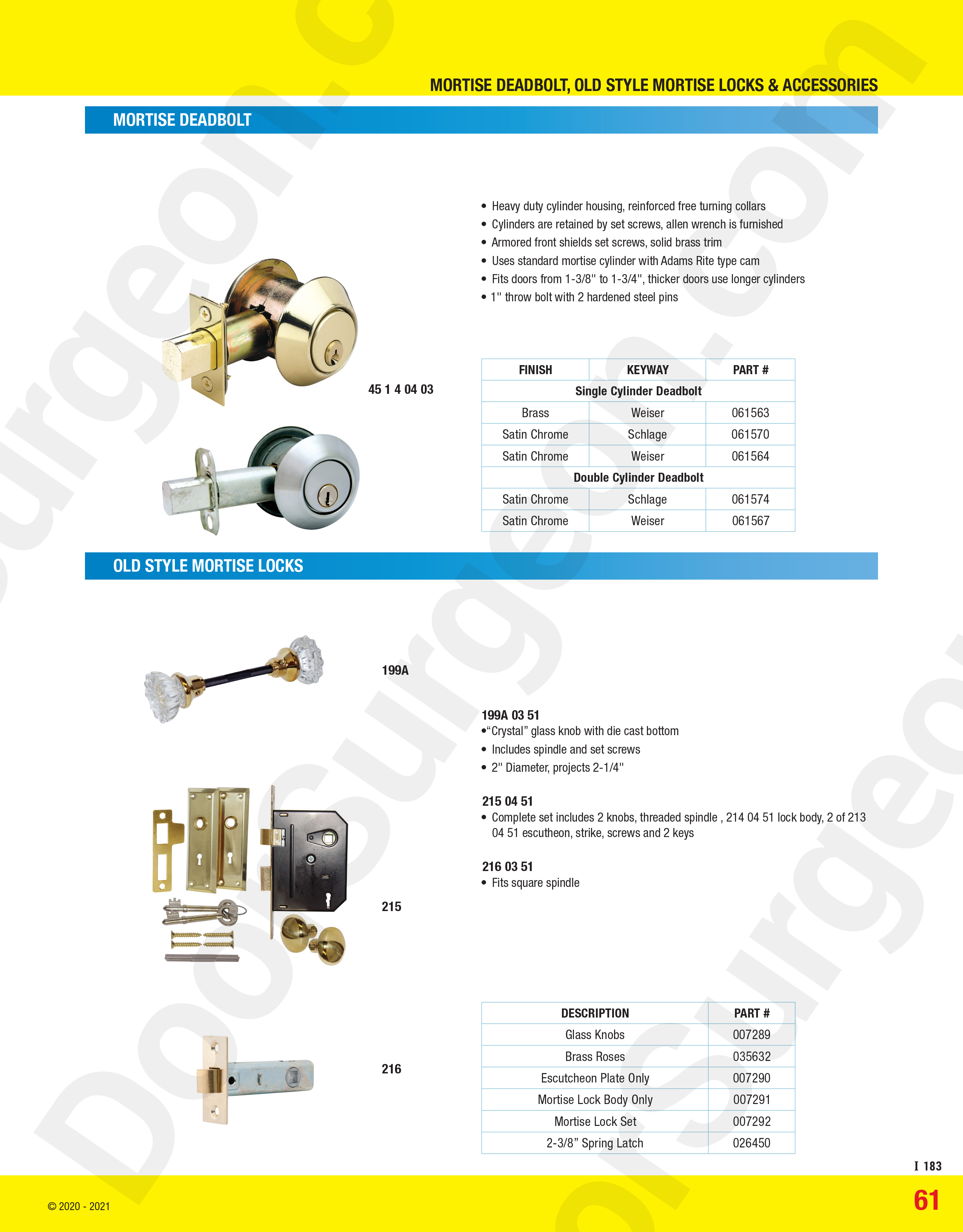 Popular in the 40s, 50s and 60s in old-style character homes for locking front and back doors. Let our Locksmith survice provider install the right lock for you.
---
Door Viewers/Peepholes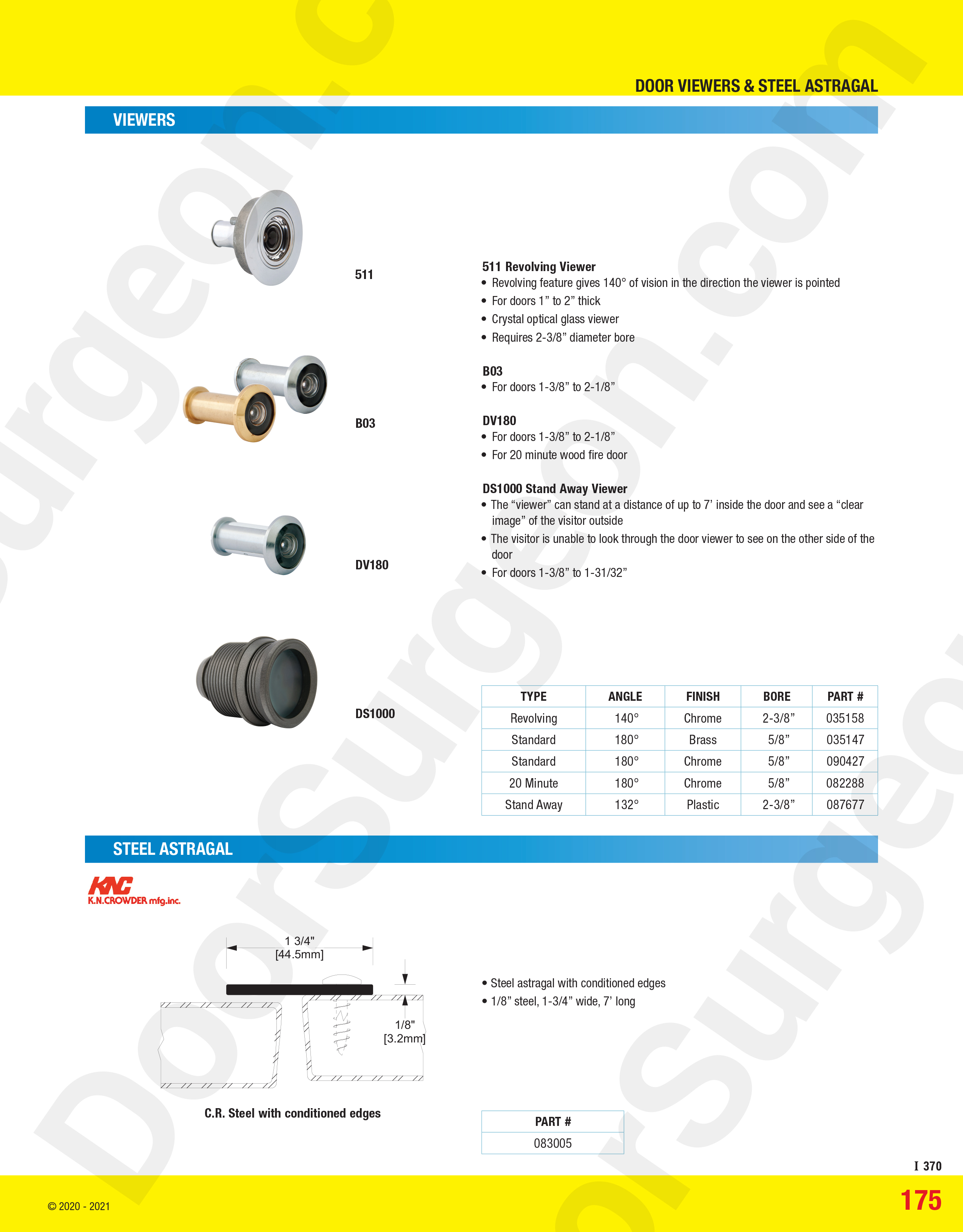 Standard door peephole, fire-rated peephole, angle-view and stand-away door viewers
Choose the right peephole or door viewer to match your needs and have Door Surgeon install it for you.
---
Deadbolt Replacement, Latches and Grip-set Mechanisms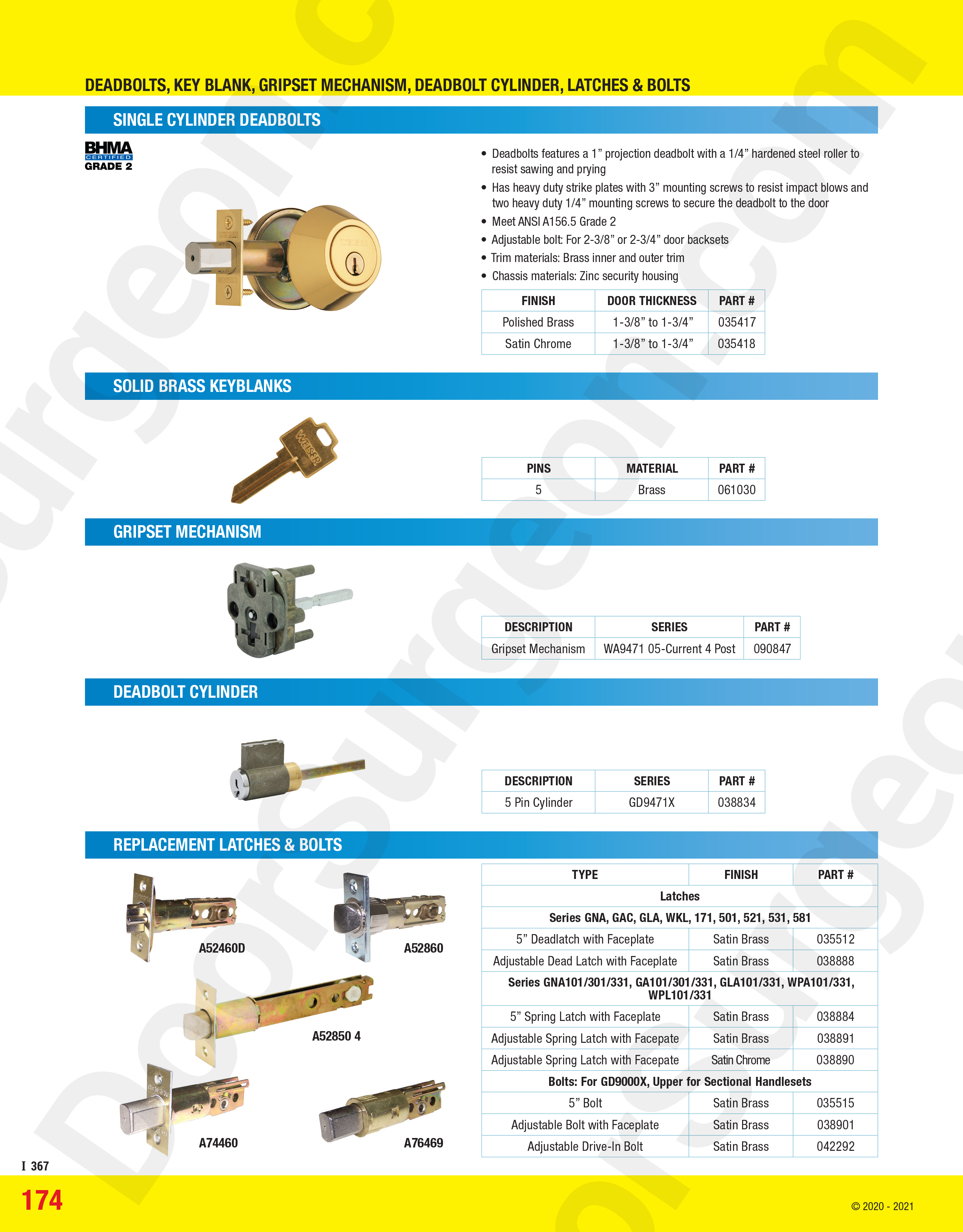 Components for your Weiser locks that are easy to replace
Call our mobile service centre to have your door handle, deadbolt or hardware fixed, repaired or replaced. Or visit one of our sales and service centres and do it yourself.
---