Push &nbsp To &nbsp Call &nbsp Us
Door Weatherstrip Repair & Replacement Edmonton Door Surgeon
Door weatherstrip repair and replacement by Door Surgeon Edmonton's repair service weatherstrip repairman can typically be done on the same day as the first visit to your Edmonton home. Residential home weatherstrip can deteriorate, get ripped or lose it's weather-seal on the door which then requires replacment of the door weatherstrip to ensure cold, rain and wind are sealed out of your door entryway. Most doors have bottom weather-seal sweeps to ensure bugs, rodents and weather do not enter your home. Garden doors to back decks often need weatherstrip repair. Door Surgeon Edmonton's weatherstrip replacement mobile serviceman can match your current weatherstrip style, design and colour or supply and install a secondary weatherstrip.
It's wise to have a door repair professional complete the weatherstrip and door sweep repair and installation to ensure you have a quality weatherstrip installation. Replacements and parts for door sweeps and weatherstripping can be viewed, purchased or ordered from Door Surgeon Edmonton's weatherstrip parts and service sales centres.
Door Surgeon has replacement weatherstrip for residential house doors, replacement weatherstrip for commercial Doors, replacement weatherstrip for storefront doors and replacement weatherstrip for apartment doors. Door Surgeon Edmonton's mobile door weatherstrip installation serviceman can visit your site, assess your door weatherstrip needs and repair broken or worn weatherstrip or return to supply and install new weatherstrip on most Edmonton home residential or commercial business doors.
Mobile Door Weatherstrip Repair and Replacement Service Edmonton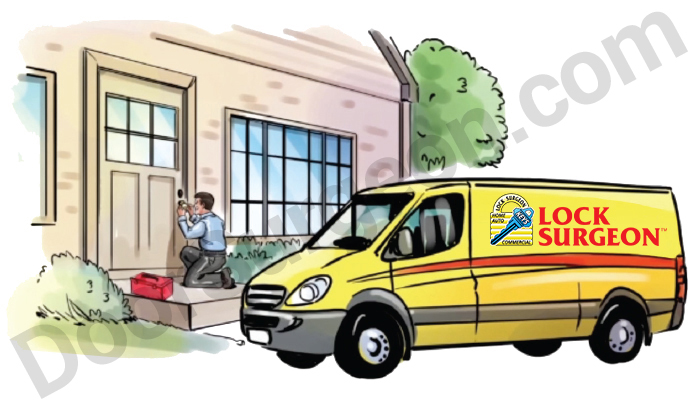 ---
Follow These links for Related Pages.
---
Door Weatherstrip Repair & Replacement Edmonton Door Surgeon Services In Edmonton and Area:
Northeast Edmonton, Northwest Edmonton, Southeast Edmonton, Southwest Edmonton, Millwoods, Terwillegar, Jasper Place, Claireview, Bonnie Doon, Strathcona, Glastonbury, Eaux Claires, Balwin, Pembina, Beverly, Ottwell, Pleasantview, Summerside, Windermere and others.
Also providing mobile service to surrounding areas of Edmonton:
Sturgeon County, Strathcona County, Leduc County, Parkland County
---
Door Weatherstrip Repair & Replacement Edmonton Door Surgeon & Locksmith Repair Centre Shop
Door Weatherstrip Repair & Replacement Edmonton Door Surgeon and Locksmith Repair Parts & Service Centre: 17812 118 Ave NW, Edmonton, Alberta, T5S2W3
Store Location Directions:
We are located North of 100 Avenue, south of the Yellowhead Freeway, west of 142th Street, east of the Anthony Henday, on the northwest corner of 118 ave. and 178 st. @ 17812 118 Ave NW, Edmonton, Alberta, T5S2W3
We are easy to find by driving on 118 ave to the corner of 178 St & 118 Ave.
17812 118 Ave NW, Edmonton, Alberta, T5S2W3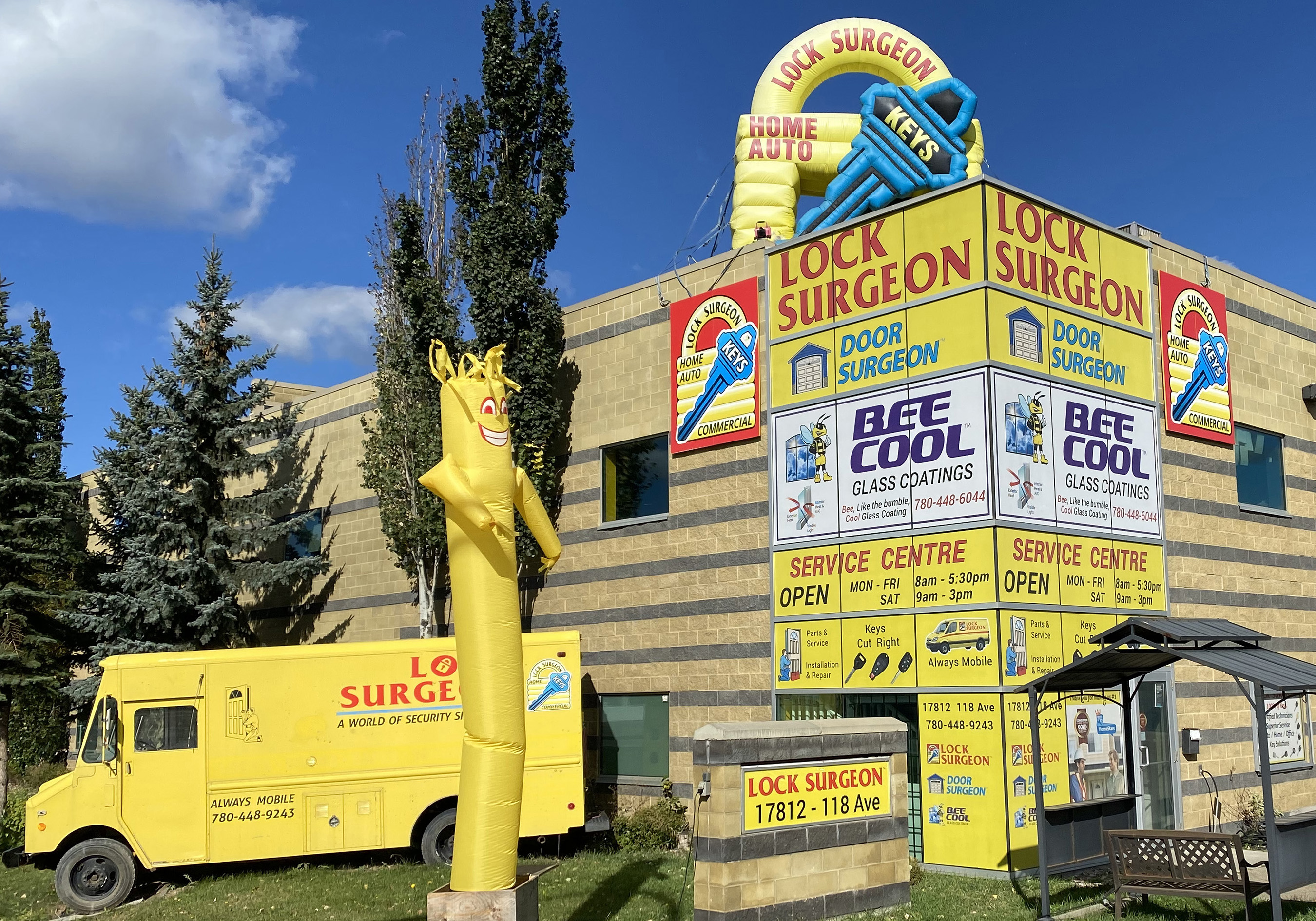 17812 118 Avenue NW, Edmonton, Alberta, T5S2W3
---
View Additional Edmonton Door Sweep and Weatherstrip Replacement Parts Below
---
Bottom of Door Sweep/Shoe
Door Base Weather-seal Edmonton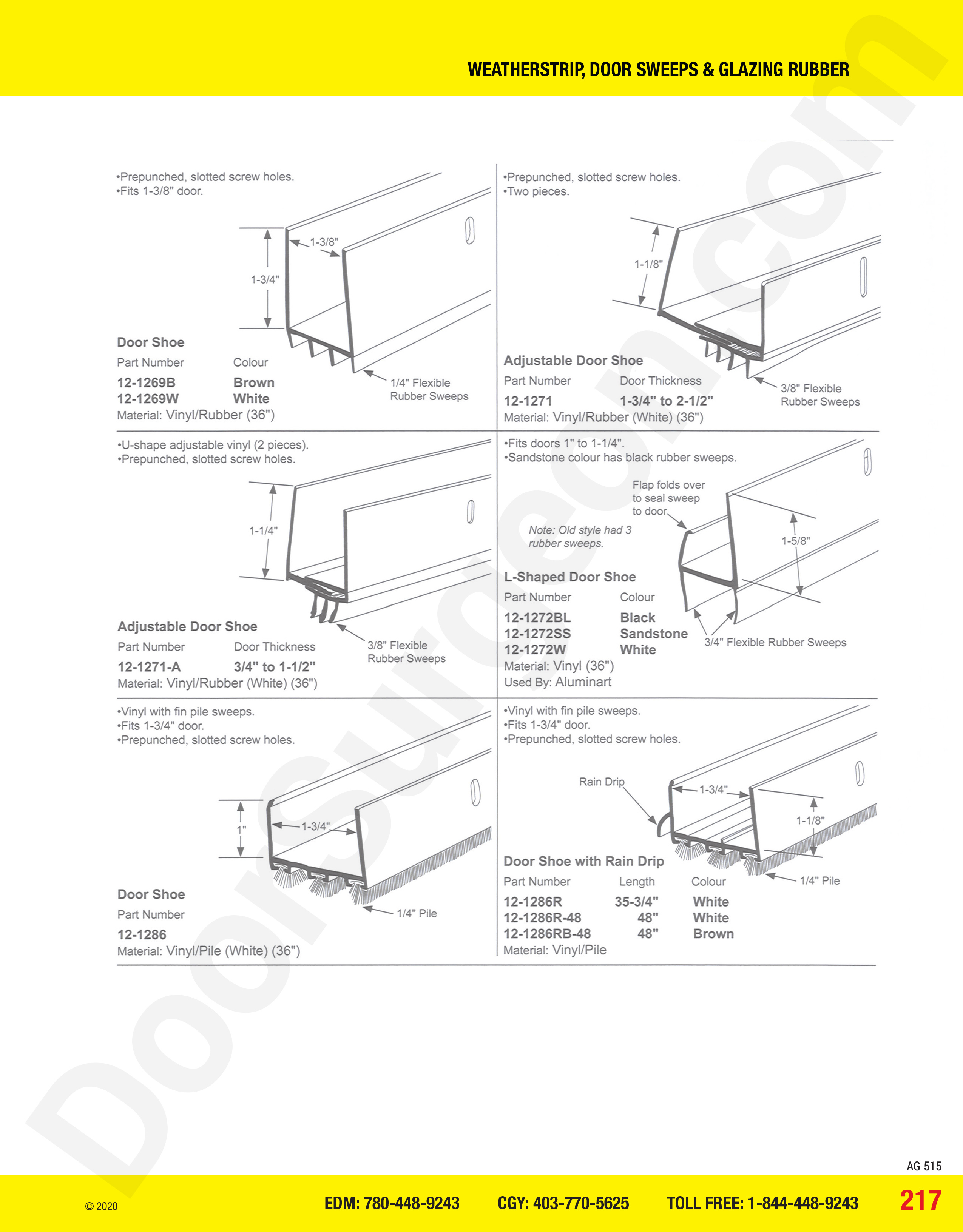 Door Base Weather-seal Shoes for:
Door shoe, adjustable door sweep, L-shaped door sweep seal, door base weather shoe with rain drip
---
Edmonton Door Sweeps & Door Base Shoes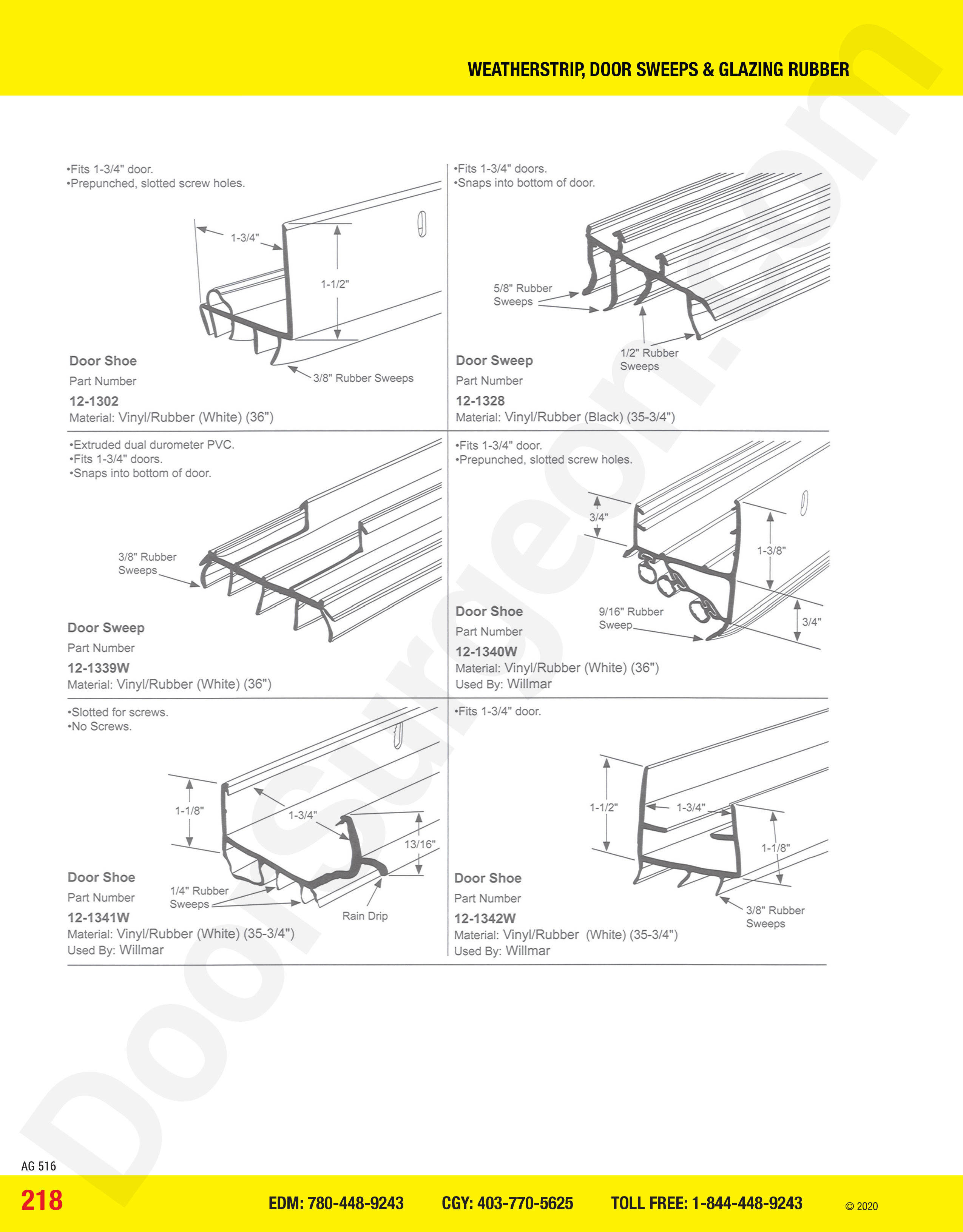 Door Sweeps and Door Base Shoes for:
door shoe, door sweep 5/8" rubber, door sweep 3/8" rubber, door shoe 9/16" rubber sweep, door shoe 1/4" rubber sweep, door shoe 3/8" rubber sweep
---
Bottom of Door Weather-seal Edmonton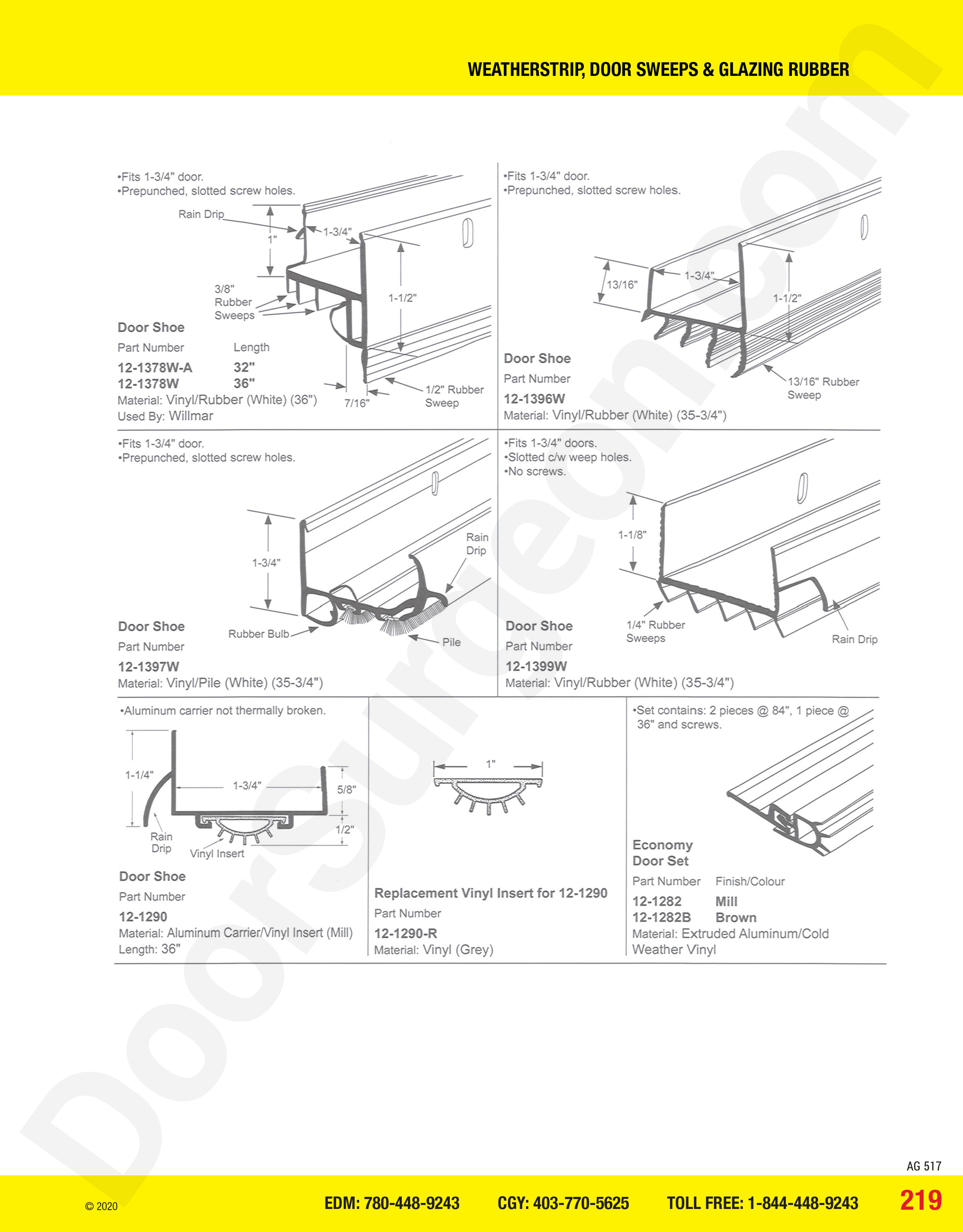 Bottom of Door Weather-seal for:
door shoe 32" and 36" length, door shoe 13/16" rubber sweep, door shoe with rubber bulb, door shoe 1/4" rubber sweep, door shoe with vinyl insert, replacement vinyl insert, economy door set
---
Edmonton Replacement Door Sweep & Door Weatherstripping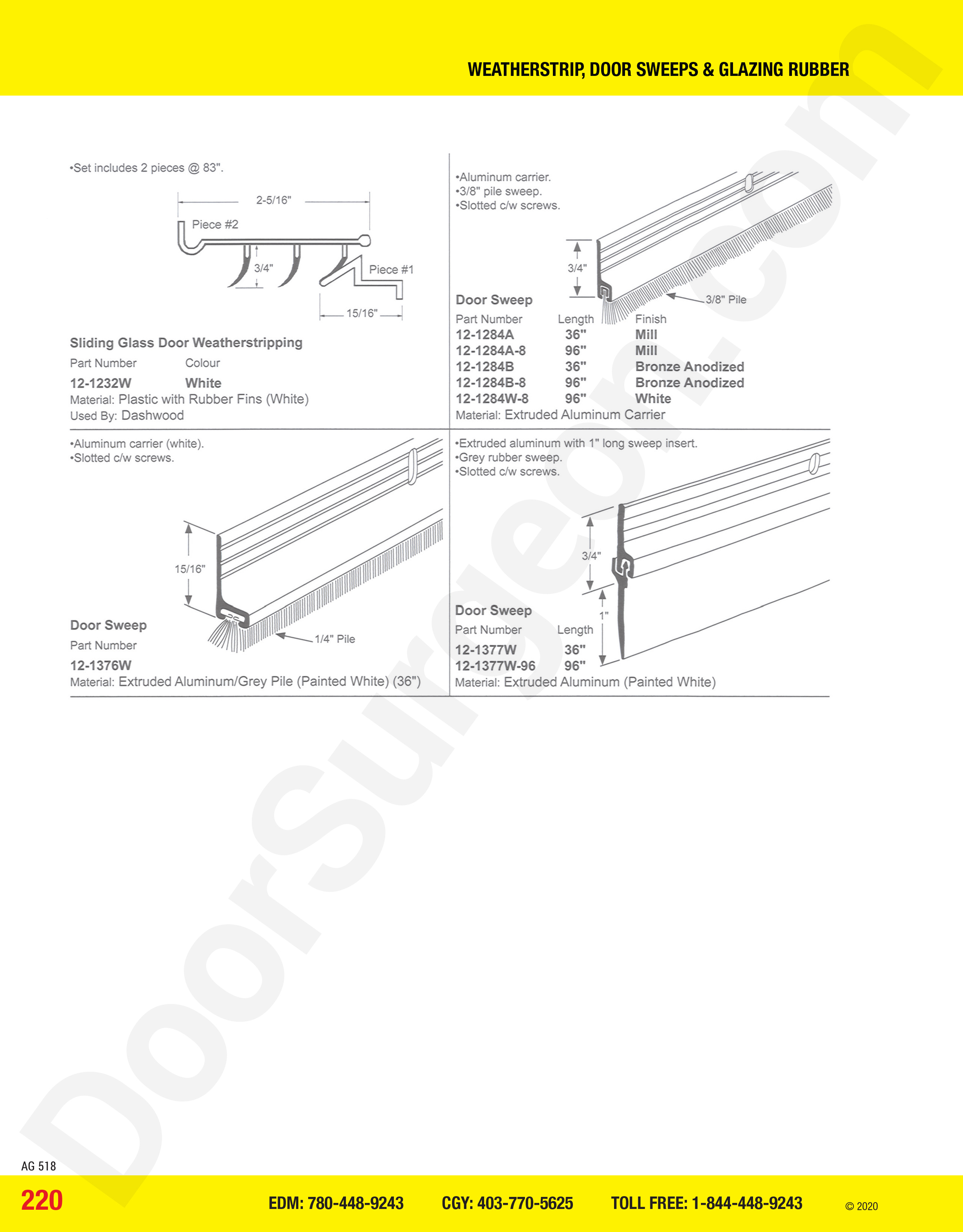 Sweep and Weatherstrip Replacements for:
sliding glass door weatherstripping, door sweep 3/8" pile, door sweep 1/4' pile, door sweep for 36" and 96" length
---
New Door Sweep & Rubber Gasket Edmonton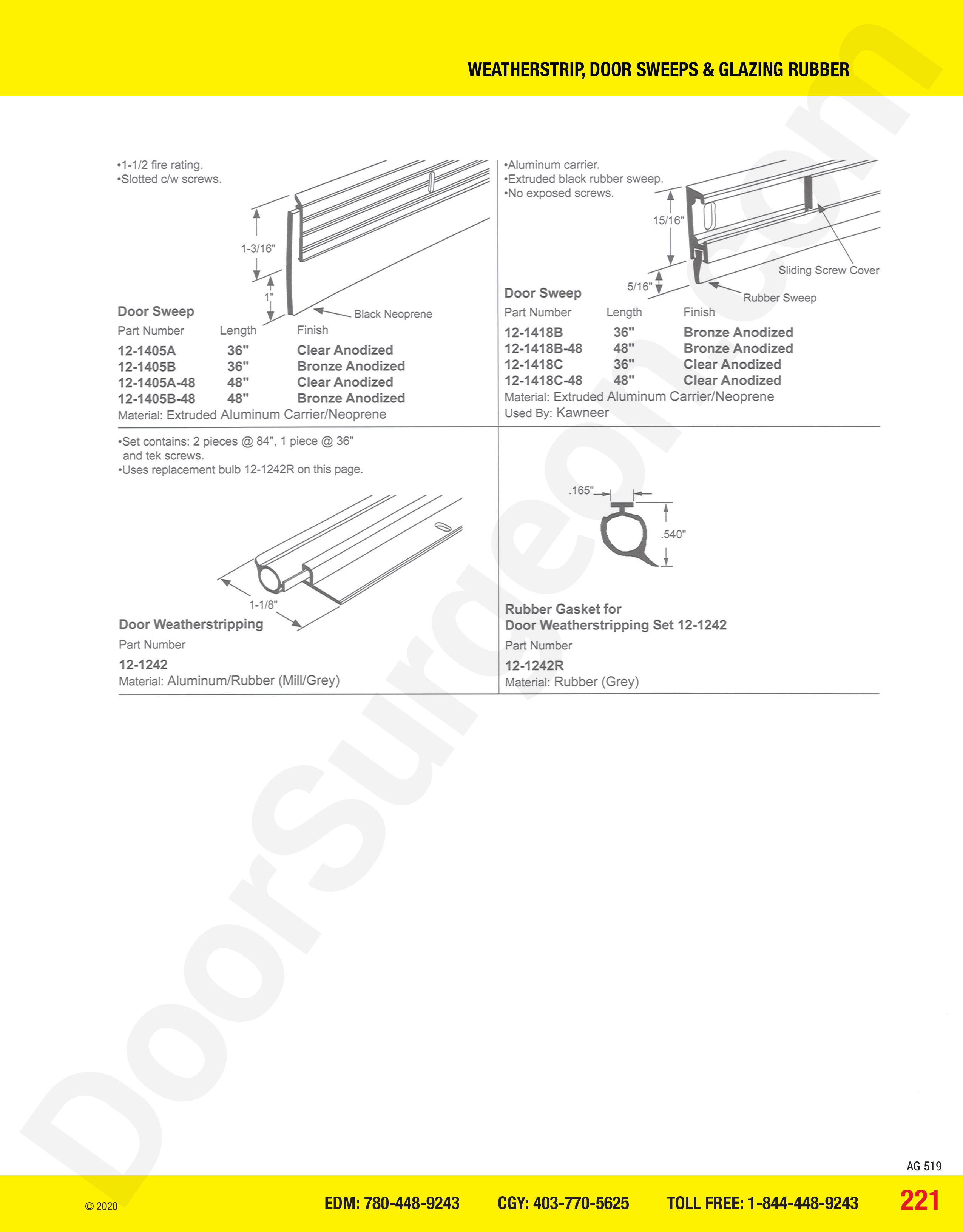 New Door Sweep and Rubber Gasket for:
door sweep 36" and 48" lengths, Kawneer door sweep, door weatherstripping, rubber gasket for door weatherstripping
---
Edmonton Door Sweep & Astragals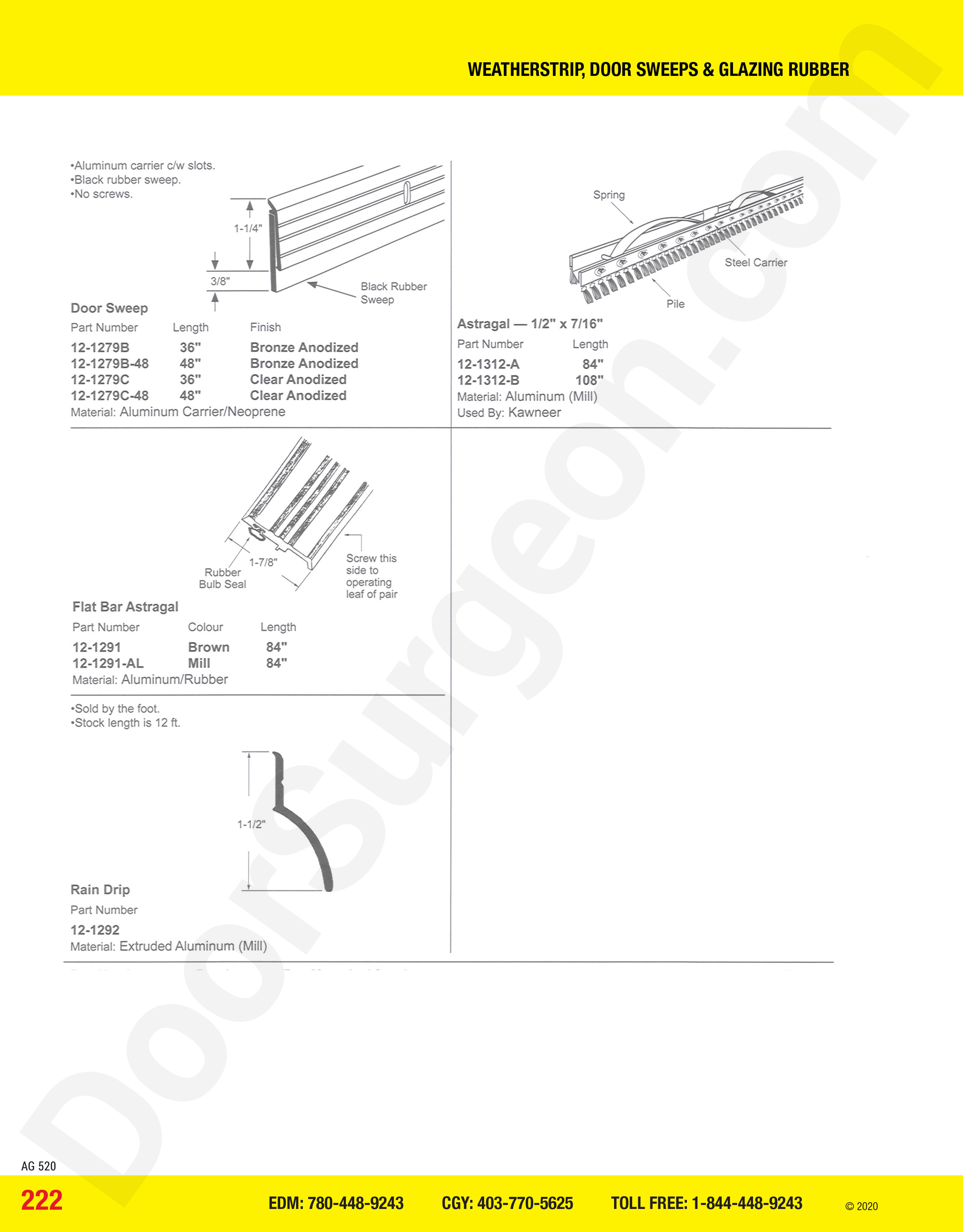 Sweep and Astragal for:
door sweep, astragal 1/2" x 7/16", flat bar astragal, rain drip
---
Door Sweep, Door Sill Bumper & Door Threshold Edmonton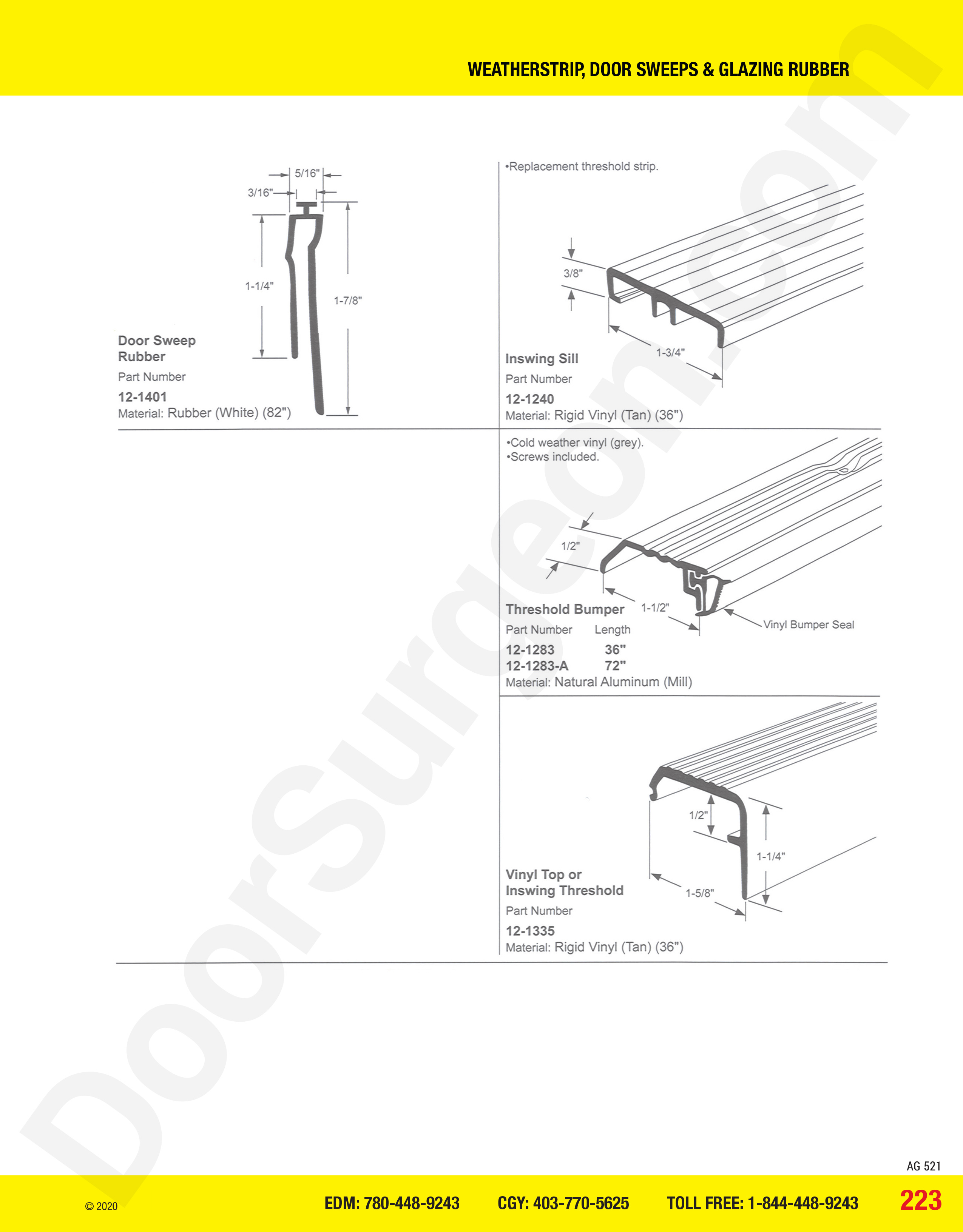 Door Sweep, Door Bumper, Door Sill, Door Threshold for:
door sweep rubber, inswing sill, threshold bumper, vinyl top of inswing threshold
---
Edmonton Door Seal Weatherstrip Foam-Tile®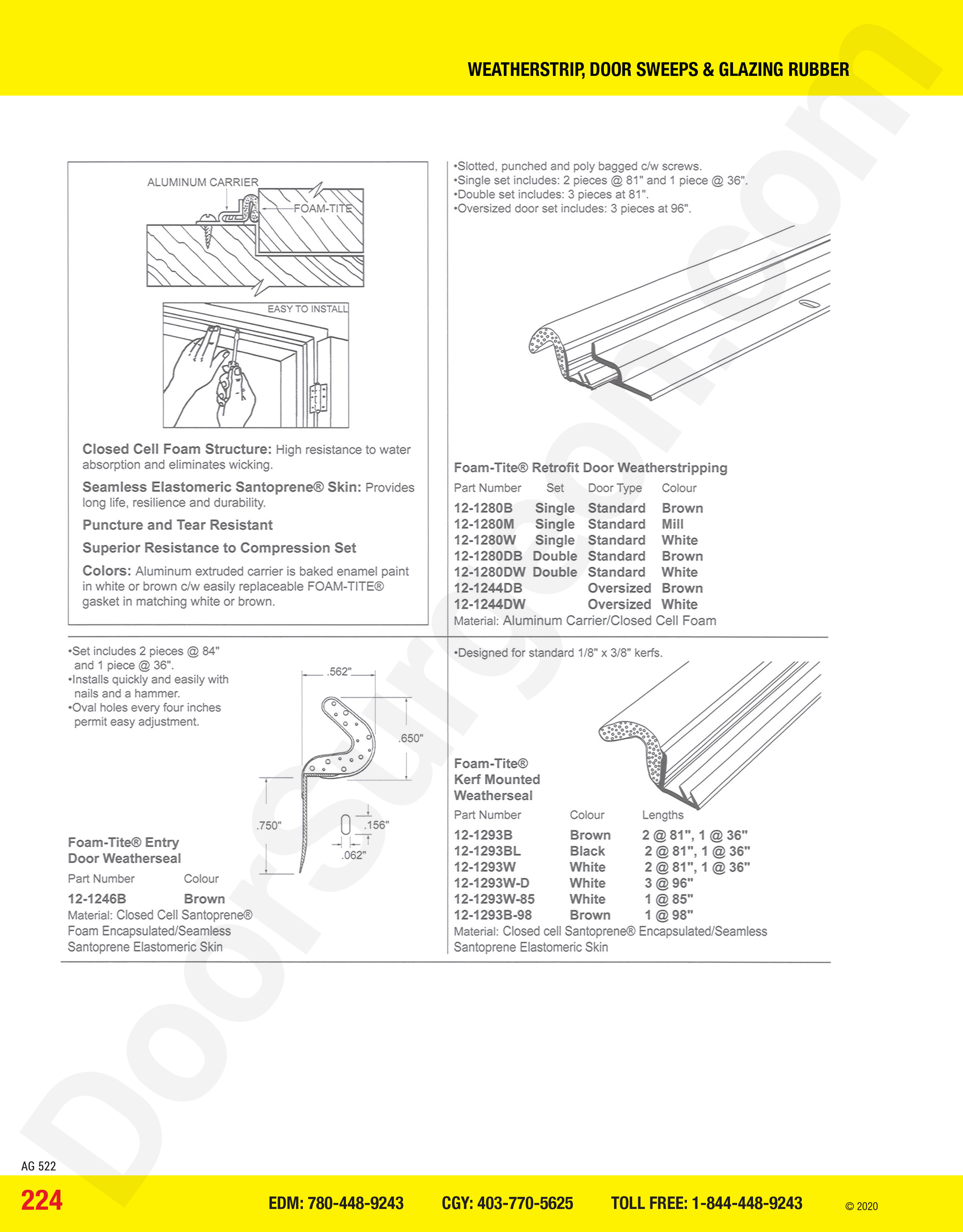 Door Seal Weatherstrip Foam-Tile® for:
Foam-Tile® retrofit door weatherstripping, Foam-Tile® entry door weatherseal, Foam-Tile® kerf mounted weatherseal
---
Magnetic Door Weatherstripping Edmonton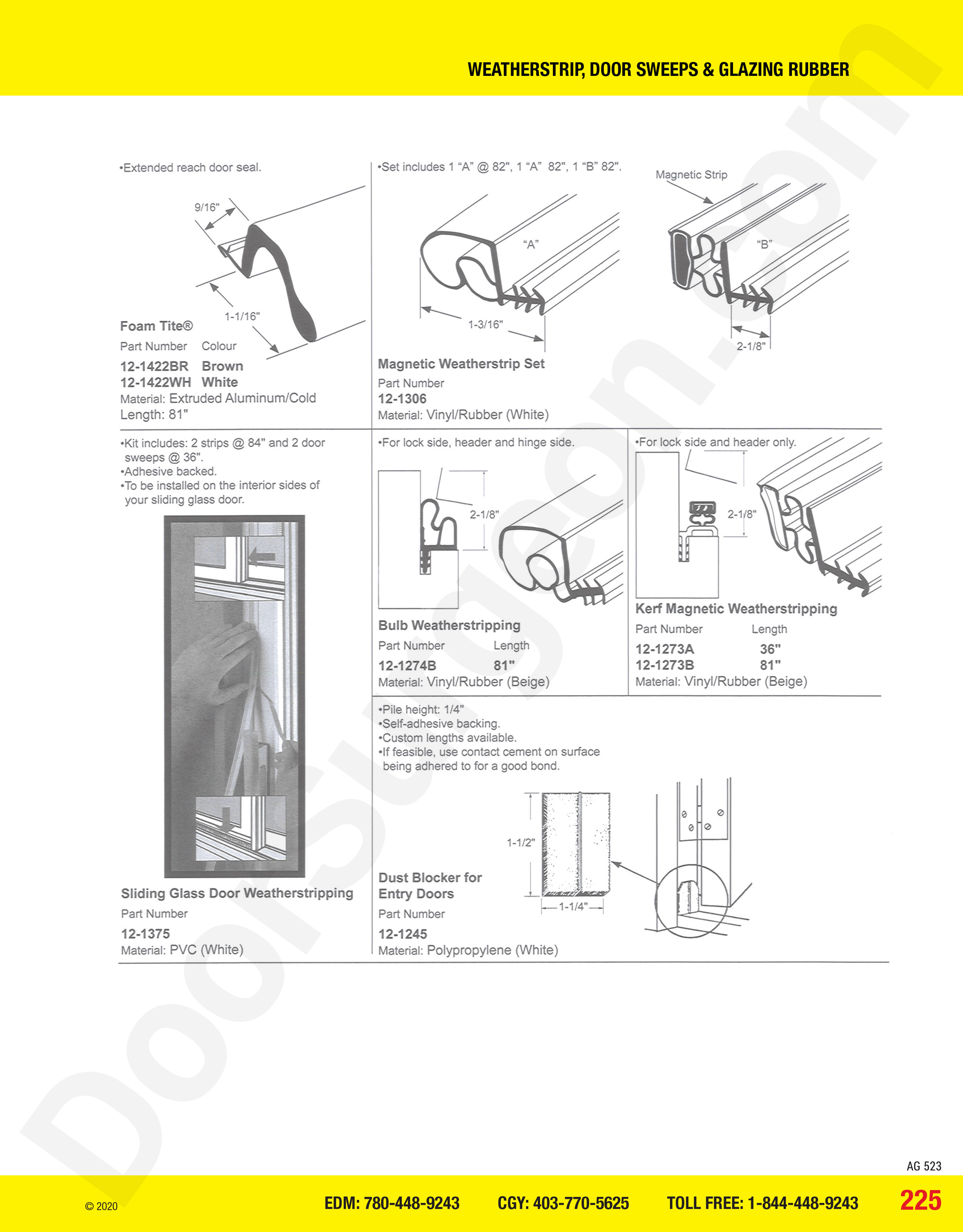 Magnetic Door Weatherstripping for:
Foam-Tile®, magnetic weatherstrip set, sliding glass door weatherstripping, bulb weatherstripping, kerf magnetic weatherstripping, dust blocker for entry doors
---
Edmonton Polypropylene Weatherstripping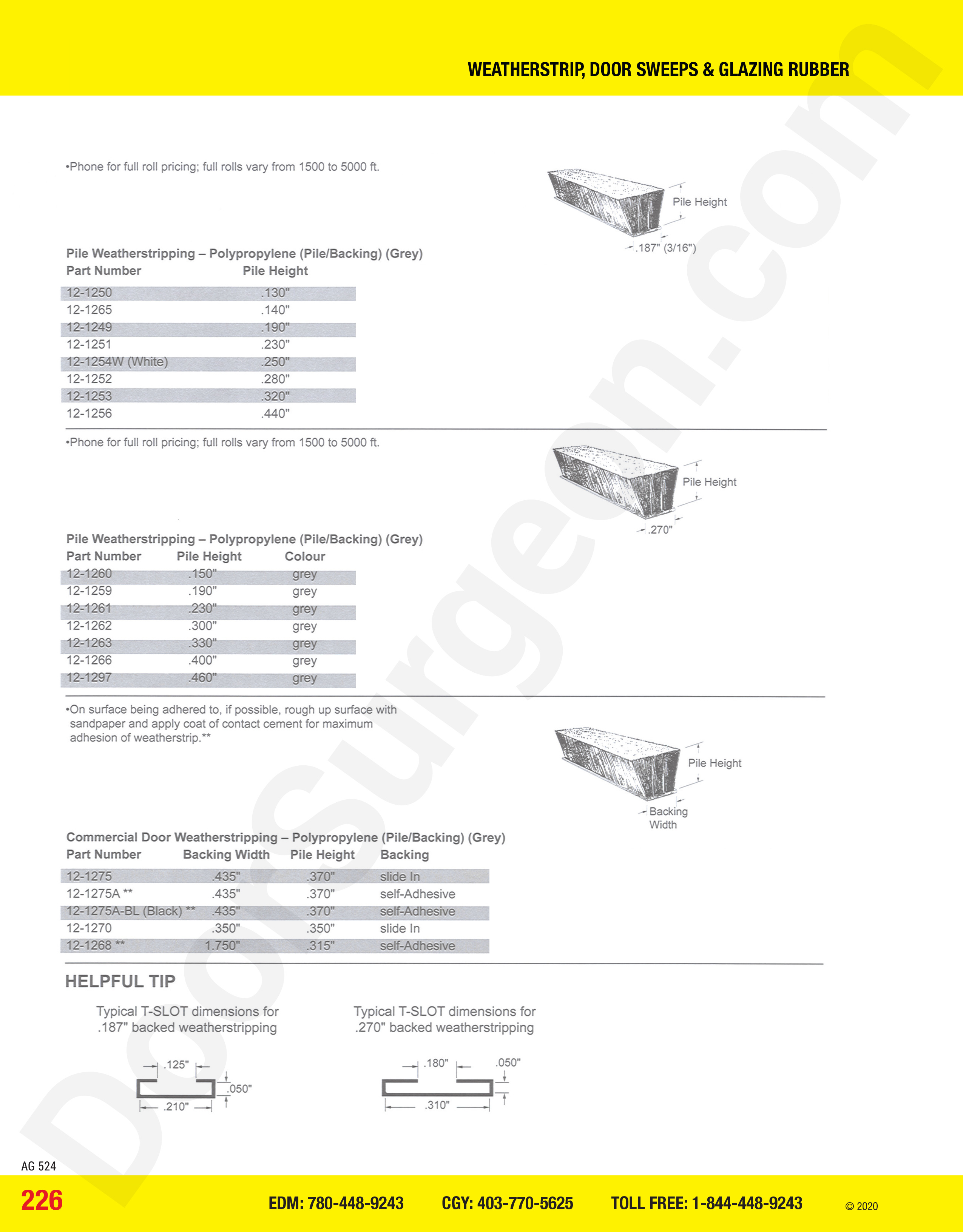 Weatherstripping for:
pile weatherstripping 3/16", commercial door weatherstripping
---
Pile Weatherstripping Edmonton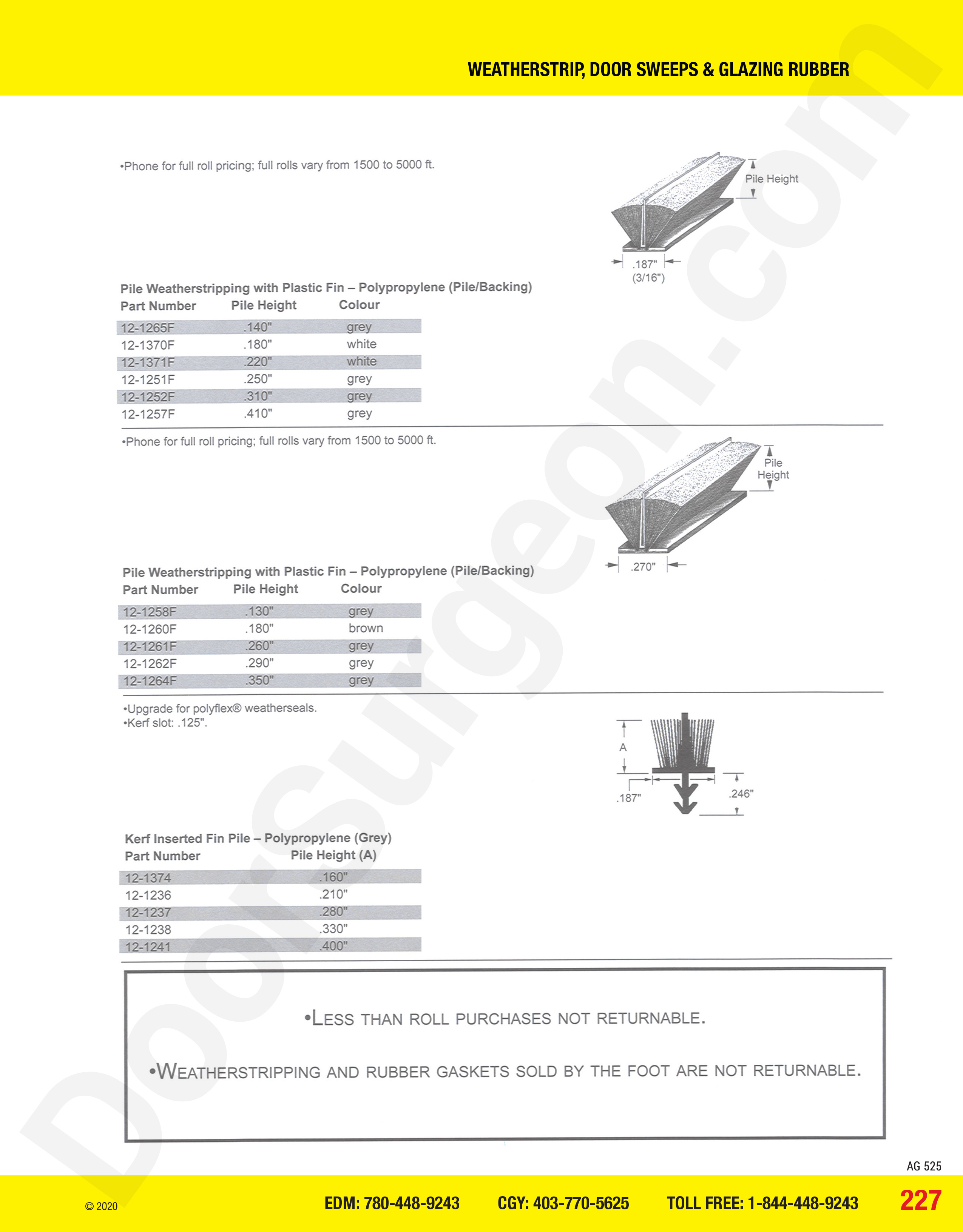 Weatherstripping for:
pile weatherstripping with plastic fin, kerf inserted fin pile