Push &nbsp To &nbsp Call &nbsp Us
Door Surgeon Door Security Reinforcements Locksmith Sherwood Park
Sherwood Park Door and Frame security hardware reinforcements
Door Surgeon Sherwood Park's Door Security Reinforcement servicemen can come to your home or business to provide door security reinforcements. These will fortify your door and door frame so as to protect your door from forced entry or to repair areas that forced entry of your door have damaged. Often these door repair and reinforcment products can save your original door and reduce the cost of a new door and frame installation. It's always wise to have Door Surgeon Sherwood Park's door security reinforcements handyman review your entry doors to determine what door reinforcements would best mitigate any future door forced entry attempts.
---
Door Reinforcement Products Presented in "Like" Groups For Easy Reference.
---
Don-Jo Deadbolt Wrap Around Plates for Door Slab Repair and Reinforcement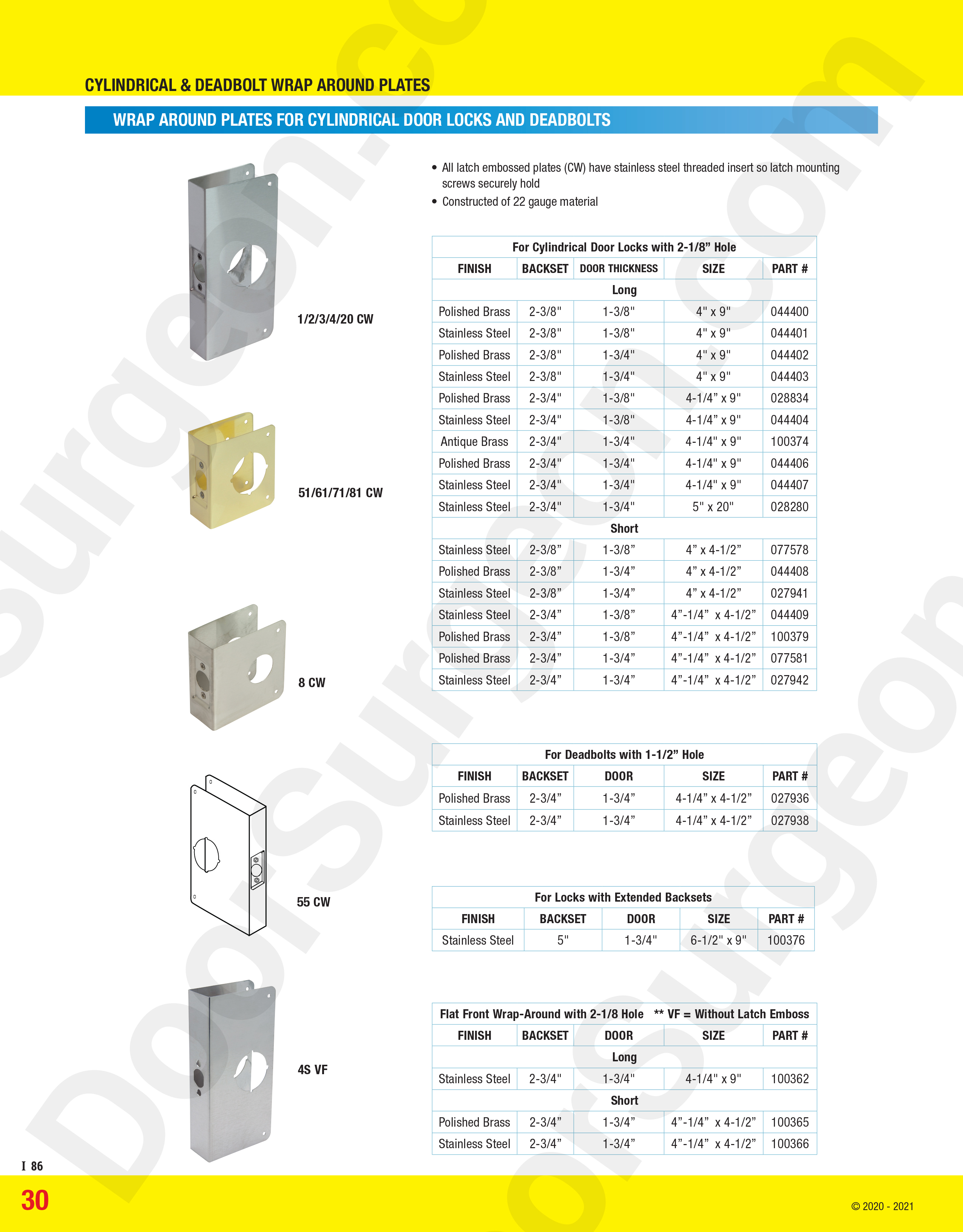 Wrap around plates for door locks and deadbolts
Door wraps are used to provide additional security to doors and or make repairs where door has been broken during a break-in event. Door Surgeon's door security reinforcements mobile serviceman can match your door handle or deadbolt requirements to the correct door wrap security reinforcement.
---
Don-Jo Combination Handle & Deadbolt door edge protector Door Blank Wrap-around & Door Edge Reinforcer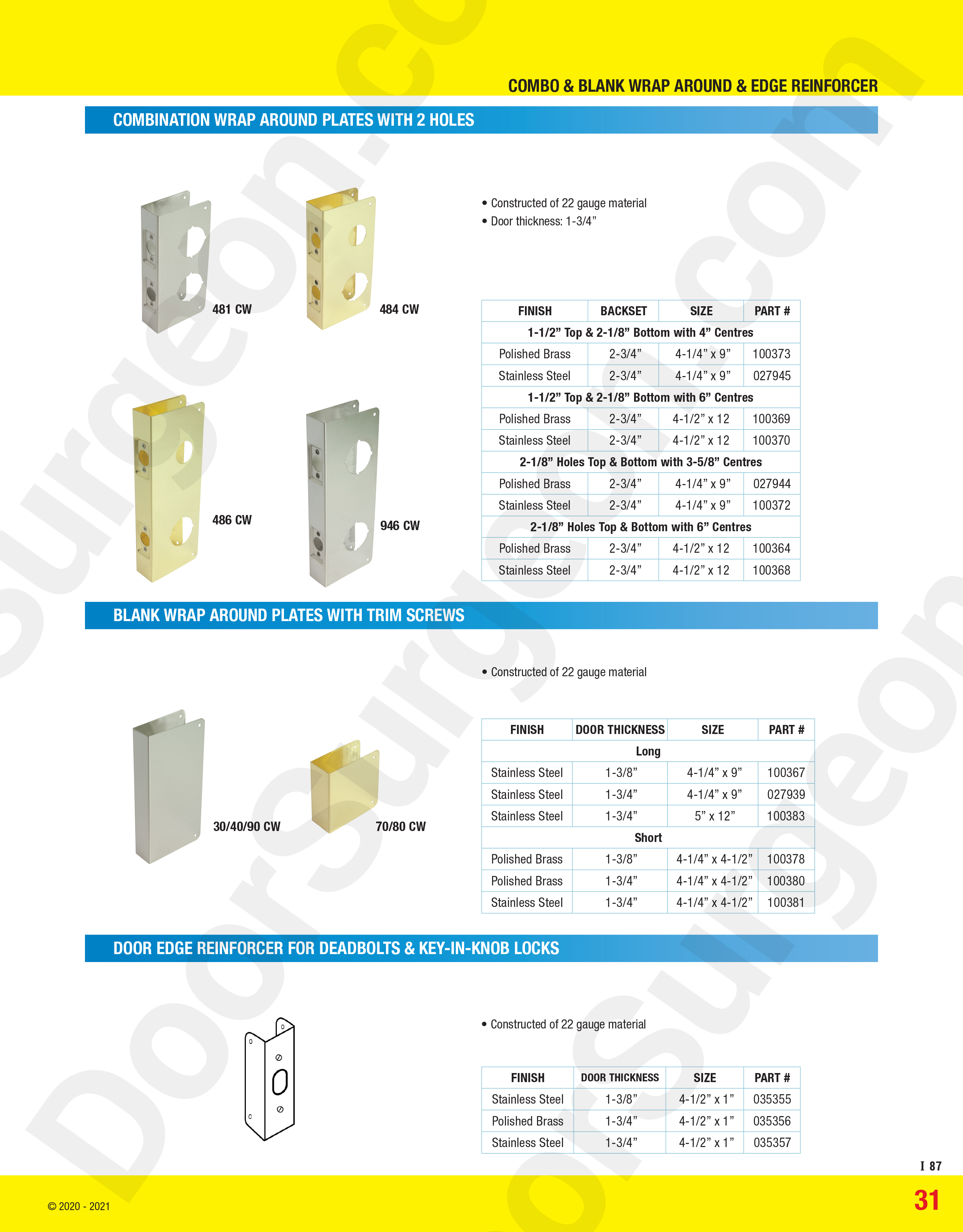 Combination wrap around plates with 2 Holes, Blank wrap around with trim screws, Door edge reinforcer for deadbolts & Key-in-knob locks
Door Surgeon's mobile door security reinforcements locksmith can install the door edge reinforcement product that you might need to repair door break-ins or doors that have been damaged. Double-hole door wraps are used to reinforce or repair door damage by providing additional security to both the handle and deadbolt at the same time. Blank sets are available for custom backsets or custom sized holes. Door edge reinforcement can be used to avoid backset and hole size issues. Door Surgeon's mobile door fixing crew will match the right door wrap product to your needs whether for repairs or additional security.
---
Specialty Door Wrap Around Edge-Guard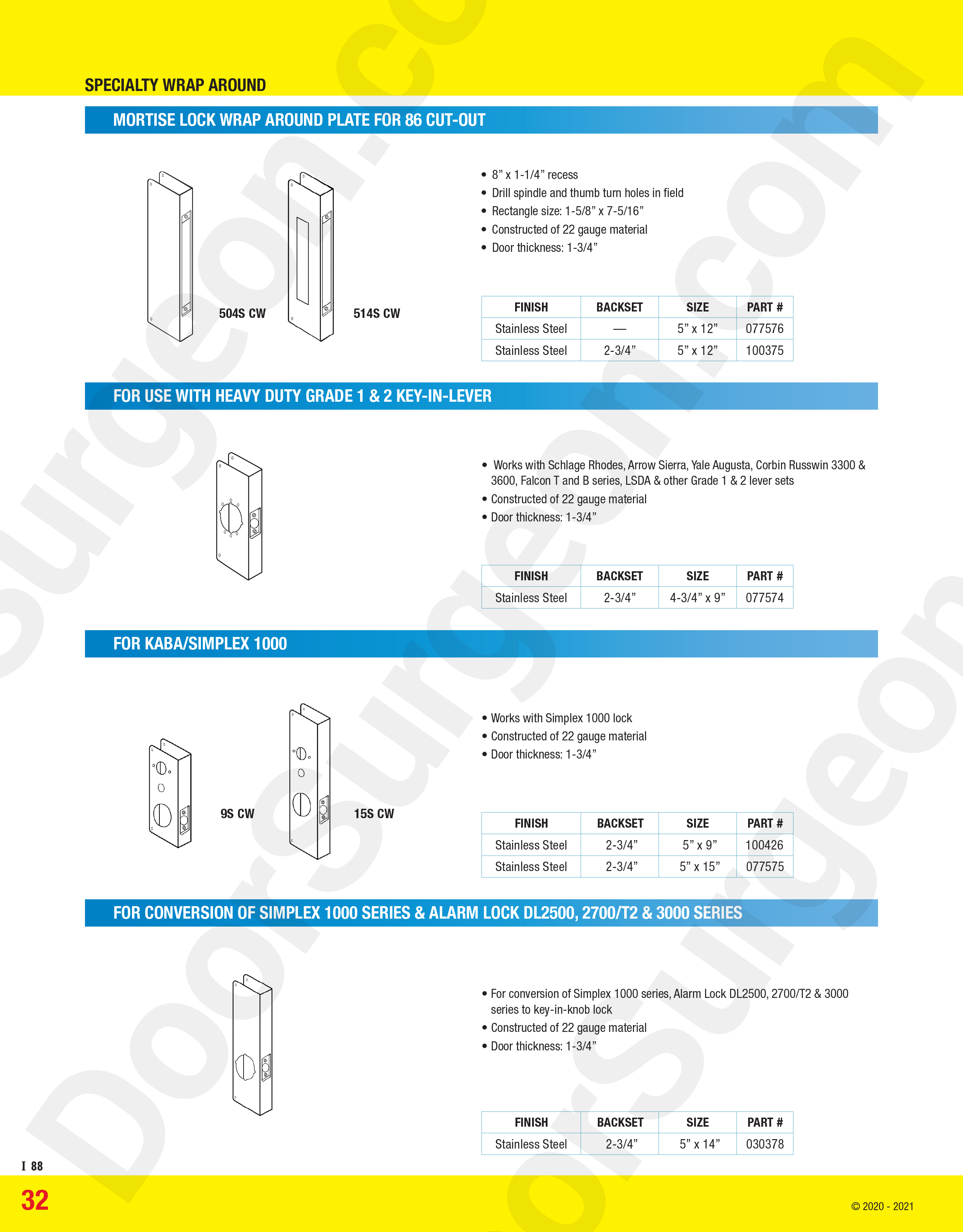 Mortise lock wrap around plate for 86 cut-out, for use with heavy duty grade 1 & 2 key-in-lever, for KABA/Simplex 1000, for conversion of Simplex 1000 series & alarm lock DL2500, 2700/T2 & 3000 series
Door Surgeon's sales and service centre stocks a variety of door edge repair parts. These unique and custom shaped door wraps provide additional security or repair for lock-sets such as the simplex unican digital entry or mortise cassettes.
---
Inswing Door, Narrow Stile & Universal Door Latch Guards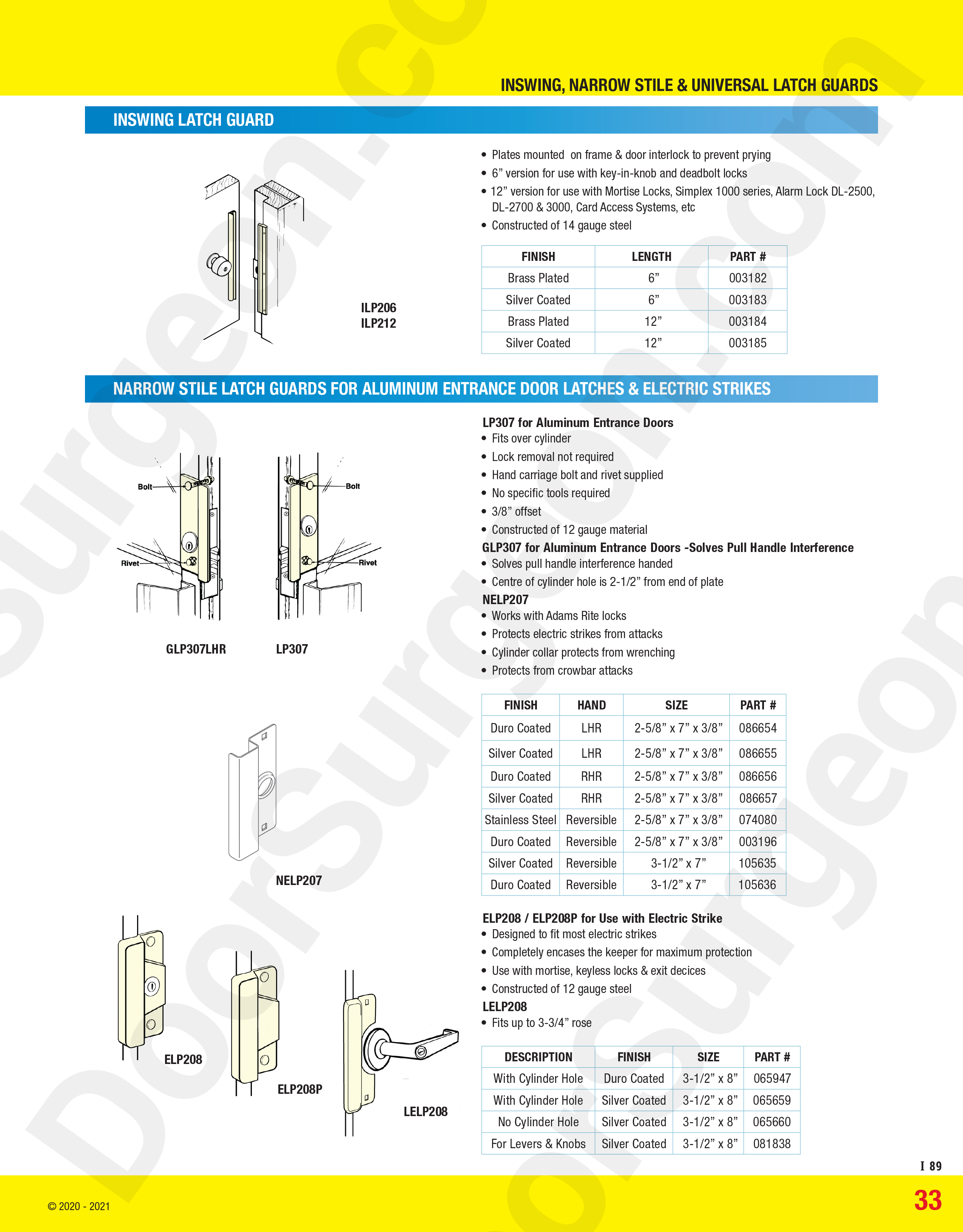 Inswing latch guard, narrow stile latch guards for aluminium entrance door latches & electric strikes
Door Surgeon parts and service sales centre have security support products for doors in a variety of styles, shapes and sizes. Door Surgeon parts counter locksmiths can help you match your door security concerns to the correct door security latch protection product.
---
Outswing Door Latch Guards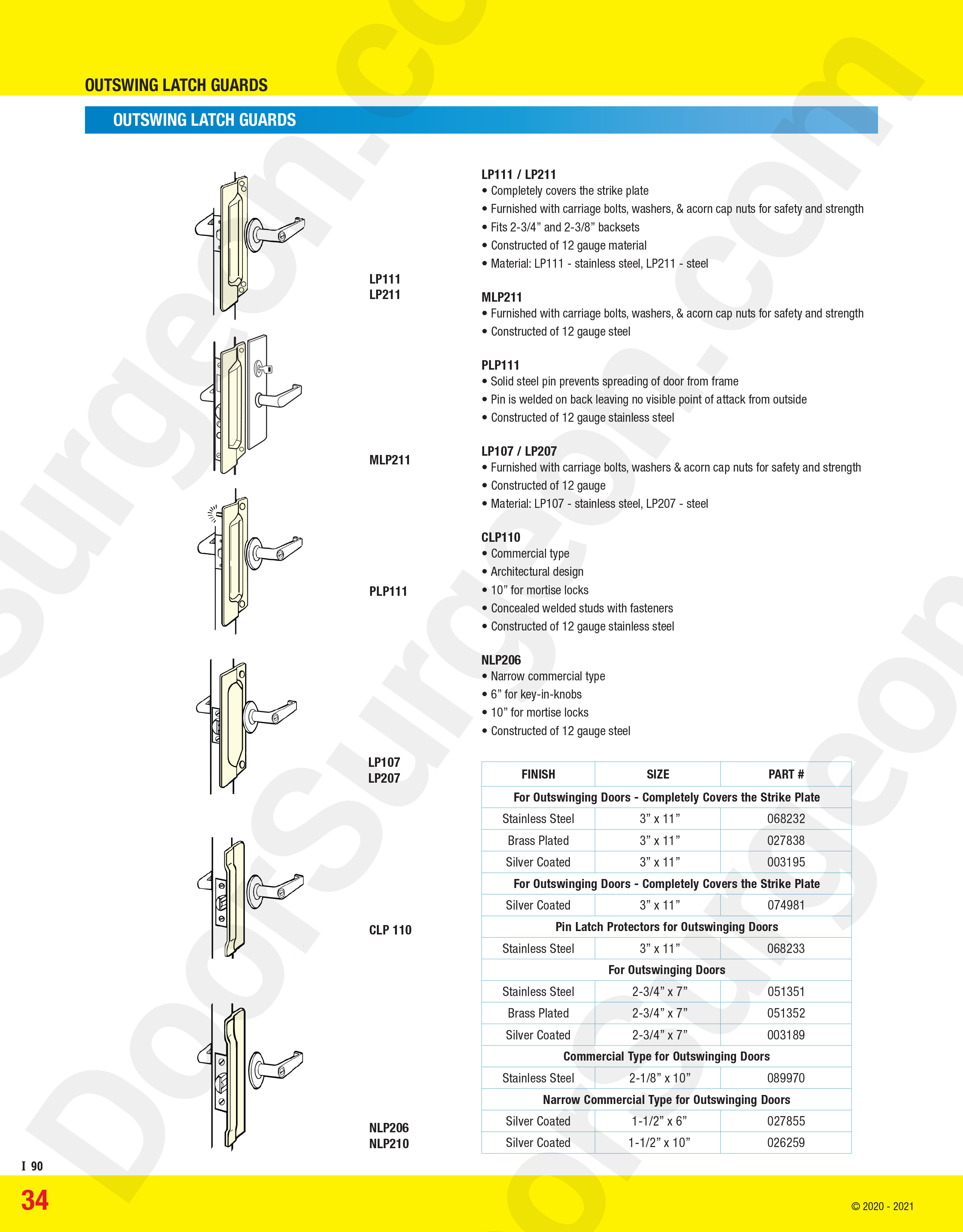 Outswing door latch guards and lock guards for storefront doors and apartment doors
Door Surgeon's mobile locksmith repairmen have a variety of latch guards available to provide door latch security in a number of situations. For commercial doors, warehouse doors, apartment doors and storefront doors. There are also some latch guards that will accommodate electric strikes. Visit Door Surgeon's sales and service centres to find the right door security and repair products. Call Door Surgeon's mobile door security reinforcements service centre dispatch to book a time that is convenient for repair or security upgrades to your doors.
---
Outswing Door & Electric Strike Door Latch Guards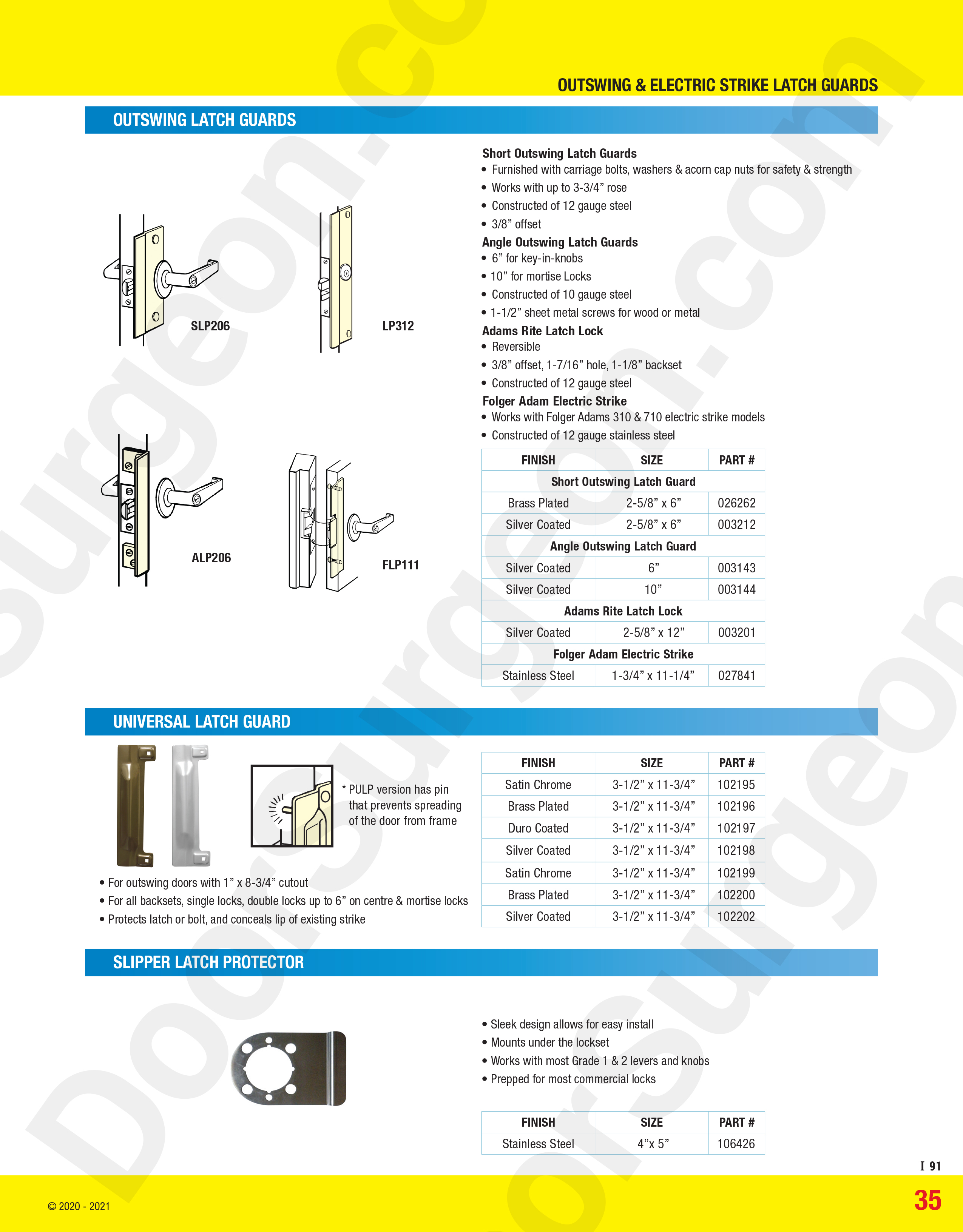 Universal Door latch guard & slipper latch protector
Door Surgeon's sales and service centres have parts departments that can provide outswing latch guards. Latch guards are made to protect latches on doors such as laundry rooms, apartments, commercial glass-aluminium doors. The universal latch guard is stocked on Door Surgeon's mobile service trucks to allow for quick fix by Door Surgeon's door and lock service repair personnel should you call them.
---
Filler & Conversion Plates, Electric Strike Filler Plates & Scar Plates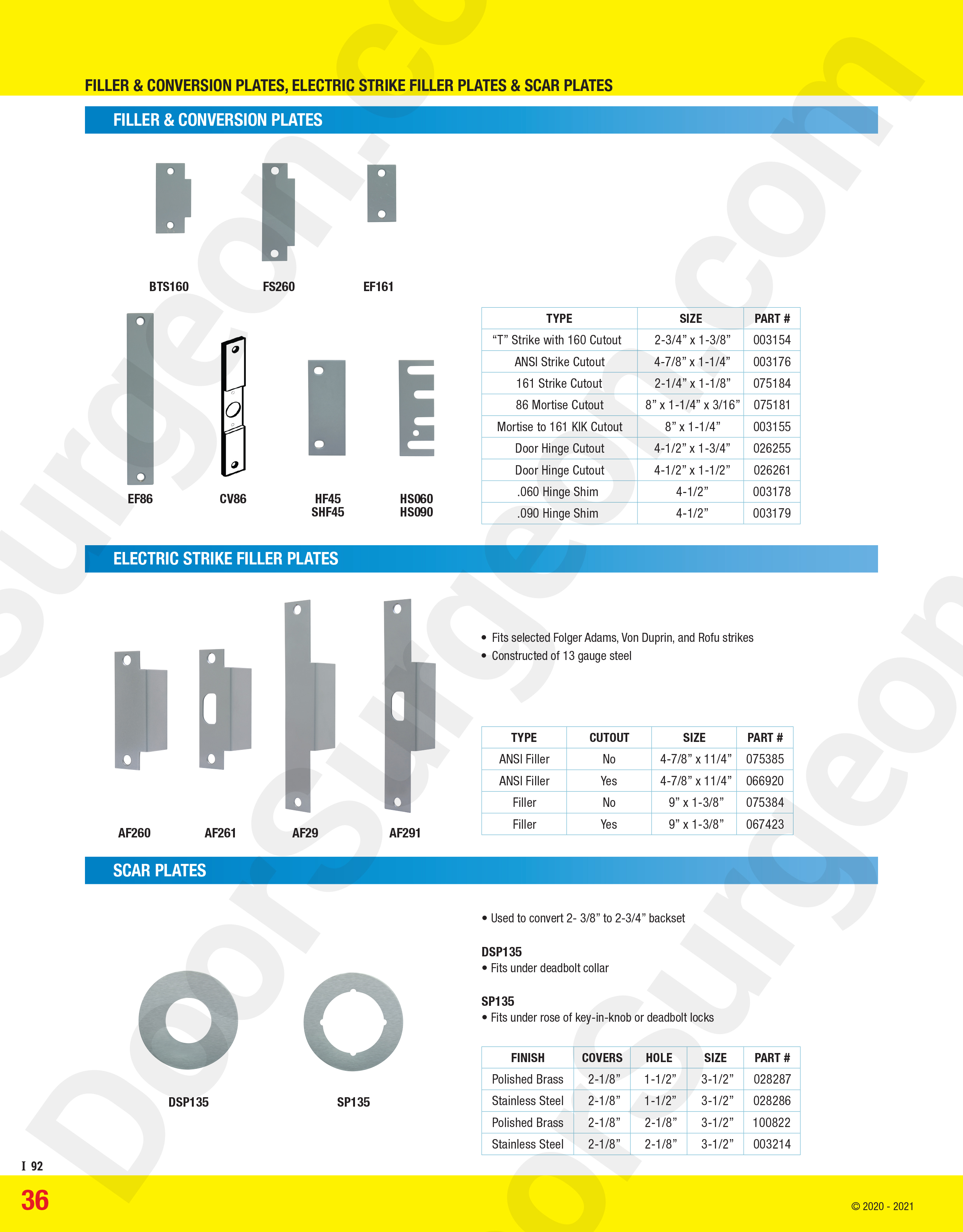 Filler & conversion plates, electric strike filler plates & scar plates
Door filler and scar plates are used when changing the function of a door or commercial door handle, deadbolt or hinge item.
---
Hole Filler Plates, Remodel Kit, Door Pull & Hinge Pins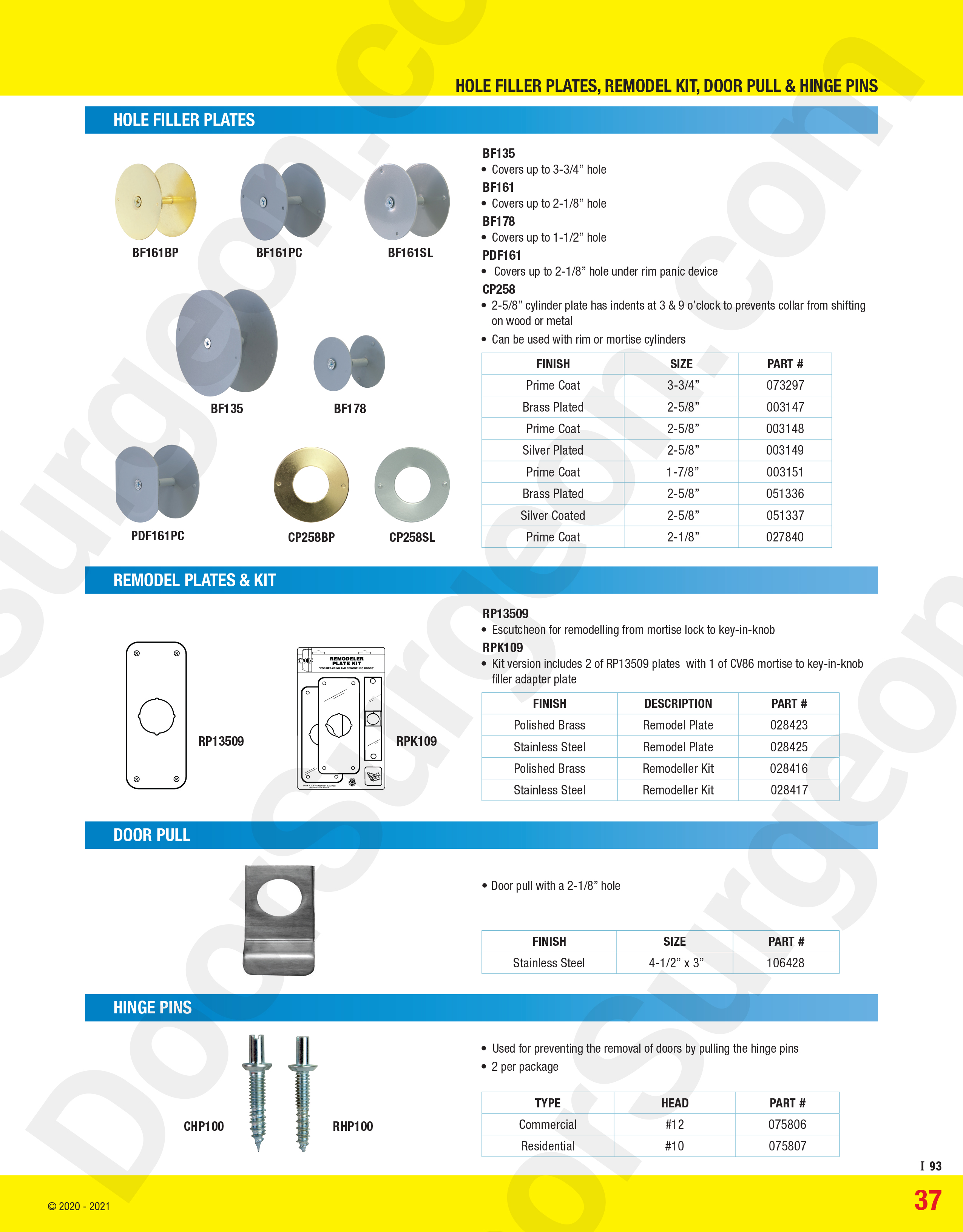 Hole filler plates, remodel plates & kit, door pulls & hinge pins
Visit Door Surgeon's sales and service parts counter to view a variety of door filler plates and remodel kits. These kits are used to fill deadbolt or handle holes that are no longer required or cover damaged areas.
---
Lip Strikes, Long Strikes, Push/Pull Plate & Kick Plates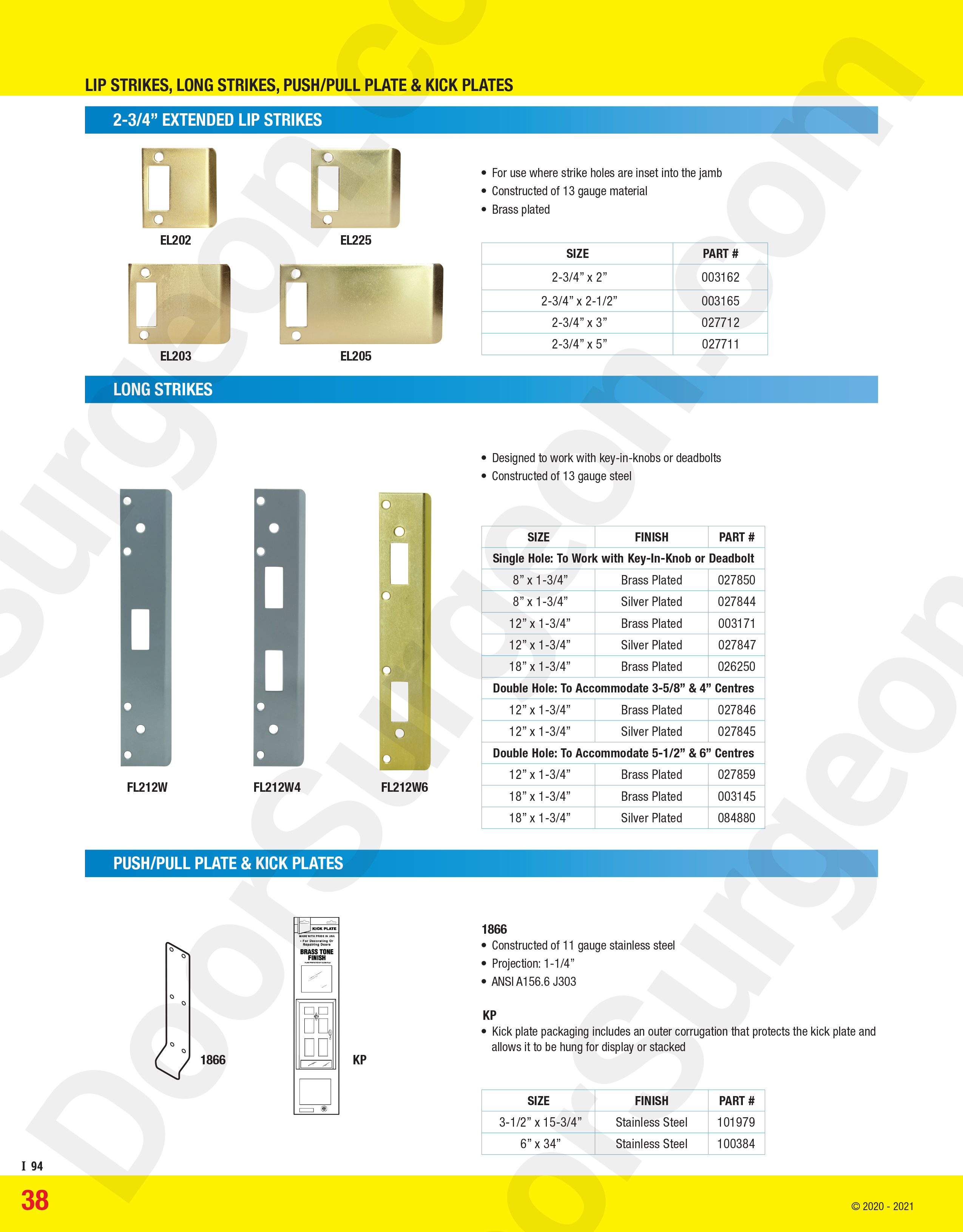 2-3/4" extended lip strikes, long strikes & push/pull plate & kick plates
Door Surgeon's repair, replacement and renovation hardware can be viewed at one of Door Surgeon's sales and service centres. Door Surgeon's mobile door security reinforcements serviceman can also match your hardware needs to the appropriate door reinforcement product. Lip strikes can be used where door jambs are wider than standard. Long strikes are typically used to reinforce the door frame edge and repair deadbolt strike area from damage that may have occurred by break-in attempts. They can also be preventatively used to stop break-in attempts from occurring. Kick plates are added to the bottom of the door to reduce the wear in the foot traffic area.
---
Deadbolt Security Strike, T-Strike & Door Hardware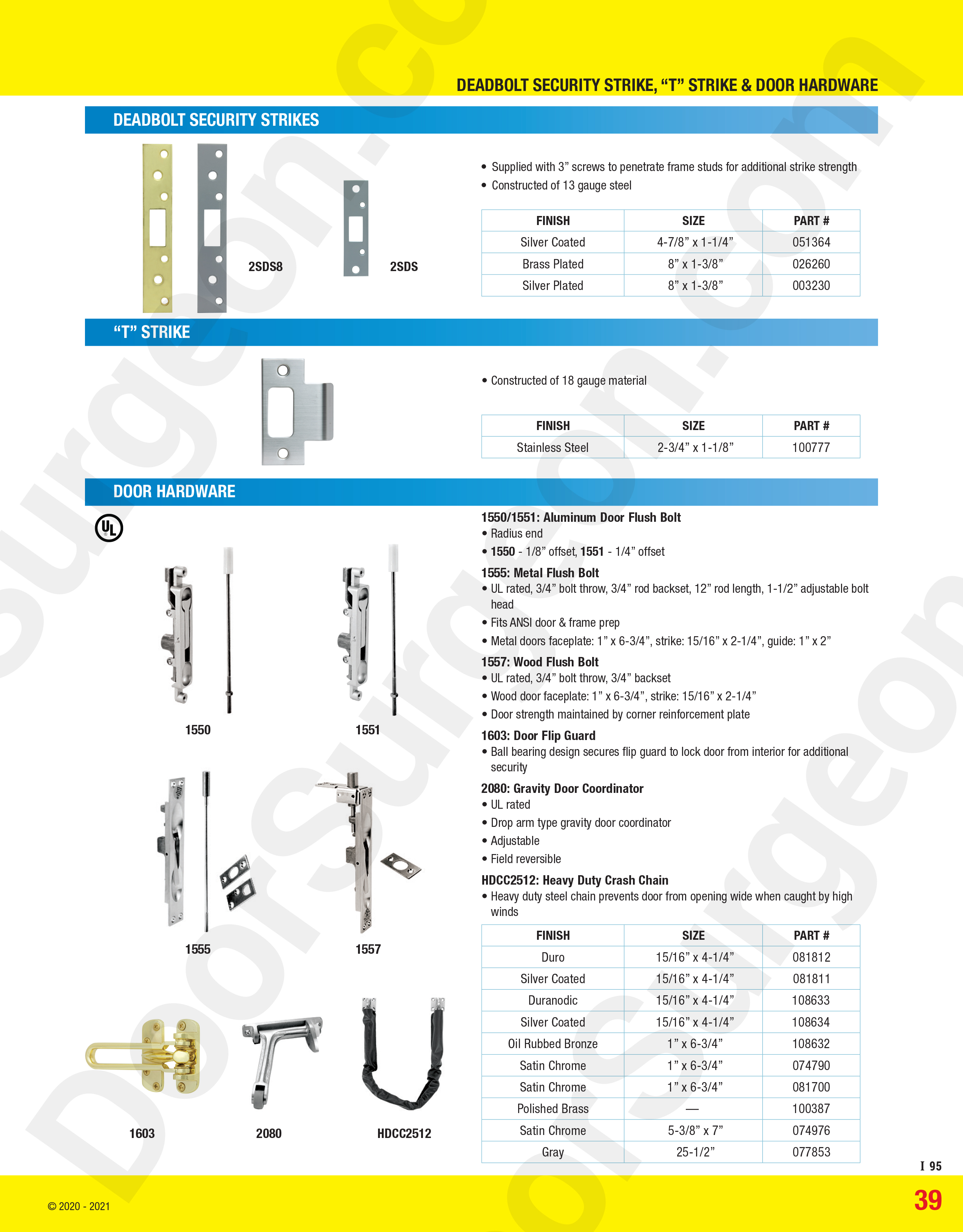 Deadbolt security strikes
Door Surgeon's on-site home and business security hardware installers can come to your door and install deadbolt reinforcement security strikes, beef up the frame area, and secure the deadbolt. Flip-up bolts are used to secure stationary doors in steel warehouse doors, glass-aluminium storefront doors or wood doors.
---
Octopod Patio Door Locks Lockout Shroud & Drill Guides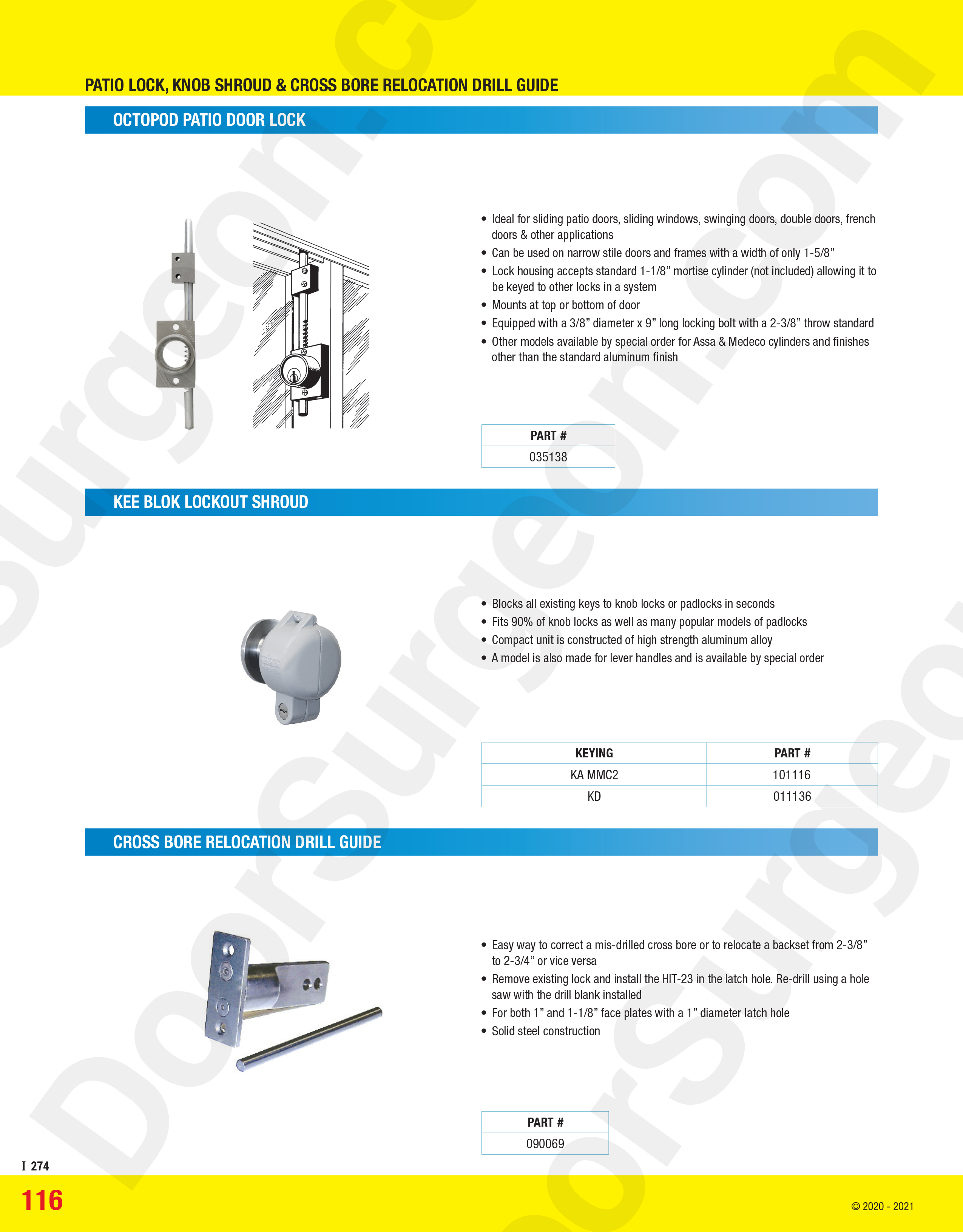 Octopod patio door lock, kee blok lockout shroud & cross bore relocation drill guide
Octopod patio door lock can also be used as a secondary locking device for sliding doors, garage doors, gates and double-door systems. Kee blok lockout shroud is used to block key use, often in rental situations.
---
Bolt Buddy Door Reinforcement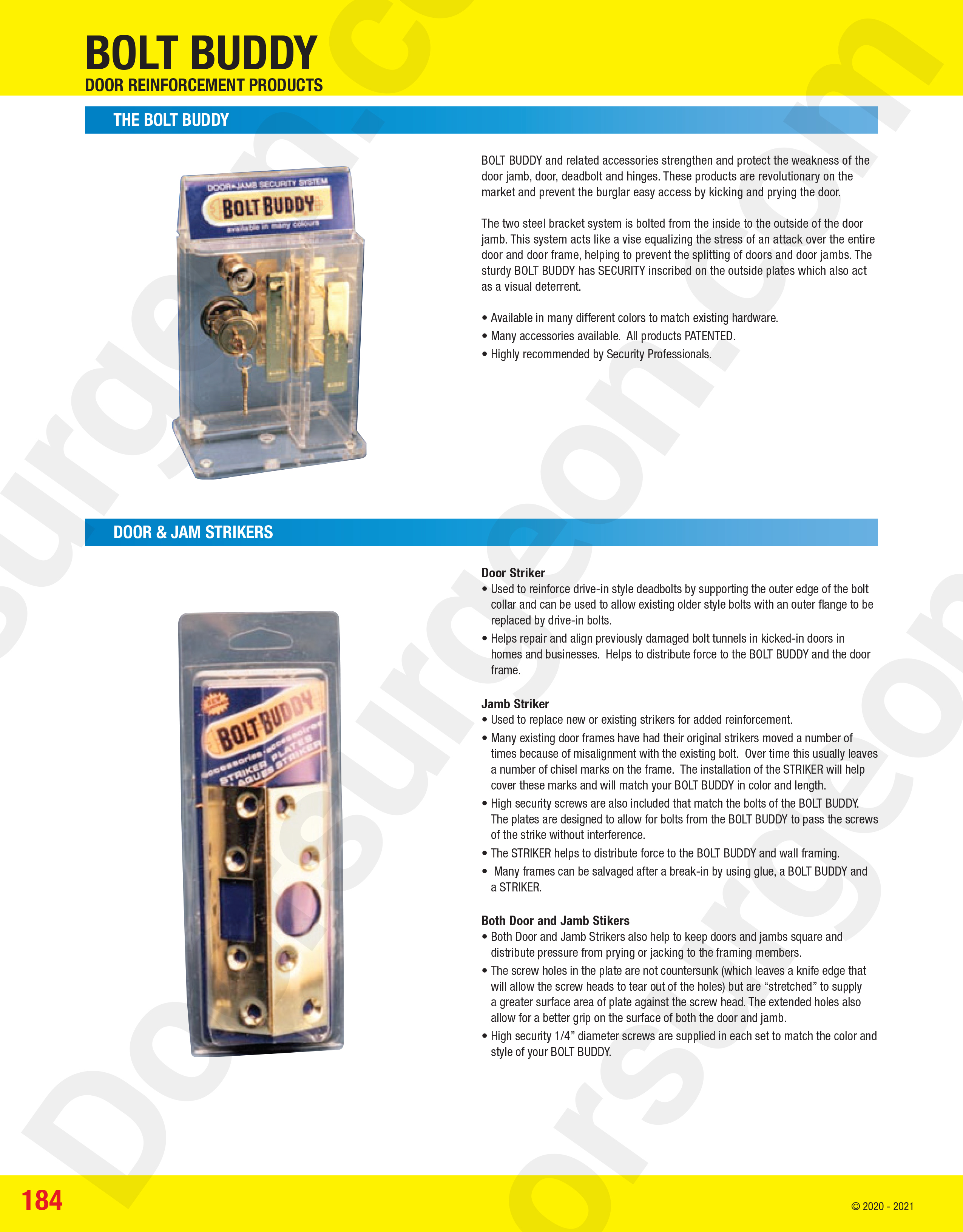 The Bolt Buddy door & Frame Reinforcement Products
Bolt Buddy and related accessories strengthen and protect the weakness of the door jamb, door, deadbolt and hinges. These products are revolutionary on the market and prevent the burglar easy access by kicking and prying the door. The two steel bracket system is bolted from the inside to the outside of the door jamb. This system acts like a vise equalizing the stress of an attack over the entire door and door frame, helping to prevent the splitting of doors and door jambs. The sturdy BOLT BUDDY has SECURITY inscribed on the outside plates which also act as a visual deterrent. Available in many different colours to match existing hardware - Many accessories available. All products PATENTED - Highly recommended by security professionals.
Door Striker: used to reinforce drive-in style deadbolts by supporting the outer edge of the bolt collar and can be used to allow existing older style bolts with an ourter flange to be replaced by drive-in bolts - Helps repair and align previously damaged bolt tunnels in kicked-in doors in homes and businesses. Helps to distribute force to the BOLT BUDDY and the door frame.
Jamb Striker: Used to replace new or existing strikers for added reinforcement - Many existing door frames have had their original strikers moved a number of times because of misalignment with thte existing bolt. Over time this usually leaves a number of chisel marks on the frame. The installation of the STRIKER will help cover these marks and will match your BOLT BUDDY in colour and length - High security screws are also included that match the bolts of the BOLT BUDDY. The plates are designed to allow for bolts from the BOLT BUDDY to pass the screws of the strike without interference - The STRIKER helps to distribute force to the BOLT BUDDY and wall framing - Many frames can be salvaged after a break-in by using a BOLT BUDDY and a STRIKER.
Both Door and Jamb Strikers: Both door and jamb strikers also help to keep doors and jams square and distribute pressure from prying or jacking to the framing members - The screw holes in the plate are not countersunk (which leaves a knife edge that will allow the screw heads to tear out of the holes) but are "stretched" to supply a greater surface area of plate against the screw head. The extended holes also allow for a better grip on the surface of both the door and jamb - High security 1/4" diameter screws are supplied in each set to match the colour and style of your BOLT BUDDY.
---
Bolt Buddy Door Reinforcements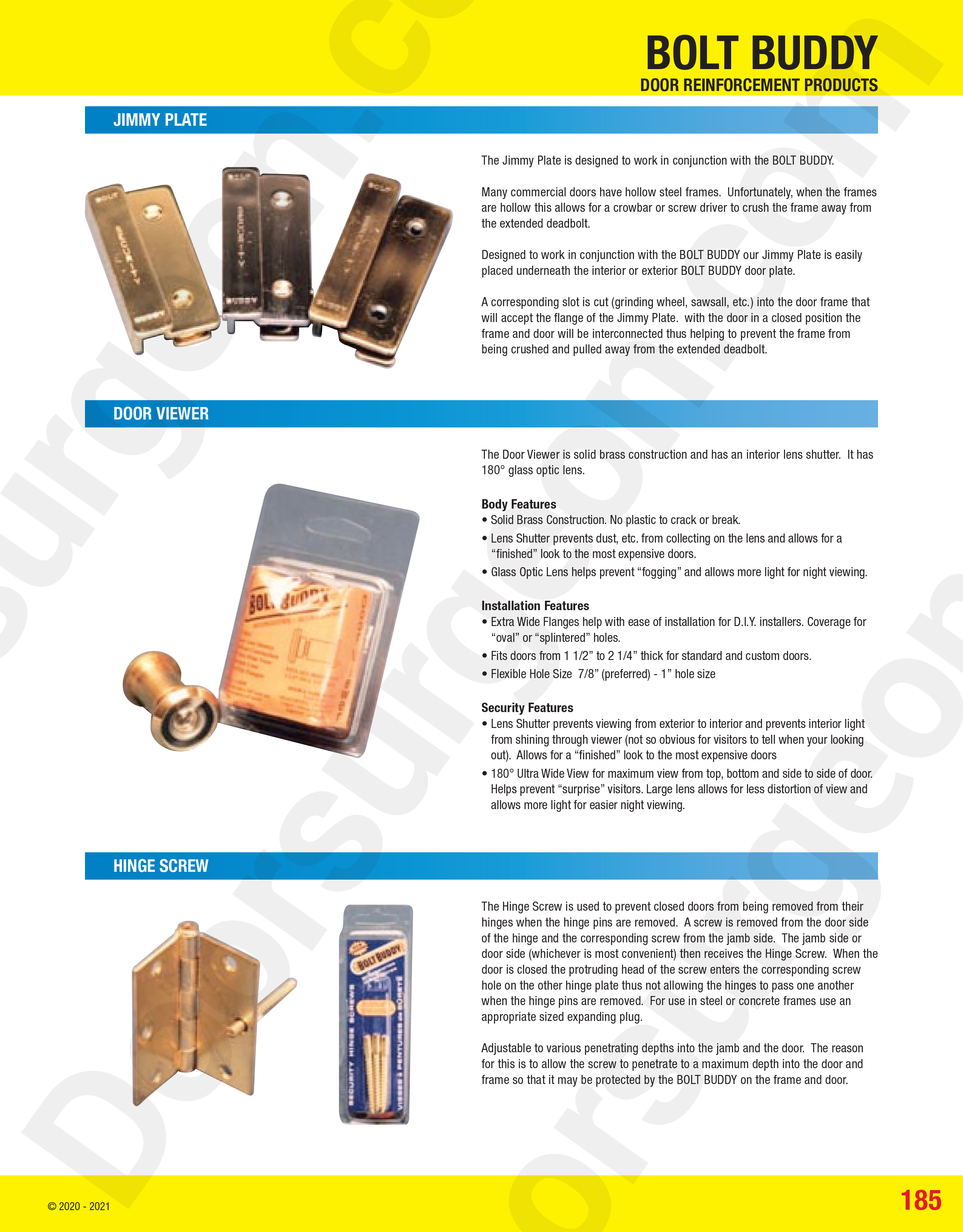 Jimmy Plates, door viewers & hinge screws
The Jimmy Plate is designed to work in conjunction with the BOLT BUDDY. Many commercial doors have hollow steel frames. Unfortunately, when the frames are hollow this allows for a crowbar or screw driver to crush the frame away from the extended deadbolt. Designed to work in conjunction with the BOLT BUDDY door Jimmy plate is easily placed underneath the interior or exterior BOLT BUDDY door plate. A corresponding slot is cut (grinding wheel, sawsall, etc) into the door frame that will accept the flange of the Jimmy Plate. With the door in a closed position the frame and door will be interconnected thus helping to prevent the frame from being crushed and pulled away from the extended deadbolt.
The Door Viewer is a solid brass construction and has an interior lens shutter. It has 180º glass optic lens.
Body Features: Solid brass construction. No plastic to crack or break - Lens Shutter prevents dust, etc. from collecting on the lens and allows for a "finished" look tot the most expensive doors - Glass Optic Lens helps prevent "fogging" and allows more light for night viewing.
Installation Features: Extra Wide Flanges help with ease of installation for D.I.Y. installers. Coverage for "oval" or "splintered" holes - Fits doors from 1-1/2" to 2-1/4" thick for standard and custom doors - Flexible Hole Size 7/8" (preferred) - 1" hole size
Security Features: Lens Shutter prevents viewing from exterior to interior and prevents interior light from shining through viewer (not so obvious for visitors to tell when your looking out). Allows for a "finished" look to the most expensive doors - 180º Ultra Wide View for maximum view from top, bottom and side to side of door. Helps prevent "surprise" visitors. Large lens allows for less distortion of view and allows more light for easier night viewing.
The Hinge Screw is used to prevent closed doors from being removed from their hinges when the hinge pins are removed. A screw is removed from the door side of the hinge and the corresponding screw from the jamb side. The jamb side or door side (whichever is most convenient) then receives the Hinge Screw. When the door is closed the protruding head of the screw enters the corresponding screw hole on the other hinge plate thus not allowing the hinges to pass one another when the hinge pins are removed. For use in steel or concrete frames, use an appropriate sized expanding plug. Adjustable to various penetrating depths into the jamb an the door. The reason for this is to allow the screw to penetrate to a maximum depth into the door and frame so that it may be protected by the BOLT BUDDY on the frame and door.
---
---
Door Surgeon Mobile Automatic Door Opener Closer Fix, Adjust or Repair Servicing Sherwood Park
Mobile Automatic Door Opener/Closer Adjust, Repair or Fix Service Sherwood Park
---
---
Click the link to find a location or service provider nearest you:
---
WARRANTY
Sometimes Things Happen
No one likes it when things go wrong, no one more than us, but if it does check out our Warranty
---