Push &nbsp To &nbsp Call &nbsp Us
Window Handle Lock Repair Service Awning Casement Parts Door Surgeon
Replacement parts service and installation for awnings and casement window repair
Door Surgeon window repair servicemen can come to your home, examine the window parts that are broken and repair or replace the awning or casement window cranks and window locks. Door Surgeon supplies and installs replacement parts for a variety of awnings and casement windows. With Door Surgeon's committment to quality and service a number of typical residential home window locks and cranks for awning windows and casement windows are accessible.
Door Surgeon provides mobile window handle and lock repair service for awning and casement windows. Door Surgeon's window handle repairman can source the new awning or casement window part required to make your window handle and window lock repairs.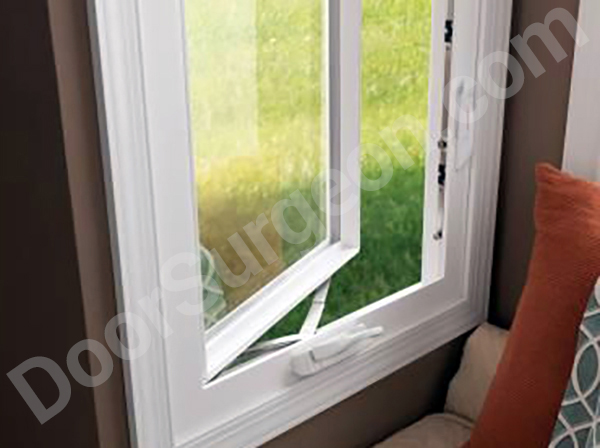 ---
Mobile Installation & Repair Service of Window Handles & Locks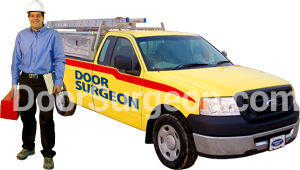 ---
Follow These links for Related Pages.
---
Continue Scrolling for Awning & Casement Window Parts
---
Entrygard Operators Upgrade to Integrated Cover/Folding Window Crank Handle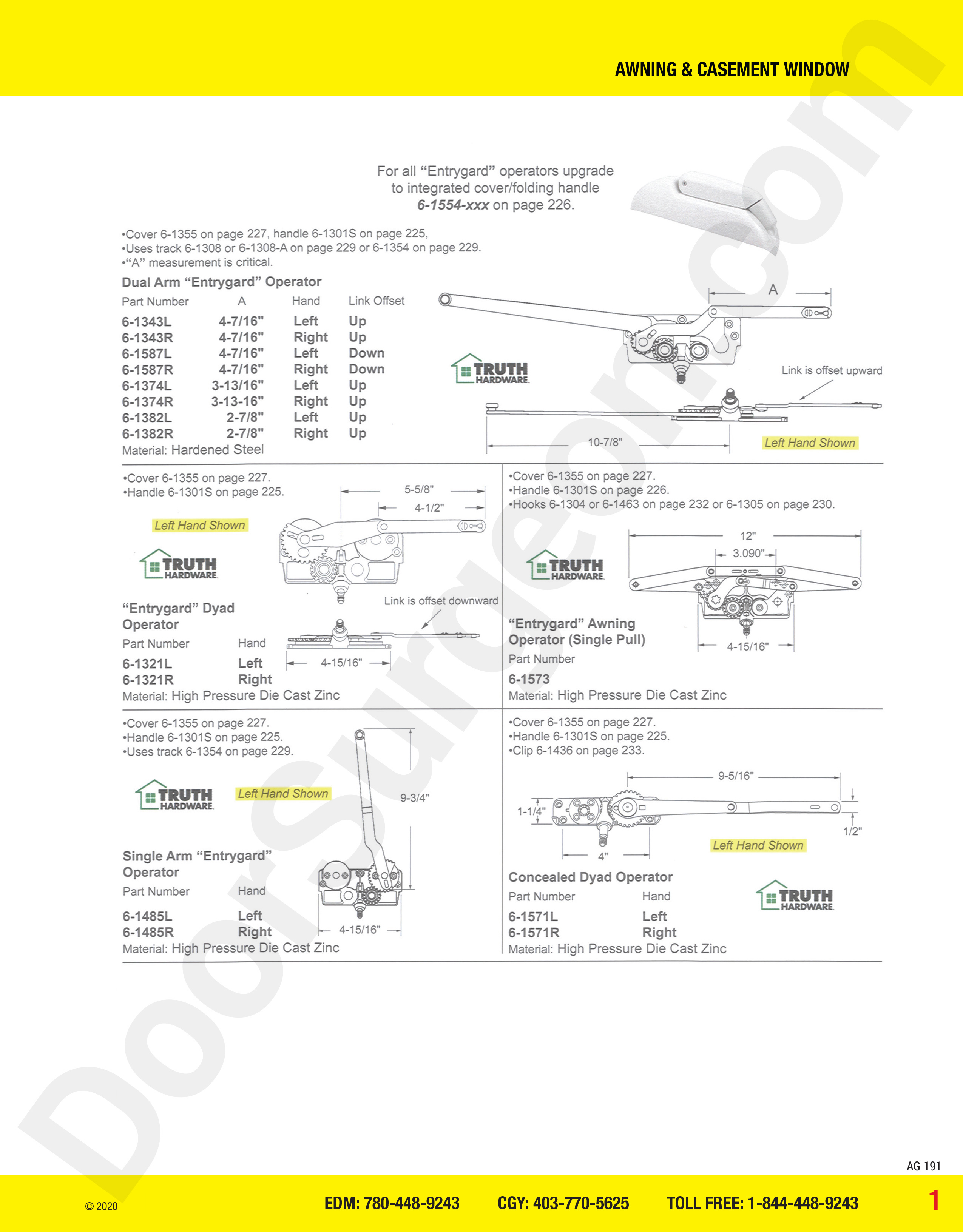 Entrygard Operator Upgrades for:
Dual Arm window Operators, Dyad window Operators, Awning window Operators (Single Pull), Single Arm window Operators and concealed Dyad window Operators
---
Entrygard Window Operators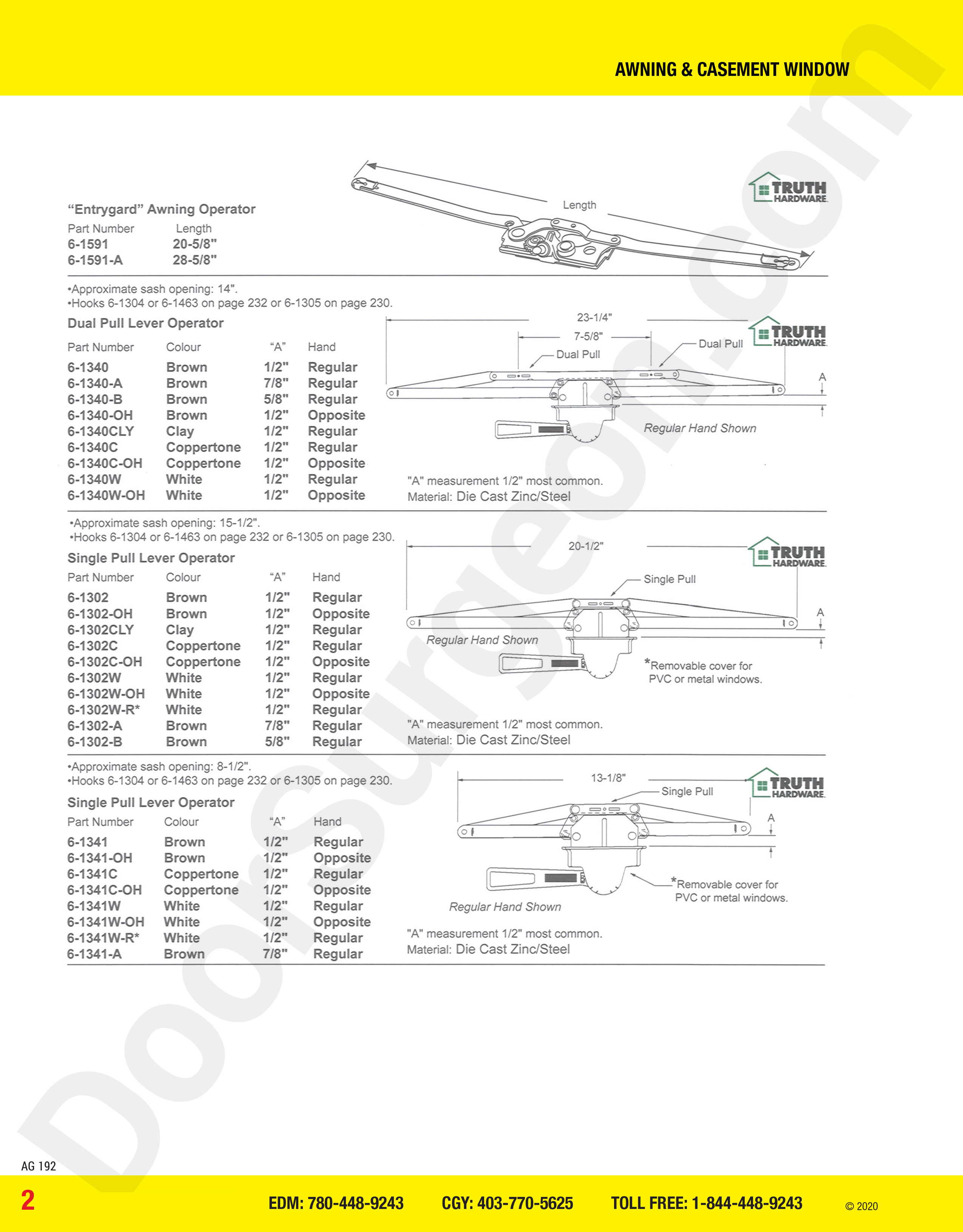 Entrygard Window Operators for:
Awning window operator, dual pull window lever ( sash opening 14" ), single pull window lever ( sash opening 15-1/2" ), single pull window lever ( sash opening 8-1/2" )
---
Roto Gear Window Operators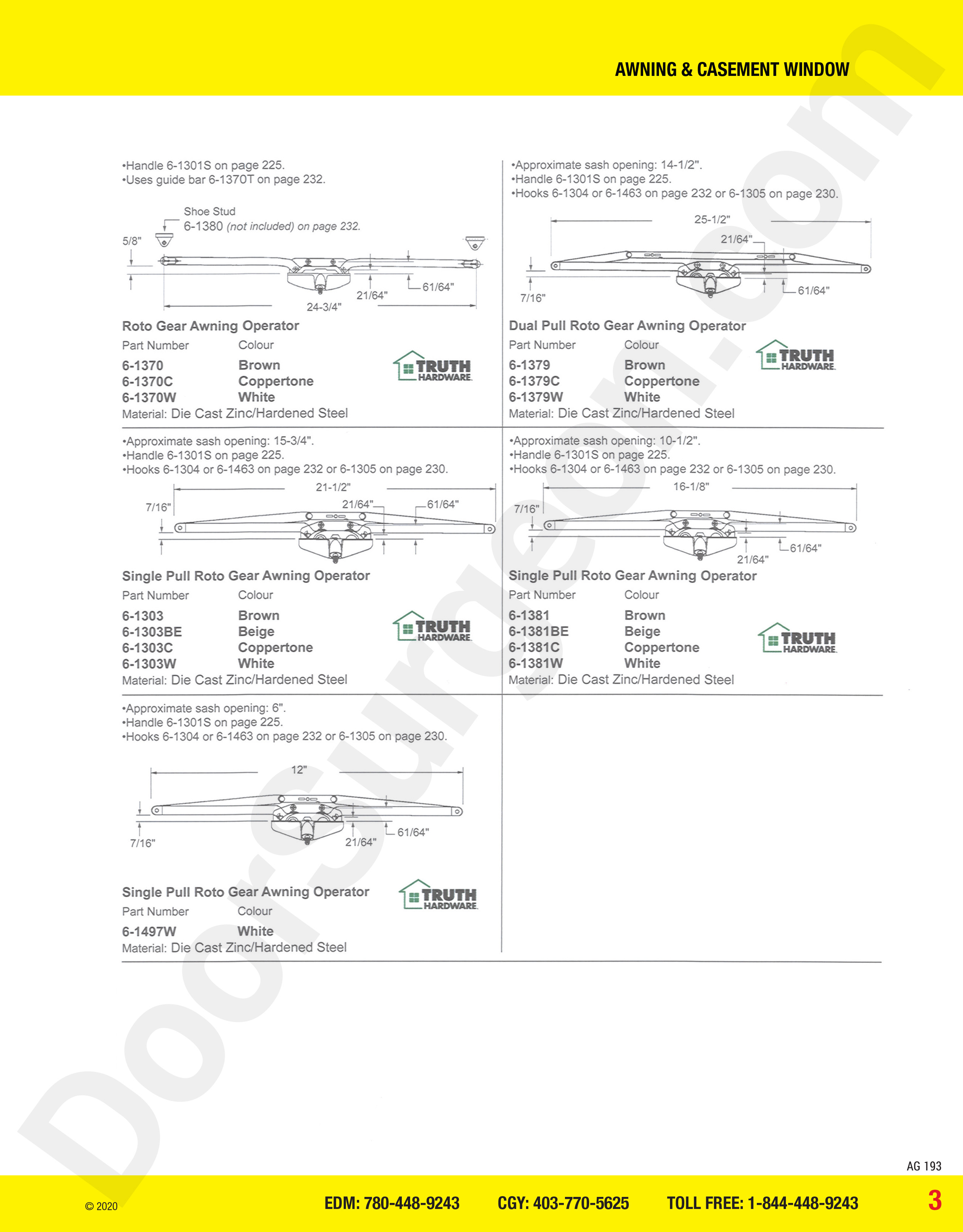 Roto Gear Window Operators for:
Roto Gear Awning window operator, dual pull Roto Gear window Awning operator, single pull Roto Gear window Awning operator( 15-3/4" ), single pull Roto Gear window Awning operator( 10-1/2" ), single pull Roto window Gear Awning operator( 6" )
---
Maxim® Window Operators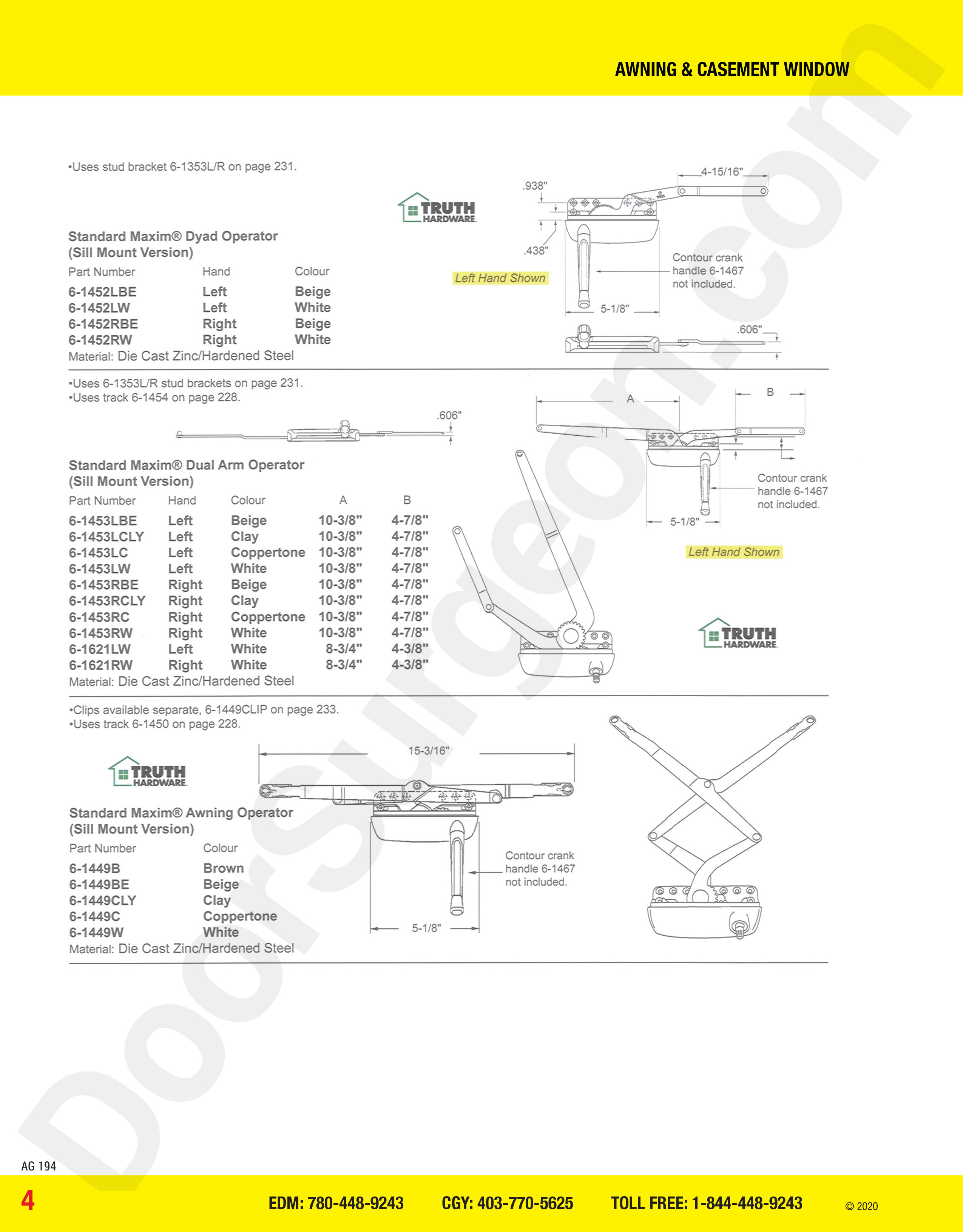 Maxim® Window Operators for:
standard dyad window operator( sill mount version ), standard dual arm window operator( sill mount version ), standard awning window operator( sill mount version )
---
Maxim® Window Operators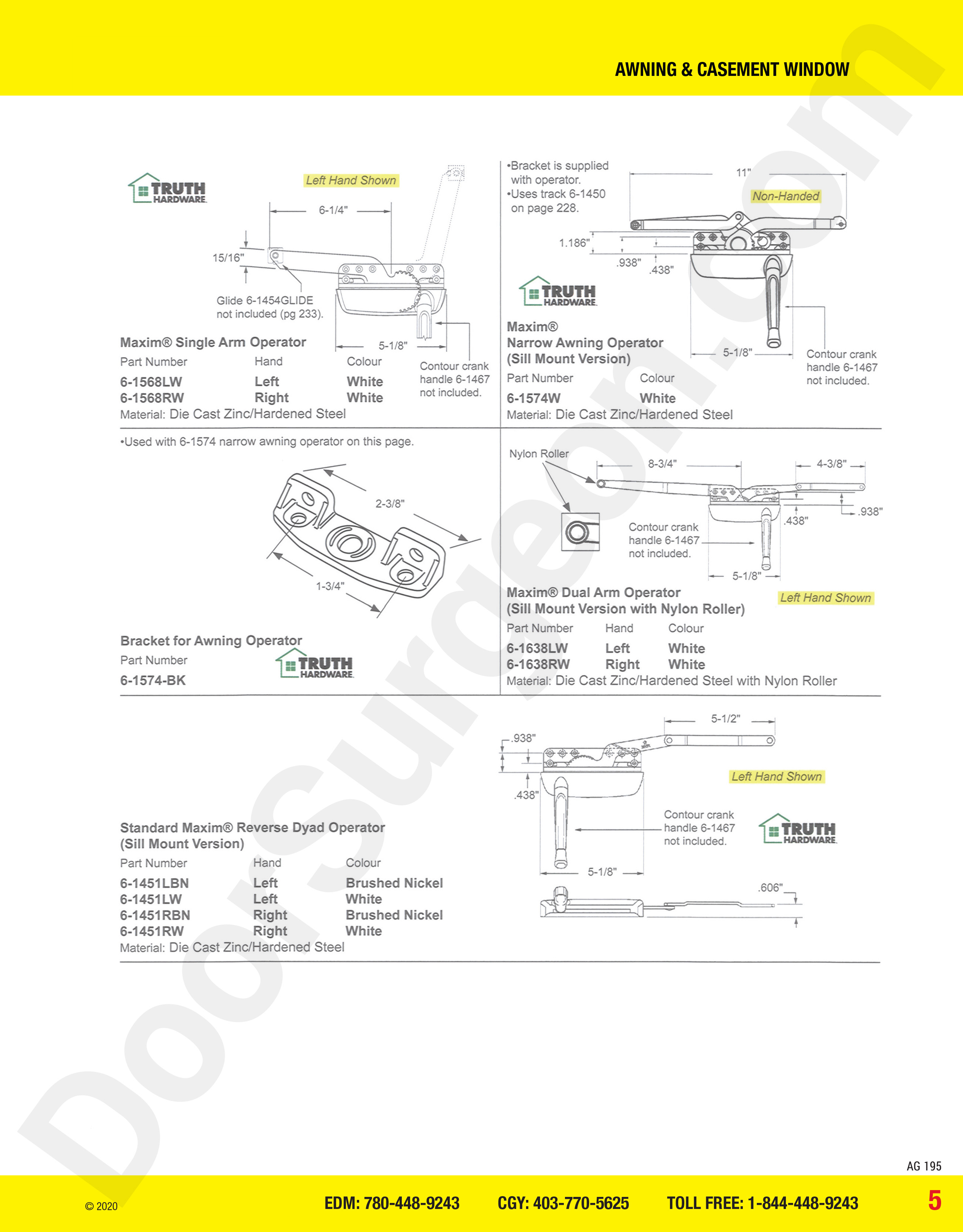 Maxim® Window Operators for:
single arm window operator, narrow awning window operator( sill mount version ), bracket for window awning operator, dual arm window operator( sill mount version with nylon roller ), standard reverse dyad window operator( sill mount version )
---
Encore® Window Operators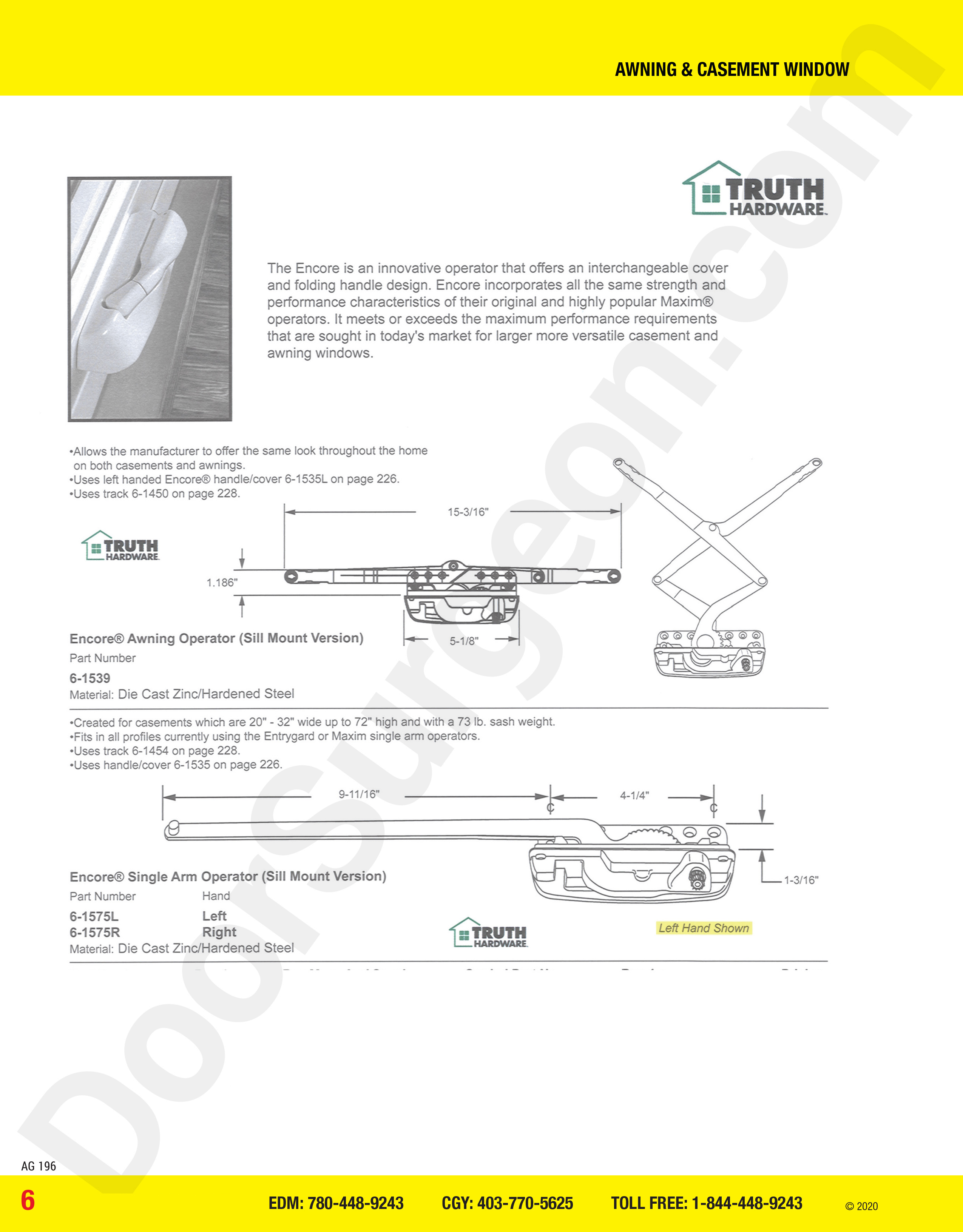 Encore® Window Operators for:
window awning operator( sill mount version ), single arm window operator( sill mount version )
---
Encore® Window Operators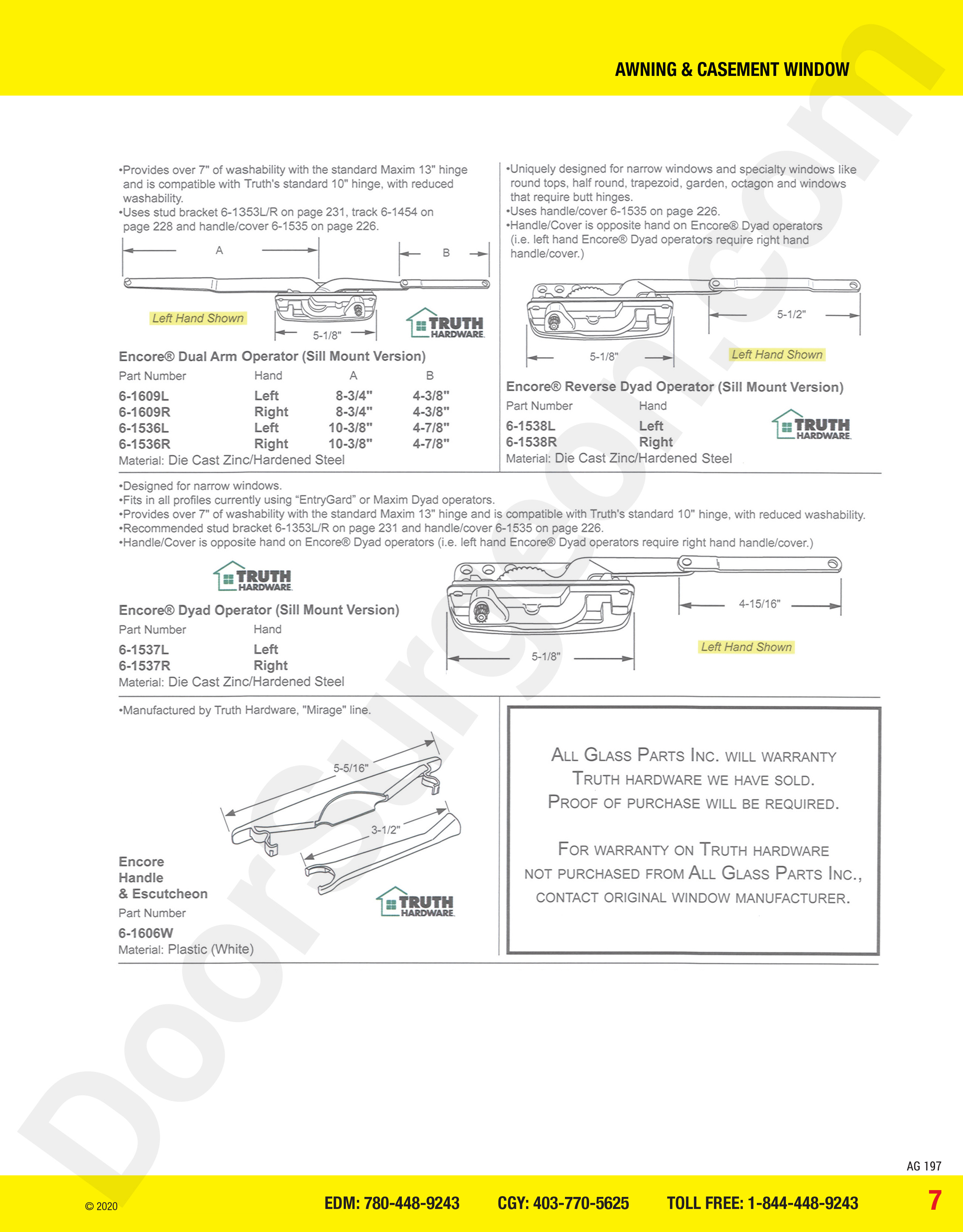 Encore® Window Operators for:
dual arm window operator( sill mount version ), reverse dyad window operator( sill mount version ), dyad window operator( sill mount version ), window handle & window escutcheon
---
Ellipse window Operators
Ellipse Window Operators for:
single arm window operators, dyad window operators
---
Ellipse Window Operators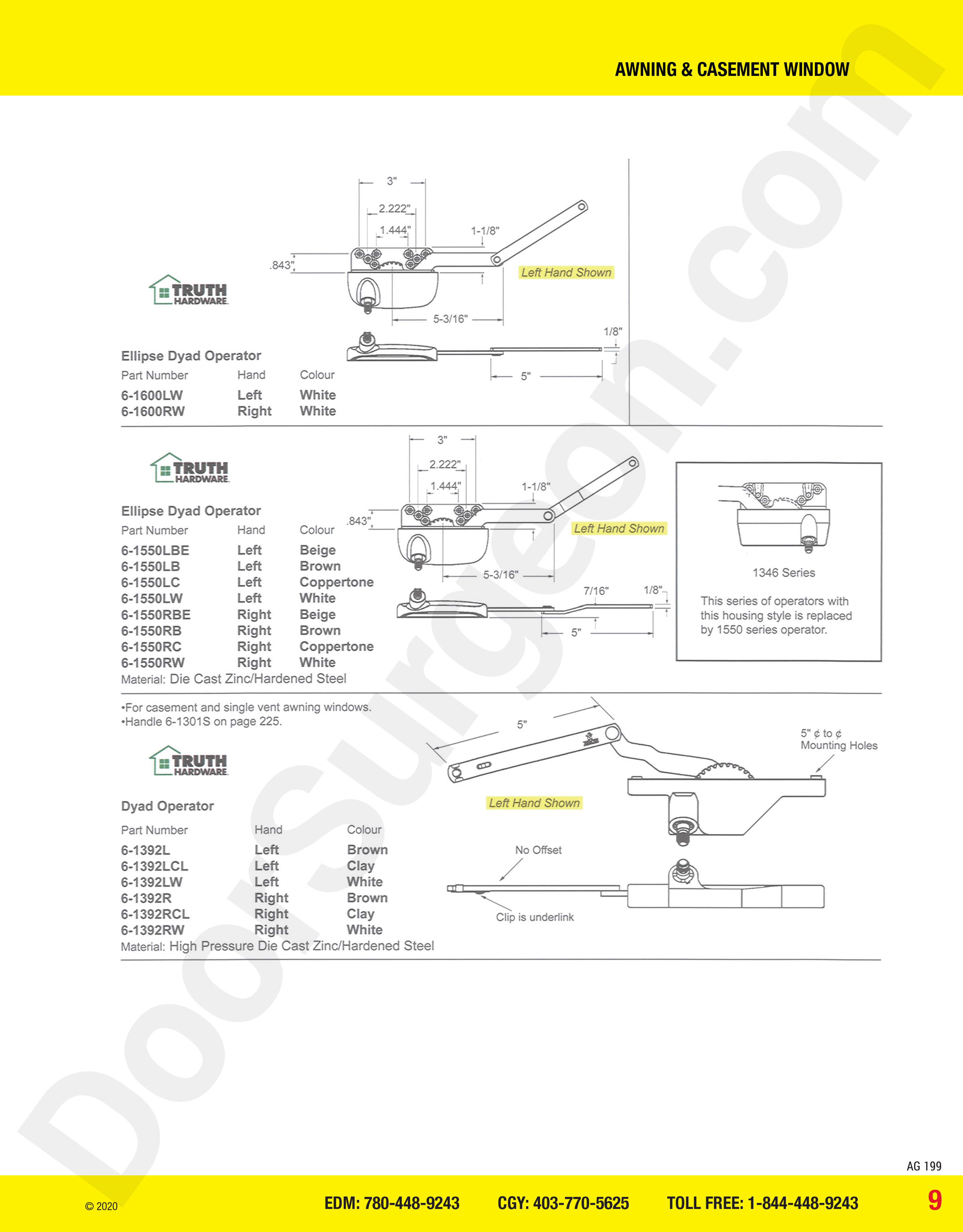 Ellipse Window Operators for:
dyad window operators
---
Roto Gear Window Operators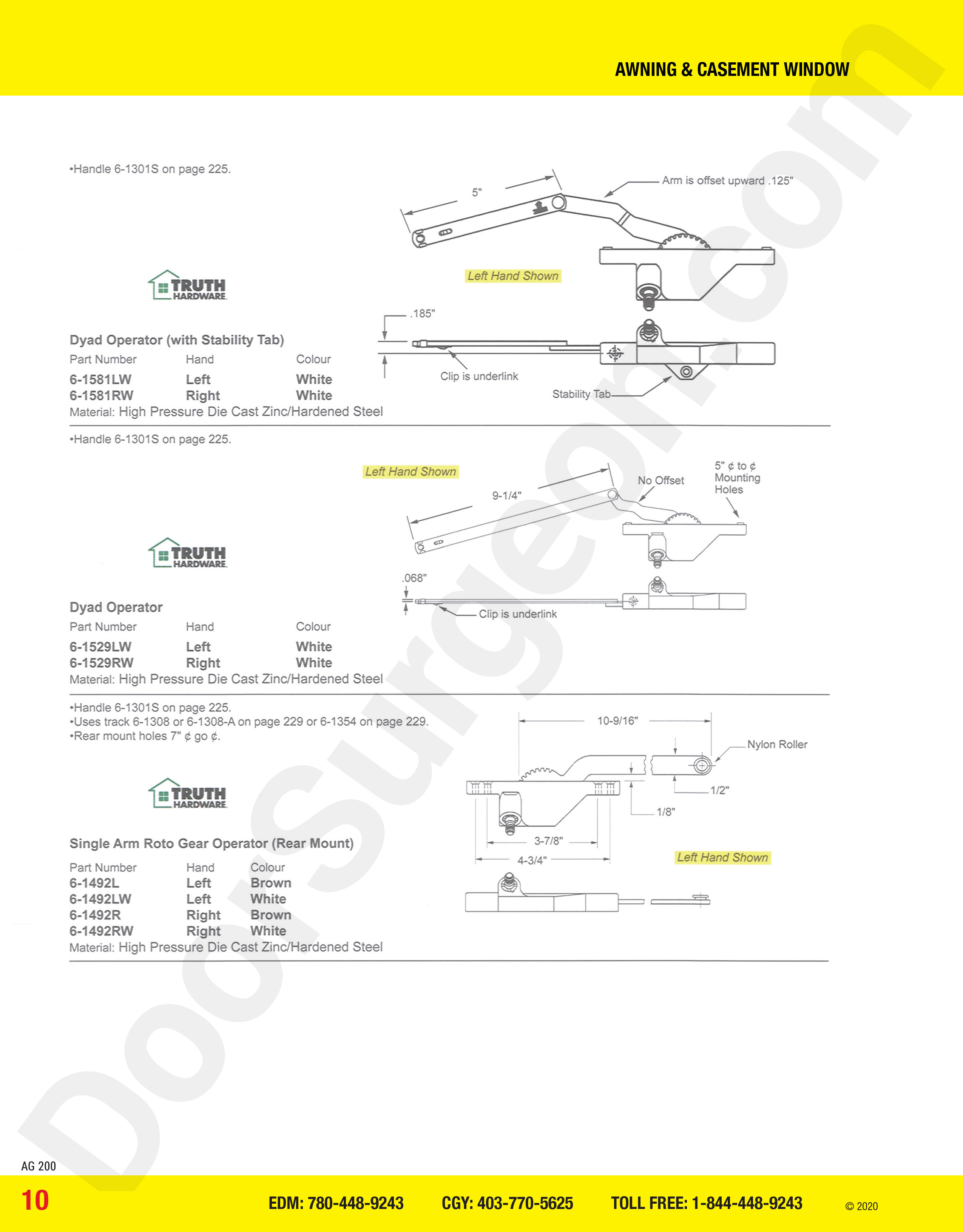 Window Operators for:
dyad window operators( with stability tab ), dyad window operator, single arm roto gear window operator( rear mount )
---
Roto Gear Window Operators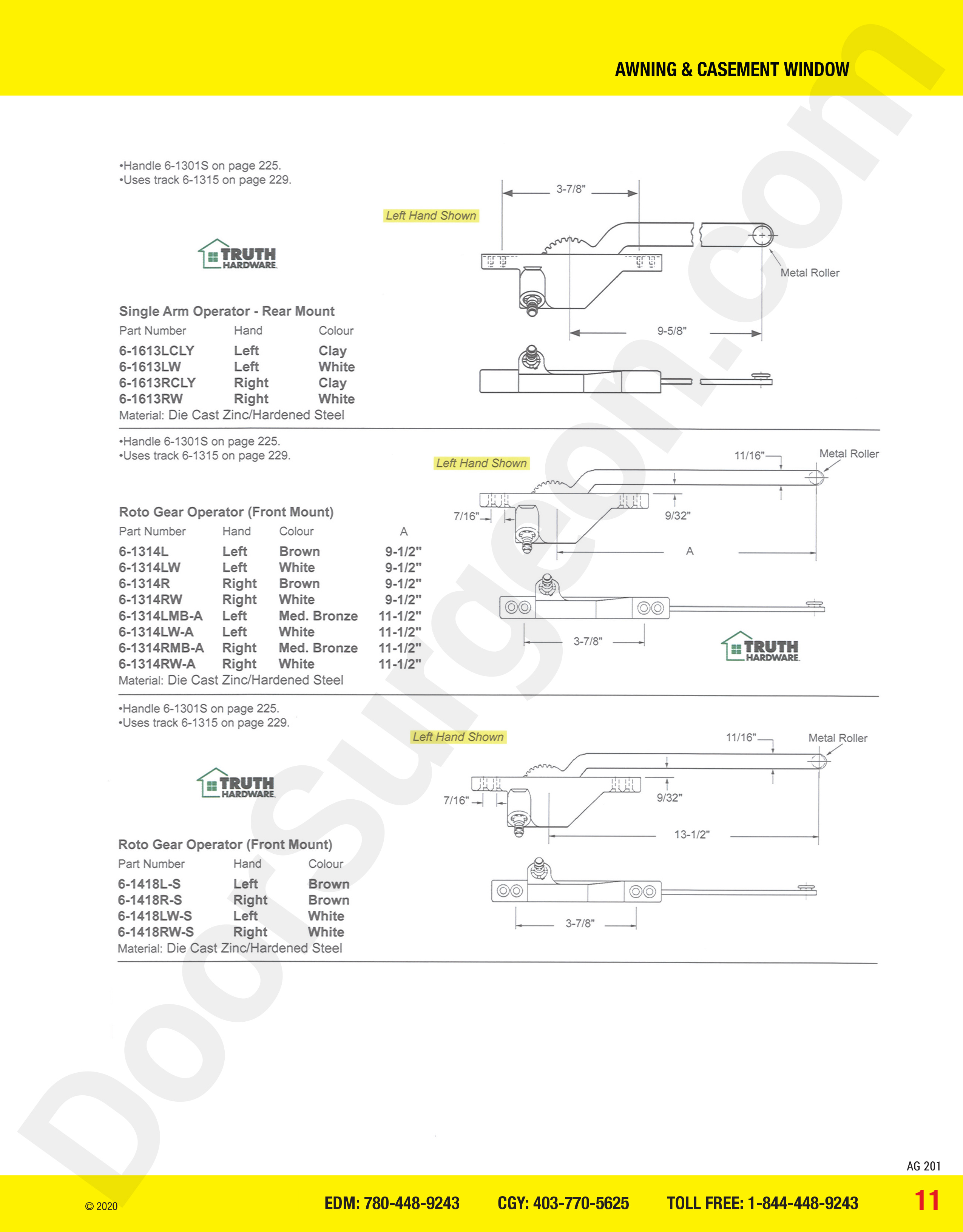 Roto Gear Window Operators for:
single arm window operator ( rear mount ), roto gear window operator( front mount 9-1/2" ), roto gear window operator( front mount 11-1/2" )
---
Window Operators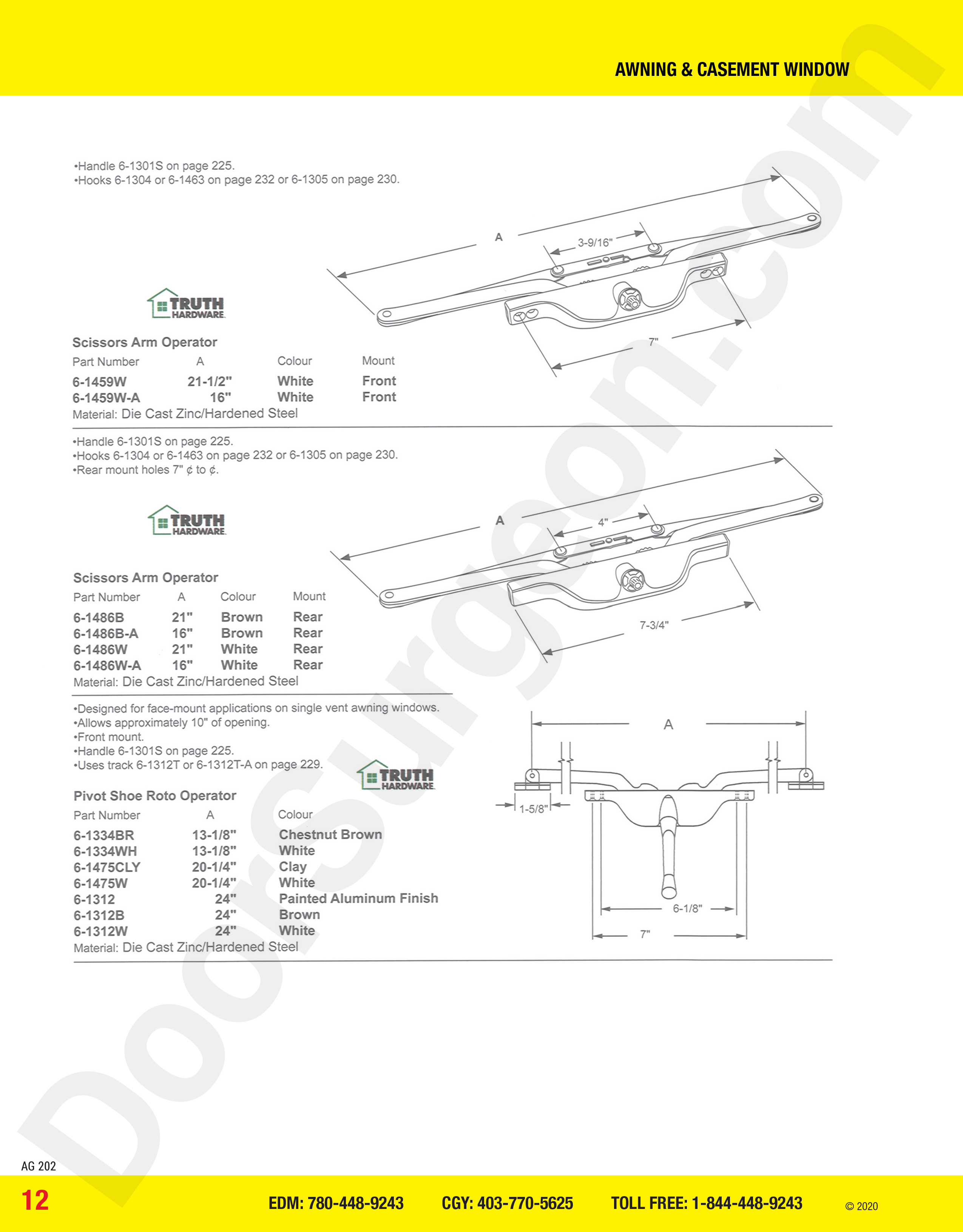 Window Operators for:
scissor arm window operator( front ), scissor arm window operator( rear ), pivot shoe roto window operator( face mount )
---
Kawneer Window Operators
Kawneer window Operators for:
push bar window operator( 7", 10" ), push bar window operator( 7-1/2", 12-3/8", 16" ), pull ring for push bar window operators, optional pull ring for push bar window operators
---
Window Operators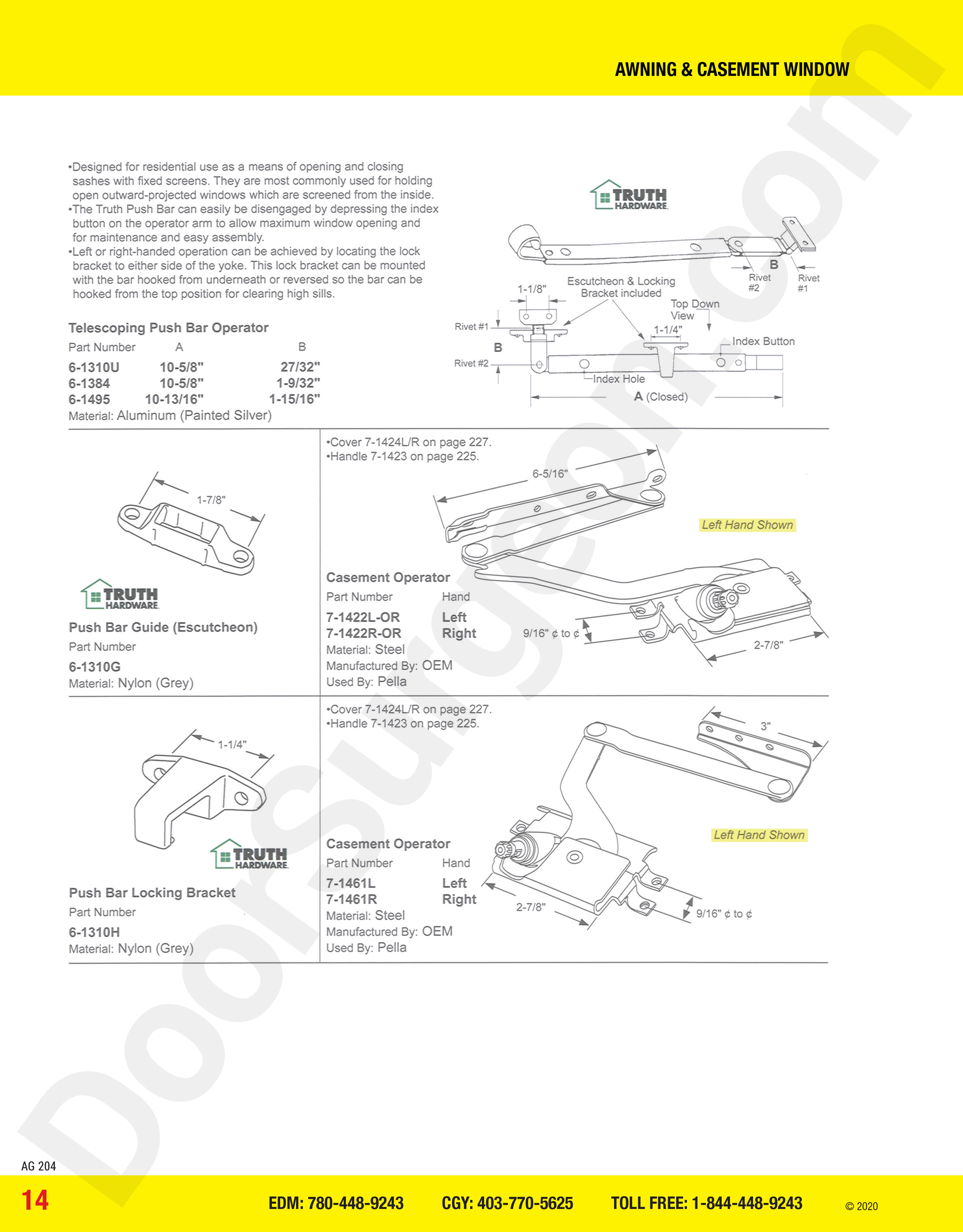 Window Operators for:
telescoping push bar window operator, push bar guide( escutcheon ), casement window operator, push bar locking window bracket
---
Window Operators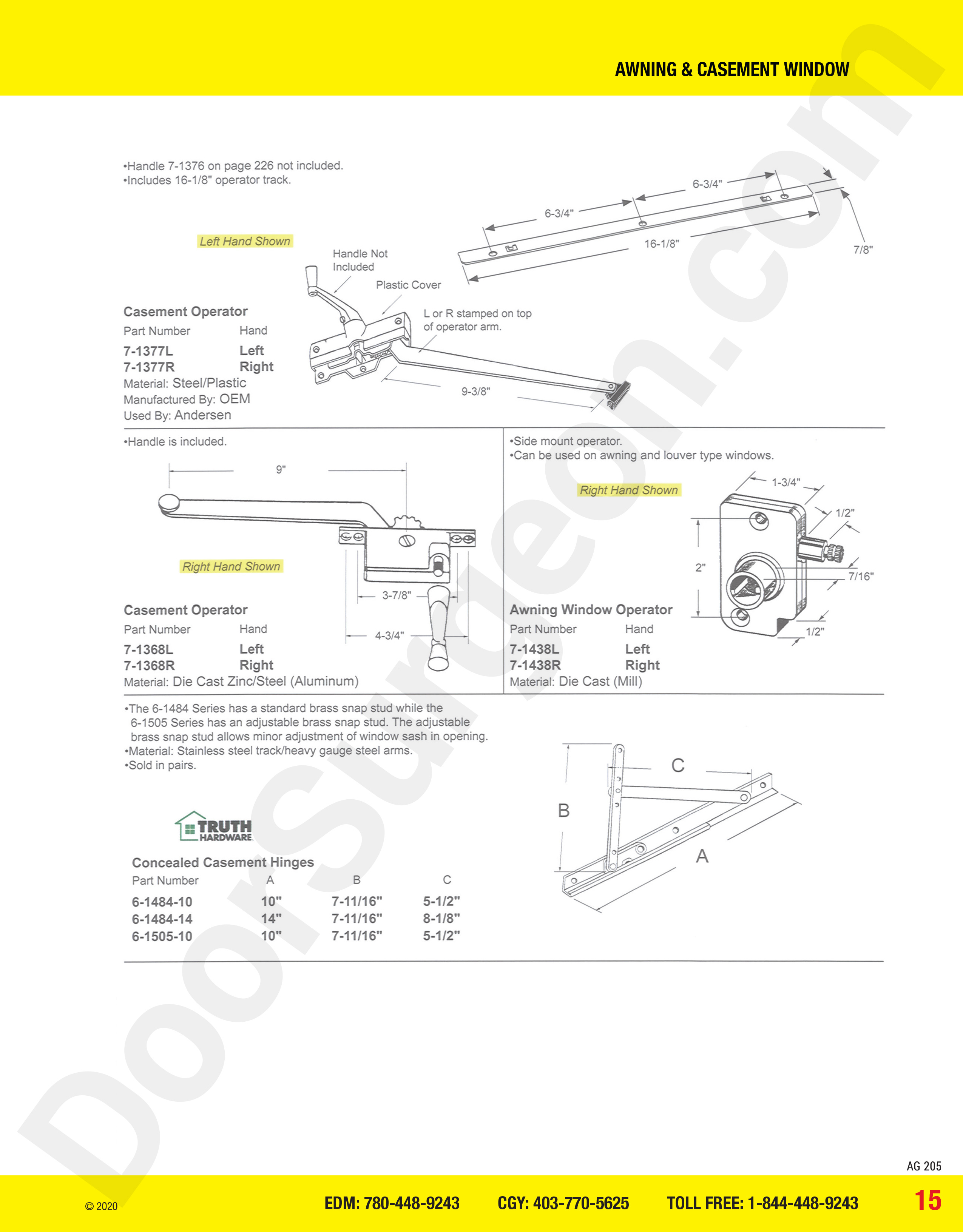 Operators for:
casement window operator, concealed casement window hinges, awning window window operator
---
Window Hinges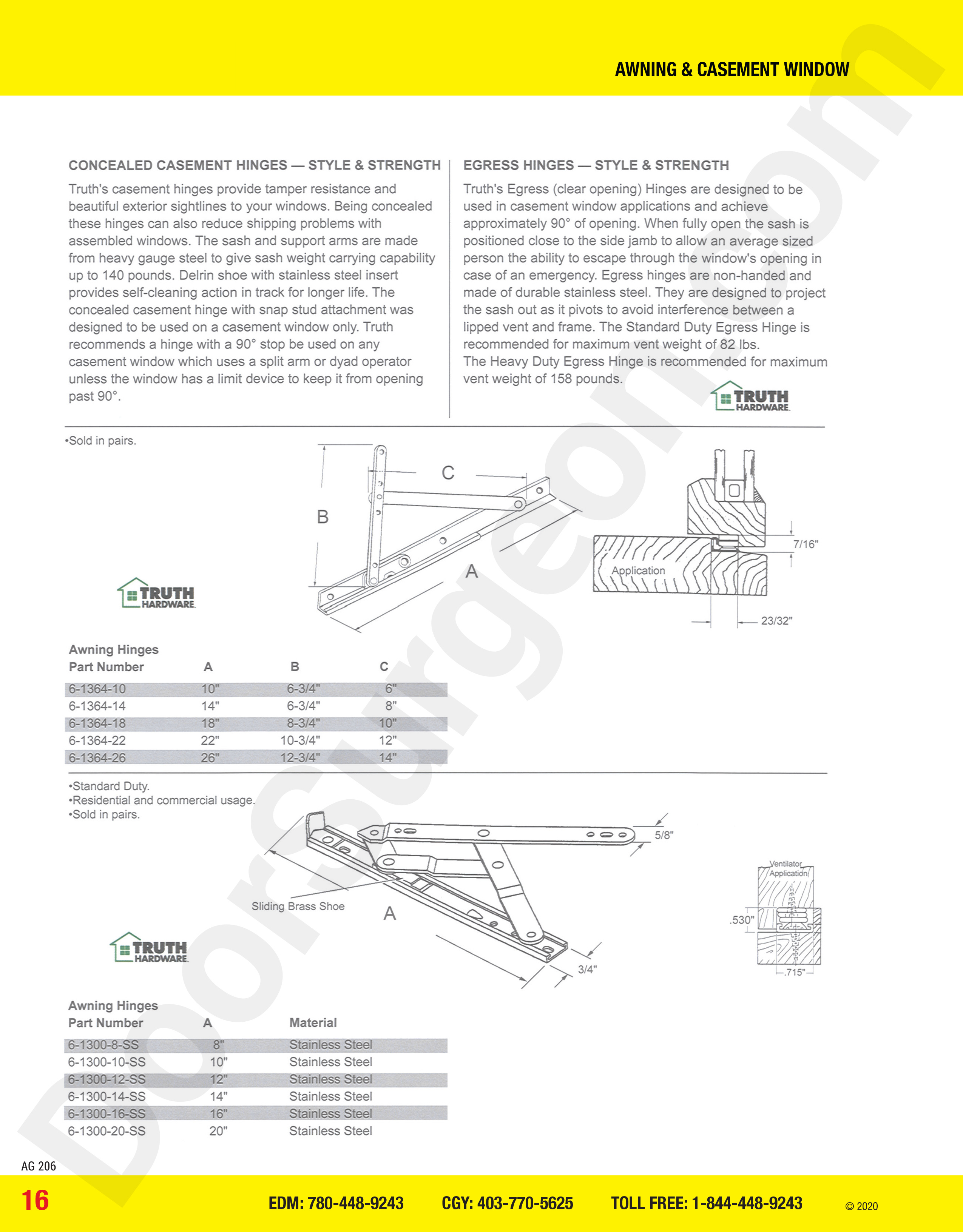 Window Hinges for:
window awning hinges, concealed casement window hinges, egress window hinges
---
Maxim® Window Hinges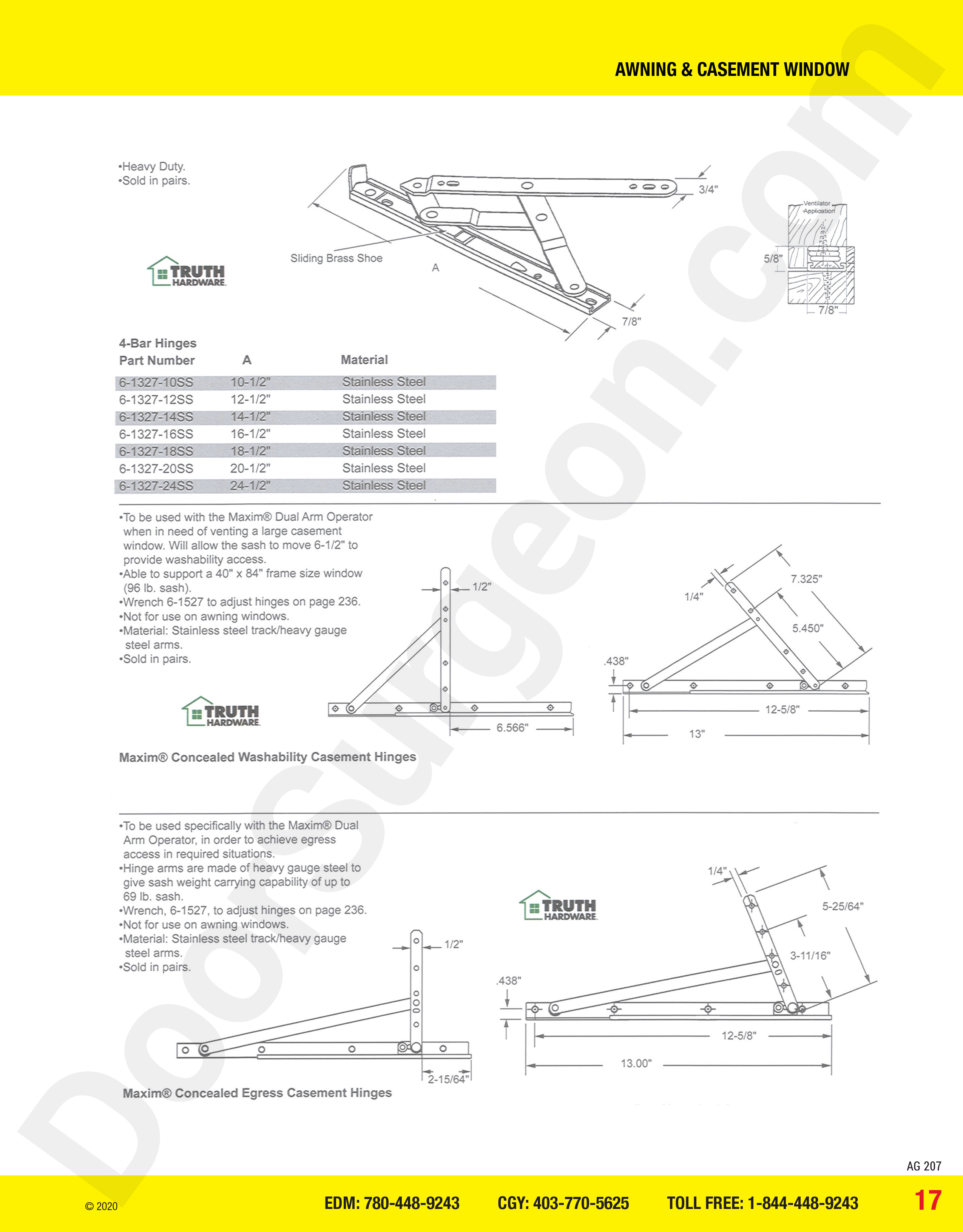 Maxim® window Hinges for:
4-bar window hinges, concealed washability casement window hinges, concealed egress casement window hinges
---
Maxim® Window Hinges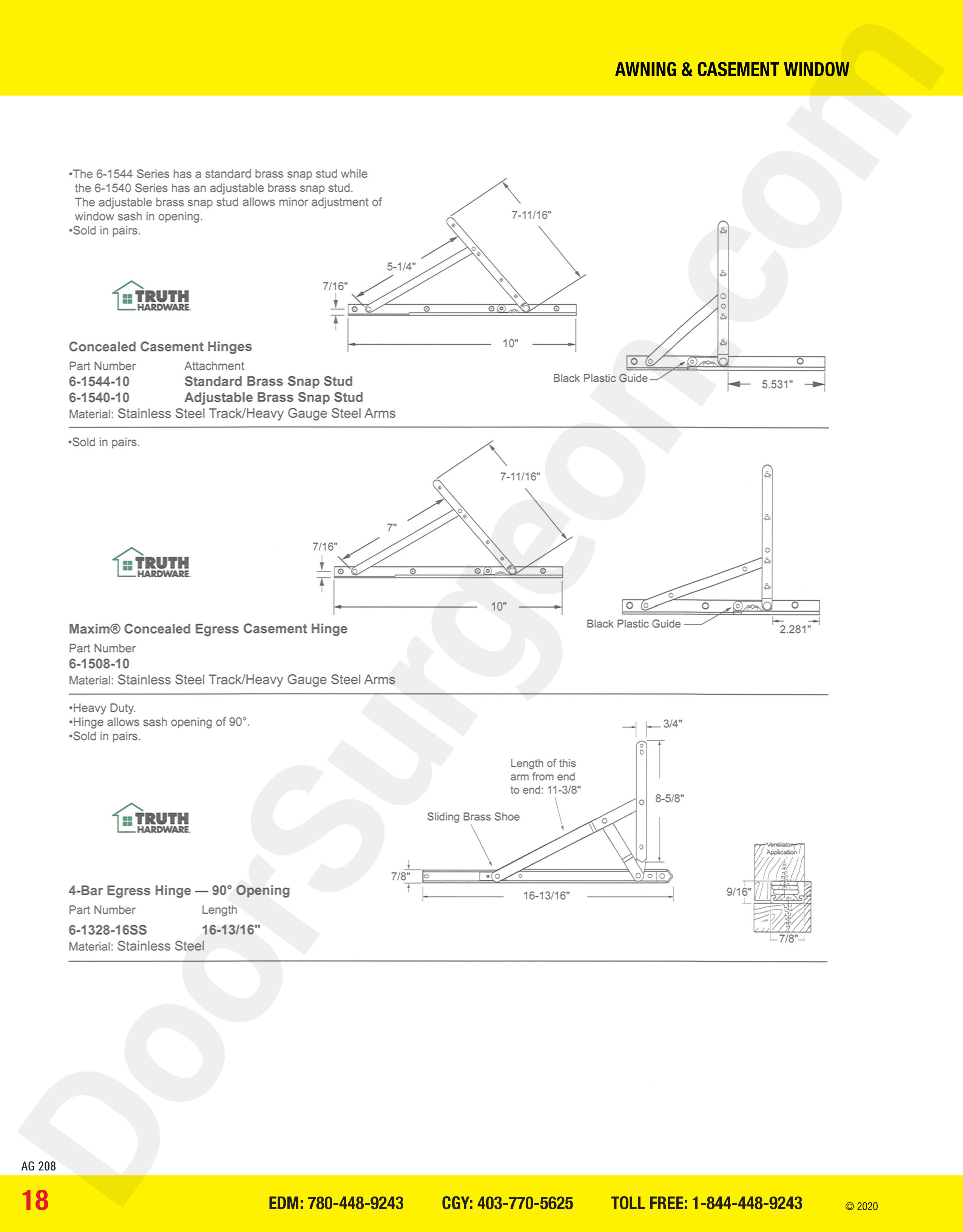 Maxim® Window Hinges for:
concealed casement window hinges, concealed egress casement window hinges, 4-bar window egress hinge 90 degree opening
---
Window Hinges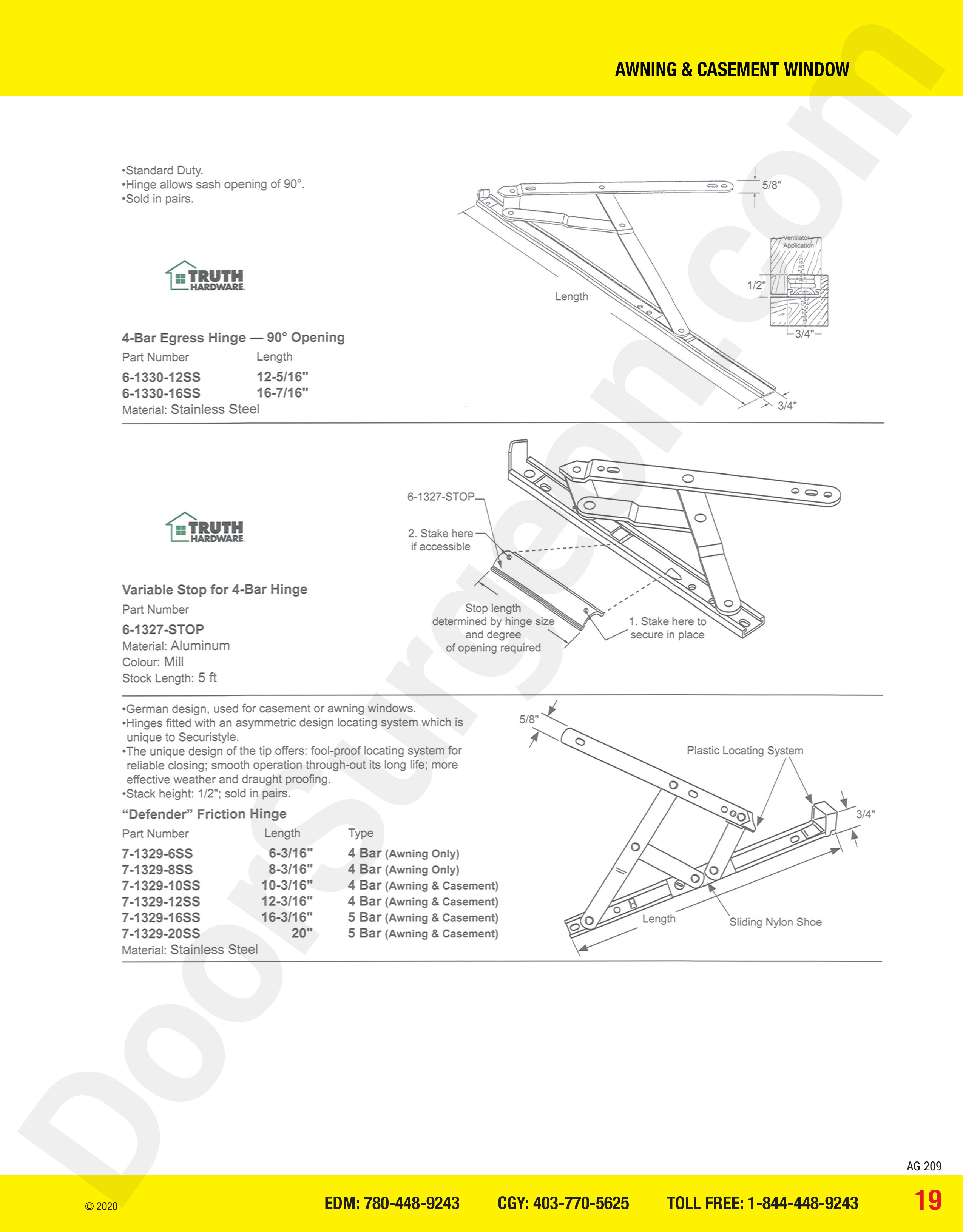 Window Hinges for:
4-bar window egress hinges, variable stop for 4-bar window hinge, "Defender" Friction window Hinge
---
Storm Window Hinges
Storm Window Hinges for:
heavy duty storm window hinges, adjustable concealed casement window hinge, concealed casement window hinge, casement window butt hinge, basement window hinge set
---
Jalousie Window Hinges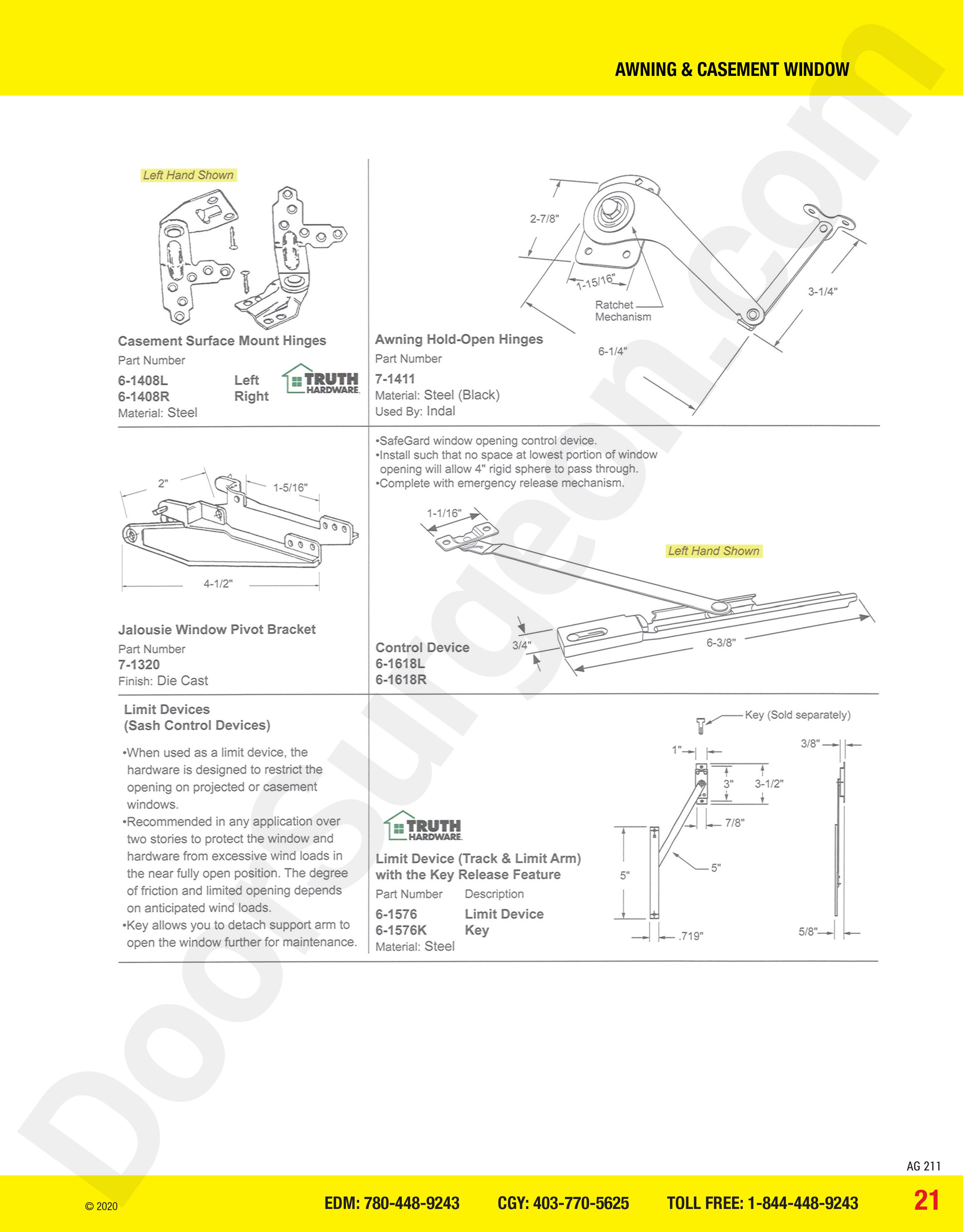 Jalousie Hinges for:
casement window surface mount hinges, awning window hold-open hinges, Jalousie window pivot bracket, window control device, window limit device( track and limit arm ) with the key release feature
---
Sash Window Locks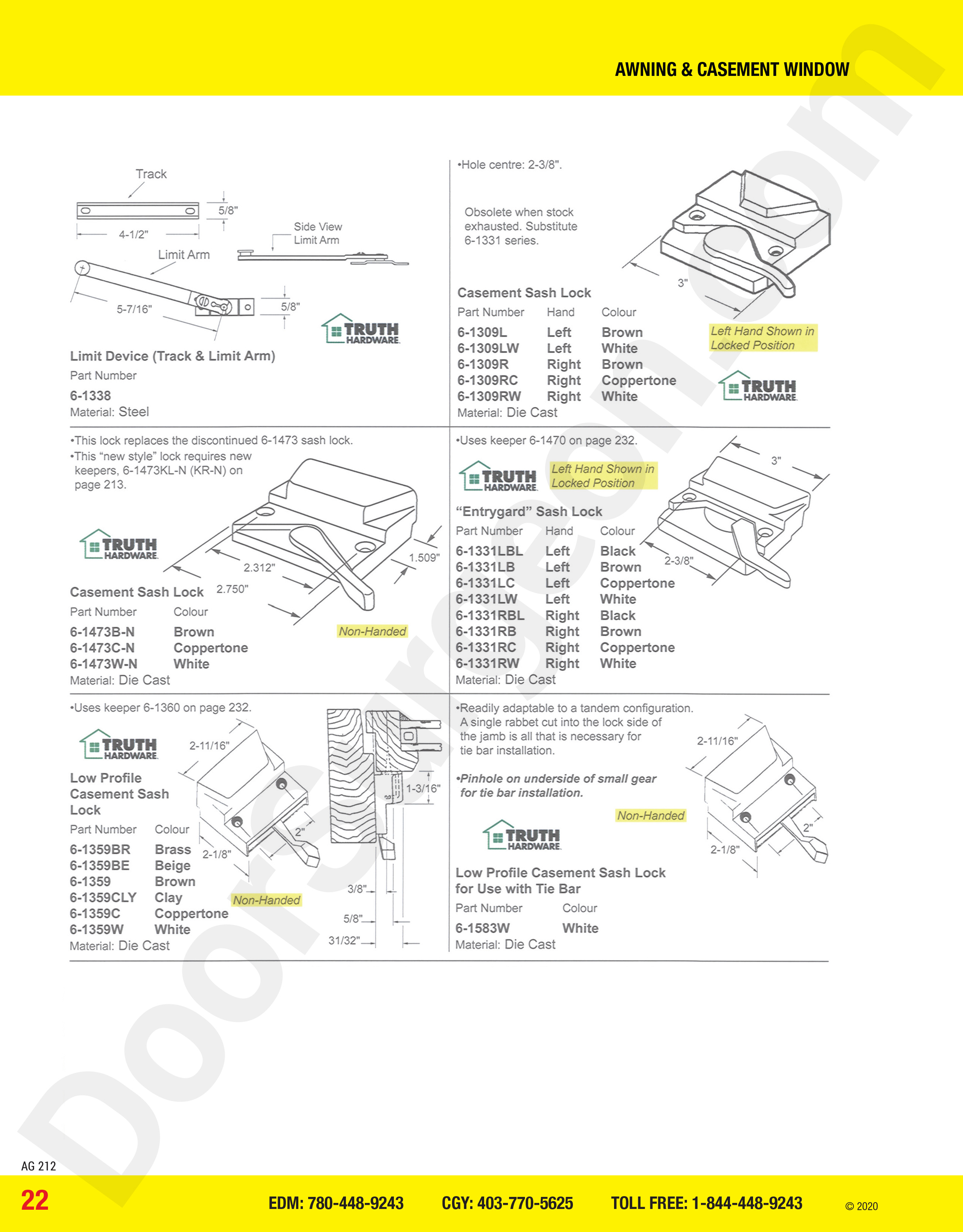 Sash Window Locks for:
window limit device( track and limit arm ), casement window sash lock, "Entrygard" window sash lock, low profile casement window sash lock, low profile casement window sash lock for use with tie bar
---
Sash Window Locks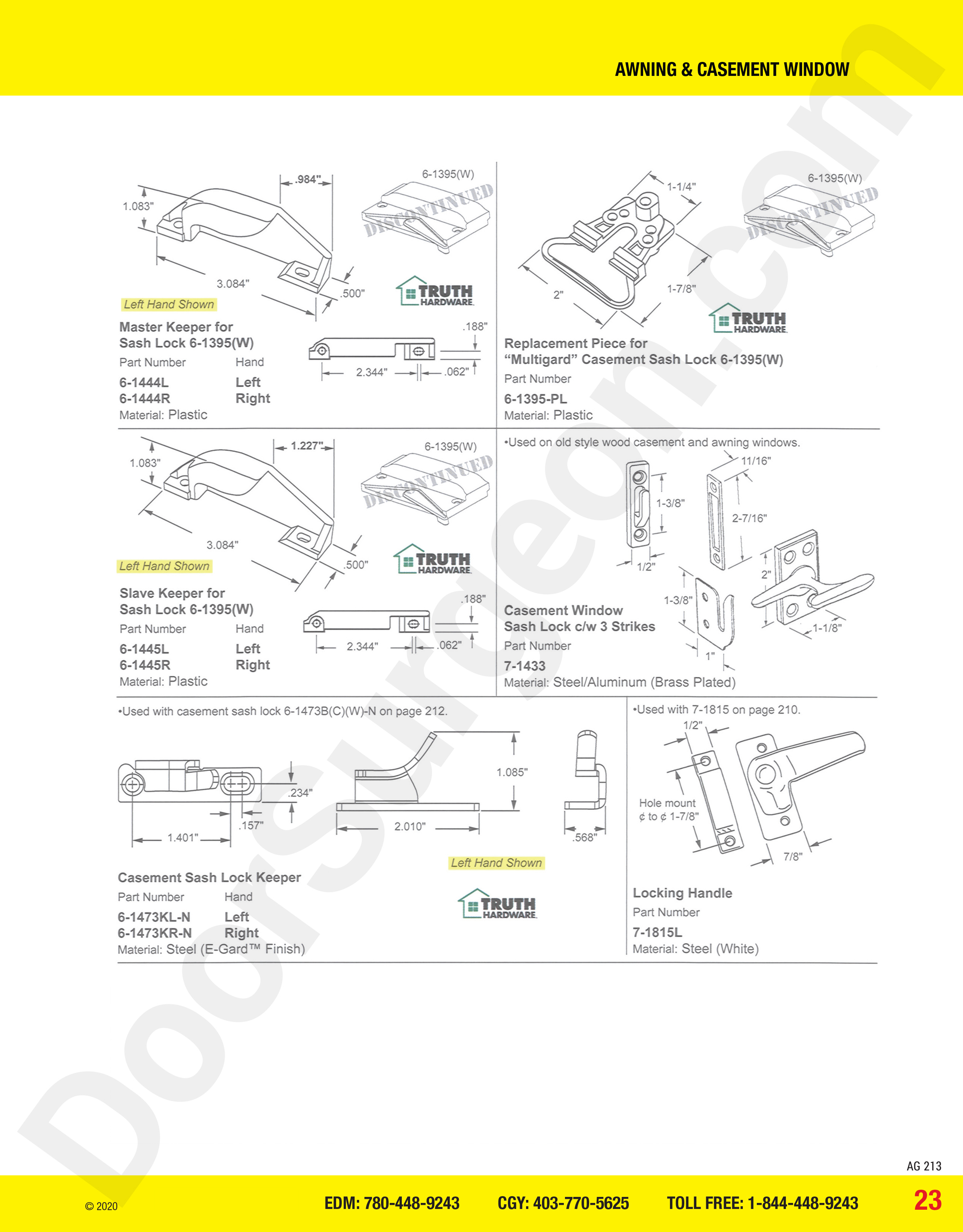 Sash Window Locks for:
master keeper for window sash lock, replacement piece for "Multigard" casement window sash lock, slave keeper for window sash lock, casement window sash lock with 3 strikes, casement window sash lock keeper, window locking handle
---
Locking Window Handles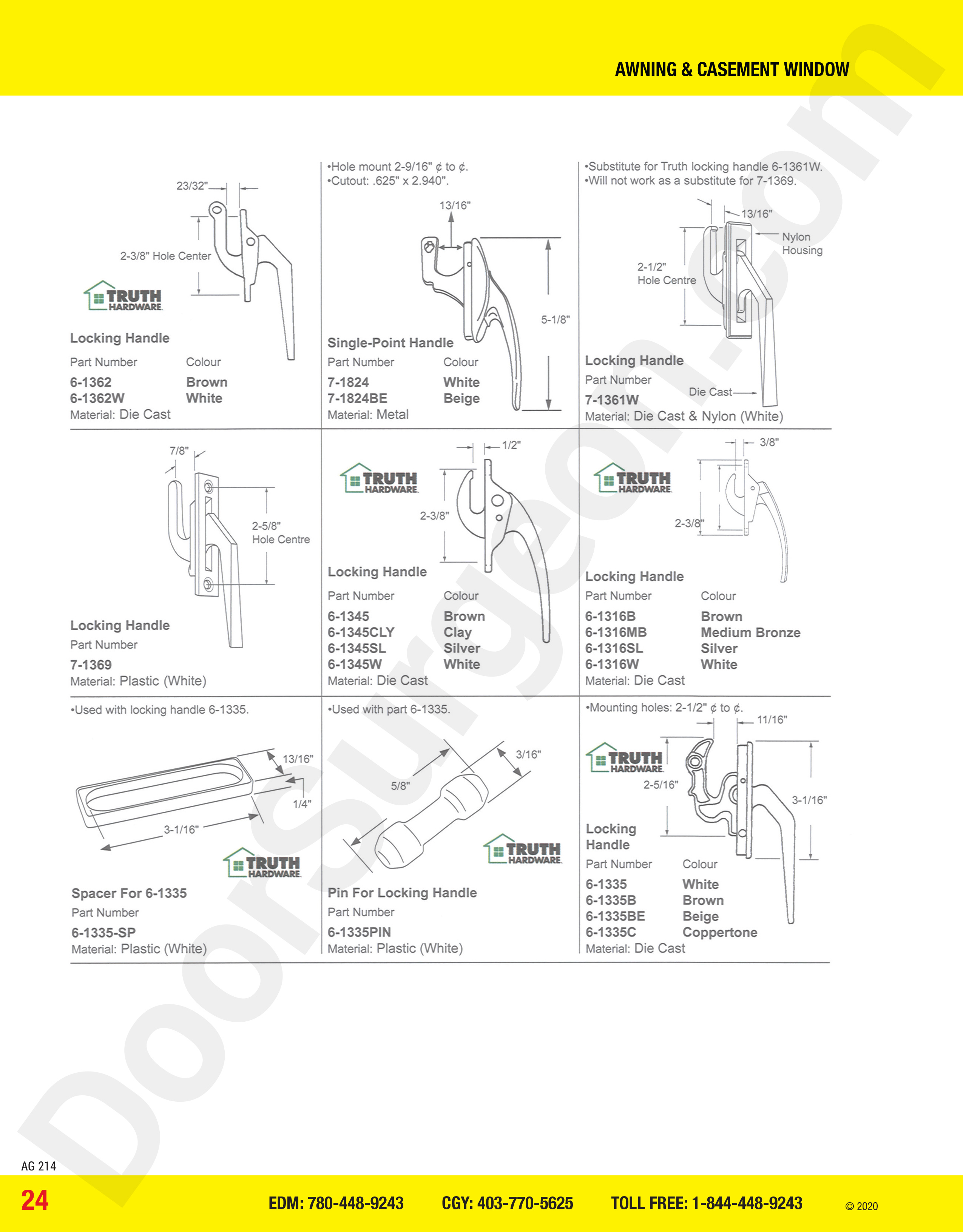 Locking Window Handles for:
locking window handle - die cast, single-point window handle, locking window handle - die cast and nylon, locking window handle - plastic, spacer, pin for locking window handle
---
Window Catch, Window Latch, Window Lock & Window handle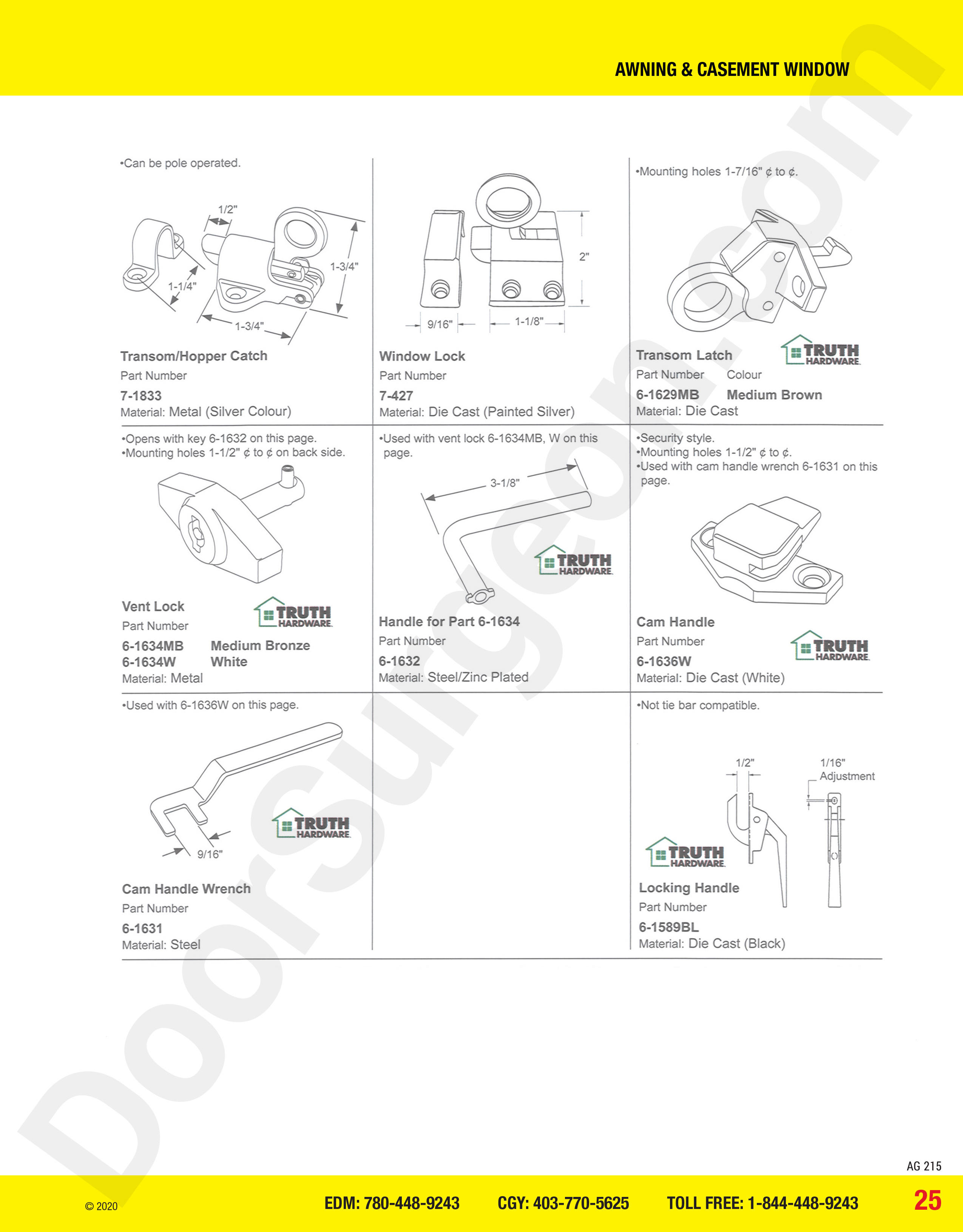 Window Catch, Window Latch, Window Lock & Window handle for:
window transom/hopper catch, window lock, window transom latch, window vent lock, window handle part, window cam handle, window cam handle wrench, window locking handle
---
Locking Window handle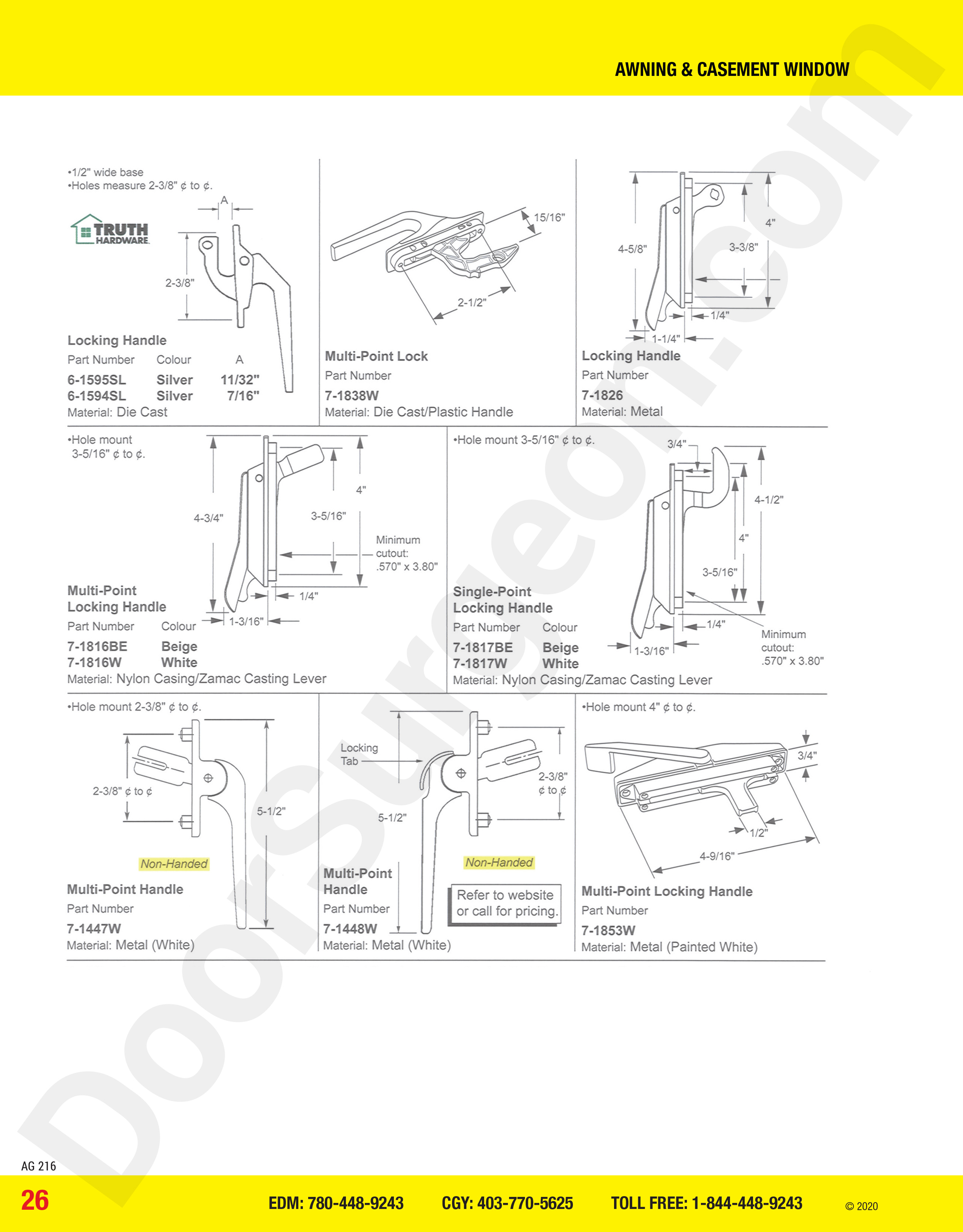 Locking Window handle for:
multi-point window lock, locking window handle, single-point locking window handle
---
Window Locks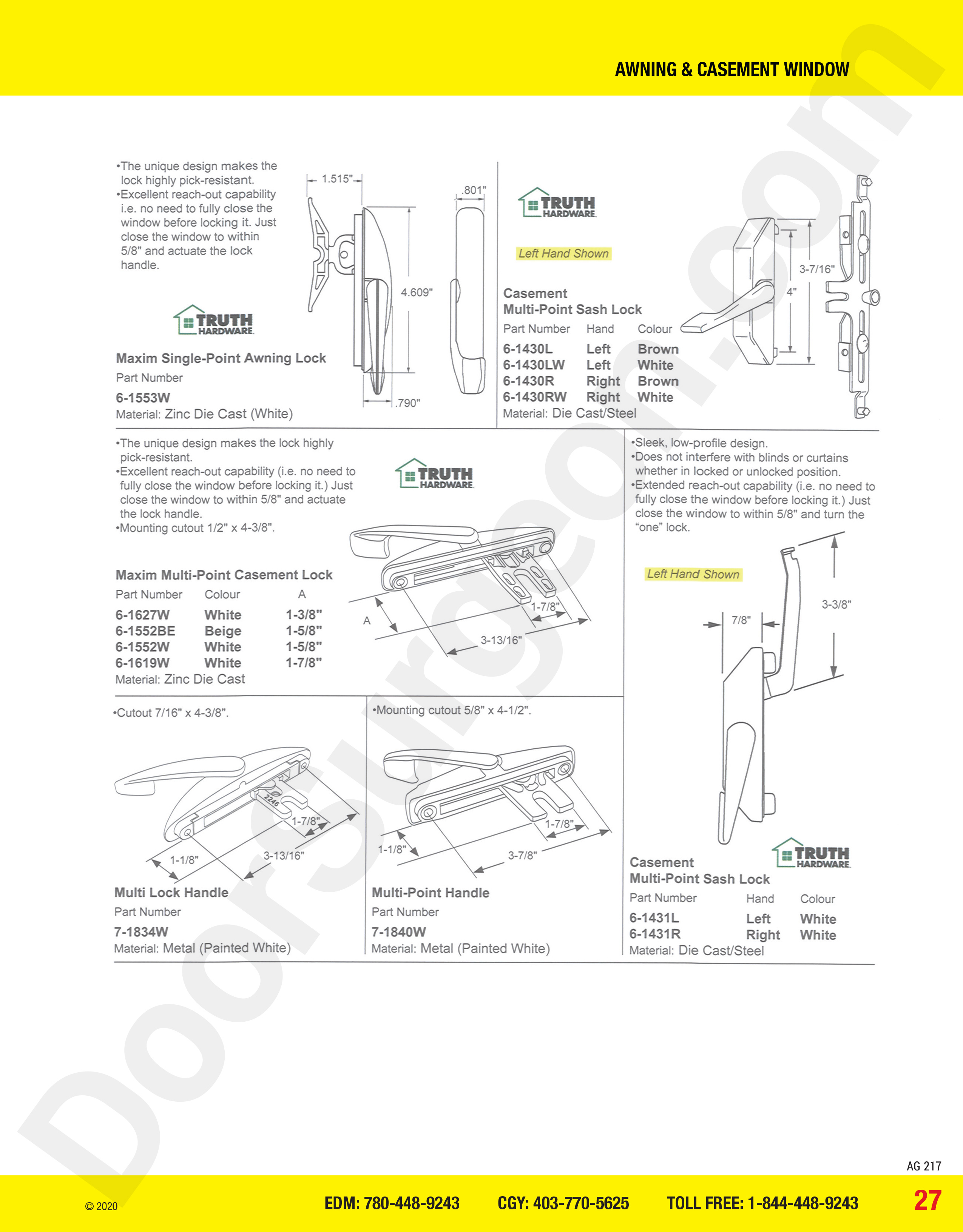 Window Locks for:
Maxim® single-point awning window lock, window casement multi-point sash lock, maxim® multi-point casement window lock, multi-lock window handle, multi-point window handle, casement multi-point window sash lock - die cast/steel
---
Interlock Window Roller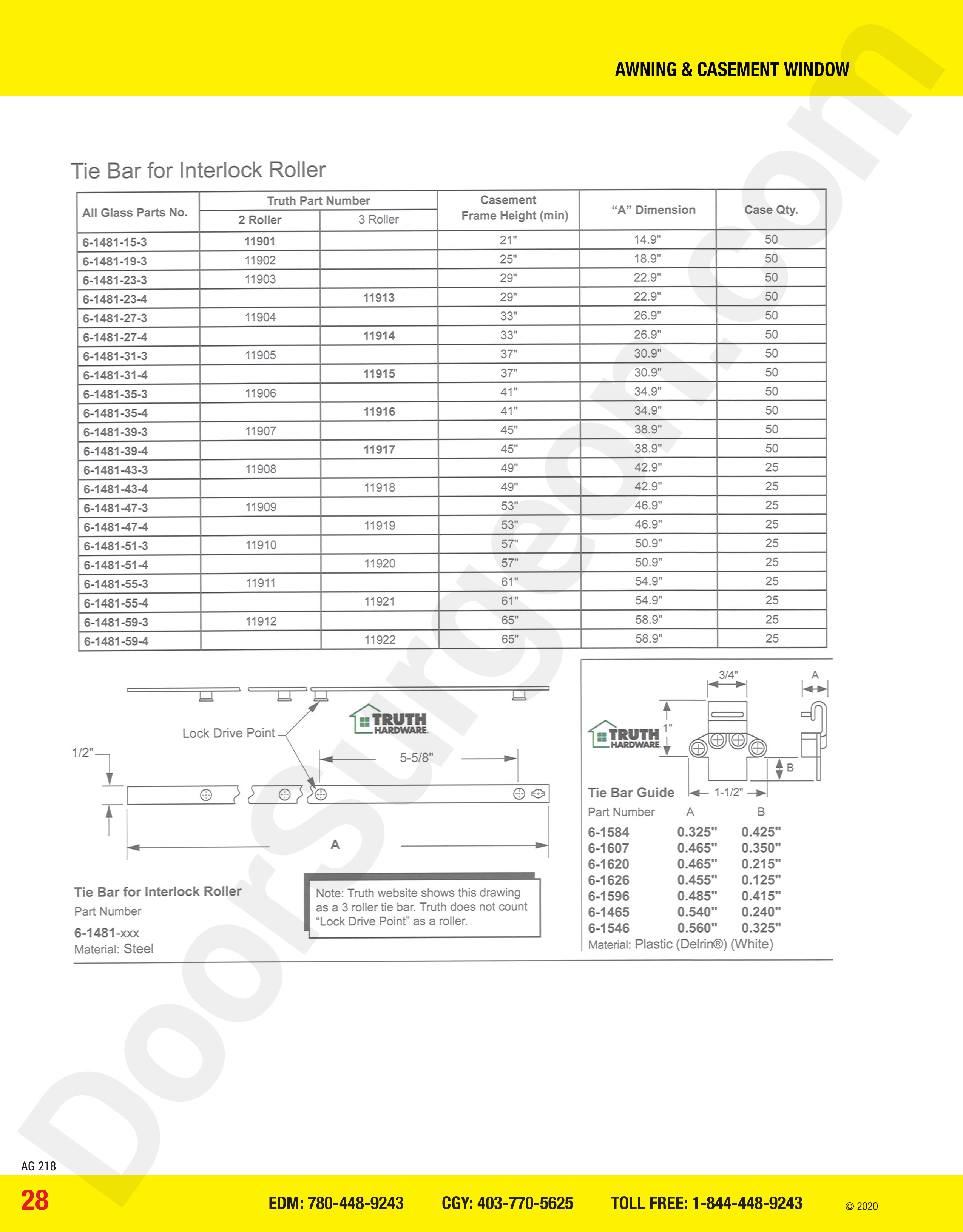 Interlock Window Roller for:
2 roller window, 3 roller window, casement window frame height from 21" to 65", tie bar for interlock window roller, window tie bar guide
---
Window Locks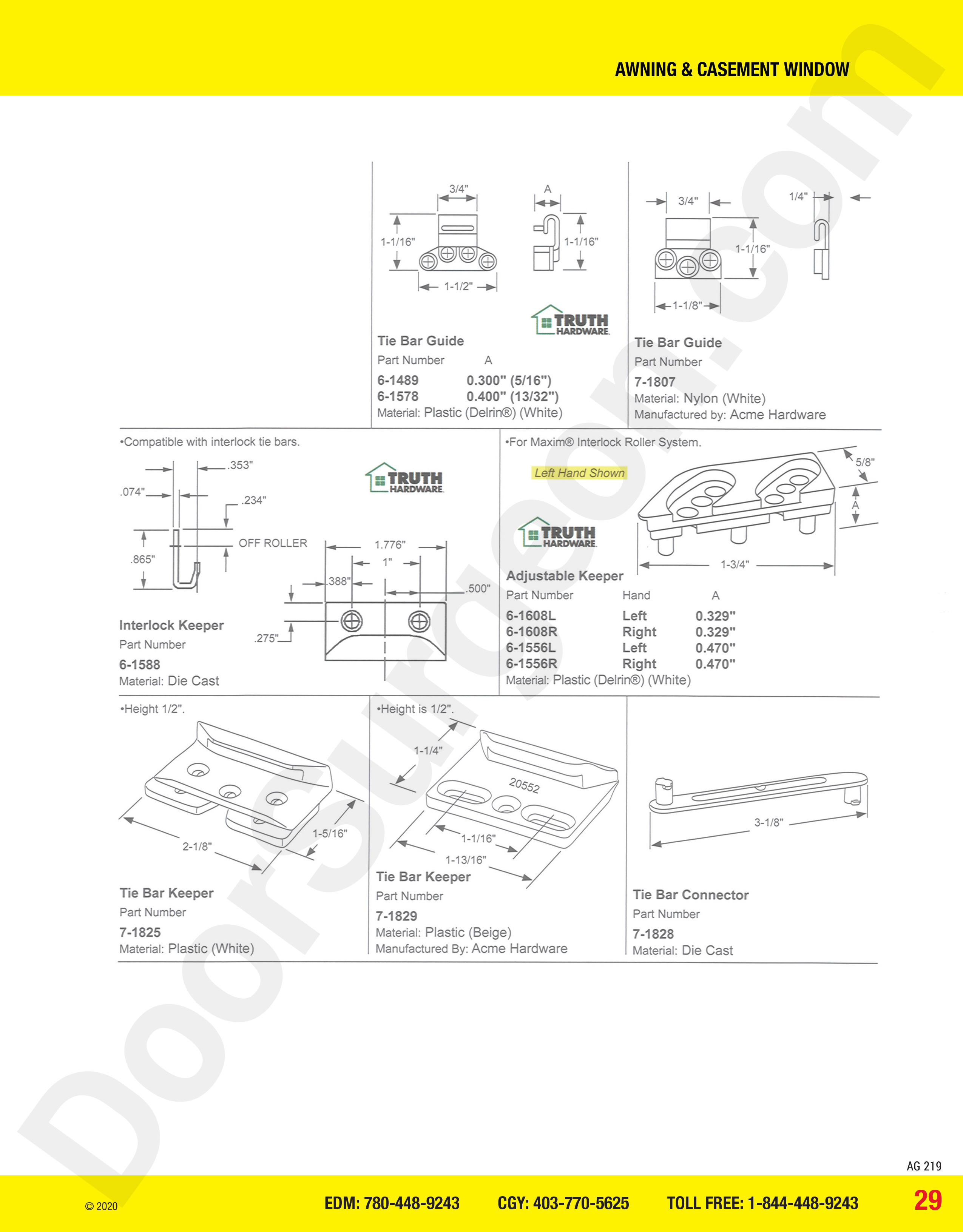 Window Locks for:
Maxim® single-point window awning lock, casement window multi-point sash lock, maxim® multi-point window casement lock, multi-lock window handle, multi-point window handle, casement multi-point window sash lock - die cast/steel
---
Window Keepers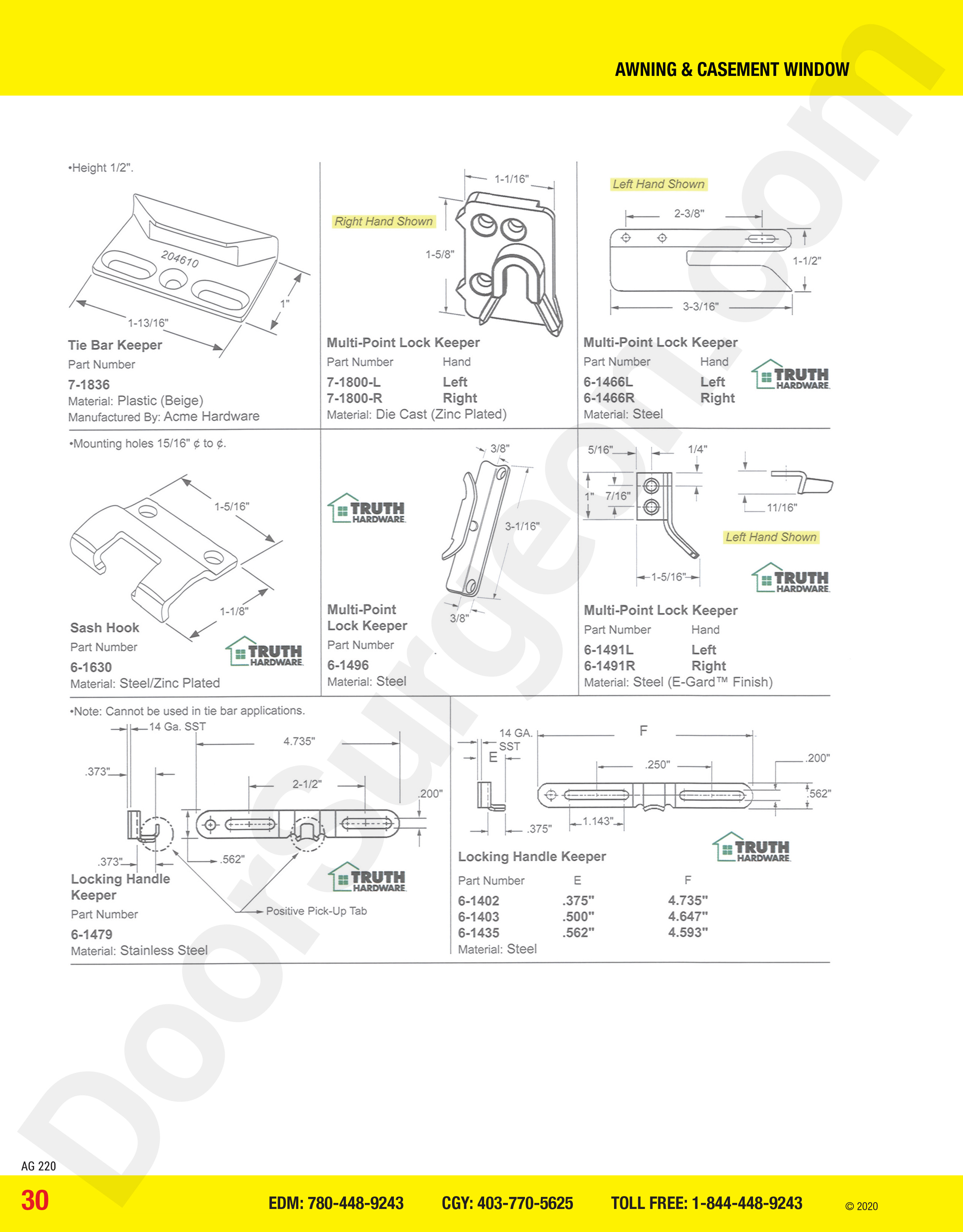 Window Keepers for:
tie bar window keeper, multi-point window lock keeper - die cast, multi-point window lock keeper - steel, window sash hook, multi-point window lock keeper - e-gard™ finish, locking window handle keeper
---
Window Cam Handle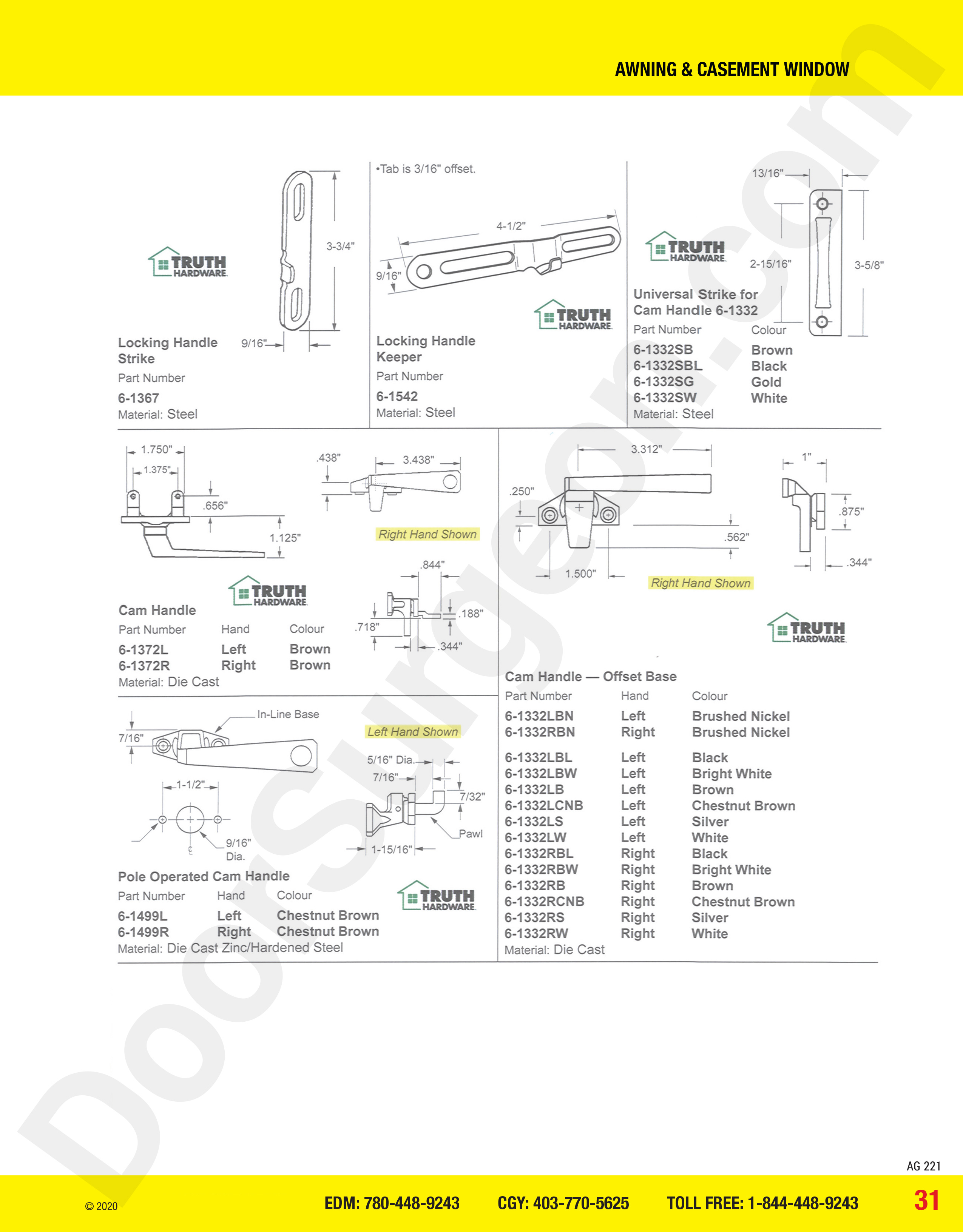 Window Cam Handles for:
locking window handle strike, locking window handle keeper, universal window strike for cam handle, window cam handle, window cam handle - offset base, pole operated window cam handle
---
Window Cam Handle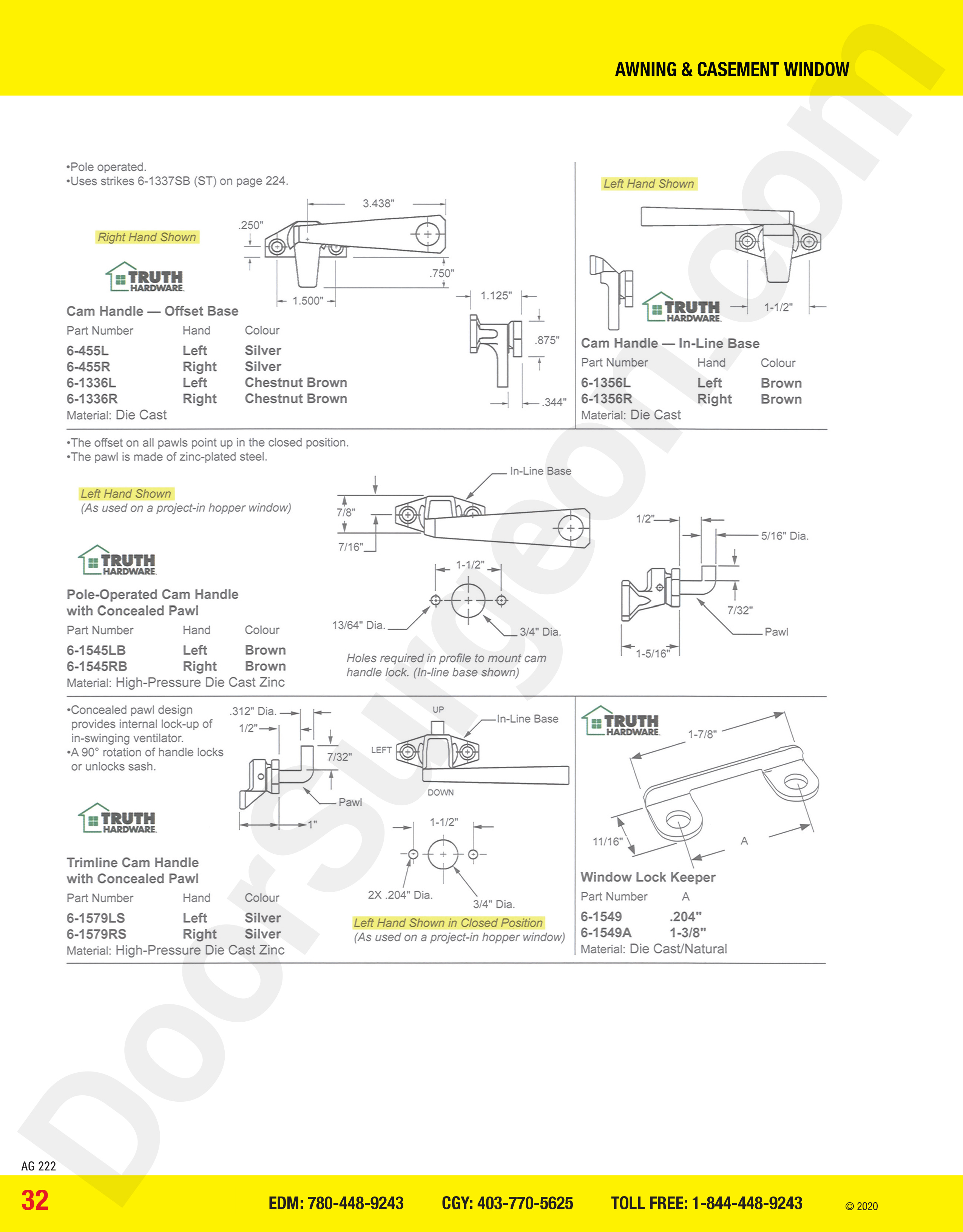 Window Cam Handles for:
window cam handle - offset base, window cam handle - in-line base, pole operated window cam handle with concealed pawl, trimline window cam handle with concealed pawl, window lock keeper
---
Window Cam Handles & Locks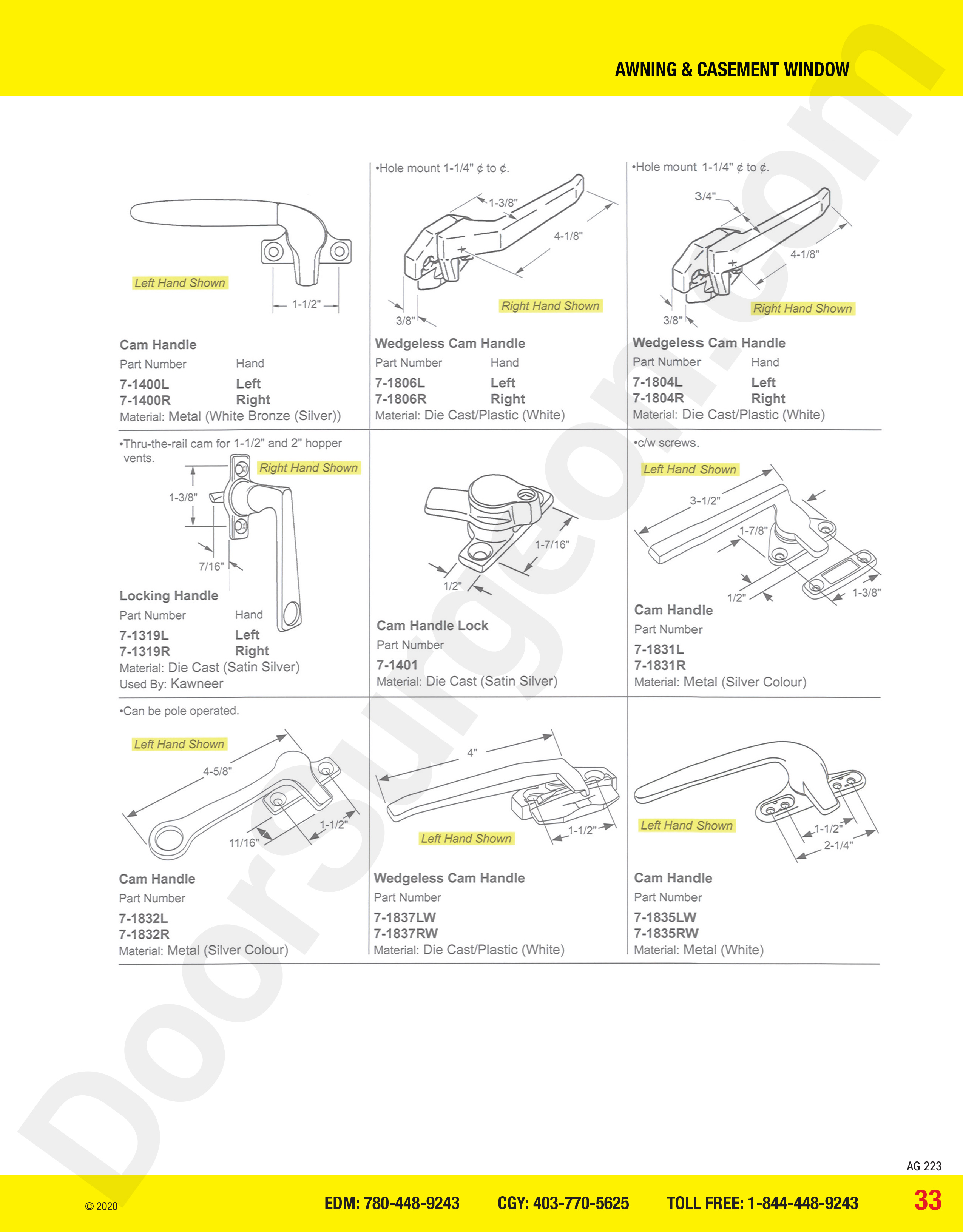 Window Cam Handles & Locks for:
window cam handle, wedgeless window cam handle, locking window handle, window cam handle lock
---
Window Cam Handle Strikes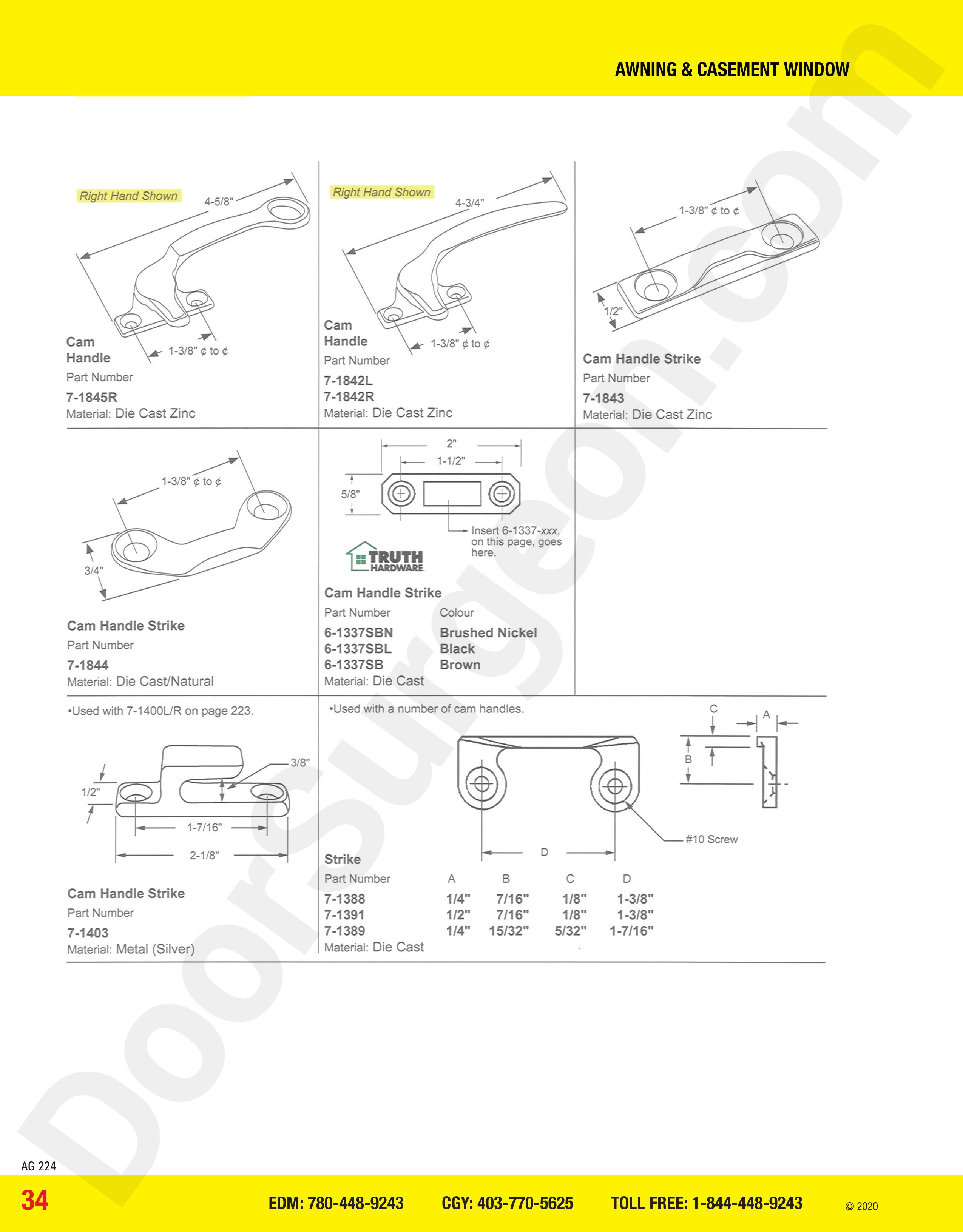 Window Cam Handle Strikes for:
window cam handle, window cam handle strike - die cast zinc, window cam handle strike - die cast/natural, window strike
---
Window Crank Handles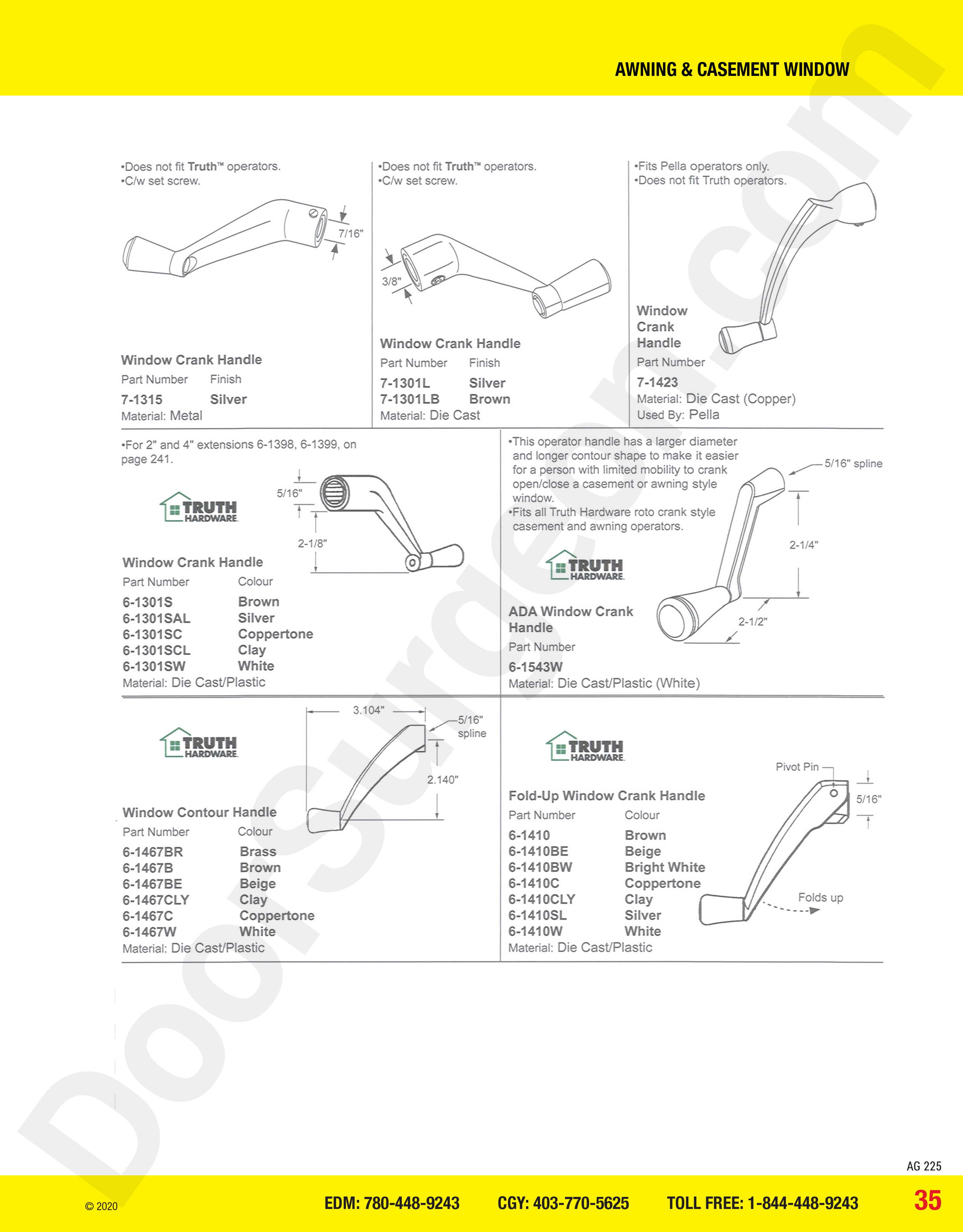 Window Crank Handles for:
window crank handle, truth hardware window crank handle, Pella window crank handle, ADA window crank handle, window contour handle, fold-up window crank handle
---
Andersen, Truth Hardware, Encore® & Pella Window Crank Handles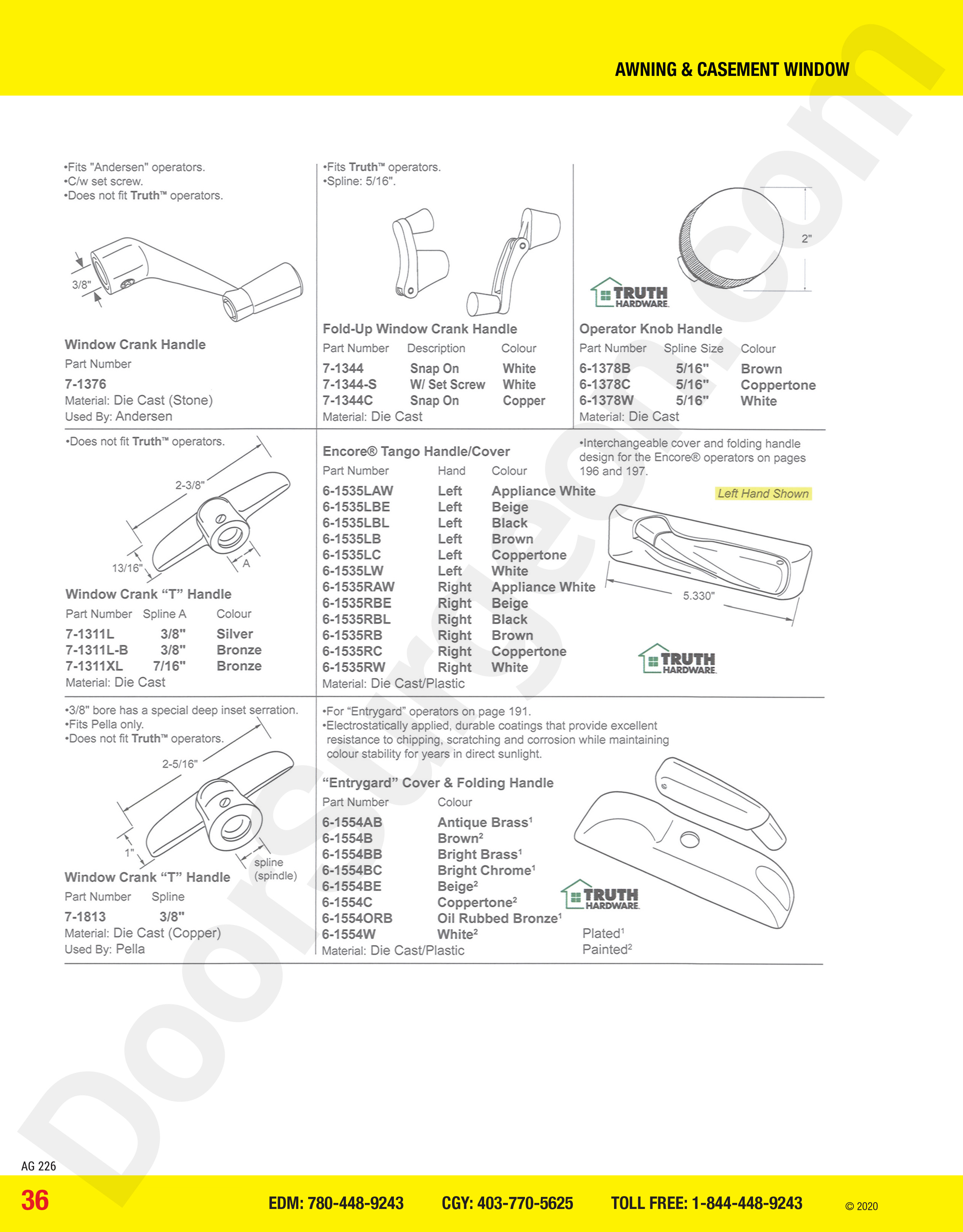 Window Crank Handles for:
Andersen window crank handle, Truth fold-up window crank handle, operator knob handle, window crank "T" handle, Encore® tango handle/cover, window crank "T" handle, Entrygard cover and folding handle
---
Window Covers & Handles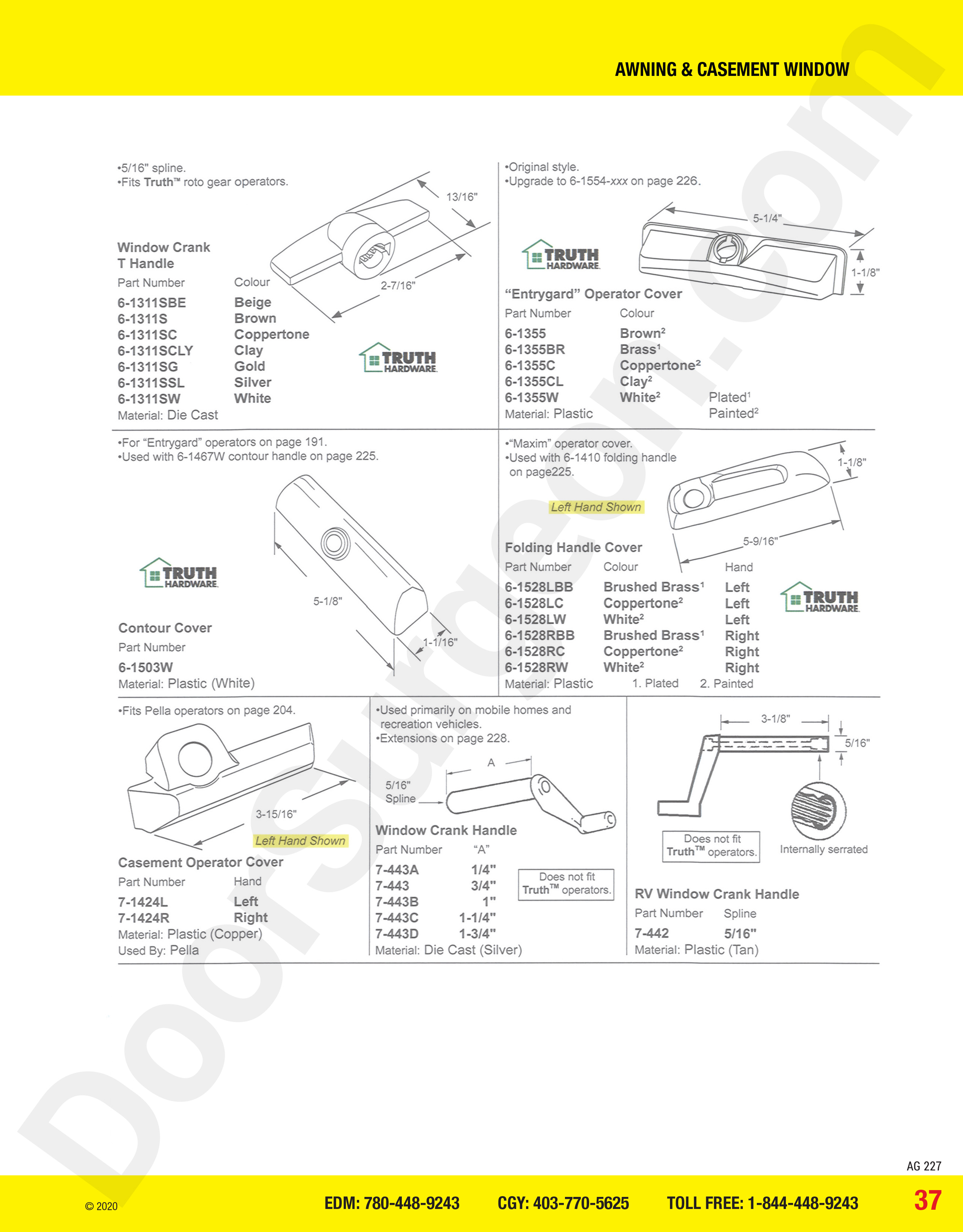 Window Covers and Handles for:
window crank "T" handle, Entrygard window operator cover, truth hardware contour window cover, folding handle window cover, casement operator window cover, window crank handle for mobile homes and recreation vehicles, RV window crank handle
---
Truth Hardware, Pella & Maxim® Window Cranks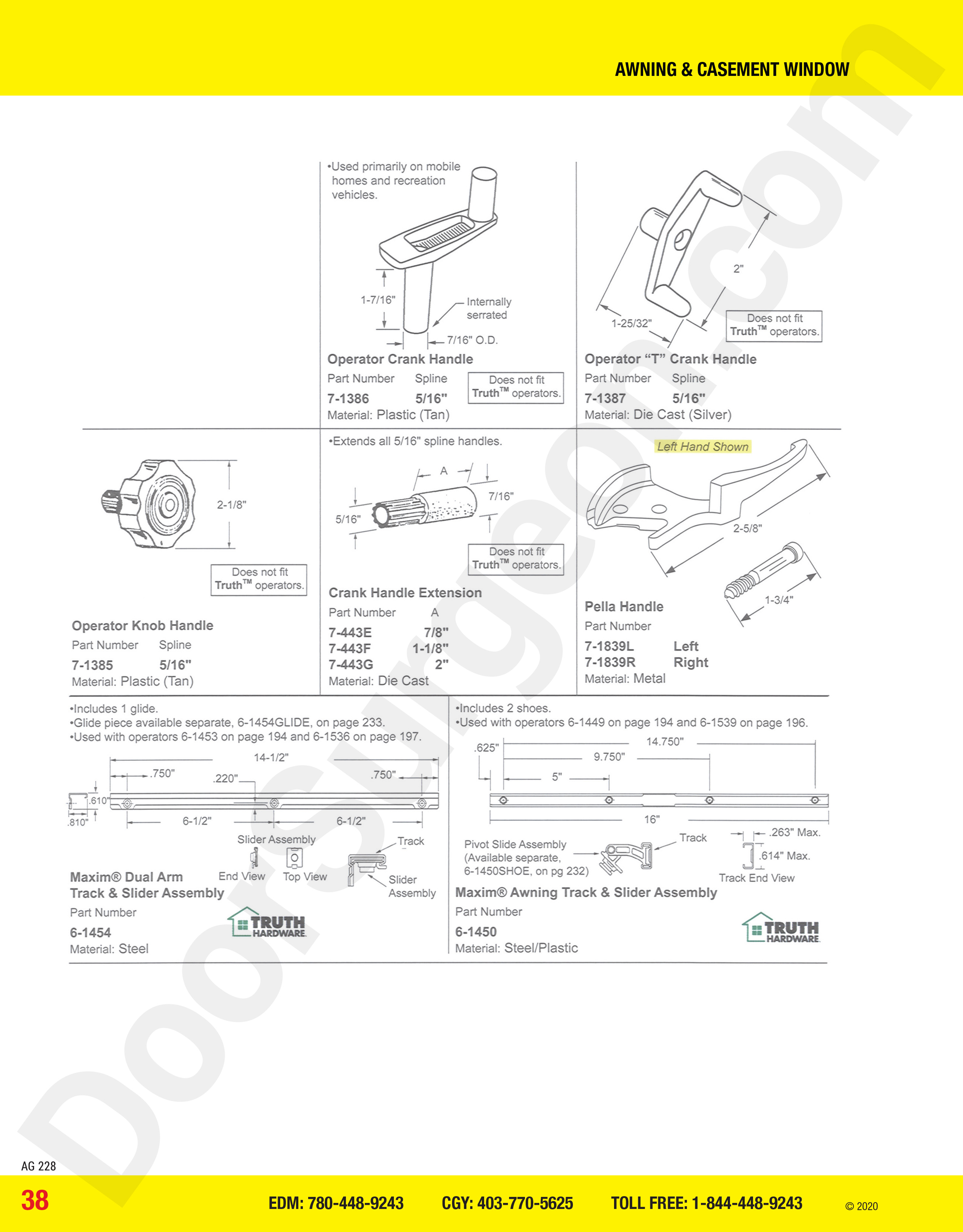 Window cranks for Truth Hardware, Pella & Maxim®:
window operator crank handle, window operator "T" crank handle, window operator knob handle, window crank handle extension, Pella window handle, Maxim® dual arm window track & window slider assembly, Maxim® window awning track & window slider assembly
---
Window Operator Track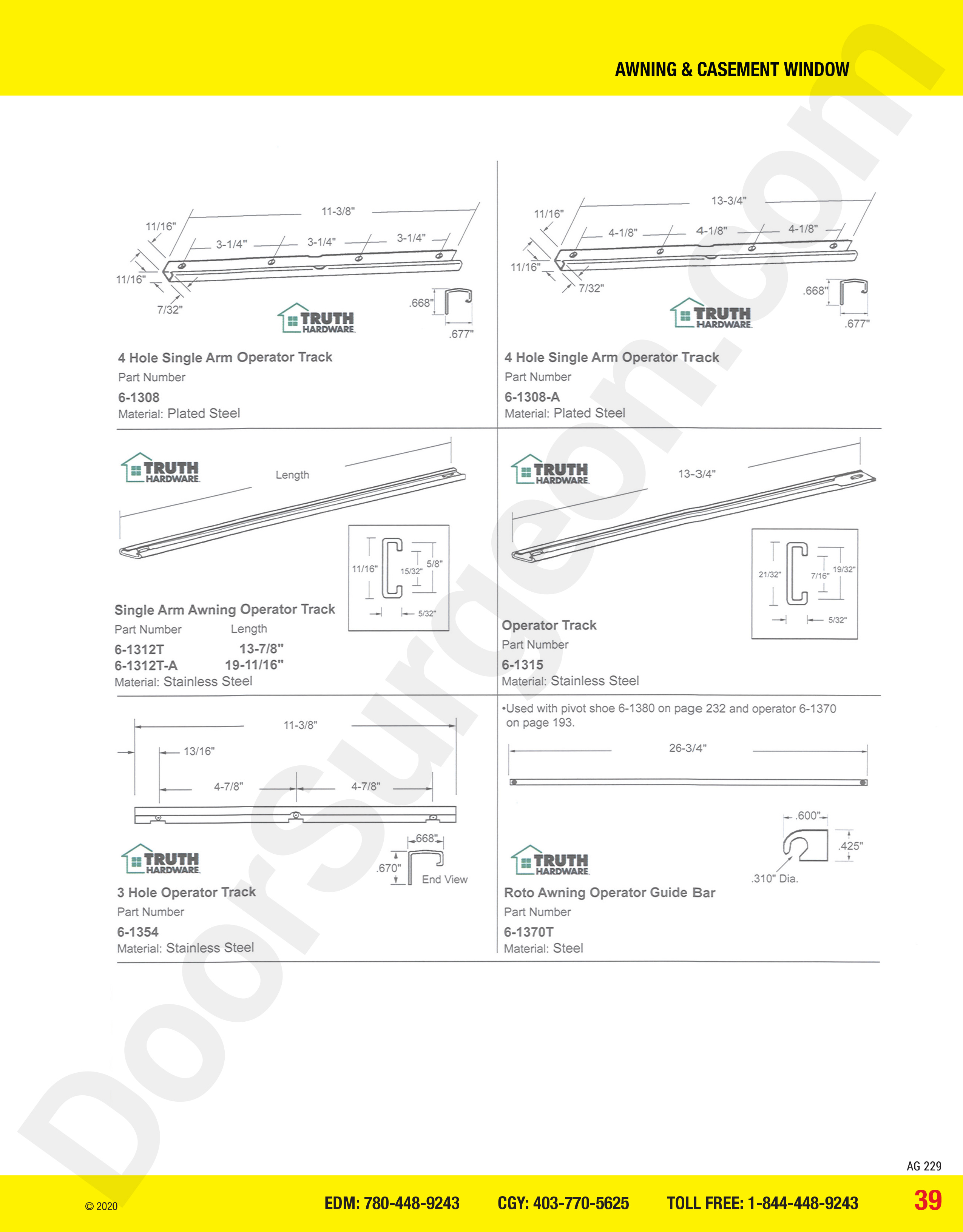 Window Operator Track for:
4-hole single arm window operator track, single arm window operator track, single arm awning window operator track, window operator track, 3-hole window operator track, Roto awning window operator guide bar
---
Window Stud Brackets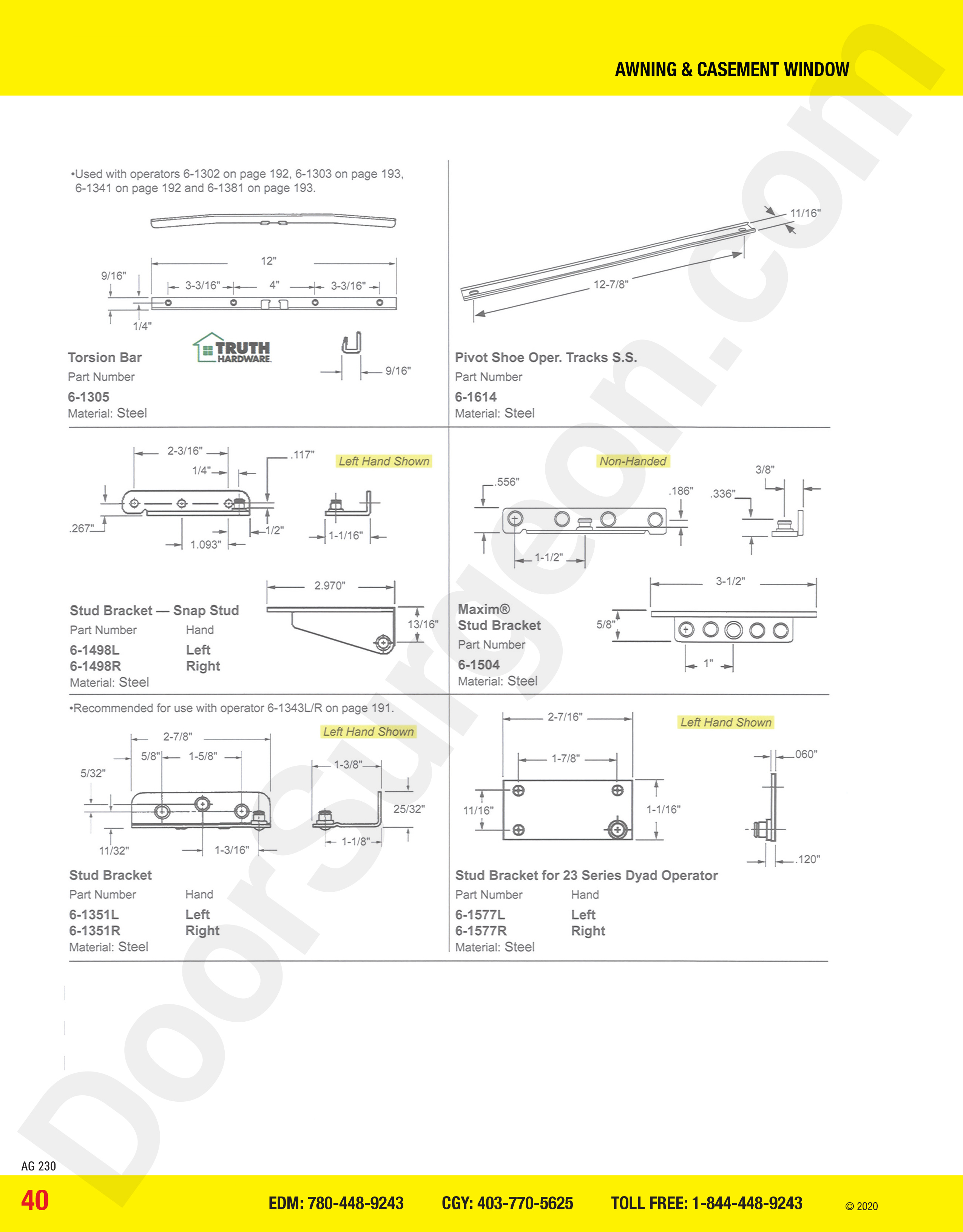 Window Stud Brackets for:
torsion window bar, pivot shoe window operator tracks, window stud bracket - snap stud, Maxim® window stud bracket, window stud bracket, window stud bracket for 23 series dyad window operator
---
Truth Hardware Window Stud Brackets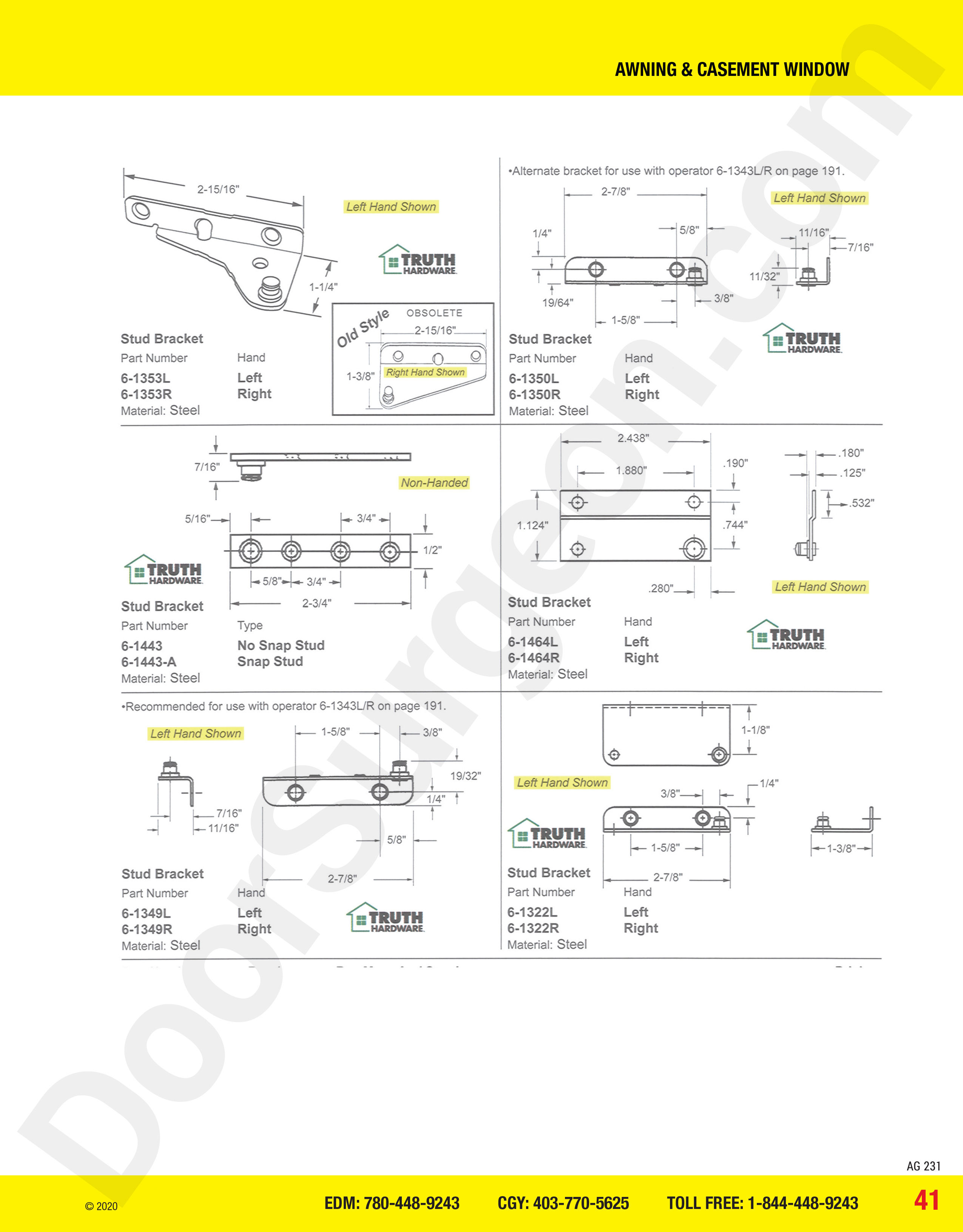 Truth Hardware Window Stud Brackets for:
window stud bracket, window stud bracket - no snap stud, window stud bracket - snap stud
---
Truth Hardware Window Keepers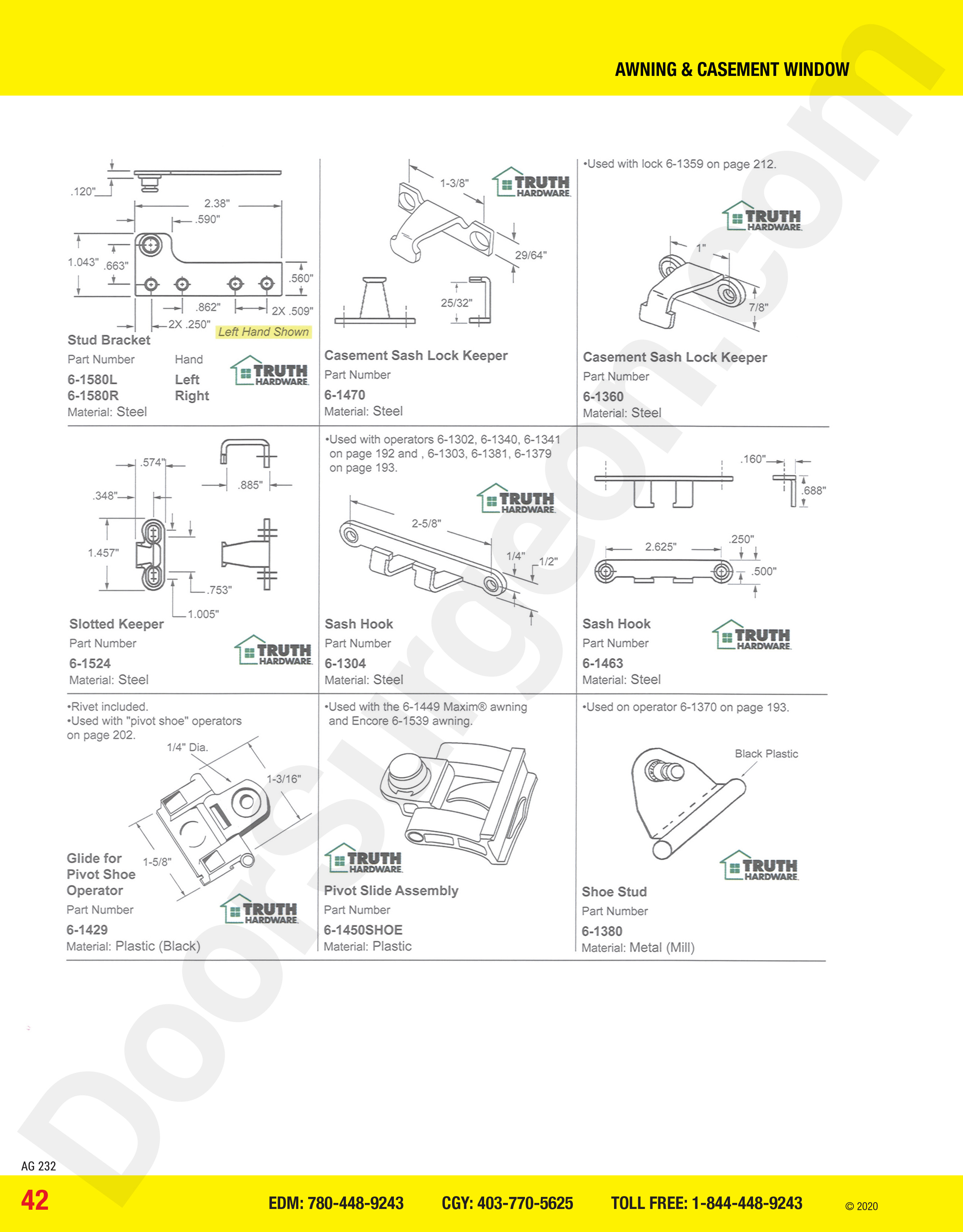 Window Keepers for:
window stud bracket, window casement sash lock keeper, window slotted keeper, window sash hook, glide for pivot shoe window operator, window pivot slide assembly, window shoe stud
---
Window Clips, Shims & Spacers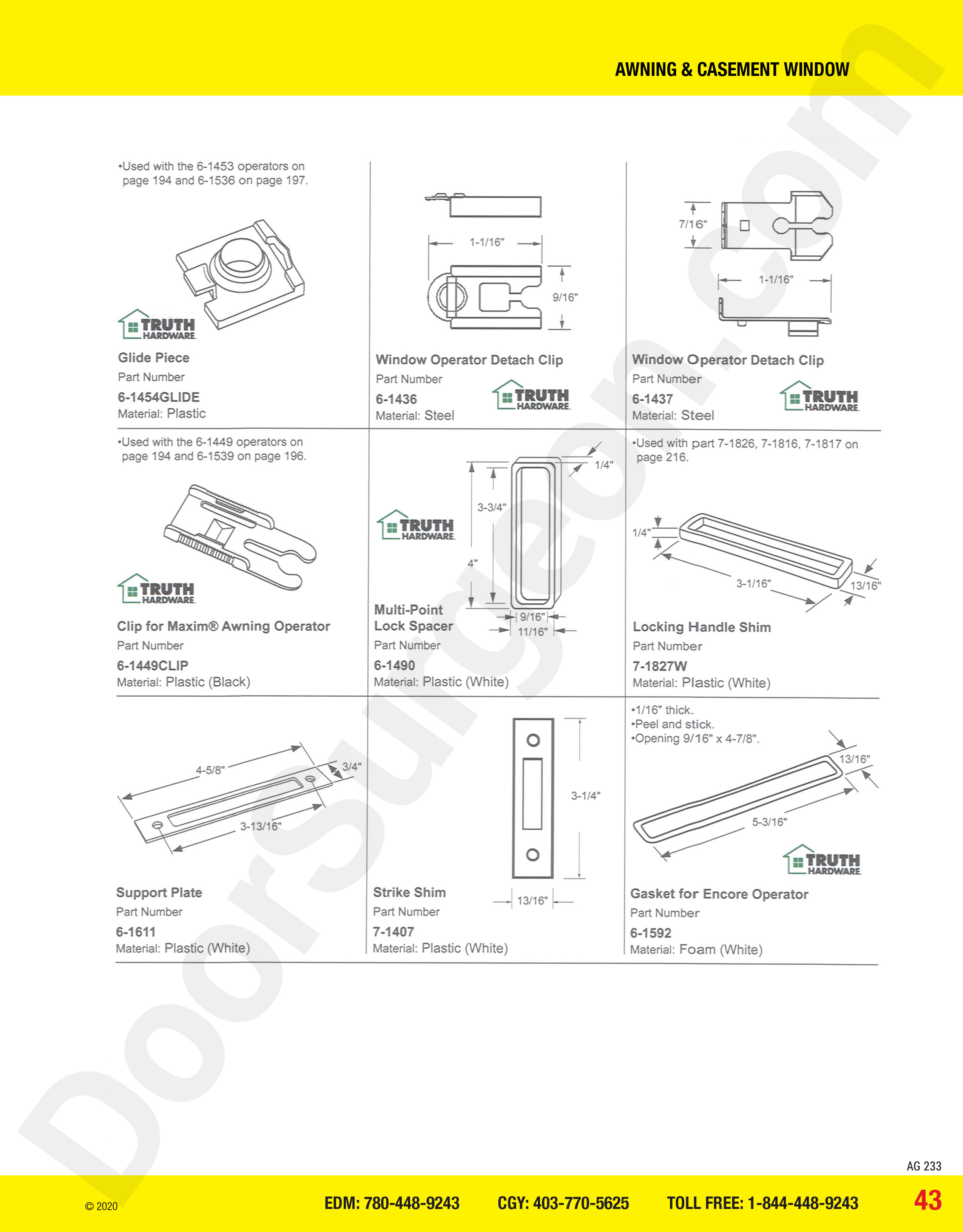 Window Clip, Shims, Spacers for:
window glide piece, window operator detach clip, window operator detach clip, clip for Maxim® awning window operator, multi-point window lock spacer, locking window handle shim, window support plate, window strike shim, gasket for Encore® window operator
---
Truth Hardware Window Gaskets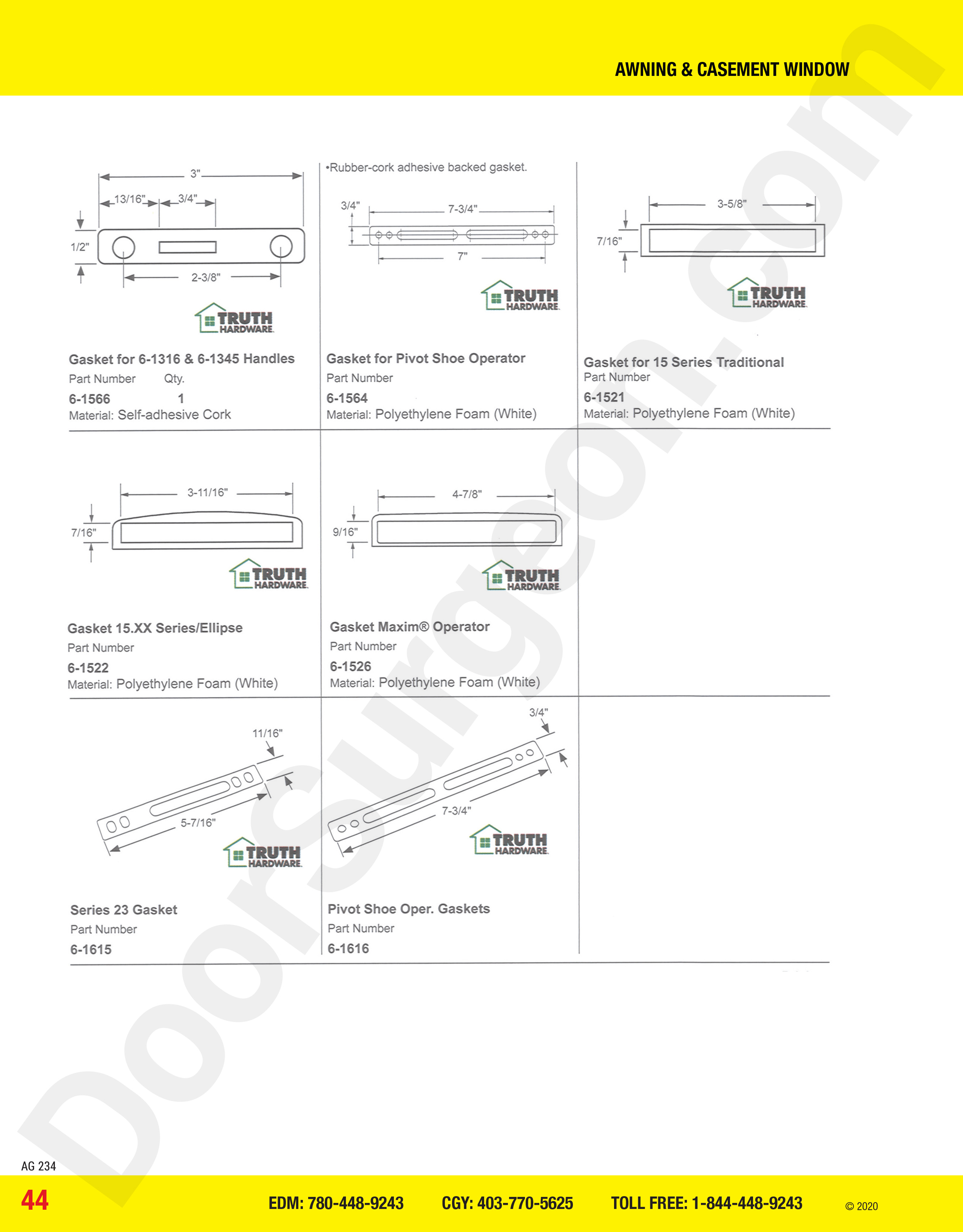 Window Gaskets for:
gasket for 6-1316 and 6-1345 window handles, gasket for pivot window operator, gasket for 15 series traditional windows, gasket for 15.xx series/Ellipse window, gasket Maxim® window operator, series 23 window gasket, pivot shoe window operator gaskets
---
Window Truth Hardware Snubbers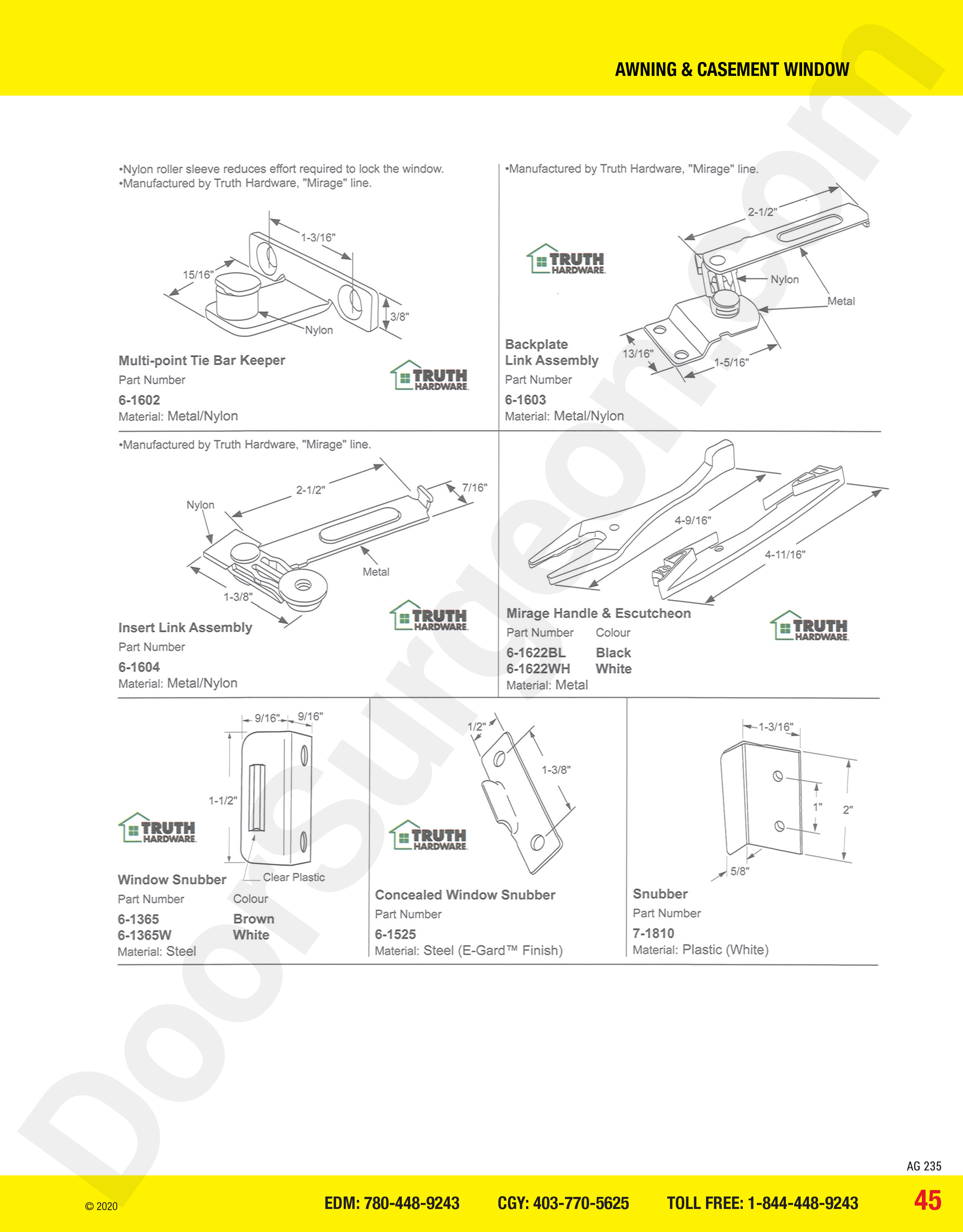 Window Snubbers Etc. for:
multi-point window tie bar keeper, window backplate link assembly, window insert link assembly, Mirage window handle and escutcheon, window snubber, concealed window snubber
---
Window Plates & Caps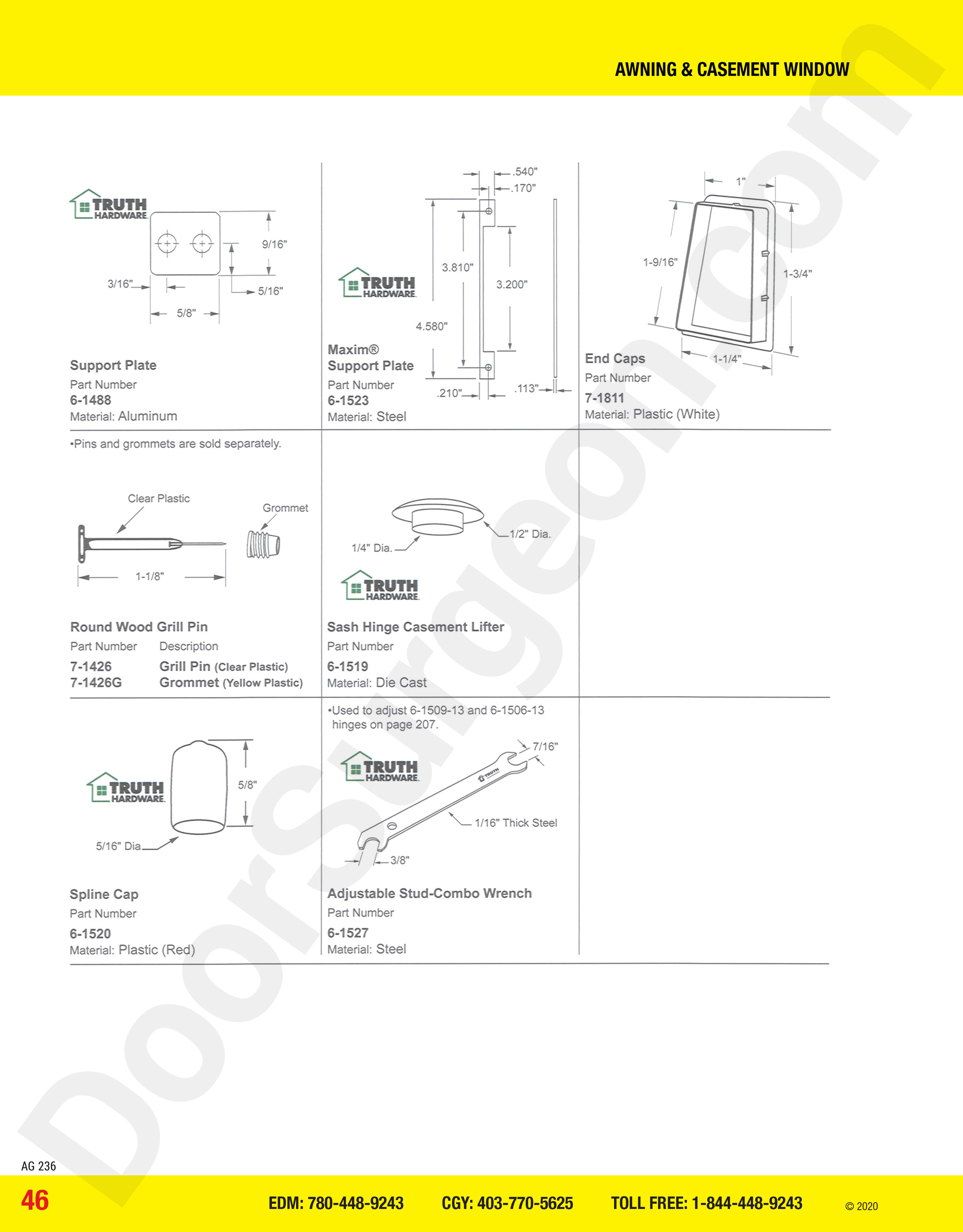 Window Plates and Caps for:
window support plate, Maxim® window support plate, window end caps, window round wood grill pins, window sash hinge casement lifter, window spline caps, adjustable window stud-combo wrench
---